If you've followed our annual trend reports, you'll know that light Nordic blonde is a great color. However, many other colors are in vogue too, including vibrant pinks and purples, and on the other end of the spectrum- black. But what about red? Fiery and fresh, red and copper tones are always on trend. The women who can pull these shades off the best will have freckled skin or cool pink tones in their complexion. On occasion, warm complexions can pull red hair off too, but they tend to suit shades that are more orange in appearance.
If you have red hair or are thinking of getting red hair, check out these fresh styles for an instant image update.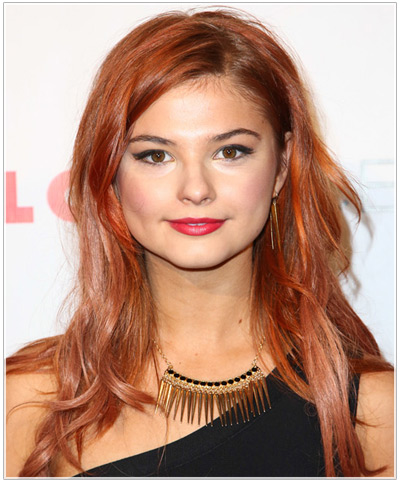 Stefanie Scott looks fabulous in her fiery long red hairstyle. She has a square face shape, so the jagged layers and beachy waves work well with her angles and compliment her fine hair type as well. But the real star of this hairstyle is that awesome red color! Stefanie is flaunting a fashion-forward take on red here, with a deep copper base and pink-red highlights. This gives her an all-over glossy sheen while adding depth and dimension to her 'do. Stefanie has a warm undertone to her complexion (as you can see from her neck and shoulder area), but she has used makeup to make her facial area more 'cool'. She achieved this by using cool pink blush and lipstick to harmonize well with her coppery hair shade.
Jane Seymour is looking ravishing in red here, which is perfectly suited for the spring and summer. This light strawberry blonde shade looks fabulous with her medium skin tone and really brings out those blue eyes. Jane is also rocking an arched fringe, which is a fabulous option for women with square or angular face shapes, or for those who simply want a softer looking fringe. Jane's color is a light copper shade with blonde highlights throughout, giving this hairstyle an overall radiant red sheen.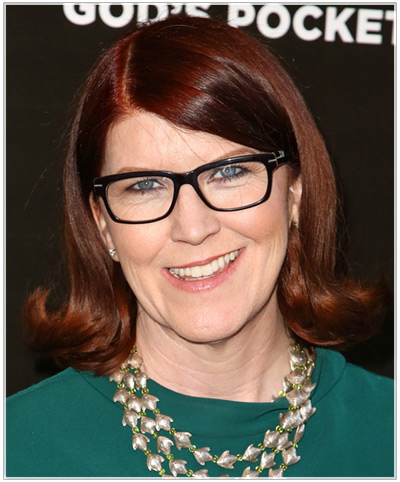 Here, Kate Flannery is looking elegant in a rich red bob. For a chic Sixties effect, Kate has flipped her ends out and paired it all up with some cool black frames. This rich auburn shade is perfect for women with cool complexions and light eyes. Keep your makeup soft and neutral like Kate for best results.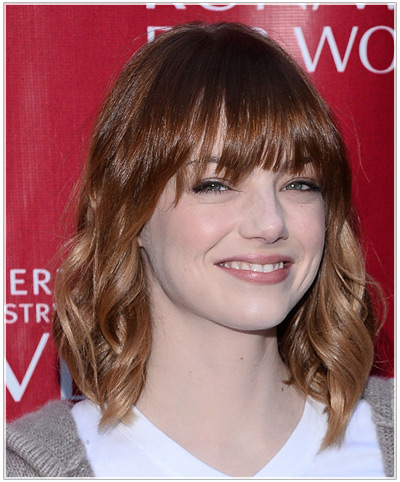 Finally, we have Emma Stone who, even though she is natural blonde, is the perfect redhead. Her fair and freckled complexion looks amazing with red hair, and she is often spotted wearing a deep red or auburn hair color. Here, however, she has lightened up for spring and summer and is working an ombre' hair color that goes from an medium reddish brown at the roots to a strawberry blonde shade at the tips. This is a great way to make your hair visually interesting while adding extra shine to your 'do - strawberry blonde is an awesome color for picking up and reflecting light. Emma's soft waves and layered fringe complete this trendy, casual look.
As you can see, red hair is ever so versatile and can achieve you any look you want. From young and trendy to elegant and sophisticated, red hair can do it all!