An oval face shape has long been regarded as the ideal face shape, simply because its proportions and balance allow it to pull off practically any haircut, hairstyle and makeup look with ease.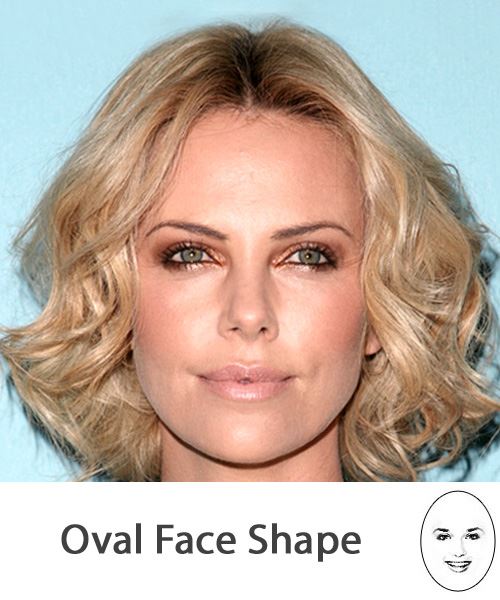 If you have an oval face shape then you'll recognize the following characteristics:
Your forehead and jawline are approximately the same width.
Your chin is rounded in shape with no hard lines.
Your jawline has a slight roundness to it.
Your forehead is slightly broader than your jaw.
Your face is widest at your cheekbones.

All of these characteristics add up to a balanced face shape which features no areas that are more dominate than another (your forehead is not noticeably larger than your jawline, for example). This allows you to wear a large range of looks when it comes to styling your hair and your makeup.
Hairstyles to Try
Any shape and style can be worn, whether it's short, long, layered or bobbed.
The only thing to consider with an oval face shape is what part of your face you want to accentuate. This is where you can get creative with bangs or how you style your hair everyday
Hairstyles to Avoid
The main thing to consider is to not choose hairstyles that hang in your face or eyes.
Or hairstyles that just cover over your beautiful face shape.
---
Hairstyles
If you like any of the following hairstyles, click on each image for more info, how to style steps, and to try on each hairstyle. Or you can view TheHairStyler.com's entire range of hairstyles for oval face shapes.
The Right Short Hairstyle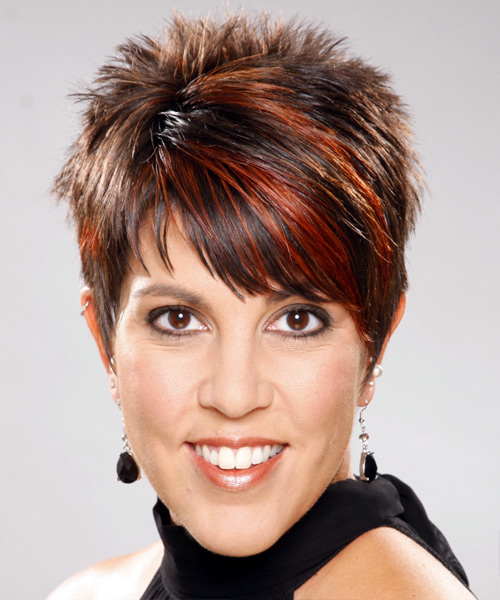 This hairstyle has some height on top and features soft wispy bangs that accentuate and draw attention to the eye region. This style works well and has no negative effect on the length or width of the models face shape. Alternatively, no height or bangs would also look just as good.
The Wrong Short Hairstyle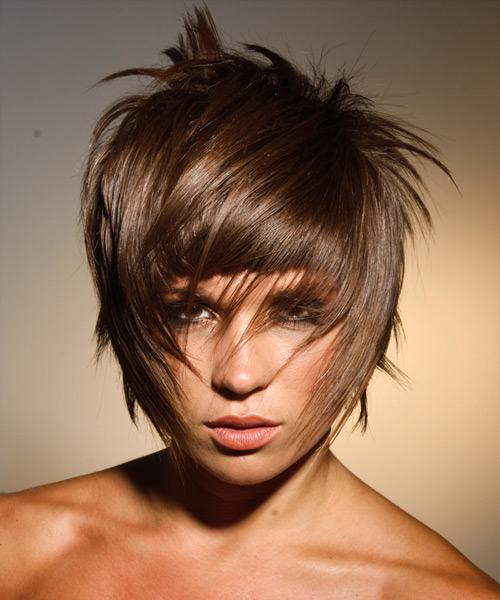 This face covering look creates the illusion of squareness on the face due to the heavy straight across bangs. The small amount of height on top does create a somewhat round shape but the fact that the hair is falling onto the face is where the eye focuses and draws its conclusion of squareness. Our model has lost her great oval shape with too much hair on her face.
The Right Medium Hairstyle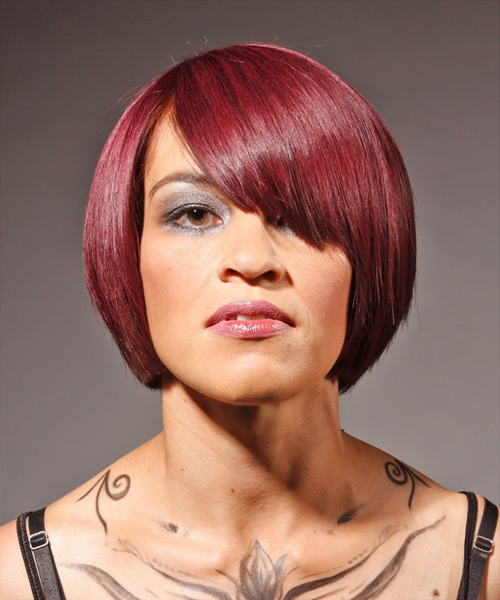 This chin length bob cut with side-swept bangs sits nicely on the models oval shape face. Although the hairstyle itself has a rounder shape, the chin area on the models face brings the style back in proportion, balancing it out rather nicely. That is the benefit of having an oval face shape!
The Wrong Medium Hairstyle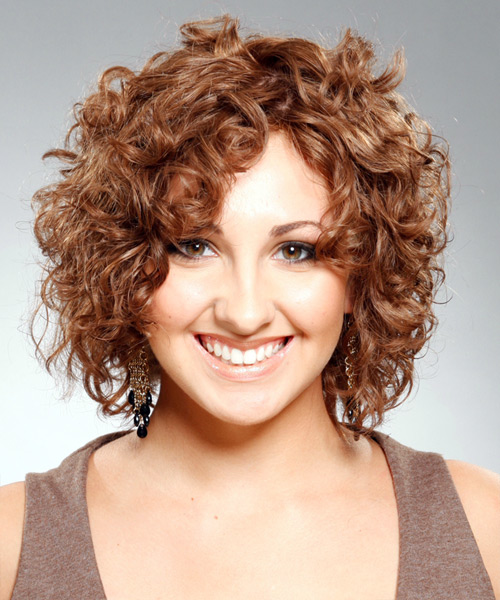 This style has too much hair suffocating and covering up what is normally the ideal shape to work with. The hairstyle takes over to become the attention getter with its square shape being the main attraction. Hairstyles should complement face shapes (the frame around the picture), not cover them up.
The Right Long Hairstyle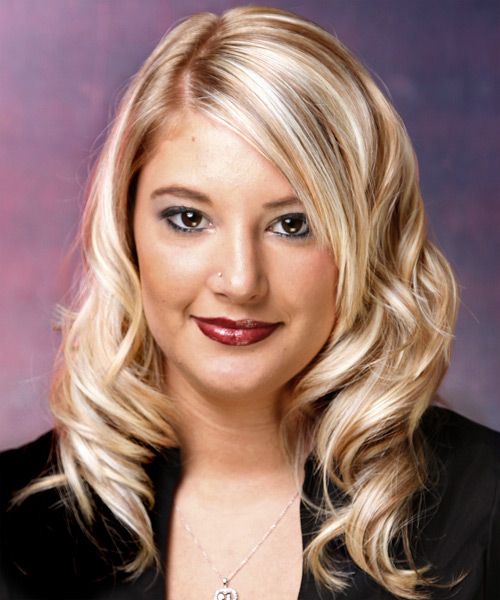 This is a simple and soft wavy look which falls below the shoulders with a side part and no bangs. This hairstyle appears oval in shape mainly due to the absence of bangs which could be added without any real shape dilemmas. To suit heavy bangs, the side part could move to the middle, creating a slimmer shape, or height could be teased into the crown area.
The Wrong Long Hairstyle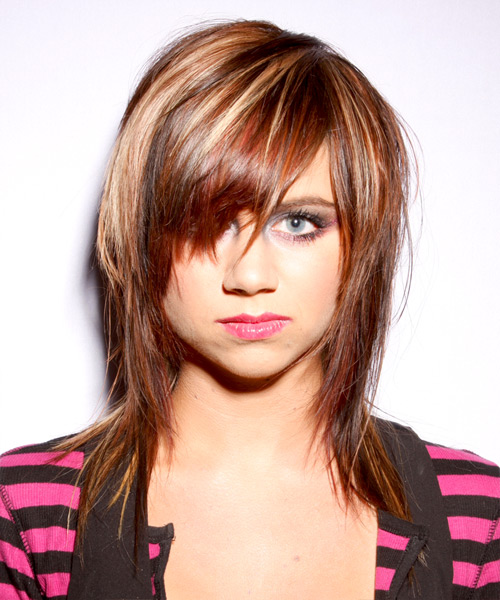 From a face shape suitability perspective, this hairstyle does nothing to show off the an oval face shape. The feathered long layers don't work and the bangs shorten the overall shape of the face making it appear much shorter than it really is.
The Right Bangs
The right bangs are like the right hairstyle; they will flatter your features and look so great that you'll wonder why you didn't get them sooner. The wrong bangs, on the other hand, could leave you with a look so unflattering that any headband, hair clip or hairstyle that keeps the bangs out of the way while you grow them out quickly becomes your everyday look.
To avoid such extremes and getting bangs you'll regret, do your research first and choose the right bangs by looking at the ultimate deciding factor - your face shape.
Oval face shapes have the benefit of being balanced, which means that virtually any hairstyle or hair cut will work. Having said that, there are of course some hairstyles or cuts, including bangs, which can upset this balance.
Bangs that are side-swept are the most flattering, but you also have to keep in mind that the bangs should not be too heavy because this can still cover up too much of your face.
Soft, Wispy Bangs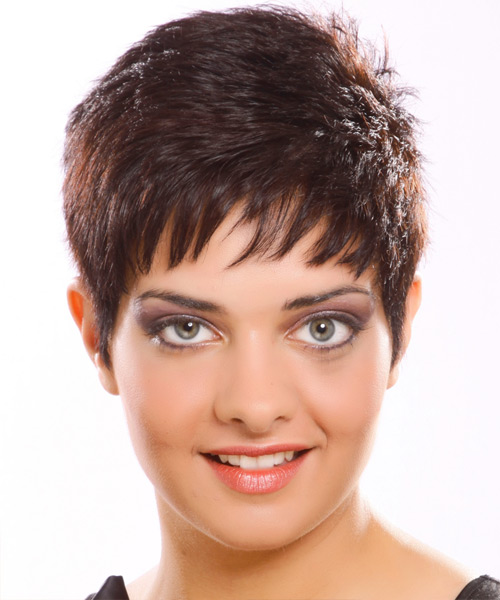 Soft, wispy bangs with some height.
Side-Swept Bangs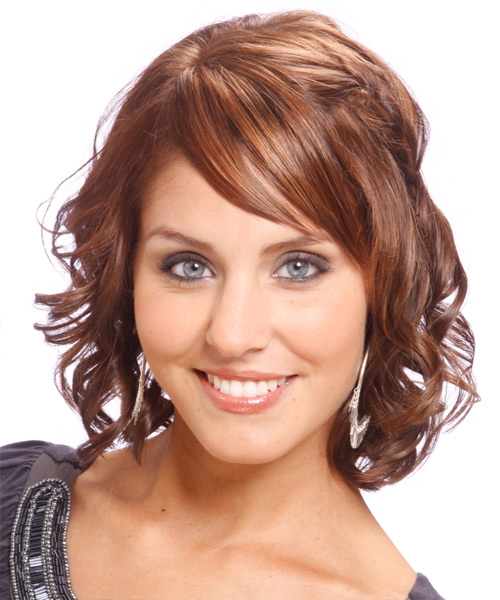 Light, side-swept bangs that will not cover up your forehead completely.
The Wrong Bangs
Bangs that have been blunt cut and are designed to cover up a large section of your face, such as your forehead, is one such example. This will essentially cut the look of your face in half and turn your lovely oval shape into something that looks much shorter and less flattering.
Blunt Cut Bangs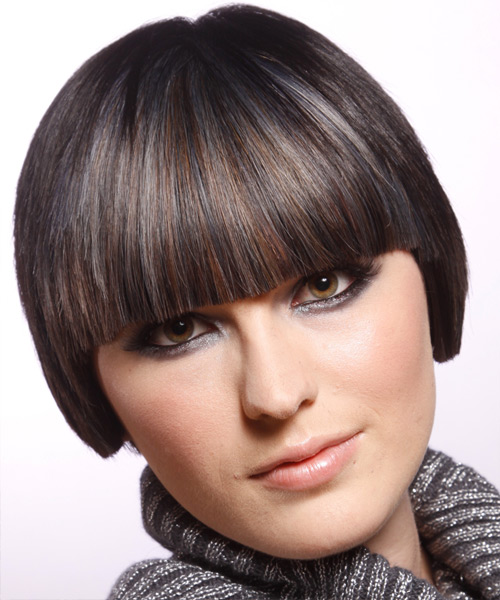 Blunt cut bangs can easily halve an oval face shape and create a less flattering shape.
Full, Face Covering Bangs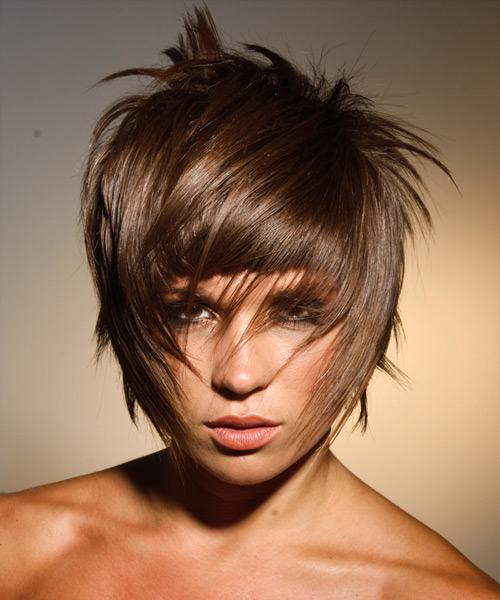 Bangs that are very full, heavy or hang in the face can cover up your lovely oval shape.

By choosing the types of bangs that go with your oval face shape you can keep your face shape balanced and accentuate any great facial features, such as your eyes or cheekbones, so be sure to keep these choices in mind when looking for the right bangs for you.
To see if these great bangs will suit you, click on the images for a link to try the virtual hairstyle on your own photo or our model. If you're after more options then here are plenty of great bangs hairstyle ideas.
---
Makeup
An oval face shape is considered to be the ideal face shape and only requires makeup as an enhancement for the bone structure. For further advice, try these tips:
Eyes
Use a bronze shadow all over your eyelid and mark out your socket line with a softly smudged brown pencil.
A pearly pink eye shadow applied in the area above your socket line will create a delicate look.
Using a blue kohl pencil along the edge of your eyes (above the lash line) will emphasize the size of your eyes.
A fine line of softly smudged pencil under your lashes will enhance your eye color.
Cheekbones
To enhance your face shape, blend blusher on your cheeks and almost over to your hair line.
Lips
A rich, deep pink lipstick color applied entirely over your lips will enhance any curves. For more tips on shaping your lips, see our beauty article, Makeup Tricks: Shaping Your Lips.
To see the difference lipstick can make to your face shape visit the extras section in our Virtual Hairstyler and try out our selection of lipsticks.
When it comes to makeup, the number one rule is that you should always be comfortable. Use these tips and makeup color suggestions as a guide for creating your own look and remember that all face proportions are different and the aim is to balance your own individual features within your face shape.
Now that you know your face shape and how to choose the right hairstyle, why not take a look through TheHairStyler.com's range of hairstyles for oval face shapes?
We also recommend taking a look at the following links:
We have 1,000s of different hairstyles for you to choose from which can be viewed on your own photo or on one of our models. To find out exactly what will work for your triangular face shape, we recommend trying our Free Hairstyle Consultation: