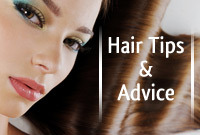 Find out how to care, style and love your hair with these easy hair tips!
Hunt for the Right Hair Brush

There is a lot of variety when it comes to brushes and the right one for you might not be available in your local stores. Use the internet or ask your hairstylist to special order any hair brush that you can't find instead of settling for what you can. The difference it could make to your hair will be worth it.



Good Looking Highlights

For highlights that will look good when growing out, use a darker hair color at your roots that blends to a lighter tone at the tips of your hair.



Hair Treatments

For best results using hair treatments, shampoo your hair to get rid of dirt, apply the treatment and then follow with your conditioner. If your hair is oily apply the treatment to your mid-lengths and ends only. For dry and processed hair, massage the treatment into your scalp to rehydrate your hair follicles.



Give Your Hairstylist Feedback

Once you've gotten your new look be sure to let your hairstylist know what you think. It doesn't matter if you love it or hate it, giving them feedback about the job they've done and what you think of the end result will be helpful for future hair salon appointments and for building a great relationship with your hairstylist.



Low Maintenance Hair Color

For a hair color that doesn't require lots of effort but still looks great, try a hue that is as close to your natural hair color as possible. This cuts down on root touch ups and time (and money) spent combating color fade.



Strong Hold Upstyle

To create a long lasting updo, make sure to start with a solid base. Securing a strong ponytail or plait will keep your upstyle in place and give you a great starting foundation for your hairstyle.



The Right Hair Brush

Using the right brush for your hair type and texture or for the hairstyle you're trying to create will go a long way to making styling easier. Range and variety of hair brushes can be hard to find in stores, though, so shop online or ask your hair stylist to place a special order for you.



Applying Hair Styling Products

When applying hair styling products, make sure your hair is only slightly damp (if freshly washed) to receive the full benefits of the products, and apply the products at the back of your head first (where there's the most hair) and move forward to the front of your hair to ensure you don't overload/ruin your hairstyle.



Straight Locks

To achieve straight locks with a hair iron, apply a heat protection product to limit damage and straighten your hair in small sections to create an even and professional looking result. To finish (and to keep your straight look and avoid any fly-away pieces), smooth some hair serum over your strands.



Washing Your Hair

How often you wash your hair should be based on your individual hair needs. If you find that you need to wash every day then do so with mild shampoo. If you find that your stands can last days after you wash then you may only need to wash your hair once a week.



Hair Color Tip

Simple, solid hair colors are perfect for those wanting to color at home. More complicated processes such as highlights, really vibrant shades and going lighter than your current shade, however, are color options best left to the professionals if you want a fuss free result.



Step Back in Time Hair

Vintage hairstyles are all the rage again. For a retro look, set your medium length hair in a side part then apply big heated hair rollers. When it's cooled create old school Hollywood waves by gently brushing with a paddle brush. Step back in time before you step out this weekend.



Scaredy Cat Color

If you're a bit of a scaredy cat when it comes to changing your hair color (don't worry, most people are), then try something a little less drastic like a semi-permanent color that'll fade after about 10 washes.



Fight the Frizz

Control frizzy hair by getting the right cut (make sure you let your stylist see your hair in its natural form so they can give you a cut that works with your frizz), using a good shampoo and conditioner specifically designed for dry/frizzy hair, and smothering your hair with a heavy treatment once a week.



Forget Cost, Get it Washed

It's a big temptation at the salon to skip the hair wash and just get a dry cut. Don't! Your hair needs to be washed- not just sprayed wet. Why? Growth patterns are obvious in fully soaked hair, and if your stylist can clearly see them they can modify your cut and make sure you get the best style possible.



Wet Hair Wrecks Styling Products

Your hair should be almost dry before you apply any styling products. If it's too wet the styling products will have no effect because they'll evaporate as your hair's moisture dries off. Also, if your hair's wet styling it will take twice as long.



It's Not Good to be Green

If there's too much chlorine in your water (your pool, and even just your tap water), your hair will go green and feel slimy when wet, and starchy when dry. That's not a good look! To fix it up you need to use a deep cleansing shampoo and plenty of heat.



Uncertain About a New Hairstyle

You've been thinking about a new hairstyle, but if you're not absolutely sure, if you still have some doubts and don't know what to expect (and that little voice inside your head is saying: "Maybe now's not the time"), then don't do it!



Hairstyles for Free

If you need a new hairdo but you're a bit strapped for cash, walk into any salon and ask if they have training nights when they need real models to try out new looks and products. If they do, and you left your name and number, say hello to a free hairstyle.



Avoid a Big Split

Avoid your hair splitting all the way up the shaft by snipping off split ends regularly. If you don't, your hair will break off faster than it will grow.



Don't Pay Too Much

Make sure that you ask your stylist exactly how much your hair service will cost before you get anything done. Get all the information you need before you agree to pay for anything.



Easily Find the Right Salon

Next time you're out shopping or running errands, take a few minutes to stand outside some of the hair salons nearby. The one that's busiest is the one you should go to for your next appointment. Why? It's busy because it's the best. Simple!



Get a New Hairbrush

When bristles get old they can split your hair, so using an old hairbrush is like running a razor blade down your hair shaft. Avoid hair damage by getting a new (pure bristle) brush every 4-6 months.



Brush Daily

Brushing your hair daily has big advantages for the look and health of your hair. It will eliminate knots and distribute the natural oil (sebum) from the roots right to the ends. This means the roots won't look too oily and the ends won't look too dry.



Heat-Activated Products

Always apply heat-activated products to your hair before using heated styling tools such as a blow-dryer or a straightening iron. This will prevent your hair from drying out and help your style last longer.



Tied-Up in Knots

Combing out knots in your hair is always easier if you start from the ends and work your way up to the scalp.



Hair Part Tips of the Trade

Changing your hair part can alter the entire look of a hairstyle. Middle parts divide the face into two equal portions and create the illusion of length; a side-part will do the opposite; and zigzag parts give a hairstyle more height, hide bad regrowth, and take some focus away from the forehead area/bridge of the nose.



Don't Blow it All Away

To create a better hold use a blow-dryer first to get rid of some moisture, and then apply styling products to your slightly damp hair.



Turn Up the Volume

There's a trick to remember about volumizing products: always apply them to the roots of your hair. Why? Applying them to the ends will weigh your hair down - and that means no hair volume.



Hair Color Hold

To maximize the hold your new hair color has on your hair, try not to wash your hair for at least 48 hours after having it colored.



Curl Your Hair Naturally

For a more natural finish when using a curling iron, curl your hair in different directions.



Blow Away Your Styling Time

Ask your stylist to show you the right way to blow-dry your hair. Learning how to blow-dry correctly will cut down on your styling time.



More Tangle Tips

Avoid tangles by using a detangler or leave-in hair conditioner after washing, and gently take the knots out with a wide-toothed comb, working in small sections from the ends up.



Timing Your Curls

For the best result curl your hair several hours before any big event so that it can settle. A medium to strong hold product is also good for maintaining your curls.



Remember to Rinse

Thoroughly rinsing out your shampoo and conditioner means your hair won't be left with a dull residue and will be much easier to style.



Time Saving Hair Color

Keep your locks looking fabulous without too much time and effort with a hair color that enhances your natural shade and isn't too high maintenance.



Fuss-Free Styling

To save hairstyling time and to avoid stressing yourself out, work with your natural hair type, not against it.



Bridal Hair from all Angles

It's important to trial your wedding hairstyle, but even more important is taking photos of your hair from all angles. That way you can really make sure the style suits you and your dress perfectly.



Product Overload

For a simple, basic style, a small amount of product is all that is needed, and it goes a long way. Apply small amounts until you have achieved the look and hold that you want.



Same Curls Different Look

Got curls and feel like a change? No problem! For a formal hairstyle and defined curls use a curling iron, for something casual scrunch your hair with mousse, and for loose curls use heated rollers.



Short Cuts to Confidence

If you're worried about cutting your hair short, give yourself some confidence by finding a stylist who knows about short hair, bringing lots of pictures, and perhaps making the change gradual.



No Cringe Wedding Hair

To avoid a what was I thinking? moment when looking at your wedding photos in the years to come, choose a classic hairstyle that is feminine.



Master Your Curls

Master your curls with curling balm to reduce frizz and help your curls sit better, or a paddle brush to help tame them.



Eye Catching Color

Adding panels of contrasting color to your hair is a great way to create an eye-catching look. Ask your stylist to show you which color combos will liven up your locks.



Ground Fly-Away Hair

Use a paddle brush when blow-drying short hair because the flat design will give you better control over those tiny fly-away strands.



Don't Brush-Off Brushes

Using the right hairbrush is important. To straighten your hair use a large round brush, to add body and curl use a small round brush, and for a super sleek look use a flat paddle brush.



Outstanding Updos

An updo will hold better in day old hair. Why? Clean hair is too soft and will stop your style from staying in place.


A bob is one of the most popular hairstyles because it's so versatile. For a more natural effect try a soft and textured finish.



Give Me a Break Styles

To give your hair a break from heat styling, experiment with updos. TheHairStyler.com's got a whole range of the latest examples, so why not upload your photo today?



Don't Cut Out a Great Haircut

The most important factor in hairstyling is a great cut. A great haircut will allow your style to fall into shape naturally, and it'll save you styling time and product use.



Untangle Your Hair

To avoid tangles and strand damage caused by elastic hair bands, twist your hair up and secure it with pins instead.



Back from the Dead Hair

Revitalize tired and dry hair by treating yourself to a professional treatment and blow-dry. It'll recondition and moisturize your hair, and make you feel better too.



Hairstyle Therapy

If you're feeling in need of a pick-me-up, don't forget how good a new hairstyle can make you feel. Get pampered, enjoy a head massage, have a chat, and get a new lease on life with a new look.



Color Changes are Easy

If you don't want to cut your hair, a hair color change is the best way to express yourself; and the easiest way to choose a color that suits you is upload your photo to TheHairStyler.com.



Longer Lasting Color

To combat color fade, try using a special color shampoo and conditioner to keep your color sharper, invest in a color treatment once a week to stop your hair drying out, and limit your blow-drying to once a week.



Feel Good Hair

Most people agree that their hair is an important factor keeping them positive and making them feel attractive. So take care of your hair, and maybe even try a new hairstyle today.



True Love Hair Color

Finding a hair color you love is easy, but to make sure it's true love make sure the hair color suits you, and be aware of the damage it may cause to your hair and your wallet.



Curls Bounce Back

Curls are back in fashion again, so why not try a shorter Marilyn Monroe look, or go longer for something a bit more voluptuous and bouncy.



Great Gift Tips

An easy gift that's sure to please is a shampoo and conditioner treatment pack. Everyone needs shampoo and conditioner, and most salons stock these packs year round (sometimes already gift wrapped).



Straighten Out Your Curls

Pay 1000s of dollars to chemically straighten your hair, or try some cheaper options: straightening lotions, blow-dryers, straightening irons, or hot rollers.



Good Shampoo for You

Always make sure your shampoo and conditioner suit your hair type (oily, dry, colored, dandruff?). If you use the wrong products the results could be disastrous.



Get a Good Straightener

Use a straightener with ceramic plates to avoid drying your hair out too much. Get a lightweight straightener and your arm will also thank you.

Talk Your Way to Great Hair

Always have a thorough hair consultation before getting your hair done because you need to clearly explain what you want and let your stylist assess if it'll suit you.



Get the Edge with a Razor

Ask for the latest hairstyle update by using a razor hair cutting technique. This technique can be applied to any length of hair.



Trim Your Hair for Health

Keep your hair healthy by trimming it every six weeks.



Volume for a Good Time

Apply a volumizing product when towel-drying your hair, because if your hair's too wet it'll be diluted.



Inject Cool into Your Hair

Use the cool shot button on your hair dryer for a blast of cold air to help fix your style in place.



Don't Blow-Dry it Out

To retain some moisture in your hair always use a heat protection spray before you blow-dry.



Keep it Straight Silly

Want to make your hair nice and straight? Use a concentrated nozzle on your hair dryer and aim it at your locks in a downward direction. This will keep your hair flat and help make it straighter.



Do it Upside Down!

Get the most lift and volume out of your hair by blow-drying it upside down on a low or cool heat setting.



Get Layers, Go Natural

If you've got naturally wavy hair and you want to increase its bounce and really make the most out of your waves, try some soft graduated hair layers.



Pick Me Up Hair Texture

Applying gel spray at your roots will create lift and volume and maximize your hair texture.