High foreheads are a great feature to have apparently, they signify intelligence, openness and a high IQ, but from a beauty perspective, many women want to cover them up or at least minimize their appearance. If you find yourself in this category, have no fear. These Hollywood beauties are in the same boat, and have found clever ways to cover up their high foreheads.
It is important to keep in mind that having a high forehead is not a bad thing! A high forehead allows you to have certain hairstyles that no one else can pull off! It is a great facial feature to have and for some women, they just want styles that are going to suit this face shape and make their forehead not look as big as it really is.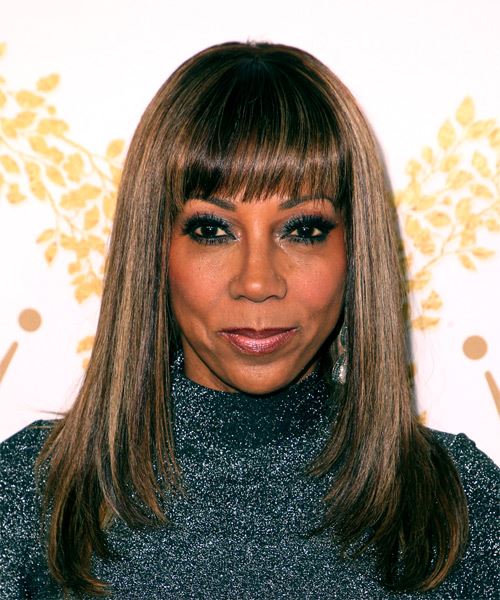 Tips for your hair when you have a high forehead
A high forehead is not the end of the world! It is important that you keep this in mind when you cut your hair before you even think about what hairstyle you would like to have. End of the day, the easiest way for you to cover your high forehead is to get a hair cut and make sure that you cut bangs. You can layer your bangs or you can cut them bluntly to give your look more definition.
Something to keep in mind when you do cut bangs in your hair is that your bangs will fall on an oily part of your skin. This means that your bangs are going to get oily before the rest of your hair. Best thing for you to do is to wash your bangs only every day or every second day.
Another trick for you to keep in mind is have dry shampoo handy. This is going to be a life saver on the days that you do not want to wash your bangs and only wash them in a day or two. Make sure that you get dry shampoo that is suited for your hair type as well as if you have colored your bangs, and you need to make sure that your dry shampoo is for colored hair.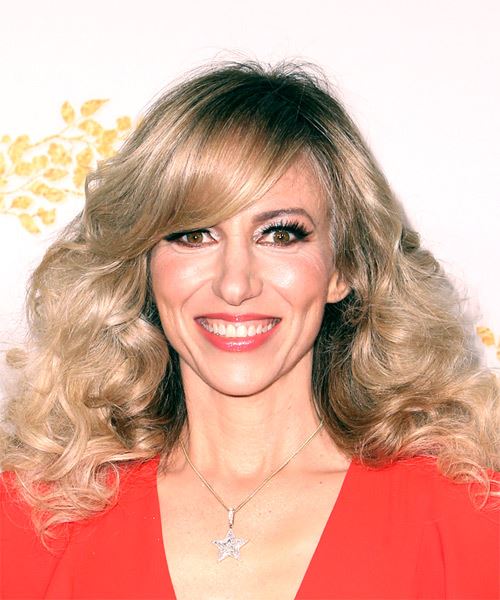 Face shapes that have a high forehead
A heart face shape will typically have a larger, wider forehead.
An oblong face shape can also have a higher forehead than other face shapes.
Keep in mind that not everyone has a distinct face shape. Sometimes, we tend to have features of two or more face shapes in one. This is normal, so It is important that when you cut bangs for your hairstyle, you make sure that you cut your bangs to suit your face shape and not just to help contour your forehead. Ask your stylist which type of bangs will best suit your face shape.
If you are not sure what type of face shape you have, you can ask your stylist or you can go on and read some of our blog posts which explain everything there is to know about face shapes. Alternatively, you can go to your local makeup counter and ask them to explain to you what type of face shape you have.
Now that we have a better understanding about high foreheads and how we can contour our face to help hide the width and height of our foreheads, let's take a look at some styles that you can choose from.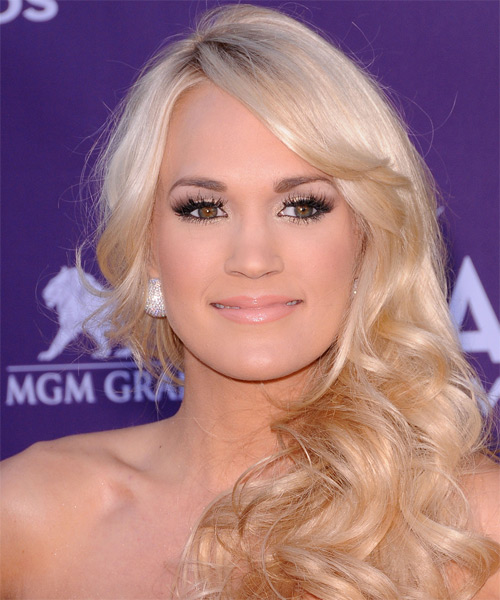 Carrie Underwood cleverly uses her long waves to detract attention from her high forehead. Because full-on bangs would not suit her oblong face shape, she has used a side-swept wavy fringe instead, which looks fabulous and brings the attention to her hazel eyes.
This style is going to show part of your forehead so when you do your makeup application, you need to make sure that you blend your makeup properly, otherwise you will be able to see where your makeup has not been blended properly.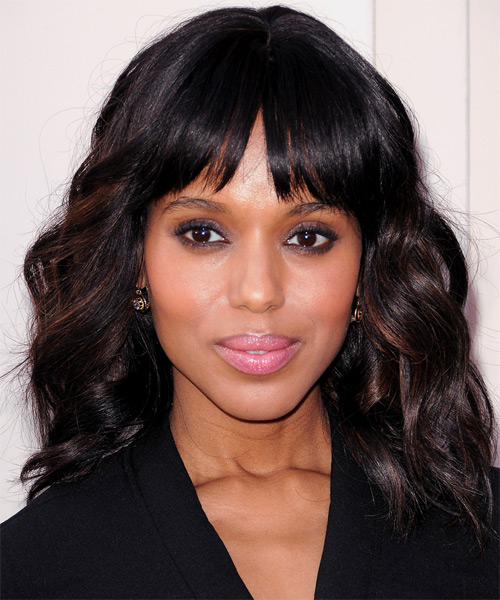 Kerry Washington has a high forehead and heart-shaped face, which means that blunt bangs are the way to go. Here, her bangs have had the edges razored for a softer look, which blends in nicely with her glossy waves.
When cutting your hair to have bangs like Kerry, make sure that you try your best not to play around with your bangs too much. Spray your hair with some hair spray to make sure that your bangs stay in place and that you will not have to move your bangs around the whole day.
The blunt cut also shows that you know what you want and you are not afraid to go out and get it. It is a definite cut! You need to make sure that you cut your bangs once every 4 weeks or so to make sure that your bangs stay in shape and do not over grow too much.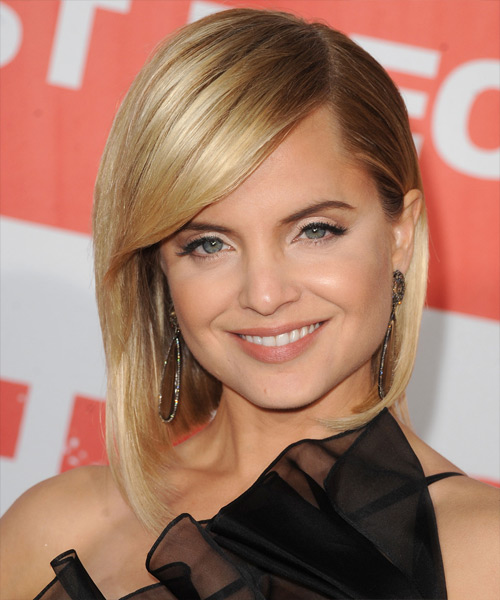 Mena Suvari pairs her cute bob with a very deep side hair part, and a thick fringe that sweeps over her forehead. This is a great option for ladies with high foreheads and faces that are more wide than long.
We love this style because the hair cut is gorgeous to begin with! The blunt cut frames her face well and helps to soften the edges of her face. The only thing that you need to remember is that you need to cut your hair once every 4 weeks or so to ensure that your ends stay healthy and that this cut stays in shape.
Jessica Alba works a sexy updo here, while balancing out her proportions with a long, curled fringe. This is a great tip for voluminous hairstyles that add extra height to the face.
The height in this hairstyle takes away from the high forehead and puts focus on the top of your head. This is a great style for someone who has a wider forehead and needs to add some height to balance out their face shape. Our main advice with this hairstyle is that you carry around a few bobby pins with you in your purse. You never know, those pins tend to break and fall out and you do not want to have pieces of hair falling out.
Finish off this look with hairspray to lock in this look and you are ready to take on your formal event!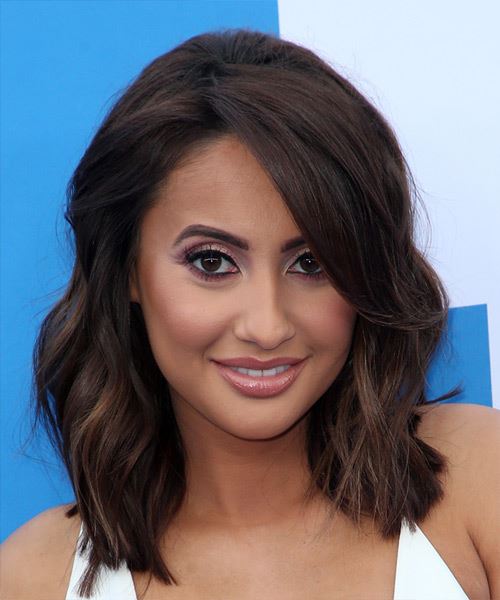 Francia Raisa is showing us a simple yet elegant hairstyle that is great for someone who has a high forehead. Firstly, the bangs are side-swept which means that it is still a nice open hair look and get helps to contour your forehead. The subtle curls gives this look some movement and volume.
The only downside to this hairstyle is that glasses will not suit this look because your glasses will be in the way of your bangs.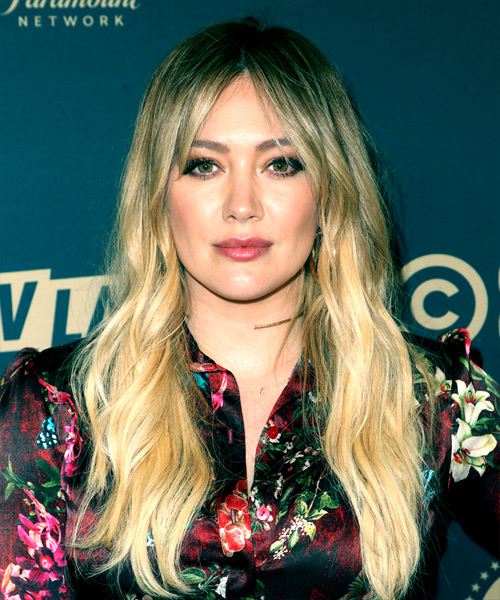 Hilary Duff looks stunning as ever! It is a great hairstyle for someone who has long hair. The length frames her face as well as her neck area. The bangs are parted down the middle which is nice because it frames both sides equally. Due to the way that the bangs fall, it opens up your cheekbone area as well as your lip and nose area. This is a great thing when it comes to your makeup application because you can do a gorgeous lip that is going to pop and be your focal point on your face.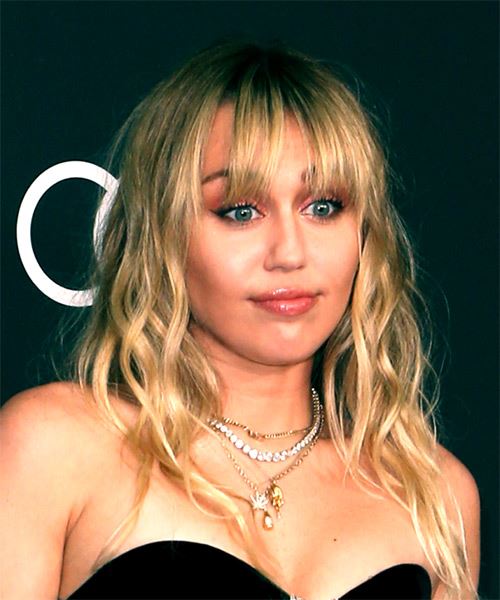 Miley Cyrus looks stunning with this hairstyle. It is an easy style for you to manage and the cut is also easy for you to manage. It will not take you long to style in the morning. Miley has a diamond face shape so the straight bangs that fall directly on top of her eyebrows soften the top of her face which is great!
These are the types of bangs that are going to get oily quickly so make sure you wash your bangs daily. You can also use a setting powder on your makeup to help take away some of the oil and help make sure that your bangs stay cleaner for longer.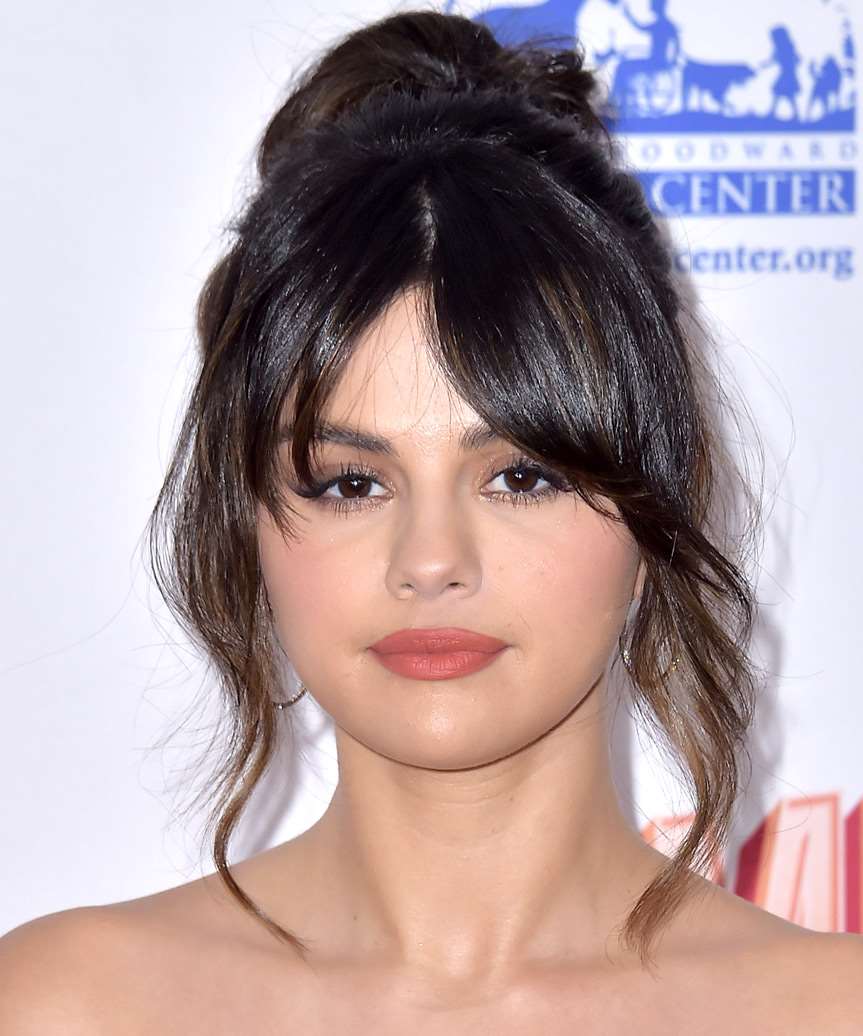 Selena Gomez is showing off her gorgeous wavy natural hair texture. She has done this in an updo which is nice because her hair is off her shoulders and allows her to show off her shoulders. Pieces of her hair has been pulled out of the bun. This is done so that the subtle curls can fall along her cheekbone area which frames her face well.
Curls give her hair texture, movement and volume which we love. Now for these stunning bangs/ The bangs fall forward and slightly over her eyebrows. This cuts her forehead and makes her jawline look a bit softer.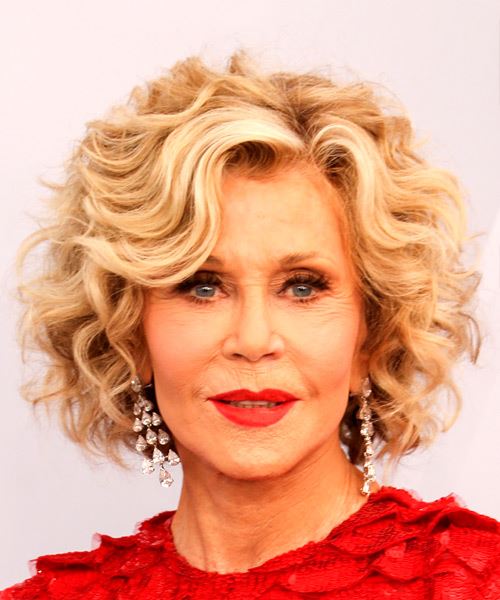 How to hide your high forehead with makeup
When it comes to your makeup application to help make your forehead smaller, highlighter and contour or bronzer is going to become your new best friend! You are going to use darker and lighter shades on your face to hide and bring forward certain parts of your face to help create the illusion of an oval face shape.
Step one: take your darker shade and place it on the top of your forehead. Make sure your blend it into your hairline. Next, place the darker shade underneath your cheekbone as well as your jawline and blend!
Step two: This is your highlighter step. You want to highlight your nose, chin and eye area. Blend that all in and make sure not to make your face look muddy. You want to blend it in softly and so that you do not see the contouring and highlighting lines. Once you have done that, place highlighter on top of your contour line on your cheekbone and you are good to go!
This make take a few times for you to practice before you get this right but I promise, once you get this makeup step right, your face shape will change and you will feel more confident in your makeup application.
As you can see, most of these hairstyles have bangs. We are going to give you a few tips on how to look after your bangs:
As we said before, wash your bangs more often than you wash your hair.
Invest in dry shampoo for your hair type as well as make sure if your hair is colored, you have the right dry shampoo that is for colored hair.
Invest in some Velcro rollers. These are going to save you so much time when you want to style your fringe forward but still want to have movement and style to it.
If your bangs have grown out, ask your stylist how to style your grown-out bangs properly so that they do not just hang there all weird on your face.
Cut your bangs every 4 weeks or so to ensure that your bangs stay in shape and do not over-grow too much to the point where they cover your eyes
Now that you have a better understanding of what hairstyles suit a high forehead, how to do your makeup to help highlight and contour your face to create the illusion of a perfect oval face shape, you can now go and try some of these styles. Keep in mind how to keep your hair looking healthy as well as how to look after your bangs. If you have never had bangs before, it might take a few days to get used to but once you do, you are going to love this new style!
All you need to do to see how you will look with the styles shown on this blog post, upload your picture onto our site. Once you have done that, you can see how you will look with one of these styles by using our virtual hairstyler! How cool is that!
Do not worry if you do not like any of the styles we have shown in this post, there are thousands more for you to choose from on our website today!