Regardless of where your night out is, if you're hitting the town then an evening hairstyle that takes your look to the next level is in order. There are so many different evening looks for you to choose from. You want to make sure that you pair your hairstyle with accessories that are going to take your hairstyle to the next level!
For some ideas about the kind of 'do to wear have a look at the hairstyles below. Helpful hint: click on any of the photos to try on this hairstyle.
Pretty Half Updo
It doesn't get more simple than a pretty half updo hairstyle. This type of hairstyle can work on any hair length from long to short, and can be styled to look more formal or casual to suit your evening look. Here are some excellent options to consider for your next night out: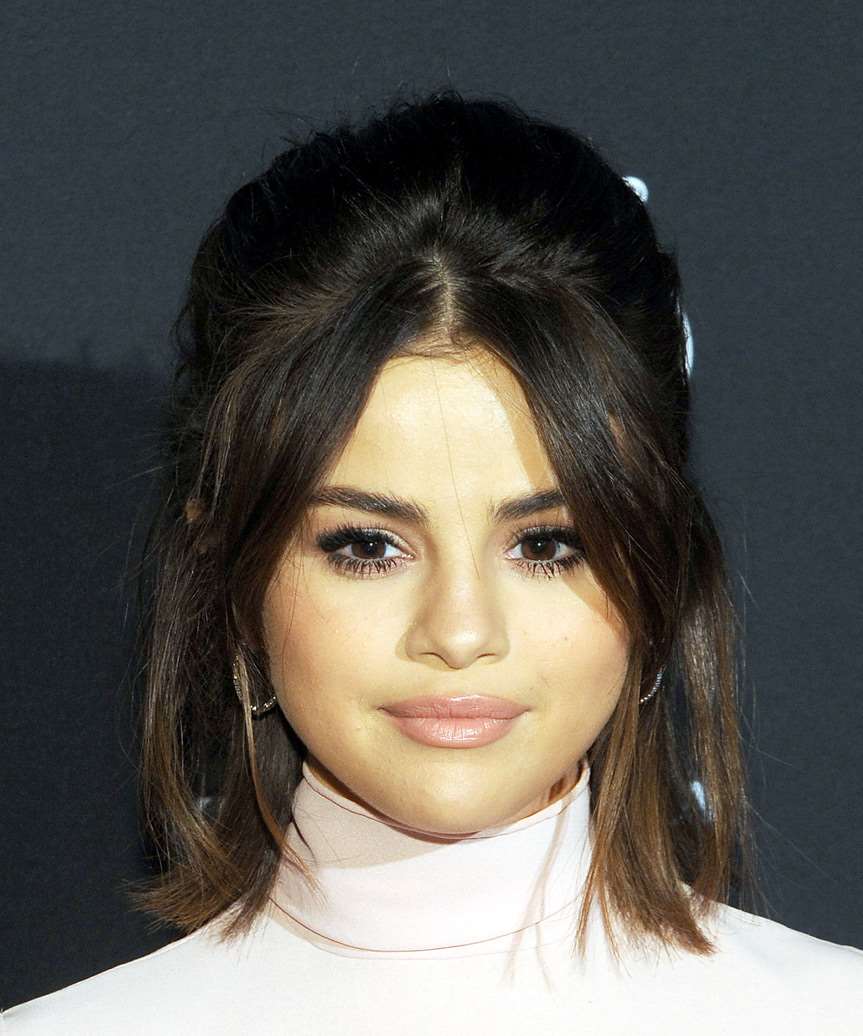 Selena Gomez looks gorgeous here in a half updo that features a nod to the Sixties with a bouffant at the crown. Selena has centre-parted her long bangs for a gorgeous curtain effect while the rest of her locks kick out at the shoulders to finish. This hairstyle is easy to style and you will look gorgeous with this new stle!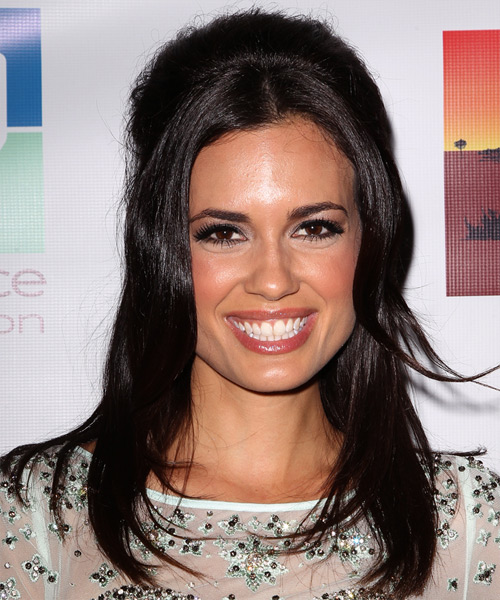 For a longer version of Selena's Sixties-inspired half updo, check out Torrey DeVitto's glossy locks here. She has added some large curls and flicks to the ends of her 'do for a beautiful finish. Once again, this style is easy for you to do at home. You are going to need to have a bit more time to curl your hair before you put it up so give yourself enough time to make this hairstyle flawless.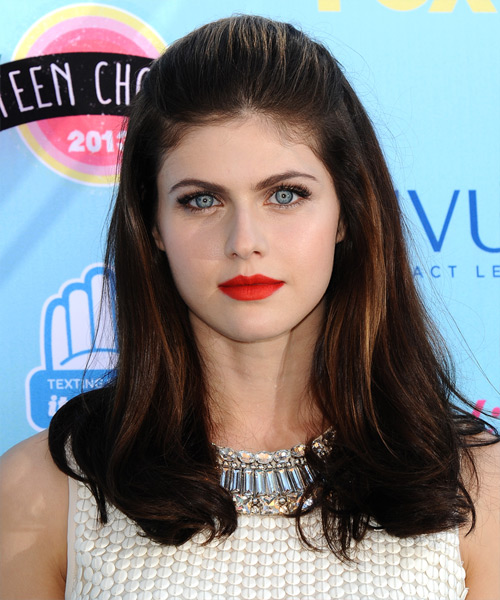 For another option, consider Alexandra Daddario's simple half updo that is ideal for thick and glossy locks. Here, the front section is backcombed and pinned at the crown for a smooth and voluminous finish. The ends are curled for extra volume and bounce, but this 'do also looks great when the hair is worn sleek and straight. This hairstyle is great for someone who wears glasses as having your hair out of your face will open up your face nicely and your glasses will suit this look.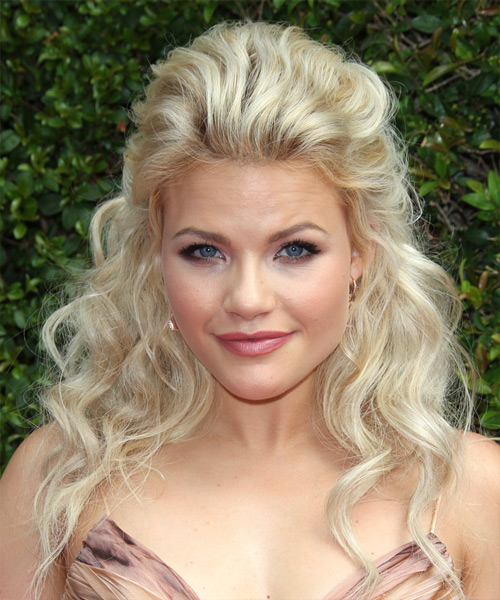 Curly and wavy hair looks fantastic in half updos too. Witney Carson looks stunning here in loosely pulled back blonde waves that are full of volume and body. This is a great hairstyle to wear if you want to go for an ultra romantic, feminine look. This look is also fantastic if you already have curly or wavy hair! Let this style show off your natural hair texture.
Soft Waves

Waves are a great evening look because they work so well with glitzy dresses. Keep your waves soft by using a large barrelled curling iron or wand and don't overload your hair with too much product. You want the waves to look as natural as possible. If you need more sparkle, dress your waves with some hair pins or a fancy headband. Keep in mind that if you do not have a lot of time to style your hair, all you need to do is place your hair in hot rollers the night before and sleep with the rollers in. The next morning you can take the rollers out and you will have fantastic, bouncy curls that will make peoples heads turn!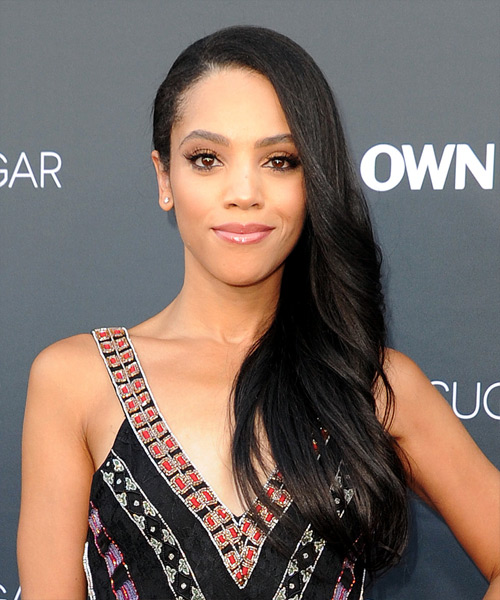 Bianca Lawson nails the soft waves look here with her long jet black locks. She has gone for a silky smooth finish and large, barely-there waves through the lengths and ends. One side is tucked behind her ear for a flawless finish. This hairstyle is perfect for an evening look or an important meeting that you might have. You are going to need to use some products to ensure that the one side of your hair is slicked back and that you do not have flyaway pieces of hair throughout the day.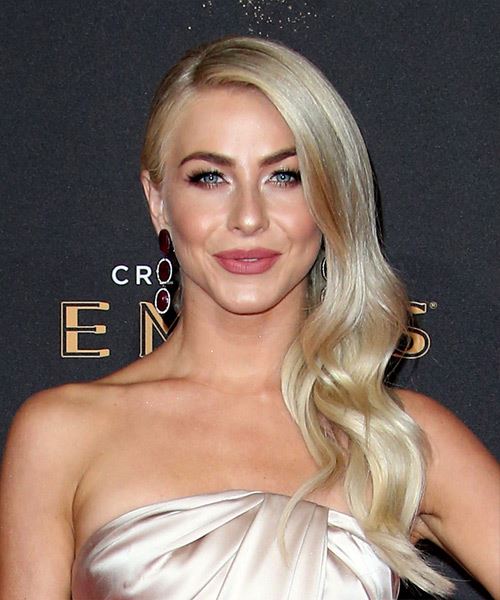 Julianne Hough looks flawless here in soft waves that fall past her shoulders. She has also gone for a deep side part and swept one side of her hair back for a gorgeous finish. The deep side path helps to frame her face well. Use this hairstyle to show off your new earrings and necklace. A gorgeous scarf would also be the best accessory for this hairstyle.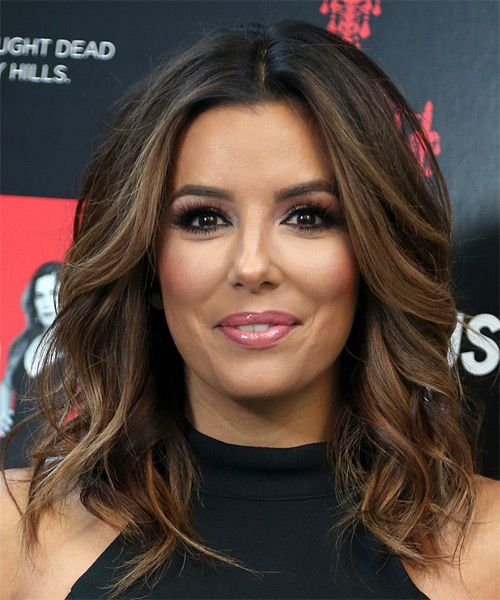 Shorter hair can flaunt soft waves for the evening too! Check out Eva Longoria's voluminous waves here that add volume to her shoulder length bob. Eva has tousled her locks here for some extra texture and body for a fabulous finish. You need to be careful that you do not make your curls too tight with shorter hair as the tighter your curls, the shorter your hair will look. If you want the curls to last the whole day, then you will need to make them a bit tighter in the morning as curls do tend to drop as time goes by.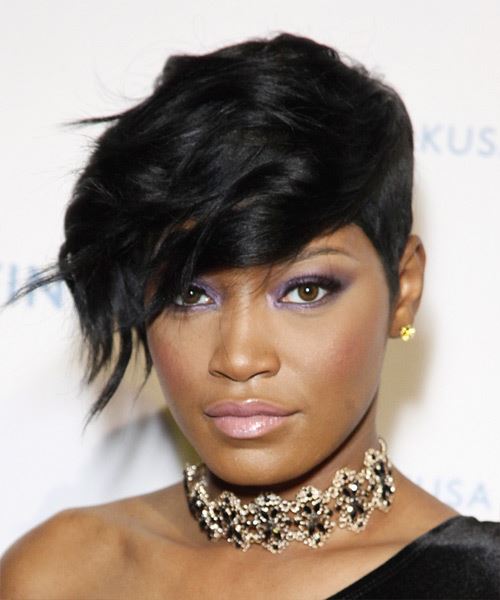 Keke Palmer rocks soft waves in her short hair with fabulous results. This is a great way to jazz up short hair for the evening with style and a bit of edge! Keke has left her waves soft and tousled for a soft and sleek finish. If you want to take this hairstyle to the next level, you can add a few colored highlights to your fringe to take this look over the top!
Undone Updo

When your evening out is more casual than formal, but you still want a spectacular look, the undone updo is the option for you! It involves very loosely styling your hair up into a soft bun, chignon, twist, roll or braids. The key to this look is to leave loose strands of shiny hair pulled out around the face to incorporate lots of pretty softness into your finished style.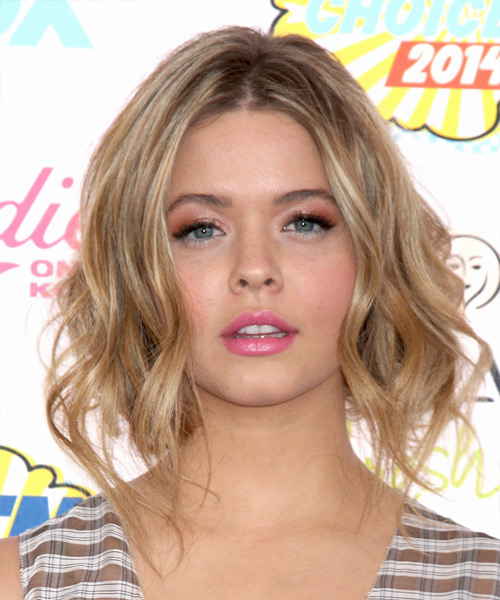 Sasha Pieterse perfects the undone look here by creating a faux bob style. Her wavy locks have been bundled and secured at the back while soft tendrils at the front are left to frame the face for a beautiful finish. The waves around her face frame her face perfectly and create the illusion that she has an oval face shape.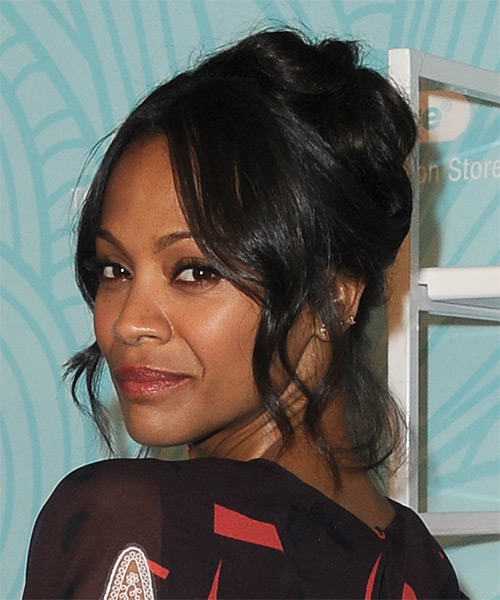 Zoe Saldana goes for an undone bun here, with her jet black locks swept up at the crown into a soft pile, while wavy tendrils have been left down to frame her face in the front. This is a stunning look that will work well on naturally curly or wavy hair. I love how effortless this hairstyle looks and yet elegant at the same time.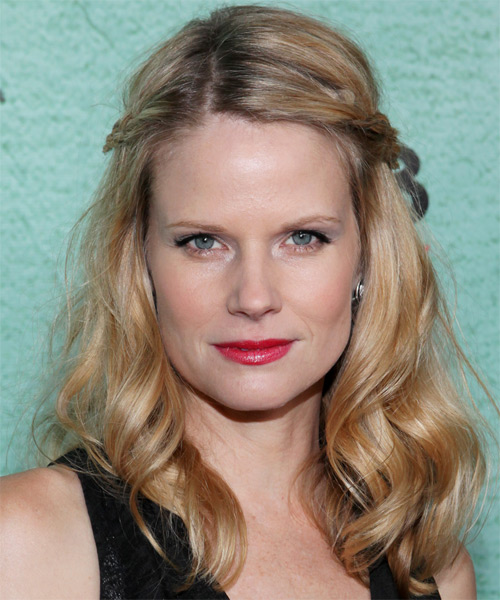 Joelle Carter flaunts a bohemian chic look here by styling her wavy locks into two loose braids, which have then been pinned at the back to create a crown-like effect. This is a great hairstyle for women who shun ultra glam looks, and whose fashion sense is more offbeat and boho. This hairstyle is also great for women who like to feel that the hairstyle has structure, and the braids are a great way to secure your hair to ensure that it stays out of your face throughout the day.
Swept Back

For the ultimate evening look that is full of glamour, you can't beat a swept back updo. This type of hairstyle is simple, elegant and oozes class. You will need medium to long hair to pull off this look, but can opt for a slicked back style if your hair is short. Keep in mind, in order to create the sleek look, you are going to need to use hair product to ensure that you do not get flyaway hairs. Having said that, you do not want to use a lot product because it will make your hair look greasy. To prevent that, you are going to want to use professional hair product.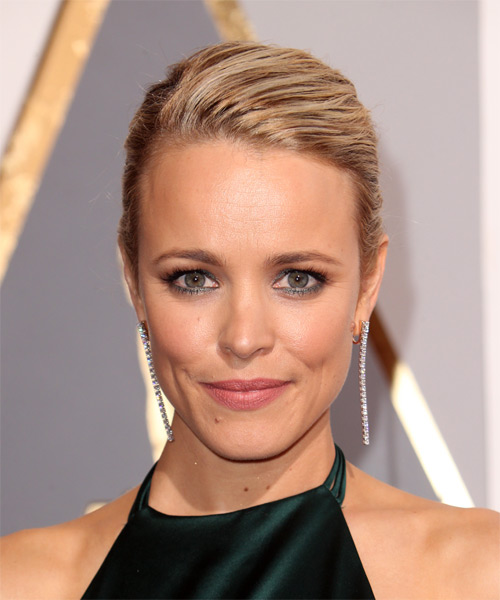 Rachel McAdams looks chic and elegant here in an updo that has been styled simply off of her face and secured in a roll at the back. She has maintained her part for a sleek finish. The part gives your hairstyle movement even though it is slicked back. As you can see, she has silver highlights in her hair as well. The color is gorgeous for this style because a sleek look really brings your color to the surface and shows it off nicely.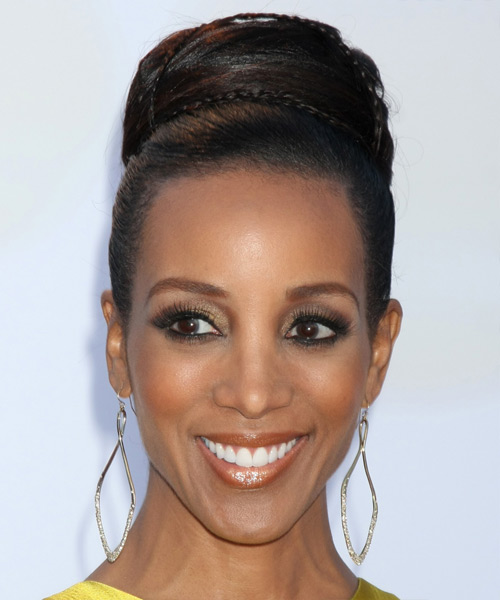 Shaun Robinson brings the focus to her gorgeous face with this swept back updo. Her locks have been pulled back tightly off her face and culminate in a high voluminous bun at the crown. This is a showstopping look that has been finished off with some smaller braids around the bun for a fabulous style. This look takes some time to perfect but once you do, you are not going to regret it!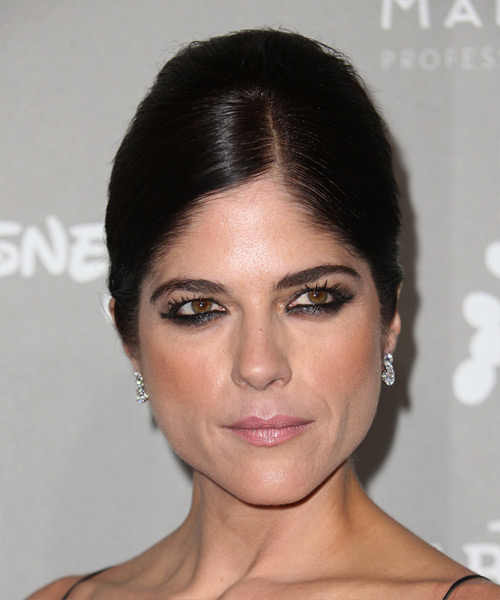 Selma Blair goes for a side part and bouffant to create her swept back look. Her hair has been twisted and rolled at the back, while the front remains sleek and smooth. The bouffant adds some nice lift at the crown and some added elegance. This hairstyle is fit for a princess and you will look gorgeous strutting your stuff with this new style! If you have thick hair, you are going to need to use more bobby pins to ensure that the twists stay in place throughout the day.
How to maintain your evening hairstyle
Make sure that you use professional hair products to ensure that your hair stays in place throughout the evening.
You can keep bobby pins in your purse just in case one breaks during the night or you feel like you need extra security for your hairstyle.
Make sure that you curl your hair so that it frames your face and does not hide your face. You want your new hairstyle to show off your facial features, not hide them.
If you have color in your hair, make sure that you have your color redone every 6 weeks or so to ensure that your color is vibrant and fresh for your evening out.
Keep in mind that if you are doing an updo, your hair will be best styled a day or two after your hair as been washed. This is going to help keep your hair in place throughout the evening without having to use too much hair product.
If you are using a hair iron or curling iron, make sure that you use a product before to product your hair from being damaged by the heat of the tools.
Makeup tips
When it comes to evening makeup, you can never go wrong with a smokey eye! Make sure that when you do a smokey eye, that you do not have a lot of black eye shadow at the bottom of your eye as it is going to look like a mess, and over the course of the night you are going to look like you have a bruised eye. You can go more subtle and do a smokey eye with more natural colors such as golds or browns.
In terms of your lips, you can go with a gloss finish if your hair is out of your face so that your hair does not stick to your lips, or you can go with a matte finish if you have hair around your face. No matter what makeup look you go for, you want to make sure that you do not forget to highlight and contour your face and neck area to create the perfect overall look.

As you can see, we have given you a few different options for you to choose from. Before you choose an evening hairstyle, you need to take your face shape into consideration. You want to make sure that the hairstyle that you choose suits your face shape as well as your personality.

These are just a few evening hairstyle ideas for your next night out. To try on even more evening looks, visit our formal hairstyles page.
Need some styling tutorials for your evening look? Check out these videos: