Layers are an ideal way to balance out your face shape. They can soften heavy jawlines, add width to narrow faces and make rounder faces appear longer. They will also give you an idea of how you will look with different hair lengths.
The good thing about layers is that they need very little maintenance if they are cut right and will hold up well, even when growing out.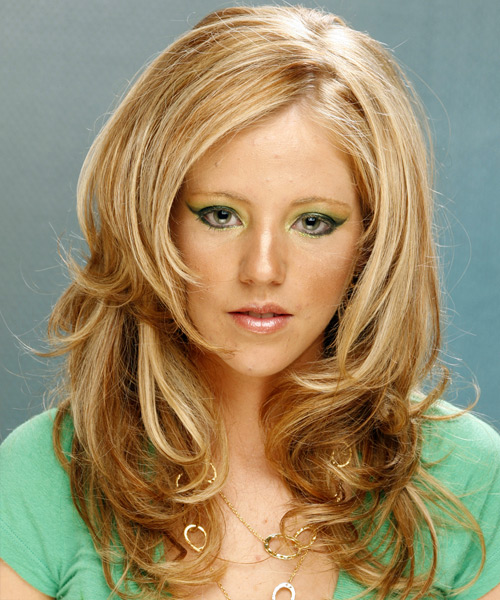 They are a great option to use to perk up soft waves and to get rid of the heaviness that can weigh curls down. They will also make it easier for your strands to bounce, coil and bend. Shorter layers on top and through the back of your hair will also encourage your hair to move more freely.
Layers will not only add volume to fine wavy and curly hair types, but will also take the heaviness out of thick hair. And in long hair, layers will allow the ends to move and fall into a natural shape. Layers will also add a new dimension and angle into any type of cut.
For great styling impact, team color with layers by strategically placing color throughout your layers so that the color will flash though your hair and define your layers.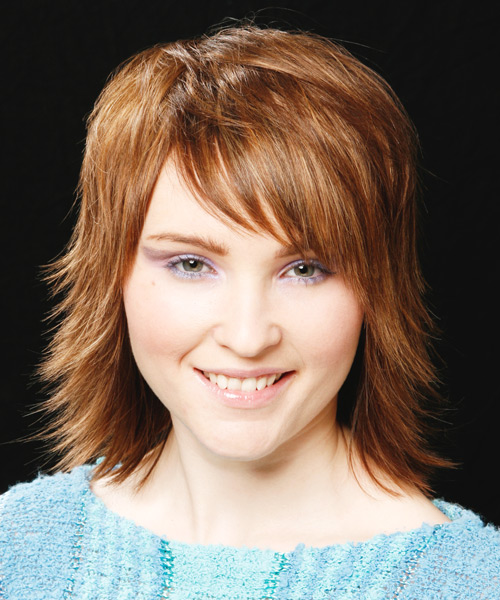 Narrow Face:
If you have a narrow face shape, start layers at brow level and work down along your cheekbones to open your face up.
Round Face:
Those with a round face shape should try short layers that go from your brow to jaw line, or medium to long layers that go from your chin to your jaw line to break up the circular look of your face shape.
Square Face:
For a softening effect on square face shapes, play down your strong jaw line with wispy layers from your cheeks down.
How layers are organized in various lengths in different parts of your hair determines the actual outcome of any hairstyle and your hairstylist should be able to give you sound advice based on your hair type, hair texture, face shape - and above everything - your lifestyle. Your job is to give them a starting point, such as a good description or picture of what it is that you like.
How to Get the Look You Want
There's nothing worse than finding a great layered look, going to the hairdresser to have it cut, and then being disappointed by the results. Because layers have the unique ability to transform the look and shape of your hair, the final results are often either really great, or really bad.
To know if the layered look that you fancy will turn out the way that you want, consider the following:
Your Hair Type and Hair Texture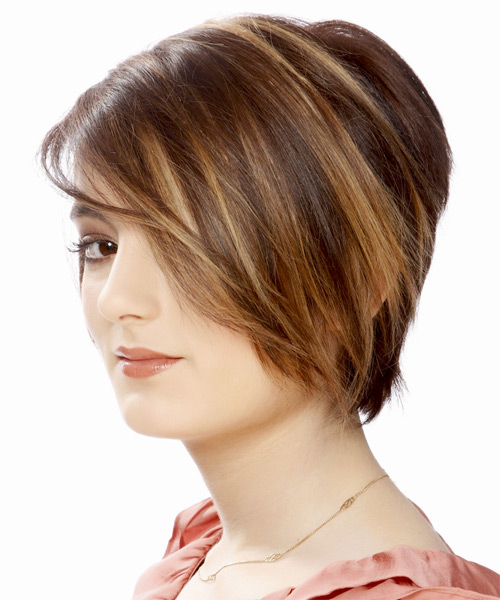 Make sure it's right for layers. Some hair types can be tamed beautifully by the introduction of layers, while others may turn into an unflattering mess. If you're not sure, speak to your stylist before they get out the scissors and ask if layers are right for you.
Layer Placement
This is similar to knowing if your hair type will take layers well. Misplaced layers, or layers added in the wrong areas of your hair can create an unflattering shape. Getting it wrong could spell disaster, while getting it right will give you a stylish result and great looking hair.
Maintenance and Styling
Depending on the type of layering, your hair type, styling needs and lifestyle, a layered haircut may be more work than a non-layered cut. Consider the styling you'll need to maintain your look, and how often you'll need your layers re-cut before going ahead.
Hairstylist Communication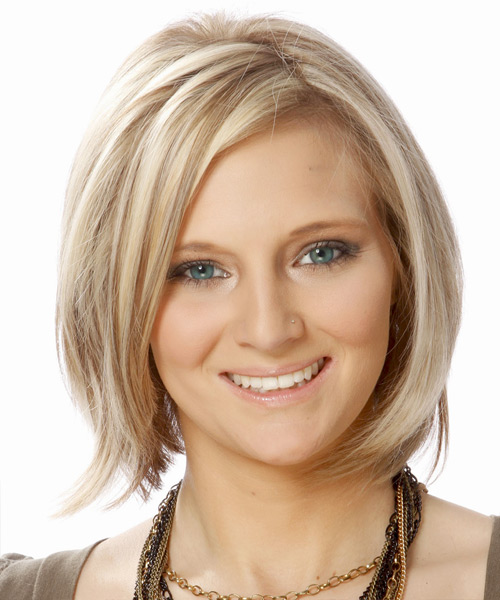 Make sure your hairstylist knows exactly what kind of layers you want, where you want them and what you're hoping for. Showing pictures of the layered hairstyles that you like will get your point across in the most visual way, and ensure that you and your stylist are on the same page.
One of the Most Popular Hairstyles
Layered hairstyles are a fashionable choice for celebrities because these hairstyles can look glamorous and sophisticated without being too high maintenance. For example Rumer Willis' copper colored short hair incorporates jagged layers all over to create a great wispy and textured finish. You might like to try a hairstyle like this if your hair's medium texture and your face shape is oval, oblong, square or diamond.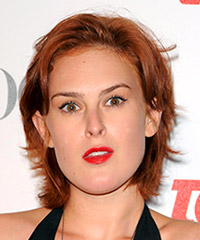 Like most hairstyles, layered hairstyles come in a range of different looks and layers can also be incorporated into a variety of different haircuts. The basic kinds of layered hairstyles (of course there are variations of each) are the short crop, spikey layers, wispy layers, and graduated layers.
Layered hairstyles can also be quite avant-garde and alternative. Check out the salon style on our model for example. Layering emo hair is a popular look right now too. Layered hairstyles are "emo" when layers are used to frame the face. Layers cut through the end sections are also a cool way to create wispiness.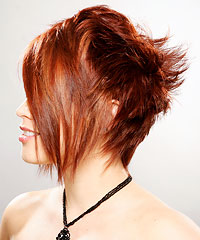 Before you add layers to your haircut there are some things you should know. Why? Because layered hairstyles might not be for you. You need to think about the kinds of layers you'd like and where the best place is to have them. Most importantly, you need to think about whether a layered hairstyle will suit your hair texture and elasticity; for instance, if you've got fine hair that's wavy or soft and curly, layers are great for adding volume; but if you've got long straight fine hair, a layered hairstyle is not such a great idea.
If you're interested in getting a layered hairstyle check out our other articles on layered hair and try on a few examples using our virtual hairstyler. It's also recommended that you do our free hair consultations, and have a chat with a professional stylist to learn more about whether your hair texture, elasticity and density will suit layered hairstyles.
Layered Hairstyles Might Not be for You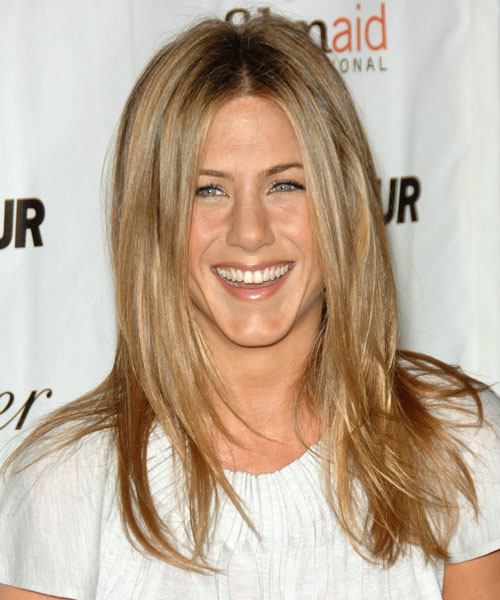 Jennifer Aniston is someone who really suits layered hairstyles. This is pretty much her "classic layered hairstyle," meaning her straight long hair is parted in the middle and has layers cut mainly around the sides. The layers at the side work for Jennifer because they complement her face by softening her jaw line. Also, her hair texture and elasticity suits layering. It's not too fine, meaning it won't look too thin and wispy when layered, and it's not curly either. It's the perfect hairstyle for Jennifer because it suits her and she doesn't have to do much for it to sit nicely.
Layered hairstyles are a fashionable choice for celebrities, but you don't have to be one to have great layered hair. There are, however, some things about layered hairstyles you should bear in mind. If you don't like the sound of any of these, then layered hair might not be for you:
Hair texture: coarse and medium hair are best suited to layering. Fine hair can be made to look even thinner and wispier (if you're not sure of your hair texture take a look at our free consultation).
Hair elasticity: if you're hair's wavy, layered hairstyles can enhance your natural wave. But if your hair's curly, then layering (if not done correctly) might make your hair look triangular in shape. Layers might also make wiry and frizzy hair uncontrollable.
Layered hairstyles can be difficult to cut, so you need a good long consultation with your stylist.
Layered hairstyles need regular hair care maintenance and trims- so if you're after a low maintenance hairstyle then layers probably aren't a good choice for you.
Layers can take years to grow out, which means that if you like to change your look regularly then maybe you should give layers a miss.
Some layered hairstyles can't be worn as updos- to prevent this your sides shouldn't be shorter than your shoulders.
Layered hairstyles are like any hairstyle in that you need to think a bit about whether they're the right hairstyle for you before you make the commitment. If you have a chat with your stylist and do a couple of our quick (and free) consultations, you'll definitely be on the right track.
Be Open to Other Options
In the end, if your hairdresser advises that layers are not for you, ask them for other options or suggestions about the type of style you can sport. You may not get the layered look you had your heart set on, but you may get something similar or something even better!
Do you want to give layers a try? Take a look at TheHairStyler.com's hairstyle library to find the right layered hairstyle for you!