If you're a blonde who wants to have more fun, or you're thinking about going blonde, then these tips, tricks and blonde hair color suggestions are for you!
Blonde Hair Color Tips
When you first wash your hair after having it colored make sure it's with a shampoo and conditioner designed for color treated hair. This will help you to retain your color.
For further washes, try blonde color depositing shampoos to keep your hair color rich and vibrant.
To refresh your color between salon visits use a gloss hair treatment that either matches your blonde locks or is clear. This will also help to minimize color fade.
If you find that your platinum blonde hair color turns brassy then keep a purple shampoo on hand to tone out the brass as you wash your hair.
Multi-tonal blonde is a good choice for all hair types and most hairstyles, although really short crops will look better with one solid hair color.
Platinum blonde colors works best for thick hair types as fine hair could end up looking really thin. Your hair must be in very good condition to try this color and you must be prepared for monthly salon visits and to do some home pampering with your locks to keep your hair healthy.
Blonde Hair Color Tricks
Add some oomph to your hair without going the standard base color and highlight route by using highlights and lowlights in complimentary blonde colors that go with your base color.
Adding slices of blonde color in the underneath sections of your hair is a great way to add interest as the different color will come into view at different times, such as when you're just moving your hair around naturally or when you wear an updo or a different hair part. It's also low maintenance as it doesn't start at your roots and the regrowth won't show as quickly.
Add natural blonde tones as highlights for a sun-kissed look in thin strands around your face. Use low-lights in slightly darker blonde shades for depth, texture and movement.
If you're a brunette, add some blonde highlights around your face to lift and lighten your color instead of going for an all out blonde color as that could drain your skin tone and features.
When it comes to hair styling, blow-dry or straighten your hair smooth to reflect more light.
Blonde Hair Color Suggestions
Light Blonde
Light blonde color choices come in lots of varieties with one of the most popular being platinum blonde. If you're keen to try it, just make sure you're only two shades darker than platinum already or go platinum over time for the best result..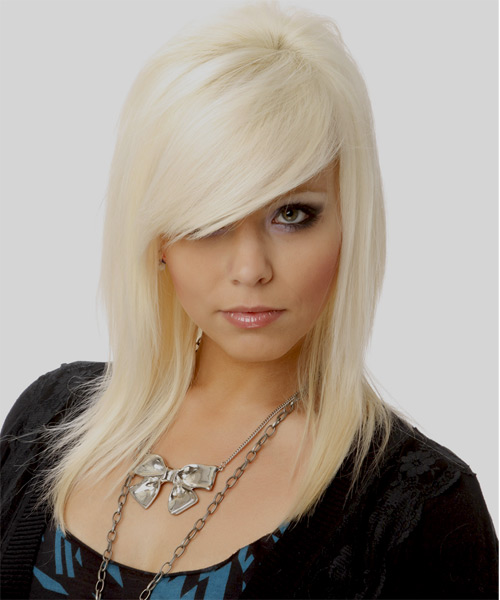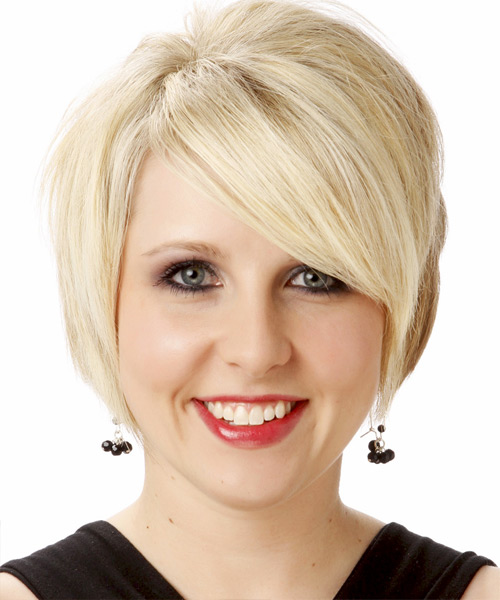 Medium Blonde
Multi-tonal medium blonde colors in gold and honey are great options as the different layers of shade adds depth and thickness.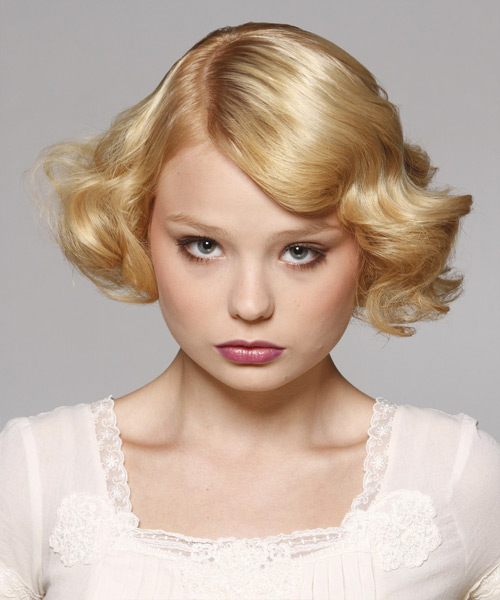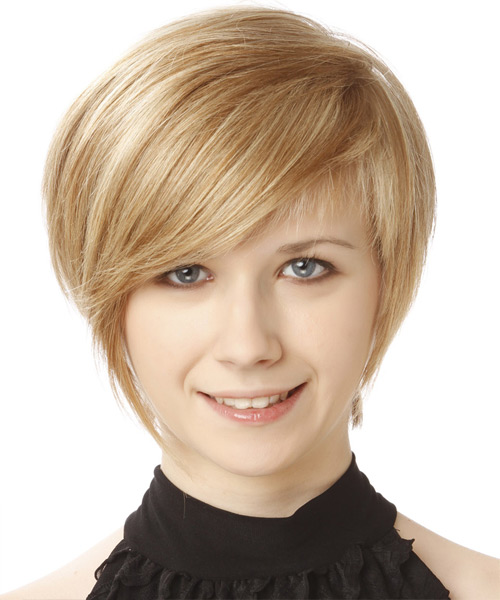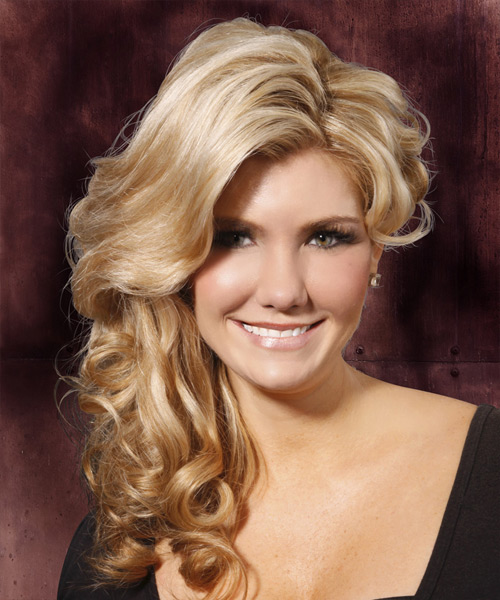 Dark Blonde
For colors that reflect light, try dark blonde hair colors that have golden tones.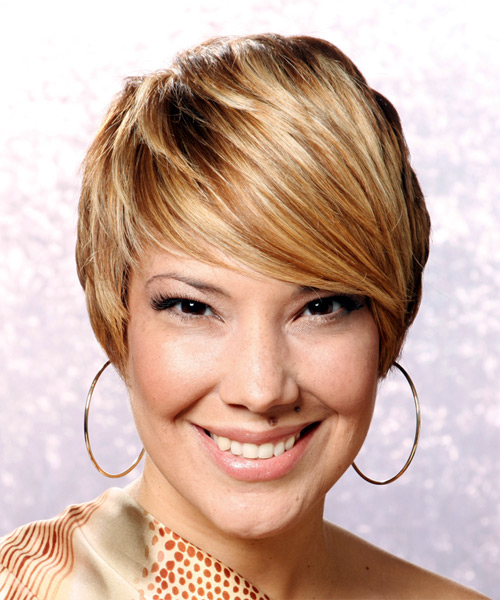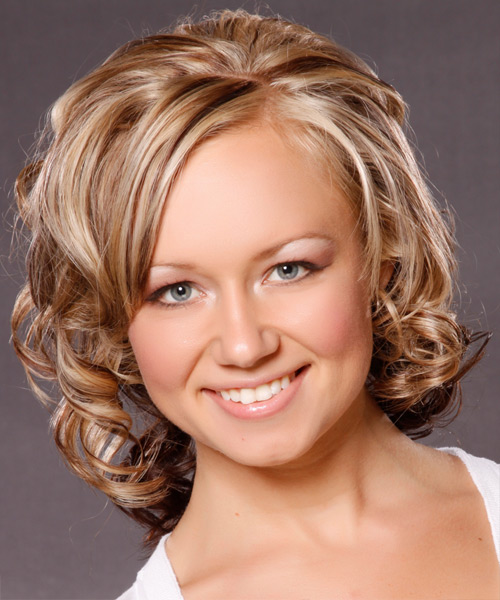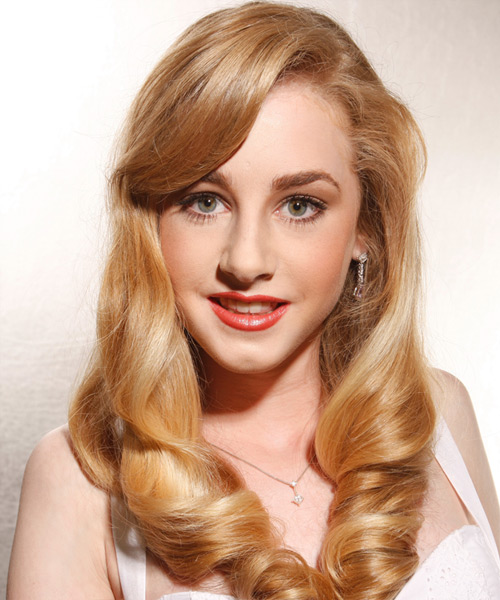 To see how you'd look with any of these blonde hairstyles, click on the images for a link to try the virtual hairstyle on your own photo or our model.
White Blonde Hair Color
If you read our articles, you will know that ultra edgy 'dos are bang on trend this season. And, when it comes to color there is no doubt that this season, it's gotta be bold! One color that is on fire this season is icy white, Nordic blonde. This hair color is one of the must-have shades this season but rather than subtle white blonde highlights, it should be a dramatic, all-over color. If you have this hair color or want to flaunt this icy white shade, check out these latest hairstyles for some new ways to wear white blonde hair.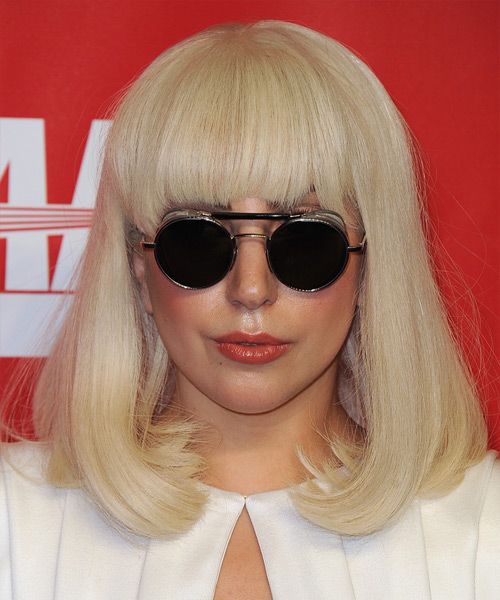 Lady Gaga loves her hair bright and white! Her hairdo may be a wig but it could also be achieved on her real hair. The sharp cut and unnaturally light color gives Lady G an "undercover spy" look, like she is trying to disguise herself, which she probably is! But for the rest of us 'normal' people, this haircut and color looks fashion-forward, and a little bit kooky. So if that's what you are into, give this hairdo a try!
Here, our model is combining two edgy trends with her androgynous hairdo and her white blonde color. This is a great haircut for women who like to stand out and have an edgy sense of style. The hair has been shaved on the back and sides while the longer layers on top have been styled straight back off the face. Styling wax has been used to create a spiky effect adding even more 'tough chick' feel to this hairstyle. This is a great way to show off your icy white hair if you like a low maintenance cut and are looking for an alternative hairstyle. Just be warned that your roots will show very quickly with this hairstyle!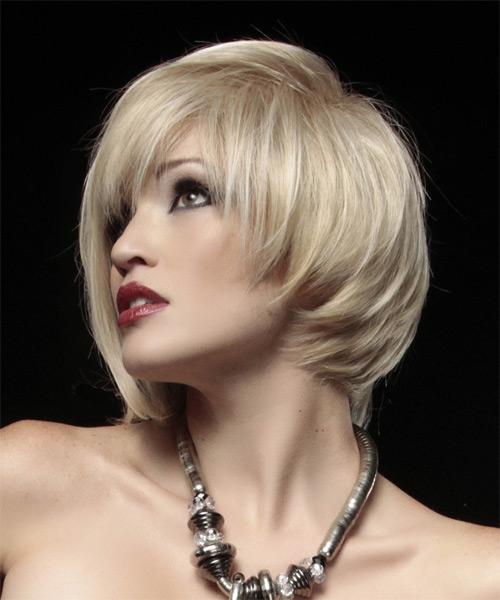 Here is a softly layered asymmetrical cut that looks fabulous with white blonde hair. This cut is great for women who like lots of layers to frame their face, especially some bang coverage. This hairstyle is jaw length on one side and up to the ear on the other. This asymmetrical effect will instantly give you a fashion-forward look, especially if you pair it with an eye-skimming fringe like our model.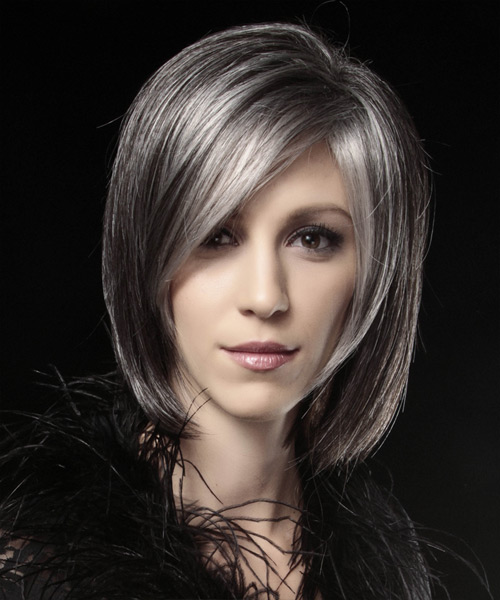 Ok, so this isn't exactly an icy white shade, but nonetheless this is a super cool hair color! Our model looks futuristic with this two - toned bob. At first glance, this hair color looks like a shiny gunmetal shade but in reality it is made up of white blonde highlights blended in with ash black. This is one hairstyle that is for women who are confident and want to be different from the masses- after all it takes a certain kind of flair to pull off metallic silver hair! Our model has kept the cut conservative- a simple layered bob- to keep the focus on her color. If you want a head-turning look with elements of blonde and black, then this look is definitely for you!
As you can see, white blonde hair looks fabulous in many different styles and can look oh-so-chic with the right cut. This is a head-turning shade though so regardless of what hairstyle you choose to rock, wear it with confidence!
Icy White Blonde Hair
Apparently, word in the fashion world has it that this sseason is going to be all about the blonde hair. And we're not talking about sun-kissed dark honey blonde, we're talking icy white Scandinavian blonde as the 'must have' hair color.

This shade looks amazing when done properly-not only does it look ultra exotic, but it also has a hint of futurism, thanks to its almost silver sheen. The problem with this hair color? Well, unless you have some serious Scandinavian blood running through your veins, chances are you'll need a whole lotta chemical processing to achieve this shade.

But it's not all bad news. Hair colors have become very advanced and you can get a lot more lift with a lot less damage these days. However, be warned- if you are going to dye your hair this color and you have naturally dark hair, it will take a lot of maintenance and money to keep this shade looking fresh.

On another note, having such a high-intensity light color can put pressure on the way you style your hair. Unlike natural-looking shades, icy white blonde needs to be styled to look good-think old Hollywood style waves for the evening or a chic, smooth blowout for the day. Either way, this is a high maintenance color that deserves a head turning style to really show it off properly! If this hasn't put you off, then check out these celebrity icy white blonde hairstyles for some inspiration!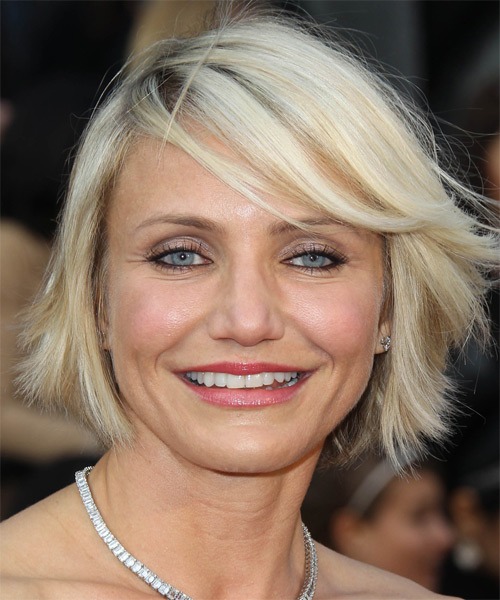 Cameron Diaz has always been a fan of white blonde hair and why not? This color works fabulously with her golden skin tone and light blue eyes. Here, Cameron has chosen an all-over platinum blonde shade which compliments her blunt chin-length bob. A long side-swept fringe makes her eyes pop and balances out her square face shape nicely. This is a great short hairstyle for ladies with naturally dark hair who want to lighten up to this shade. It will keep your hair looking healthy and shiny after all of that color processing.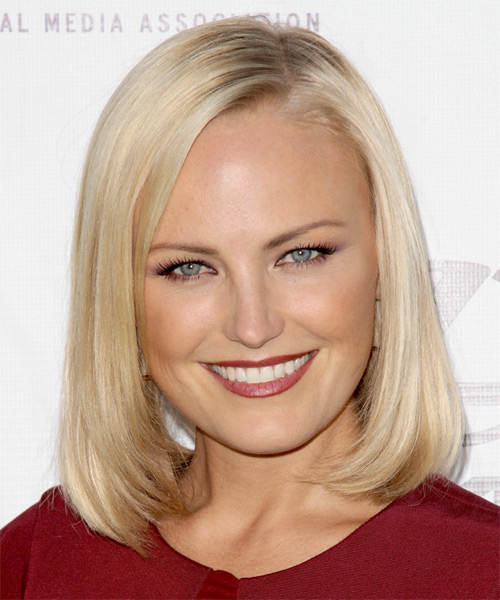 Malin Akerman has the Swedish roots (no pun intended) to really pull this color off with ease. The Swedish-Canadian actress is often seen with golden blonde hair, but this white blonde really suits her complexion and features perfectly. The blunt shoulder length bob is a good option for women who love the white blonde color but don't want to look too immature or, let's just say it-trashy- with longer white locks. Yes, this shade when worn incorrectly can look very cheap, so be warned!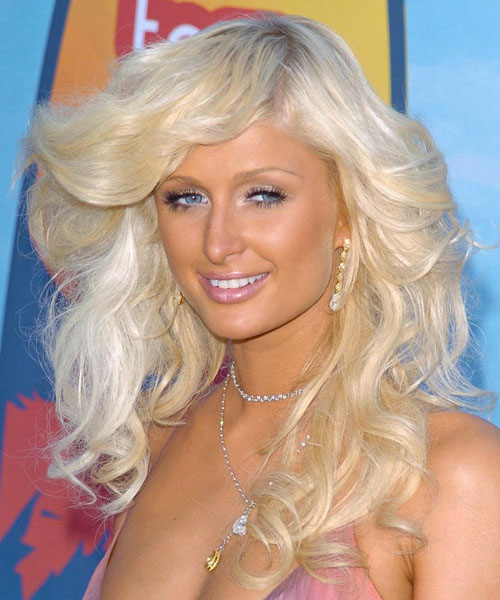 Speaking of looking cheap- here is a hairstyle DON'T for icy blonde hair. If you are going to wear it long, don't go crazy on the curls and backcombing unless you want to look like Paris Hilton circa 2003. Instead, go for a precision cut and wear it ultra straight for a fashion-forward look. Or add some loose beachy waves in for a casual boho style instead.

Whichever hairstyle you go for with this shade of hair, make sure to keep your makeup fresh and light to match. It's also a good idea to get your hair touched up every month or so with an ash toner to keep brassy yellow tones at bay.
Platinum Blonde Hair Color
Platinum blonde hair color is the lightest blonde hair color with a hint of silver, making it cool in tone yet vibrant. It will always be in fashion because it's a classic hair color. But it can also be quite risky because harsh chemicals are involved that, if not used correctly, can damage your hair. And platinum blonde hair color is doubly risky because it's quite an addictive hair color too. So to prevent you ruining your hair we've got some important platinum blonde hair coloring tips, and to inspire you we've got some pictures of celebrities with platinum blonde hair.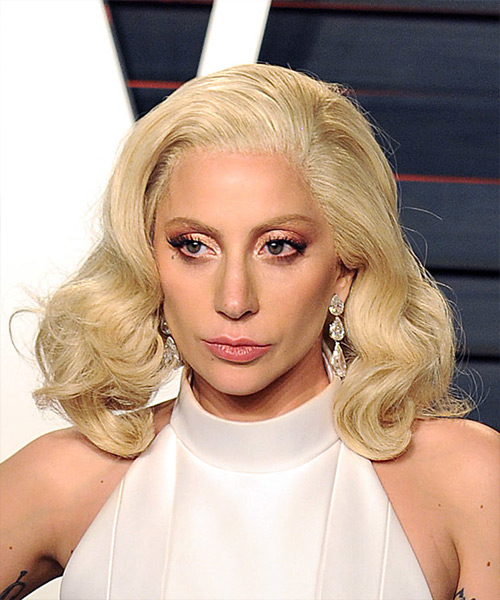 Lady GaGa's Platinum Blonde Hair Color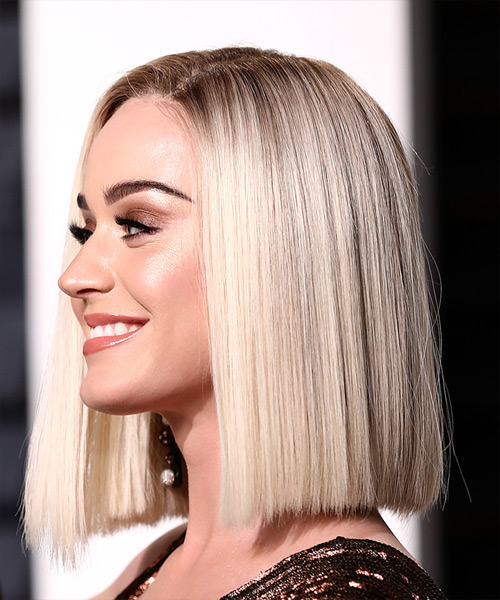 Katy Perry's Platinum Blonde Hair Color
Platinum Blonde Hair Color Looks Great
Platinum blonde hair color is daring and eye-catching and can look great. Think how captivating and striking Lady GaGa looks with her platinum blonde hair, or singer Katy Perry. If you want a hair color that makes you truly stand out from the crowd, try platinum blonde (for another daring hair color option see our previous article: "Red Hair Coloring is Hot"). Some other reasons you might like to consider platinum blonde hair color is because this shade of blonde hair looks great on cool complexions (in fact it's soft-looking on most complexions- including those of older generations) and because platinum blonde color- since it's so striking- draws attention to the hairstyle itself. Of course, blondes always have more fun too!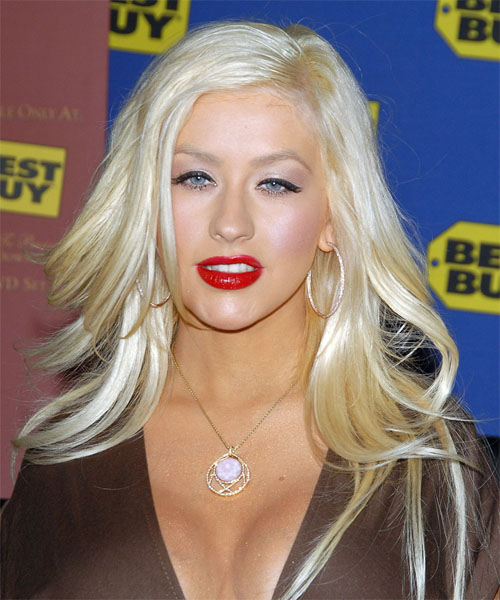 Christina Aguilera's Platinum Blonde Hair Color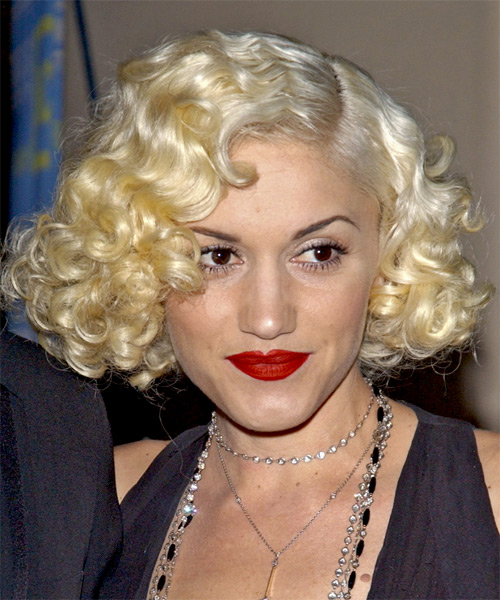 Gwen Stefani's Platinum Blonde Hair Color
Platinum Blonde Hair Color: Process, Risks and Tips
If you're keen on platinum blonde hair color the process basically involves stripping all the color tone out of your hair. Bleach is the key ingredient in the lightening kit used which is mixed with an activator (peroxide) that gets the bleach inside the hair shaft which then dilutes all the color molecules in your hair. The more color molecules that are diluted, the lighter your hair will become, and since platinum blonde color is the lightest color you pretty much have to dilute them all! Once your hair has been lightened a toner needs to make the end result even.
Bleaching is risky- especially when the hair is lightened as much as platinum blonde color- and so the process must be performed by a stylist. The reason it's risky is because bleach is an "active" agent, meaning that its effect will continue if not removed from the hair. Therefore the use of bleach needs to be constantly monitored by a professional. This also means that it's very important to consider the health of your hair before bleaching; for instance it's not a good idea to apply bleach to very dry or damaged hair (for some tips on how to keep your hair healthy see our article 'Healthy Hair Secrets').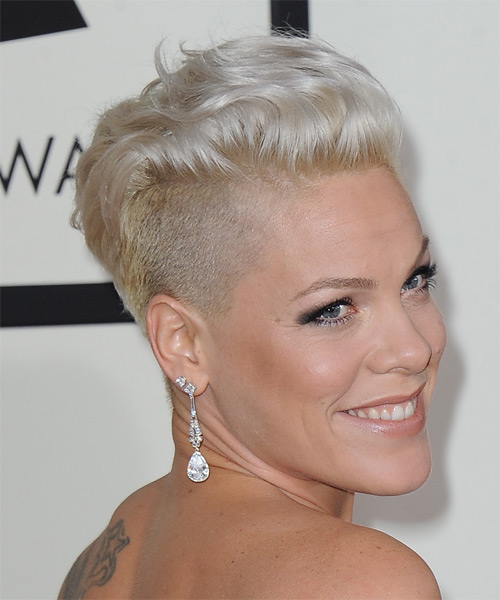 Pink's Platinum Blonde Hair Color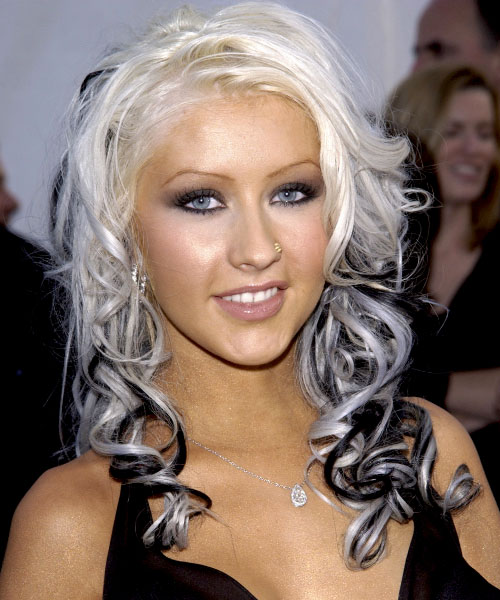 Christina Aguilera's Platinum Blonde Hair Color
Maintaining Platinum Blonde Hair Color
If you've had a chat with your stylist and decided to go ahead and get a professional to color your hair platinum blonde, and you've made it through the bleaching process, well you're probably looking pretty damn hot. Now, to keep your platinum blonde hair looking great here are a few simple maintenance tips:
Spray-in conditioners and conditioning treatments should be used regularly to keep your hair moisturized.
Use hair care products specifically for colored hair; for example shampoo for platinum colored hair can help neutralize yellow tones and prevent brassiness, and a color protecting conditioner can help maintain the brightness of your platinum hue.
You'll need regular touch ups on your roots.
Always use heat protection treatments before blow-drying/using a straightening iron- especially after bleaching since your hair could be more fragile than usual.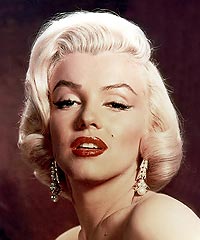 Marilyn Monroe's Platinum Blonde Hair Color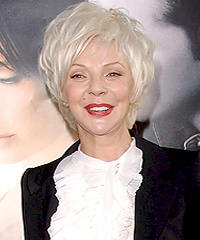 Patricia Taylor's Platinum Blonde Hair Color
Platinum blonde hair color is sexy, captivating and daring; it's "out-there" just like red hair coloring. Like any new hair color, the key to making platinum blonde hair work for you is research- you need to research the risks involved and the process and you need to have a long thorough talk with your stylist as well. Good luck!
To see how you'd look with any of these blonde hairstyles, click on the images for a link to try the virtual hairstyle on your own photo or our model.