Got the winter blues? It's time for a hot new look for spring! By reading our Spring hair trend article, you'll know what to expect this season when it comes to bang-on-trend hairstyles. Hot hairdos for this Spring (in a nutshell) are:
Bobs - short and/or asymmetrical
Chunky, choppy layered 'dos
Light pink hair
Long, loose mermaid waves
Super chic androgynous haircuts
Make sure to check out these hairstyles for some Spring hairstyle inspiration!
Short And Sleek Hairstyles For Spring
Short, geometric, androgynous hairstyles are great for this season. And while these cuts can be styled in a variety of ways - spiked up, swept back off the face, gelled for a wet look, etc. - it seems that a style of choice for spring is short and slicked to the side. Check out these celebs who have been spotted sporting this style recently with fabulous results!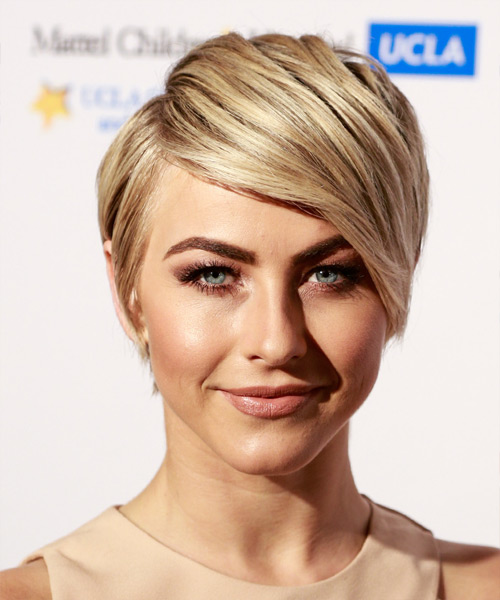 Julianne Hough looks oh-so chic in this side swept tapered haircut that is slicked to one side. This modern style looks fabulous on Julianne's oval shaped face and really brings out her eye area - just look at those brows! This haircut has longer layers on top that taper down to the nape of the neck, allowing for maximum volume at the crown. To style, Julianne simply creates a deep side part and blow dries her hair into place using a small paddle brush, or her fingers. Some pomade or styling wax further defines her haircut and keeps it all in place.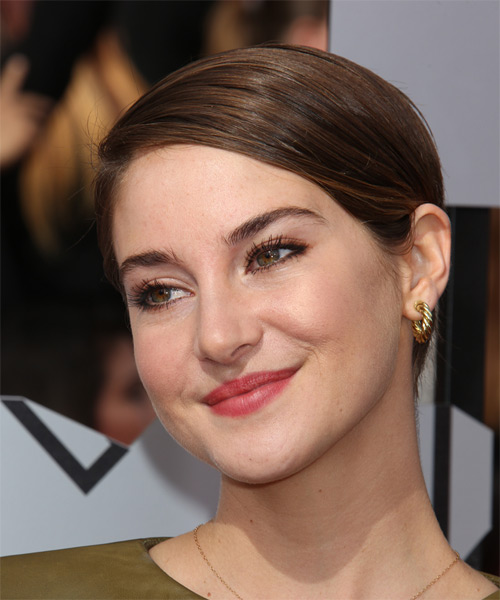 Shailene Woodley looks radiant here in a classy 'do that has been slicked to the side. This is a fast and easy way to make a short tapered haircut look chic and elegant - simply create a deep side part and smooth to the side, tucking it behind the ear. If you have straight hair, then this is all you need to do to get this look. If your hair has some natural texture, you will have to either blow dry it straight or use a flat iron first, which will add a few minutes of styling time on. However, the end result is a classic and sophisticated look that is well worth it!
If you're up for something more edgy, you may want to check out this jagged 'do. This haircut provides some more coverage across the forehead and more contouring around the eye and cheekbone area as well. Our model is wearing her hair brushed forward, but this hairstyle would look just as good parted on the side and slicked over with the help of some styling gel to manoeuvre the shorter layers into place.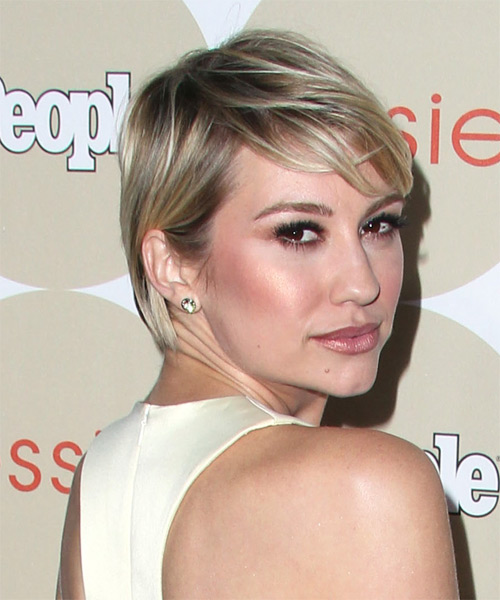 Here, Chelsea Kane shows us how to work a softer, windblown version of the short and sleek hairstyle. If you aren't so keen on a flat, slicked hairstyle, then this version may be perfect for you. Chelsea has left some natural texture throughout to give it some volume and dimension. She has created a side part and swept the hair onto the forehead and to one side, creating a sexy frame for her eyes. The hair is tucked behind the ear on the other side to finish this style off nicely.
As you can see, the short and sleek look is a popular look for Spring with good reason. This is a low maintenance hairstyle that looks chic and sophisticated with only a few minutes of styling each day. You can also customize it to suit your face shape and hair texture best - add jagged layers to contour a round face, leave in some natural texture to soften and volumize your hairstyle, or wear it flat and slicked to the side to keep all of the focus on your face.
Hot Medium-Length Hairstyles For Spring
Why not try the effortlessly chic medium length hairstyle? These locks are easy-breezy, casual and unstructured - perfect for the girl on the go. The medium length allows the hair to fall naturally into place and shape, beautifully framing the face. The key to this hairstyle is summed up in one word- layering! Precision cuts and razor cuts are some of the techniques used to achieve this look. Not only is this a no-fuss hairstyle, it's also extremely versatile. There are many shapes and styles to choose from to suit anyone regardless of your face shape, personal sense of style and hair texture. Keep reading to find out the best one for you!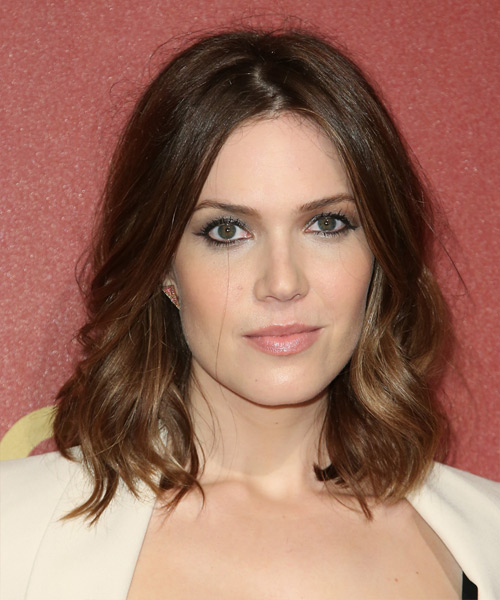 Check out Mandy Moore's take on the medium hairstyle. It's simple, soft and romantic. Her beautiful sun-kissed brunette tresses are chopped blunt at the shoulders and light layering is used, but only around the ends. This adds movement and softens the bluntness of the cut. This cut is flattering for someone with a long face shape like Mandy. This style would also work well on those with oval, oblong, square or diamond shaped faces.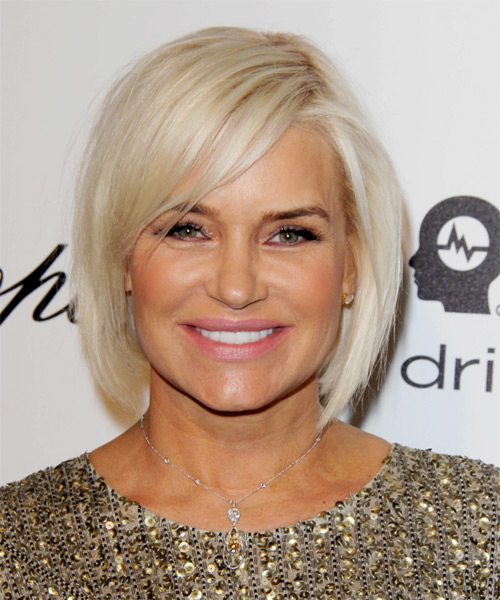 Here's a completely different take on the medium hairstyle. Yolanda H. Foster's version is a bit shorter and definitely sassier! You can see where the versatility comes in with this hairstyle. Yolanda is seen here at an event but has taken this casual, no-fuss hairstyle and dressed it up for the evening. The look has a slight edge thanks to the precise cut. The hair is cut higher in the back at the nape of the neck with the sides angled downward, framing her face beautifully. Yolanda has a square face but this cut actually softens its shape with the sharp lines of the cut. Wash n' go or glam it up- this cut has it all.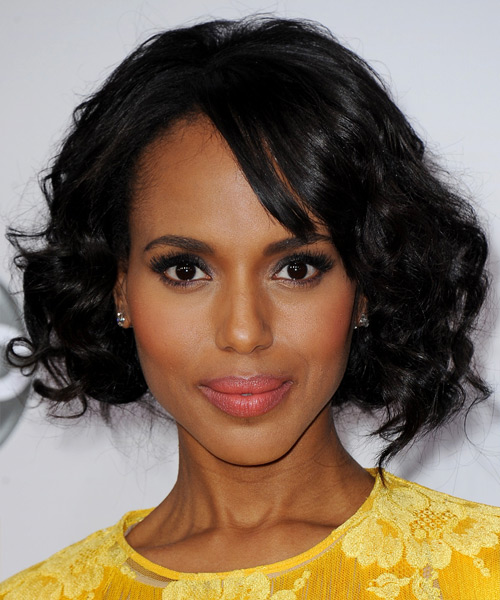 Kerry Washington just may be the poster girl for how hot and versatile this medium hairstyle can be. She shows us not one, not two, but three fabulous ways to rock this look. Each hairstyle seems to show off a different side of her personality. Playful, romantic and sexy!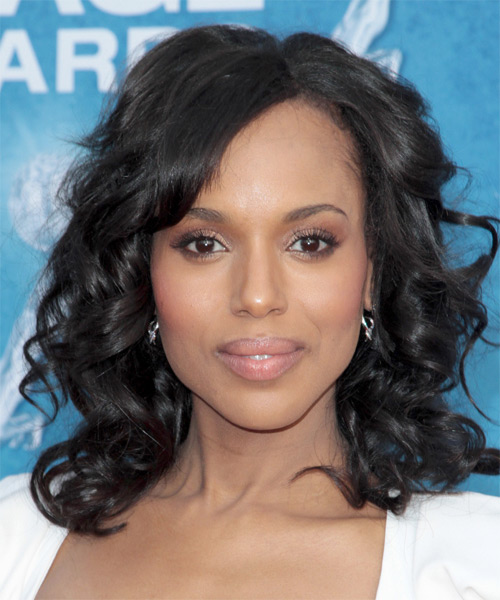 Lets start with Ms. Washington's first two hairstyles (pictured above). Both are great for those with naturally curly hair, while ladies with straight hair can fake it 'til we make it with hot rollers or curling irons. These casual curly medium hairdo's are easy to create because the combination of curls and a precise cut decides how the hairstyle falls into shape. Whether the hair is cut at the jawline or left longer to brush the shoulders, the curls naturally do what they want to do.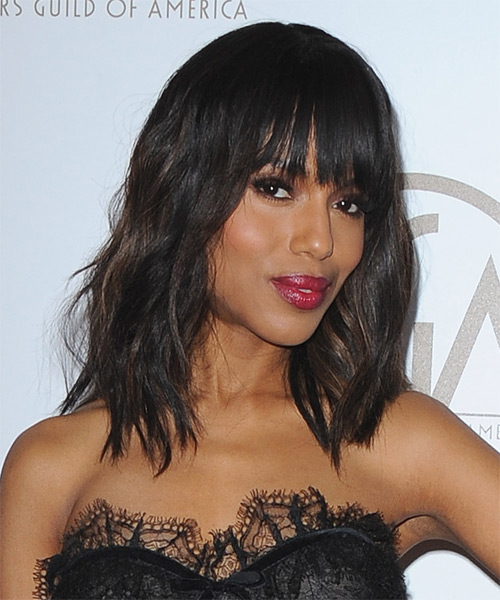 Kerry's last medium hairstyle is all about drama. This time she adds a jagged fringe that lightly falls past her brows. Not only does it frame her face beautifully, but just look at how it makes her eyes pop! The length of hair is cut to graze the shoulders showcasing the casual waves at the ends. Simply stunning!
Red Hairstyles for Spring
If you've followed our annual trend reports, you'll know that light Nordic blonde is a great color. However, many other colors are in vogue too, including vibrant pinks and purples, and on the other end of the spectrum- black. But what about red? Fiery and fresh, red and copper tones are always on trend. The women who can pull these shades off the best will have freckled skin or cool pink tones in their complexion. On occasion, warm complexions can pull red hair off too, but they tend to suit shades that are more orange in appearance.
If you have red hair or are thinking of getting red hair, check out these fresh styles for an instant image update.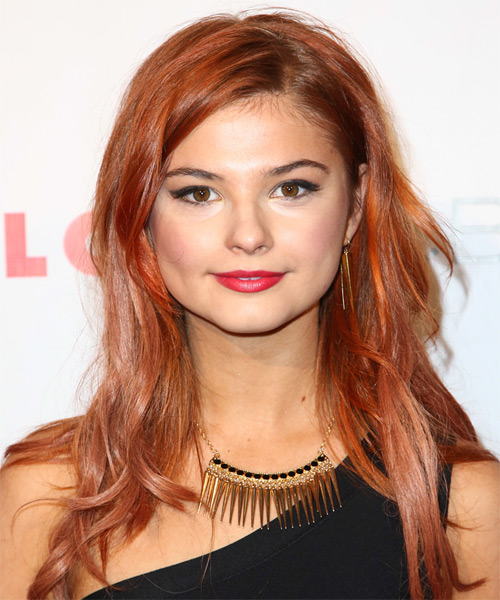 Stefanie Scott looks fabulous in her fiery long red hairstyle. She has a square face shape, so the jagged layers and beachy waves work well with her angles and compliment her fine hair type as well. But the real star of this hairstyle is that awesome red color! Stefanie is flaunting a fashion-forward take on red here, with a deep copper base and pink-red highlights. This gives her an all-over glossy sheen while adding depth and dimension to her 'do. Stefanie has a warm undertone to her complexion (as you can see from her neck and shoulder area), but she has used makeup to make her facial area more 'cool'. She achieved this by using cool pink blush and lipstick to harmonize well with her coppery hair shade.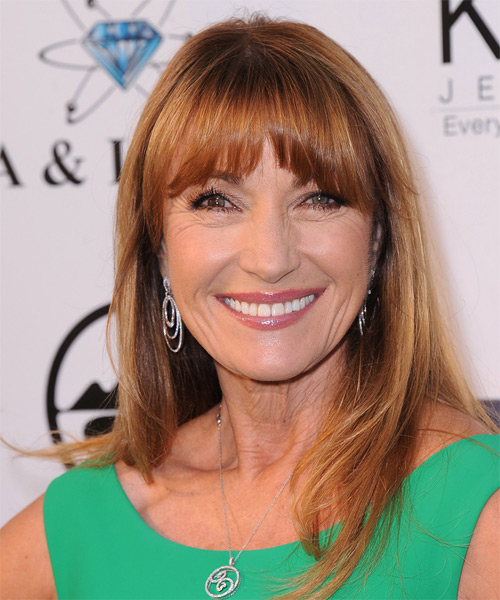 Jane Seymour is looking ravishing in red here, which is perfectly suited for the spring and summer. This light strawberry blonde shade looks fabulous with her medium skin tone and really brings out those blue eyes. Jane is also rocking an arched fringe, which is a fabulous option for women with square or angular face shapes, or for those who simply want a softer looking fringe. Jane's color is a light copper shade with blonde highlights throughout, giving this hairstyle an overall radiant red sheen.
Here, Kate Flannery is looking elegant in a rich red bob. For a chic Sixties effect, Kate has flipped her ends out and paired it all up with some cool black frames. This rich auburn shade is perfect for women with cool complexions and light eyes. Keep your makeup soft and neutral like Kate for best results.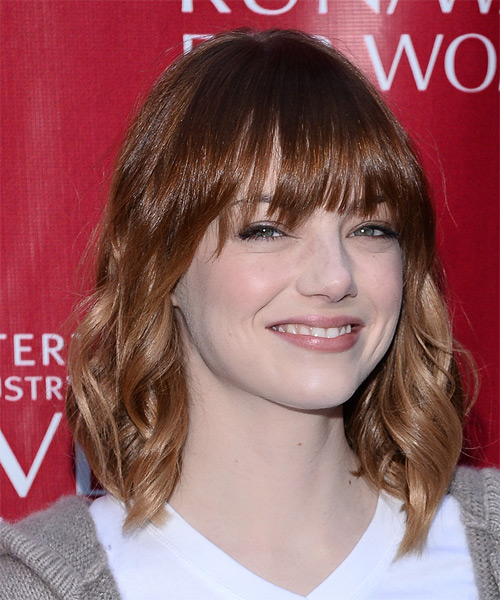 Finally, we have Emma Stone who, even though she is natural blonde, is the perfect redhead. Her fair and freckled complexion looks amazing with red hair, and she is often spotted wearing a deep red or auburn hair color. Here, however, she has lightened up for spring and summer and is working an ombre' hair color that goes from an medium reddish brown at the roots to a strawberry blonde shade at the tips. This is a great way to make your hair visually interesting while adding extra shine to your 'do - strawberry blonde is an awesome color for picking up and reflecting light. Emma's soft waves and layered fringe complete this trendy, casual look.
As you can see, red hair is ever so versatile and can achieve you any look you want. From young and trendy to elegant and sophisticated, red hair can do it all!
Dip Dye Hairstyles for Spring
If you like the ombre' hair coloring technique but prefer something with a bit more edge, then you may want to consider the dip dye look. This hair coloring technique is when two colors are used to create a striking effect. But rather than fade into each other, the ends are dipped or painted with a contrasting color to create a distinct two-tone look. This hair coloring technique can be used on most hair lengths, from a short bob to long, layered hair. It tends to have a better effect on longer hair but can be modified to suit any hairstyle as long as you have a good stylist to pull it off.
Now, check out some of the latest dip dye hairstyles that are hot this season and get inspired!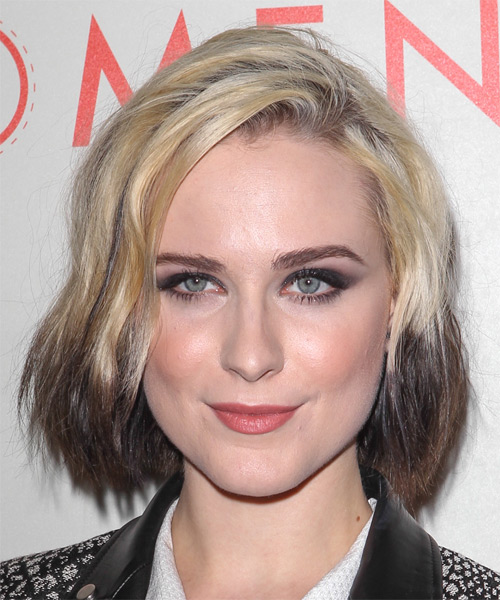 Even Rachel Wood is working a cool dip dye look here that is different from the usual dark to light look. This color looks fabulous with her wavy bob and the contrast really brings out her blue eyes. This hair color would work best for natural blondes who would just need to apply a dark brown shade to the tips. Or, naturally dark haired ladies could bleach out the hair from the roots down, stopping a few inches from the ends. Although this hairstyle would look cool on long hair, shorter lengths can handle the damage of bleaching and multiple dye jobs better, so may have a nicer final look.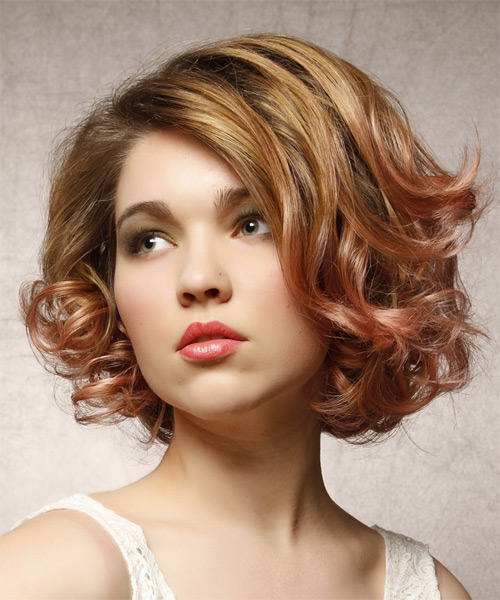 Here, our model is working a more subtle dip dye look, but the results are just as fabulous. Her golden blonde tresses are dipped in a coppery pink shade, making this a great option for women who suit warm/golden hair tones. Her bouncy bob adds even more interest to this 'do and shows off the dip dye effect beautifully. This look is best suited for women with blonde, light copper or strawberry blonde hair colors. Brunettes can also flaunt this look, but try a light golden brown on the ends instead of our model's reddish tones for best results. Ask your stylist to apply the tip color to approximately eye or cheekbone level for best results.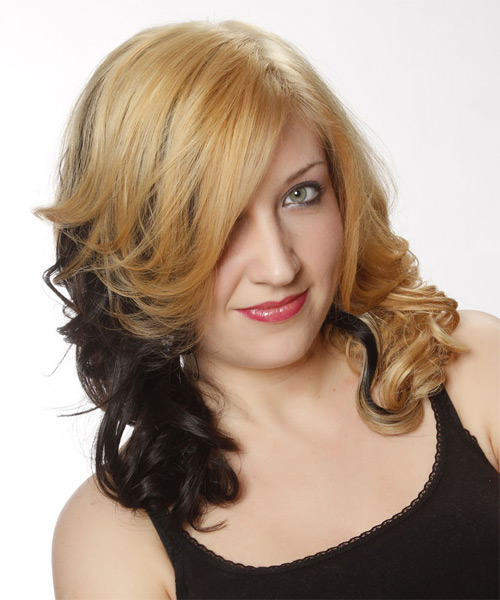 And finally, if you are looking for something more dramatic, check out this model's extreme dip dye 'do. This golden blonde hairstyle is dyed black from ear level down on one side, making this one extreme tip dip! To contrast, the other side is left blonde with just a few lowlights of black. This color can work whether you have black or blonde as your base color, but may take a lot of work to a achieve this contrast, so be forewarned!
Dip dye color is a fun and trendy way to update your hairstyle but there are a few things to consider before you take the plunge. These hairstyles will need to be created in the salon (do not attempt at home!) and will take considerable upkeep. The end result is a head turning look however, so it may be worth the extra time and money!
Alternative Hairstyles for Spring
Check out these celebrities and models who were papped wearing the hottest Spring hair trends and see how great they look 'in action'. And if you find one you like, make sure to try it on in the Virtual Hairstyler to see how it looks on you, before you make the commitment at the salon!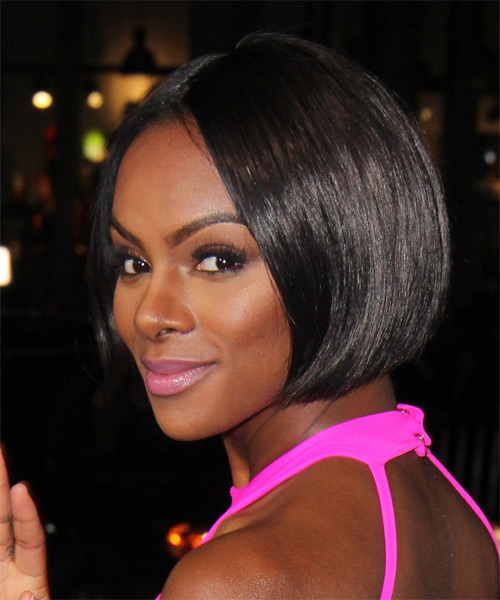 Tika Sumpter is working the bob trend here with finesse. Tika's jaw length blunt bob is bang on trend and looks oh so chic with her oval face shape. This haircut suits oblong, square and diamond face shapes as well. We love the fabulous Sixties vibe that Tika rocks through her bob, which can be achieved by creating a centre part and adding loads of volume in the roots. To get that smooth Sixties finish, Tika has used a large round brush to create a voluminous rounded shape to her locks. This chic hairdo gets 10/10 for style!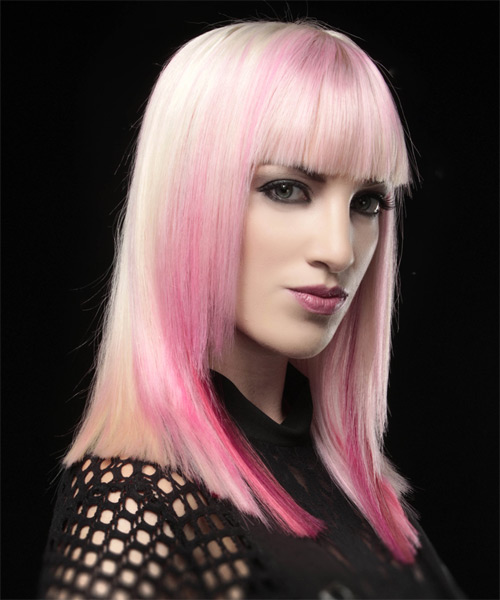 Here, our model is rockin' two trends in one with her light pink highlights and jagged, chunky layers. This spring, experiment with geometric lines in your hair and go for bold layers with minimal blending. Of course, this look works for straight hair only - the styling time would be a lot to commit to if you had texture in your hair. Because of the strong lines in this modern Cleopatra-style haircut, it's best suited to women with oval, oblong and diamond face shape, although some hearts could pull it off as well.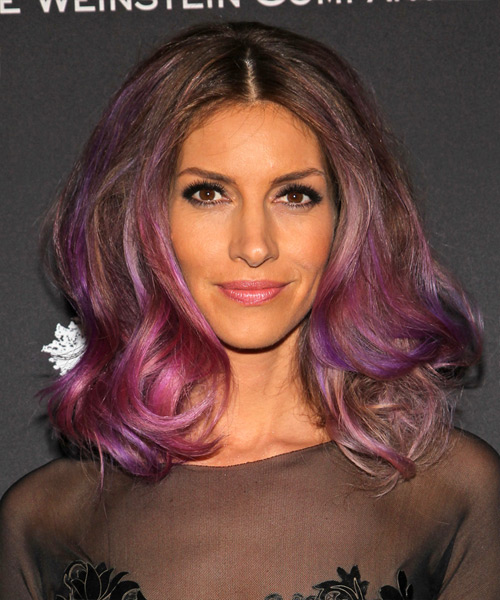 Dawn Olivieri is also incorporating a few trends into her funky hairdo here for a head turning effect. Her shoulder length bob looks fabulous with soft mermaid waves and a whole lotta volume throughout! The stunning violet-pink color is also bang on trend and looks amazing with her complexion - Kelly Osbourne take note: this is how you pull off purple! This hairstyle will suit women with wavy or straight hair who have oval, oblong, square or diamond face shapes. The cool colors suit black, brown and blonde hair only. So if you have red hair you may want to stick with a vibrant pink shade if you want to go for a vibrant bold color.
As you can see, Spring is a great season to get that funky cut and/or color that you have always wanted to try! It's an exciting time in hair as colors that were once considered too punky to pull off for most women are now becoming mainstream. Coloring techniques are also getting more artistic and futuristic-looking which is great for women who like to be ahead of their time.
As for haircuts, anything goes these days as long as you tailor it to your personality and make it your own. How are you updating your hairstyle and/or color for the spring?