Got the winter blues? It's time for a hot new look for spring 2014. Why not try the effortlessly chic medium length hairstyle? These locks are easy-breezy, casual and unstructured—perfect for the girl on the go. The medium length allows the hair to fall naturally into place and shape, beautifully framing the face. The key to this hairstyle is summed up in one word- layering! Precision cuts and razor cuts are some of the techniques used to achieve this look. Not only is this a no-fuss hairstyle, it's also extremely versatile. There are many shapes and styles to choose from to suit anyone regardless of your face shape, personal sense of style and hair texture. Keep reading to find out the best one for you!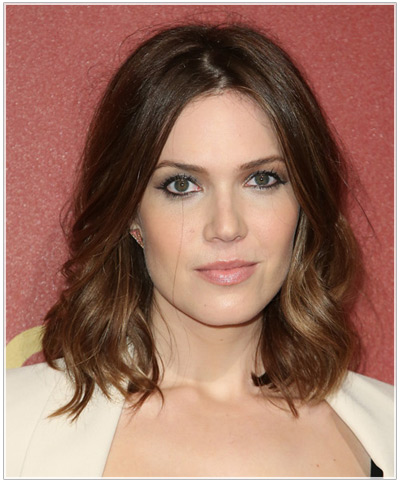 Check out Mandy Moore's take on the medium hairstyle. It's simple, soft and romantic. Her beautiful sun-kissed brunette tresses are chopped blunt at the shoulders and light layering is used, but only around the ends. This adds movement and softens the bluntness of the cut. This cut is flattering for someone with a long face shape like Mandy. This style would also work well on those with oval, oblong, square or diamond shaped faces.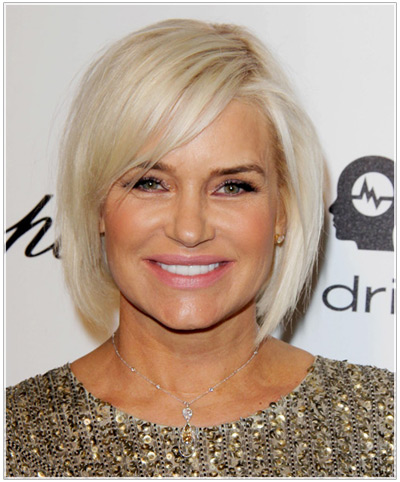 Here's a completely different take on the medium hairstyle. Yolanda H. Foster's version is a bit shorter and definitely sassier! You can see where the versatility comes in with this hairstyle. Yolanda is seen here at an event but has taken this casual, no–fuss hairstyle and dressed it up for the evening. The look has a slight edge thanks to the precise cut. The hair is cut higher in the back at the nape of the neck with the sides angled downward, framing her face beautifully. Yolanda has a square face but this cut actually softens its shape with the sharp lines of the cut. Wash n' go or glam it up- this cut has it all.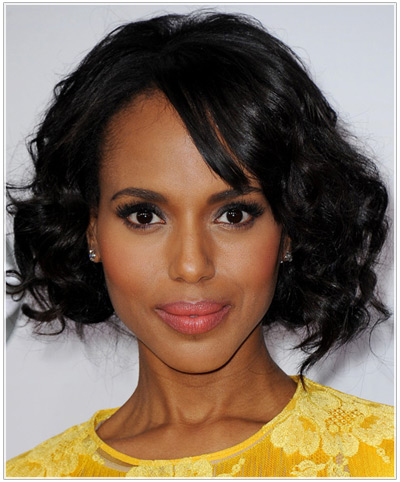 Kerry Washington just may be the poster girl for how hot and versatile this medium hairstyle can be. She shows us not one, not two, but three fabulous ways to rock this look. Each hairstyle seems to show off a different side of her personality. Playful, romantic and sexy!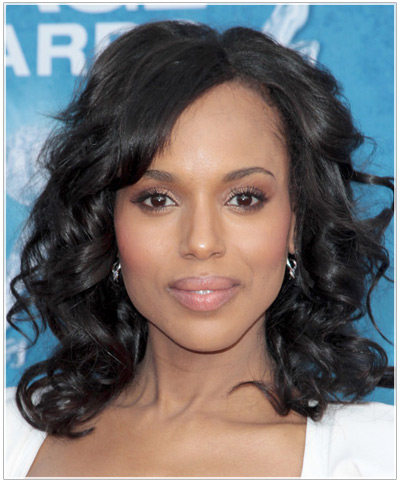 Lets start with Ms. Washington's first two hairstyles (pictured above). Both are great for those with naturally curly hair, while ladies with straight hair can fake it 'til we make it with hot rollers or curling irons. These casual curly medium hairdo's are easy to create because the combination of curls and a precise cut decides how the hairstyle falls into shape. Whether the hair is cut at the jawline or left longer to brush the shoulders, the curls naturally do what they want to do.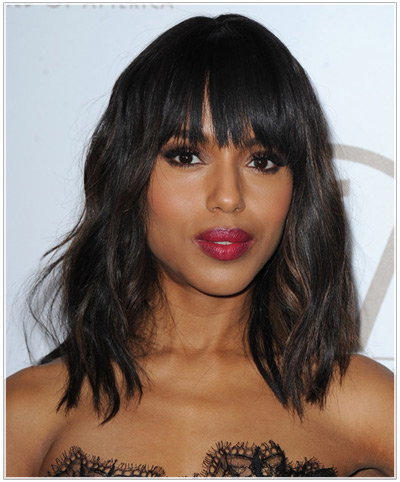 Kerry's last medium hairstyle is all about drama. This time she adds a jagged fringe that lightly falls past her brows. Not only does it frame her face beautifully, but just look at how it makes her eyes pop! The length of hair is cut to graze the shoulders showcasing the casual waves at the ends. Simply stunning!