The bob is a truly classic hairstyle that dates back as far as the 1920s. The reason it's a classic is because it's a style of many different 'faces' (there's the one length bob, the concave bob, the bob with blunt bangs or side-swept bangs... the list goes on), and it's a style that suits many faces - pretty much any face shape really.

It's true what they say: that bob hairstyles are genuinely versatile hairstyles and almost anyone can wear a well cut bob. Ask any hair stylist and I'm sure they'll agree, and they'll probably also say too that the bob is one of the most influential and popular hairstyles of all time. Always a favourite on the red carpet, the classic bob is one of the most popular shorter hairstyles for celebrities. If you haven't tried one before then maybe now's the time. To make it easier on you we've created a gallery of bob hairstyle pictures and included some important styling advice. Who gets your vote for Best Bob?
Short Bobs
Short Light Blonde Bob Hairstyle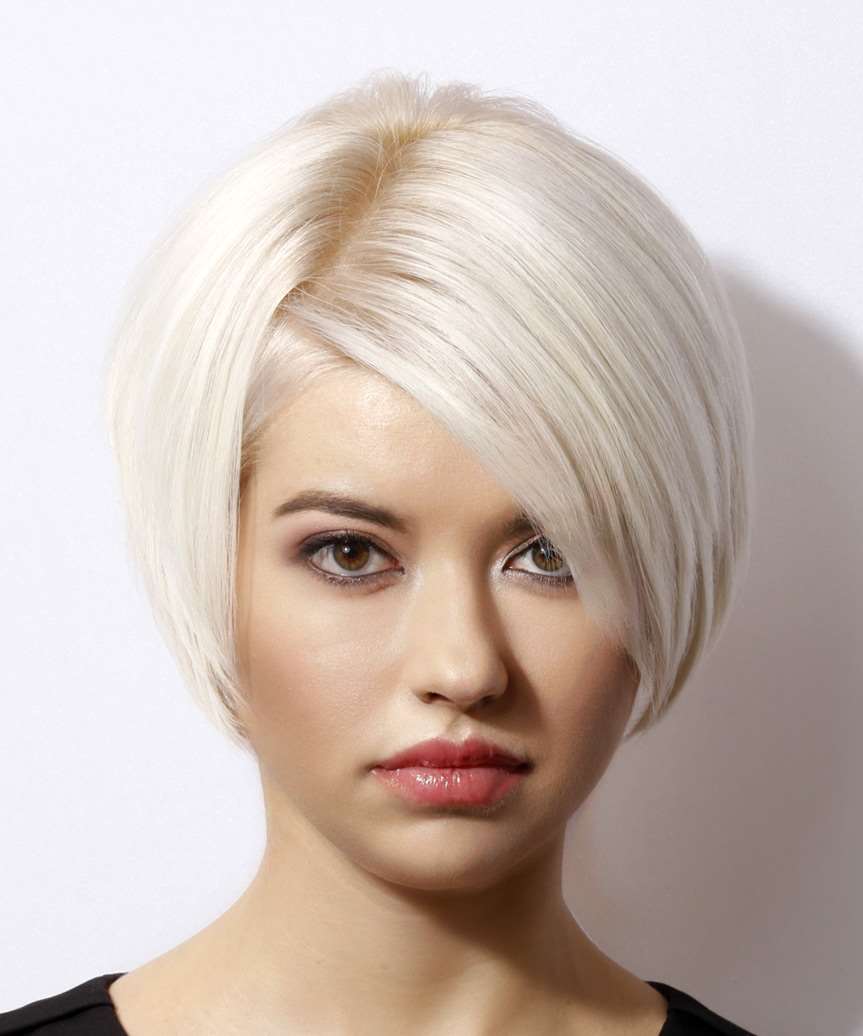 Short Brunette Bob Hairstyle With Green Highlights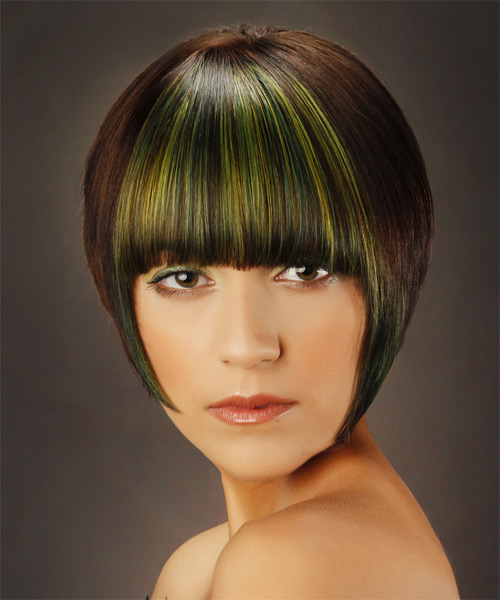 Short Wavy Bob Hairstyle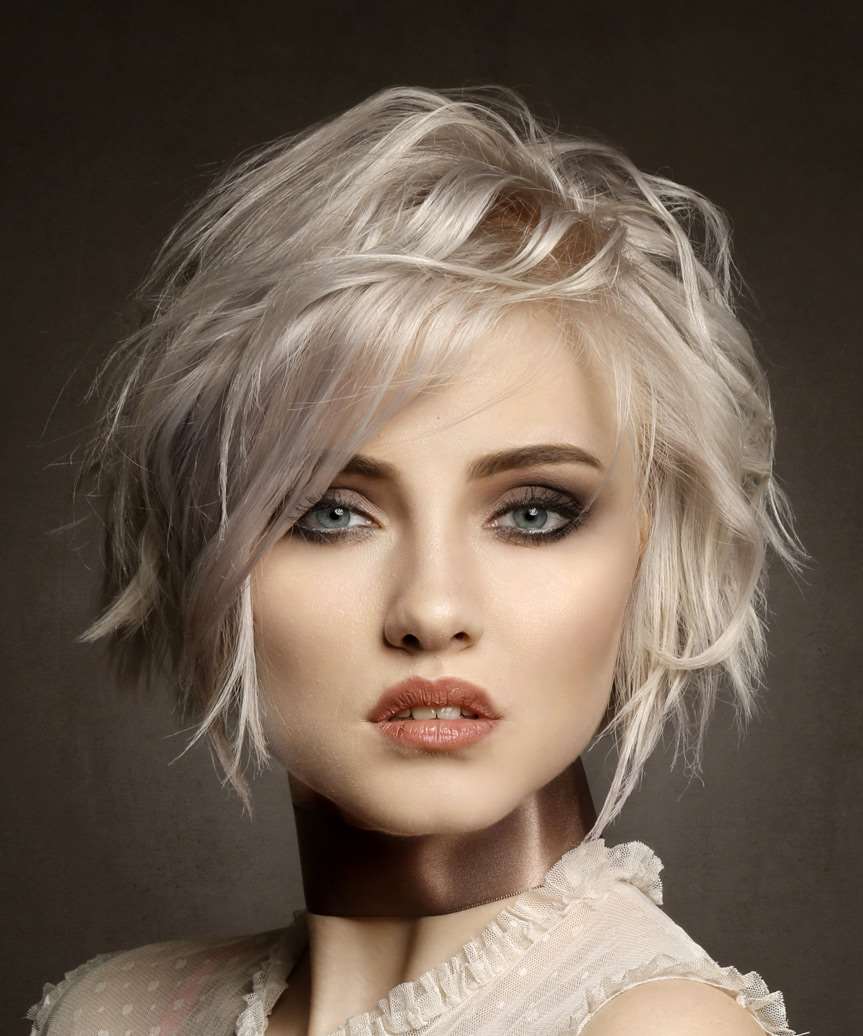 Face Shape Tips For Bob Hairstyles
There's a bob hairstyle for most any face shape, and you can find a bob hairstyle to suit your particular attributes depending on its length, bangs and layers- in other words, depending on which part of the face your hair draws attention to and how its bulk (or lack of bulk) accentuates your face shape.
Medium Bobs
Medium Straight Bob Hairstyle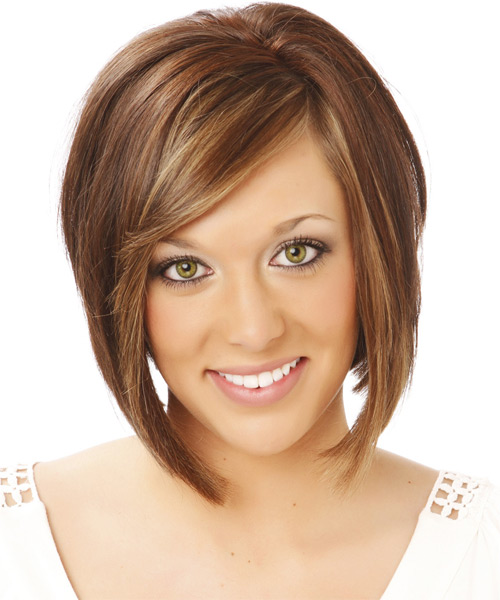 Which bob hairstyle will suit you? If you have a round face shape then you need to keep your bob a little longer and maybe try something with choppy layers; avoid waves and curls and straight-across bangs. For square face shapes avoid blunt bobs with heavy bangs as these will accentuate the squareness of your features- go for softer, smoother lines and side-swept bangs as well as bobs longer through the front-side area.
There's a bob hairstyle for diamond, heart, oblong, triangular and oval faces too. For diamond face shapes, straight-across bangs work well because they halve the face's length, and blunt bobs (to the chin) and wavy bobs look good too because they enhance the face's width. Avoid straight-across bangs for heart face shapes; oblong face shapes suit chin length bobs or shorter because they emphasize the face's horizontalness rather than length; and oval face shapes suit pretty much anything.
Medium Bob Hairstyle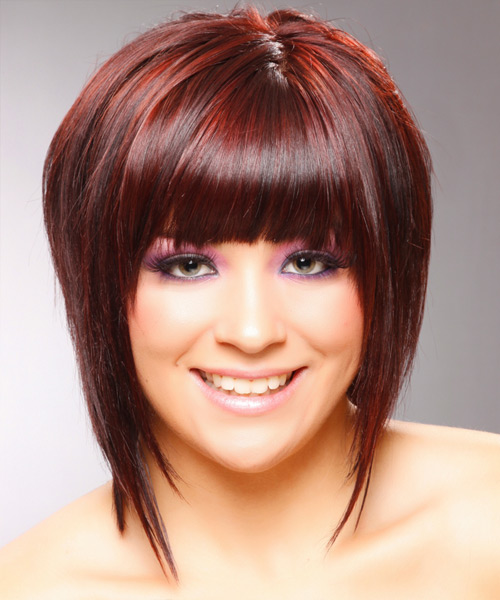 Naomi Watts Wavy Bob Hairstyle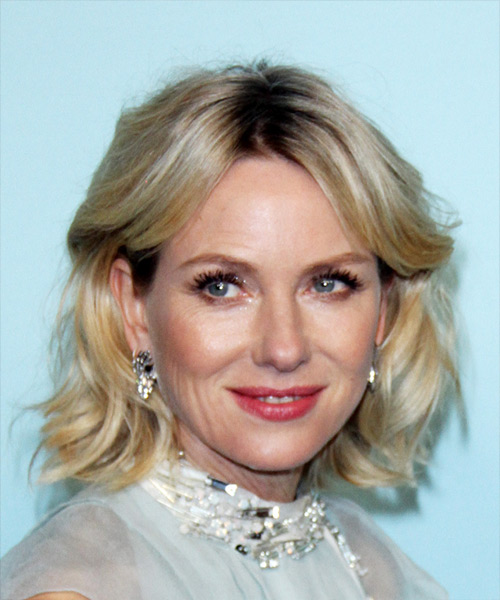 Medium Dark Brunette Bob Hairstyle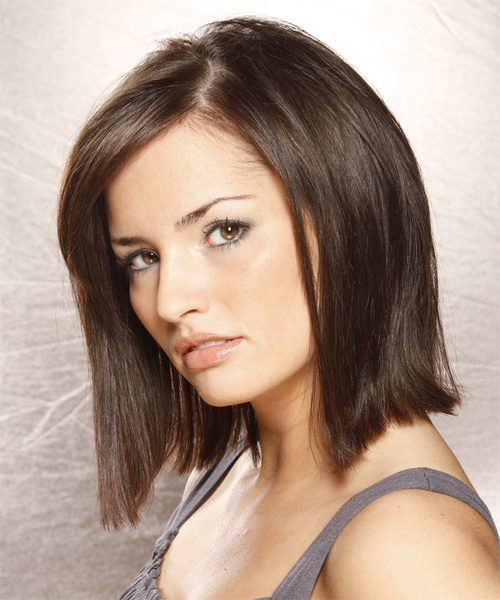 Gwyneth Paltrow Medium Bob Hairstyle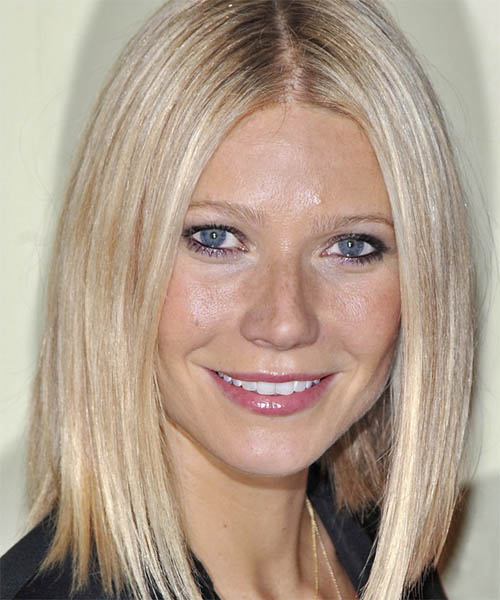 Medium Brunette Bob Hairstyle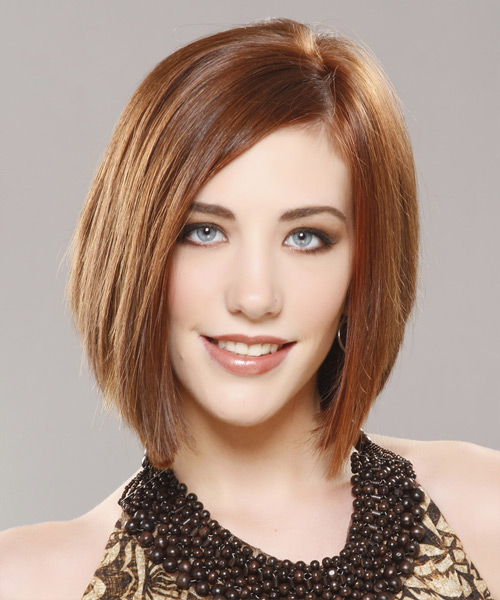 Medium Blonde Bob Hairstyle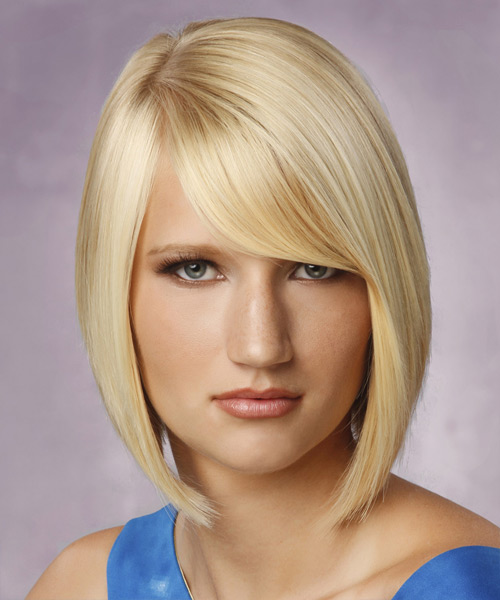 Hair Texture Tips For Bob Hairstyles
Bob hairstyles are also great for a range of different hair textures (fine to thick hair). Bob's can add the appearance of volume to fine hair, making it look fuller and thicker. For fine straight hairstyles a blunt-cut bob hairstyle will look thicker and hold its shape longer. On the other hand, bob hairstyles are a smart choice for thick hair, and that's because a layered bob can reduce weight while adding texture and movement Wavy hair, however, will need to be styled straight for a smooth result (and may not remain straight in moist weather conditions).
Styling Tips For Bob Hairstyles
The best thing about bob hairstyles is that they are self-styling for most hair textures. That is, they fall into shape and stay that way (i.e. the way the stylist intended) with little or no effort from home.
That said, there are still some cool ways to style your bob. If you've got naturally straight hair then a bob with strong lines will look nice and sleek. It's fashionable at the moment to wear your bob slightly longer (like Gwyneth's) and a little messy or 'undone' - allowing your lengths to fall into their natural texture. For an even more boho hairstyle use a curling iron to create waves, and with a little wax, break your strands up with your fingers. A sophisticated look is achieved with sharp fringes and straight ends cropped just below the ears, and for something a bit more 1920s ask for graduated layers through the back.
Various Bobs
The bob is a classic hairstyle that will always be in fashion for its simple elegance and timeless appeal. If you have a bob then you've made a great decision because your hairstyle is easy to manage but will always look perfectly styled (assuming you keep up with your regular trims and colours of course!), and it will match pretty much whatever fashion style you are trying to pull off. From punk to prim, there is a bob for every look!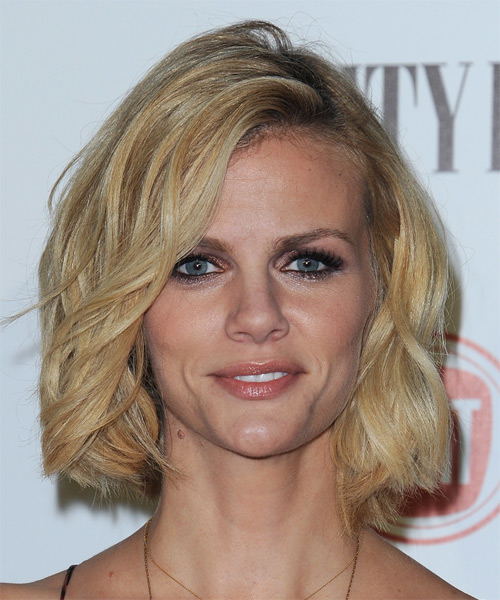 Brooklyn Decker has a great bob for spring and summer. This mid-neck length bob has blunt edges and soft waves throughout that give it a cool beachy vibe. Brooklyn has a grown out fringe which she pairs with a deep side part for an effortlessly chic look, and her tousled waves give this bob a hint of city chic at the same time. This bob is perfect for women with oval, heart, oblong and round face shapes. Squares can also pull this off with some layering throughout the ends to take out the blunt edges.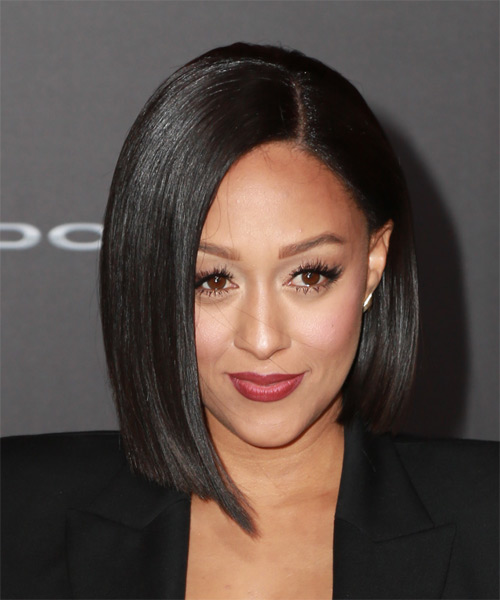 Tia Mowry looks so sophisticated in her sleek bob here. Her shoulder length bob is slightly shorter at the back, which works well with her super straight and sleek hair texture. A grown out fringe and side part is all that is needed to perfect this simple 'do that is timeless and elegant. This hairstyle would work well on all face shapes.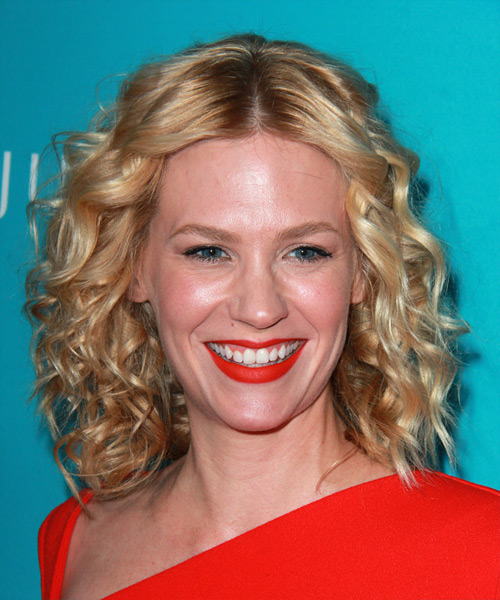 And for something on the curly side, check out January Jones' shoulder length bob. Her blonde locks look fabulous in this bob, which has been parted in the center and curled in ringlets throughout. This 'do will work great with naturally curly and wavy hair as well as straight hair textures. January's light blonde hair colour matches this fun and girlie hairstyle, which can also be tied half up or all the way up for added versatility. This 'do will suit all face shapes nicely too.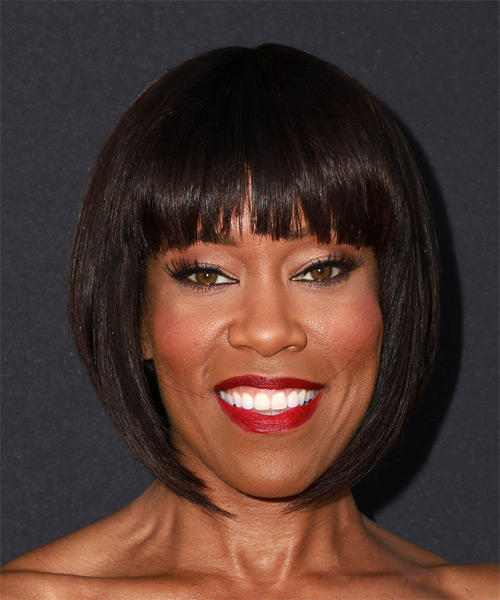 Regina King goes for a classic pageboy bob here with gorgeous results. Her straight hair looks glossy and chic in this chin length bob that has been layered throughout to ends to give it a rounded, sculpted finish. This particular bob, with its straight across fringe and jaw length finish, would particularly suit oval and heart face shapes, as well as some round faces too. Squares and oblongs are best to avoid this look as it will give them a boxy appearance.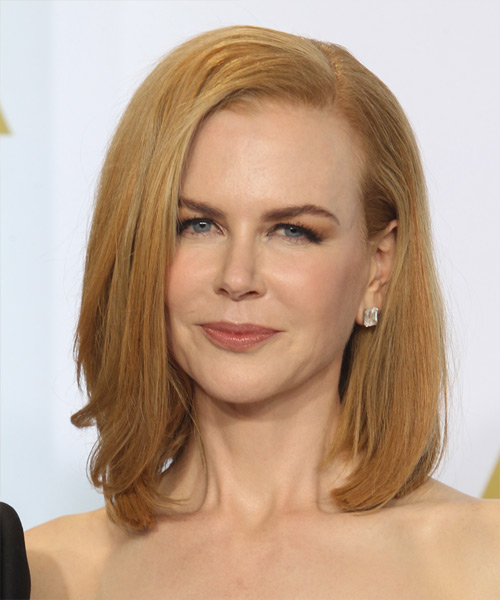 Here we have Nicole Kidman in a beautiful shoulder length bob that has lots of body and volume throughout. Instead of going for a straight sleek look, Nicole has opted for airy layers and a soft finish instead. This look can be created by using a root boosting mousse on wet hair and then blow-drying it with a large round brush. This hairstyle would suit oval, heart and square face shapes nicely.
Asymmetrical Bobs
All the above Bob hairstyles are great, but if you want to be at the top of the fashion game, then make it an asymmetrical bob! An asymmetrical bob is simply a bob that is longer on one side than it is on the other, with plenty of layering and diagonal lines cut in.
This hairstyle works well for any age as long as you exude confidence in short hair, and of course, have a trendy fashion sense as well! In particular, this hairstyle can do wonders for round, square and oblong faces that need diagonal lines in their 'dos for balance.
Check out these photos of one of the hottest hairstyles- the asymmetrical bob.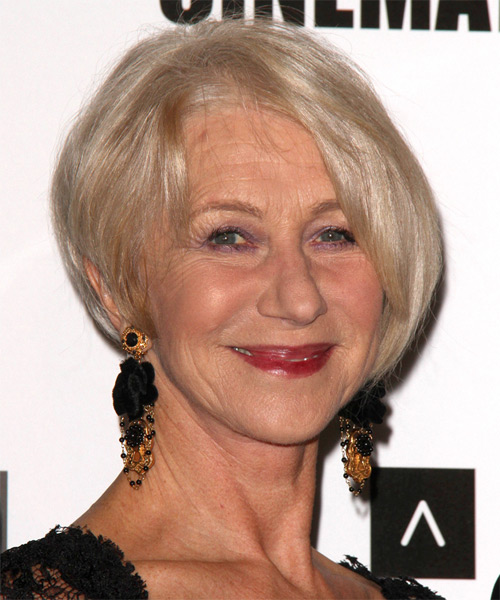 Who said that trendsetters had to be young? Helen Mirren is ahead of the fashion pack with her layered asymmetrical bob. On one side, Helen's cut tapers in towards the ear showing off her fabulous jawline and long neck. The other side falls at jaw length and is layered throughout to give her a nice rounded shape. Helen also has a deep side part and cheekbone length fringe that sweeps to the side, showing off her fabulous bone structure. This is a flattering cut that takes minimal styling time and tools, so you may want to give this one a try to update your 'do.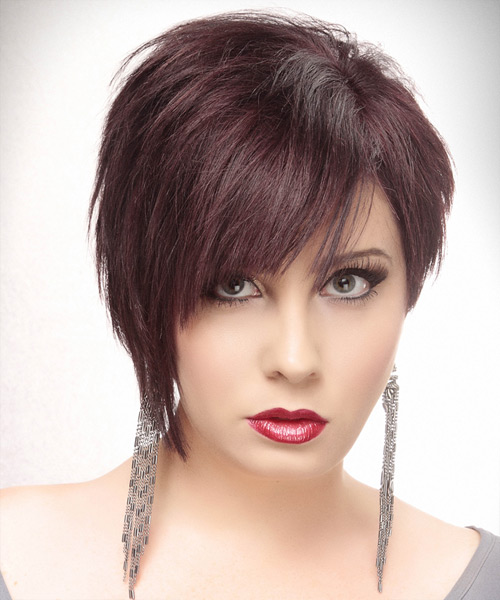 Here, our model wears a jagged bob that is cut over the ear on one side and graduated down towards the chin on the longer side. This cut is heavily layered throughout to give maximum volume and body. Our model has a heavy fringe that sweeps to one side, but this hairstyle will also work for those who want to keep their fringe grown out - just ask your stylist to blend your fringe in with the longer side. This cut works best for oval, oblong, square and diamond face shapes.
For women with more bounce and texture in their hair, here is a hairstyle idea for you. This bob is cut on an angle with one side tapered in around the ear. The back of the hair is graduated up for extra lift at the back and then descends towards the jawline on the other side. There are layers added throughout to reduce the extra bulk that comes with wavy or curly hair, and the bangs have been thinned out to sit nicely as they sweep across the forehead. This hairstyle will suit most face shapes except round, and it caters towards women who have thick hair.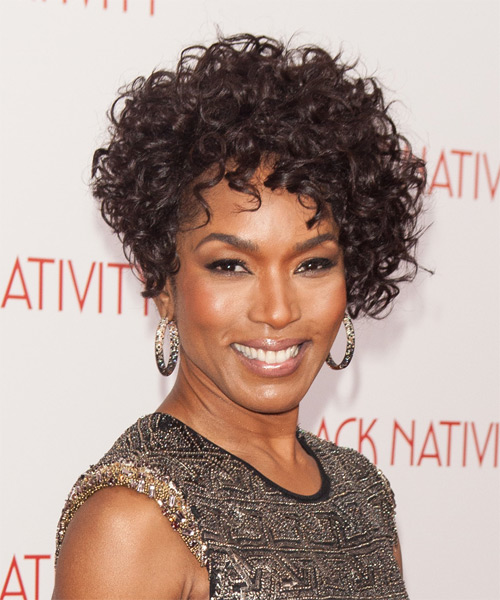 For ladies with curly hair, you too can rock the asymmetrical look just like Angela Bassett. In this photo, Angie lets her natural curls do their thing. Her fringe is layered slightly around the face and the rest of her hair has been contoured into this unique style. Cut above the ear on one side and cheekbone length on the other, this is a hairdo for women who love to show off their fabulous facial features. This hairstyle is perfect for women with naturally curly hair and long, square or oval face shapes.
Sleek And Sharp Bobs
A popular style of bob is the sleek and sharp bob. It's typically short or medium length, shiny and smooth in texture, with block blunt bangs. Katie Holmes and Anna Wintour are both pretty good examples of the sleek and sharp bob.
Katie Holmes Short Sleek Bob Hairstyle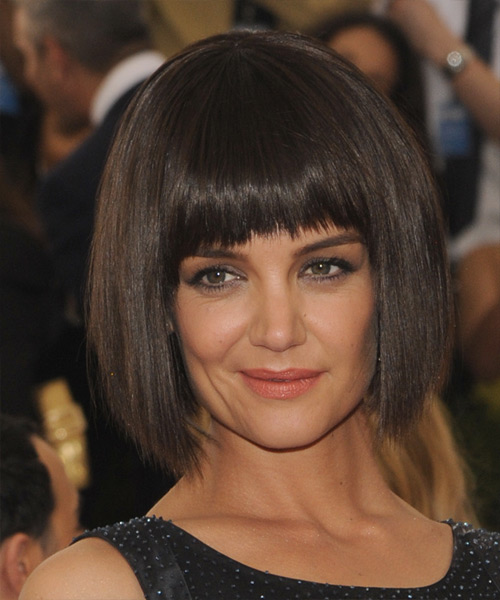 Anna Wintour Sleek Bob Hairstyle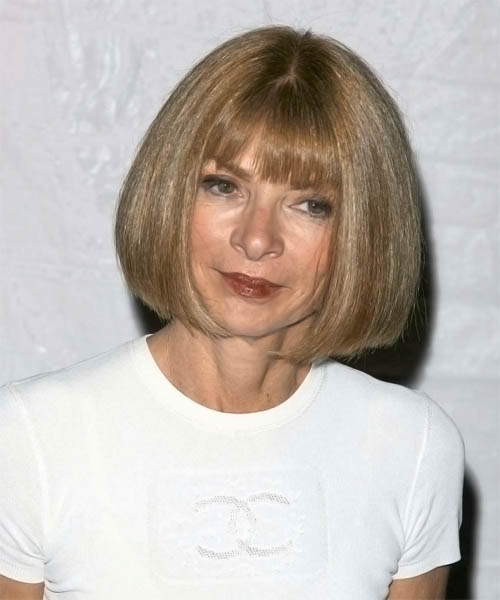 If you'd like to try a hairstyle like this yourself then have a chat with your hairstylist and bear these simple styling tips in mind too:
You really need straight, medium to thick texture hair to achieve the sleek and sharp look.
Achieve the smooth look by working with the top layers of dry hair. Work in four inch sections, mist with heat protector and use your straightening iron from roots to ends- curving under slightly.
Mist with shine spray, and in summer apply a product to protect hair from humidity and frizziness.
Remember too that a bob like the ones pictured here are quite high maintenance- meaning you'll need to keep your bangs trimmed about every four weeks.

Bob hairstyles will always be in fashion because their versatility, and the fact that they can be styled to suit most face shapes and hair textures, makes bob hairstyles classic hairstyles. I recommend taking our free hair consultation to work out what kind of bob hairstyle would suit you, then trying a few on with our virtual hairstyler to see for yourself. And when you find one you like don't forget to put your own individual twist on it too!