The wavy bob hairstyle is one that has been hot for a while now, and its popularity doesn't seem to be waning anytime soon. Bobs look so chic when they are worn straight and sleek, but what if you want to mix it up a bit and add some funky waves?
This easy hairstyle looks great in both casual and formal situations and has the added versatility of being able to be worn up or down, depending on your preference. While ladies with natural waves will find this hairstyle the easiest to pull off, women with straight hair will only need a few extra minutes of curling time to get the same effortlessly cool look. Adding waves or curls to a bob adds instant volume and fun-factor, so if you want to add some texture to your bob, here are a few ways to do it. There has been some fantastic wavy bob hairstyles on the red carpet so let's check them out for some new style inspiration.
The Faux Bob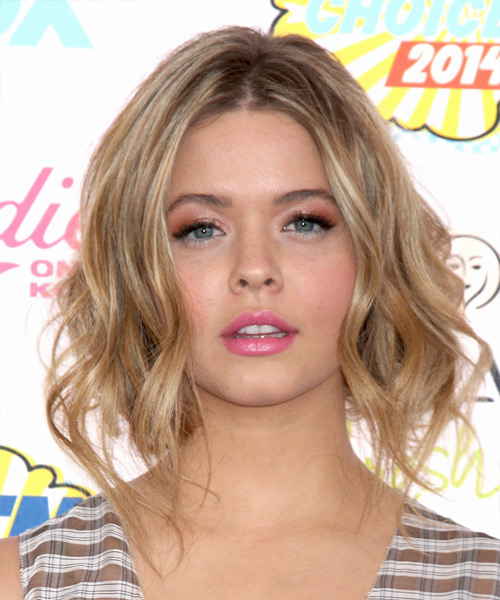 Sasha Pieterse is rocking a cool wavy bob here, but there is more to this hairdo than meets the eye! Sasha has pinned her long hair up to create a faux bob without having to cut her hair. This is a great option for women with long hair who want to go short for a day. Of course this only works if you have shorter layers in the front so you may want to get some cut in to provide you with some styling versatility if you haven't already. To style the 'do up, simply leave some waves out in the front and roll the rest of the hair back and under, pinning it into place near the nape of the neck.
Smooth and Sophisticated Bob
Ashley Greene is looking sleek and sophisticated in her wavy bob here. Ashley's hair is naturally straight but she has added volume and body to her bob by curling sections of hair with a wand. To get these loose waves, wrap your hair section around the barrel, leaving about one inch out at the bottom to get those cool pokey ends. A centre part and a bit of styling product will polish off this hairstyle perfectly.
Sweet and Romantic Bob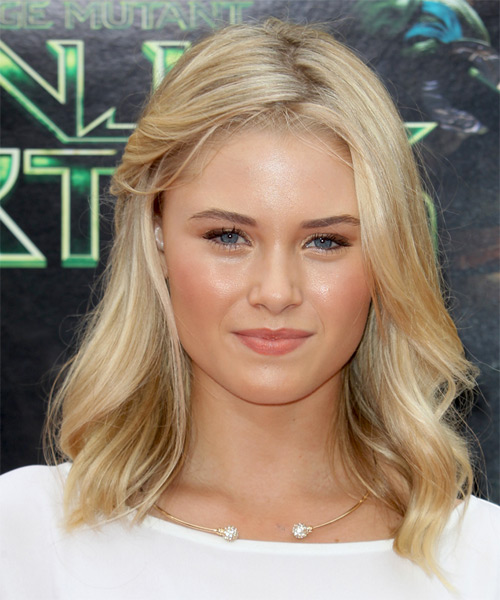 Virginia Gardner looks cute in her soft wavy bob with a twist (literally!) Her hair is naturally straight but ladies with waves can also pull this style off beautifully too. Virginia has started by using a curling iron to create loose waves in her hair and then added a jagged part for an effortlessly cool look. Then, she has taken a small section of hair from one side of her part and twisted it back, pinning it into place at the back of her head. For an extra romantic look, twist both sides of the part and add in some flowers or embellished pins.
Classic Chic Bob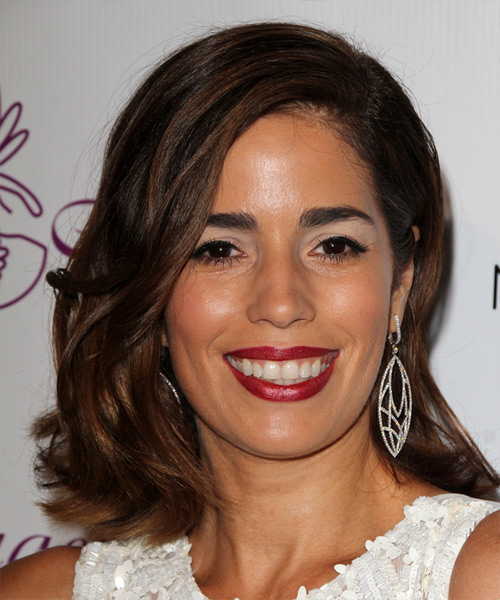 Ana Ortiz goes for a sophisticated wavy bob here with a deep side part and long layered fringe. This is a polished and professional look that can be created in both naturally straight and wavy hair that has shorter layers cut in throughout, especially around the face area. Ana'a elegant style is further enhanced by tucking one side behind the ear to show off her face, and gorgeous earrings! This hairstyle will suit ladies looking for a tamer version of the wavy bob, with a timeless quality to it.
Soft Bob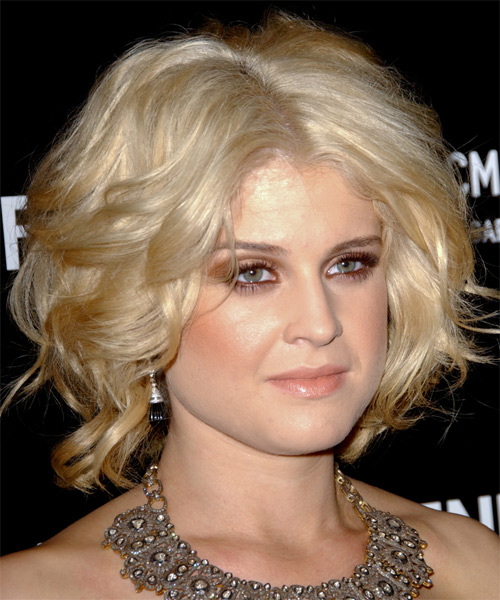 For larger, soft waves, use a standard curling iron. This will give a rounder shape to your bob, like Kelly Osbourne demonstrates here.
Crimped Bob
Or, if you want a flat crimped look, braid your hair while it is wet and let it dry naturally. This will give you a high-texture 'do similar to Courtney Davis' hair in this photo. This waving method is best for ladies who want a bold, edgy look.
Beachy Windblown Bob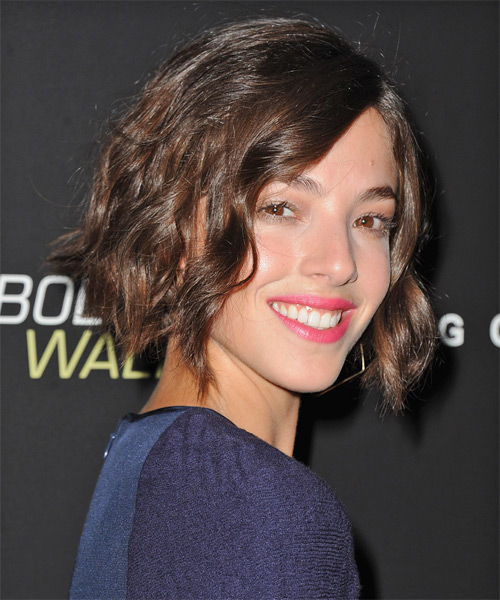 Curling wand: The curling wand creates spirals in the lengths of the hair, and the ends are left slightly more straight than a traditional curling iron. This is the perfect tool for creating beachy windblown waves that look edgier than curls made by hot hair rollers or curling irons. Olivia Thirlby demonstrates this technique with her waved bob in this photo. For best results, choose a wand that has a 1" or smaller barrel.
Voluminous WindBlown Bob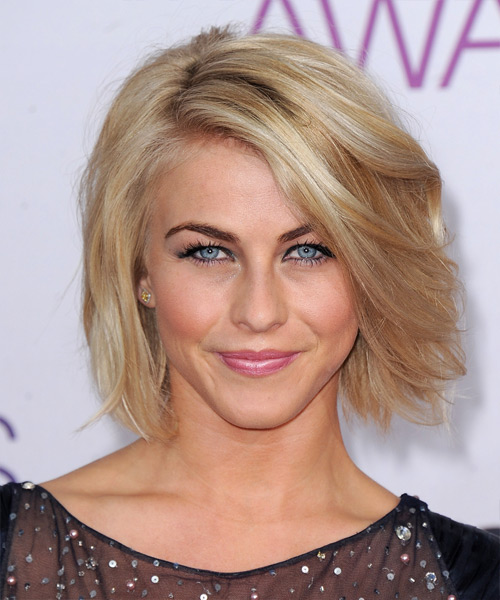 Julianne Hough looks fabulous in this voluminous bob. Her champagne blonde locks have been cut into a jaw-length layered bob and styled with a deep side part. Instead of a 'flat' parting, Julianne has flipped her hair over to the side and added lots of volume in the roots for a free and easy look. Then, she has flicked the ends outwards from the face for a gorgeous finish.
Short WindBlown Bob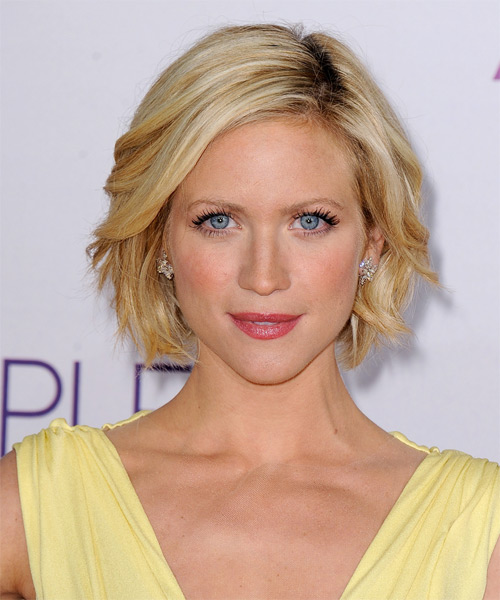 Brittany Snow wears this look in a shorter bob, with more defined curls. Like Julianne, Brittany has gone for a 'flipped' deep side part, which adds a graceful touch that really shows off those cheekbones! To get Brittany's look, simply use a curling wand or iron to create soft twists in the mid-lengths and ends of the hair.
Wavy Blunt Bob With Bangs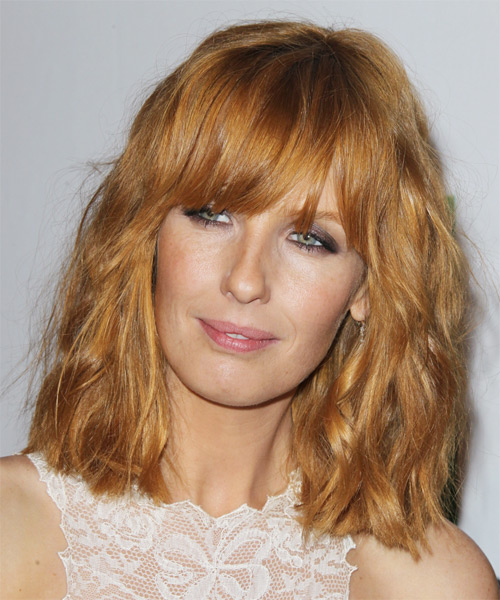 Kelly Reilly looks gorgeous in this hairstyle, which highlights her light blue eyes. Her shiny copper locks have been loosely waved with a curling wand, with the ends left thick and blunt. Her fringe has a slight curl in the bottom, which adds a touch of softness. This is a great way for ladies with a straight bob to add some bounce and vitality to their hairdo, and it looks oh-so-modern.
Cute Blunt Bob With Bangs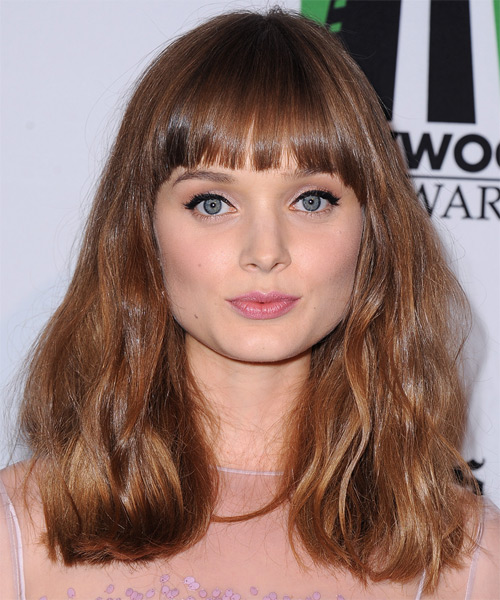 Bella Heathcote looks super cute in her wavy blunt bob, complete with a straight fringe. Her light brown locks are full of bounce and her blunt bangs bring all of the focus to her eyes. If you have a bob with bangs, you can easily get this look by using a curling wand on a low heat setting to add subtle waves. Keep your bangs straight or give them a bit of bounce- the choice is up to you.
Messy Glam Bob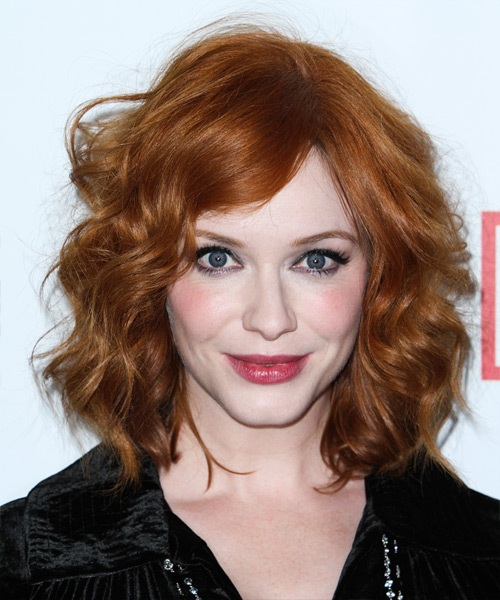 Women envy many things about Christina Hendricks-her hourglass body shape, her porcelain skin, her flawless makeup, and of course, that fiery red hair!
Christina Hendricks loves to style it up for fancy occasions, but her hair looks just as good in a more casual style as well. Here, Christina is wearing a wavy shoulder-length bob that has that 'messy-glam' thing goin' on. If you want to get this look at home, just follow these easy steps:
1. Section your hair from ear to ear, and secure the top section so it is out the way-you'll start to work with the bottom section first. Use a curling wand to create corkscrew curls in 1.5- 2-inch sections.
2. Work your way around the head until the bottom section is finished. Take the remaining hair and use half of it for your next section. Continue curling sections with the wand until the entire head is done.
3. Create a side hair part and spray it into place.
Tips:
- Don't wrap the entire hair section around the wand-start the curl an inch or two from the root and leave an inch at the bottom uncurled.
- Wrap some sections around the wand going away from the face, and some towards the face. This creates a more natural, uneven wave in the hair.
- Use a matte wax to add definition and volume by separating the curls with your fingers before spraying it into place.
To see how you'd look with these great bobs, click on the above images to try the virtual hairstyle with your own photo!