A big trend seen on some of the past red carpets were the faux bob. If you're looking for a new head-turning updo for your long tresses without the commitment of a drastic cut, the faux bob may be for you. This hairstyle gives a fresh look perfect for your own red carpet night out. Your friends will be wondering 'Did she or didn't she?'.
The thing that we love about the faux bob look is that you are creating an illusion for a night or two that you have cut your hair into a bob. These styles are great for evening looks and when it is very hot outside and you want to get your hair off your neck for a few hours. Keep in mind that these hairstyles do take a bit of time to style but I promise you, you will not regret trying! You might even grow to love your new style and want to take the next step and cut your hair into a bob permanently.
Will a Faux Bob hairstyle suit you?
A Faux bob hairstyle can suit almost every face shape. If you have an oval, heart and long face shape, then a faux bob hairstyle is best suited for you. If you have a square or a round face shape, then you need to be a bit more cautious when choosing how you are going to style your faux bob as some of the styles can be a bit too much for your face shape and will not look as appealing.
Best part about these faux bobs is that you can always try a different style and approach to find a bob style that is going to suit you the best. In the end, if you cannot find one that suits your face shape nicely, you can just let your hair out and you are back to your normal hairstyle.
Things to consider before styling a Faux Bob hairstyle
You need to have a bit of time on your hands so that you can style your hair nicely and correctly. Some of these styles might take longer than others. It also depends on how long your hair is.
It is best to style your hair a day or two after you have washed your hair. This is going to make it easier for your hair to stay in place and you won't have as many flyaway hairs as you would if you style it right after being washed.
Keep in mind the natural texture of your hair. You want to style your hair in a faux bob that showcases your natural hair texture.
You are going to need to use a bit of product in order to keep this style in place. Please keep in mind that if you use too much product in your hair, it is going to be a mission to get out and your hair will start to look greasy quicker, which you would not like.
Be patient when styling your hair. It may take you a few attempts to get your hair exactly how you want it but do not let this discourage you! You are going to want to finish this look.
The heavier your hair is, the more likely it is for this style to drop during the day. To prevent that, you need to use the correct bobby pins for your hair as well as use a gel spray instead of a hairspray as it tends to have a stronger hold.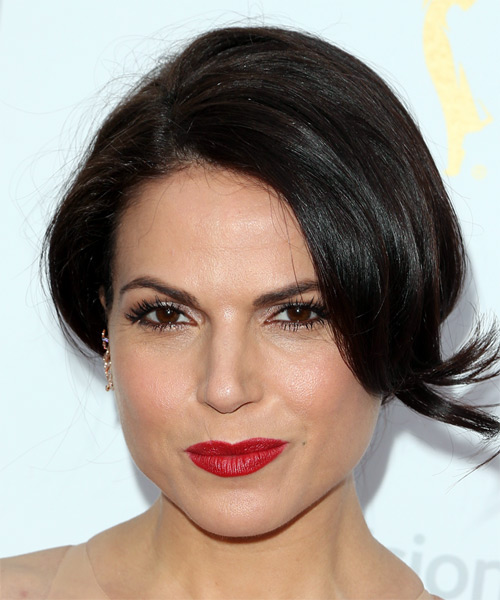 How to get a Faux Bob
If you are not blessed with naturally curly hair, the first and very important step in achieving this hairstyle is to set the hair in hot rollers or curling with a curling iron. This must-do step creates voluminous soft waves and texture.
You are then going to want to do the style in stages. Start from the bottom of your hair and work your way up. This is going to help ensure that you do not miss out any pieces. Take your time and make sure that after every step, you spray your hair so that your faux bob does not move during the day. Hair pins are then used to secure the hair around the head, creating that just-chopped-into-a bob look! Finish it off with a strong hold hairspray to set the look.
Please keep in mind before you curl your hair with a curling iron, you need to use a product that is going to protect your hair from being damaged from the heat. These products not only help to protect your hair but they also help prevent your hair from looking damaged and brittle.
How to keep your rollers clean
Using hot rollers might seem old fashion but it is one of the easiest tools that you can use to style your hair. You just place them in your hair and leave them to do their thing. It could not be simpler. Once you are done with the rollers, you want to ensure that you clean and store them correctly so that you can use them another time.
To clean your hot rollers all you need to do is submerge them in a sink that has a bit of shampoo or dish washing liquid. Scrub the rollers with a brush and rinse with clean water. Let them dry on a towel with the hole facing downwards. Once they are dry, store them back in their box and they are as good as new.
Seen here on the actress (and daughter of rock legend and U2 frontman Bono!) Eve Hewson, the faux bob is soft and romantic. But this versatile hairstyle can also be polished, sophisticated, edgy or vintage. The choice is yours to match your own personal style. Brunette beauty Eve chose a dark, sexy lip stain with a soft smoky eye to compliment her flawless porcelain skin. This hairstyle works best on those wanting to frame a long face shape - oval, oblong, square or diamond are all good matches for this 'do. Fair warning ladies: this style requires some prep work for maximum effect. But as you can see, the results are definitely worth the extra effort.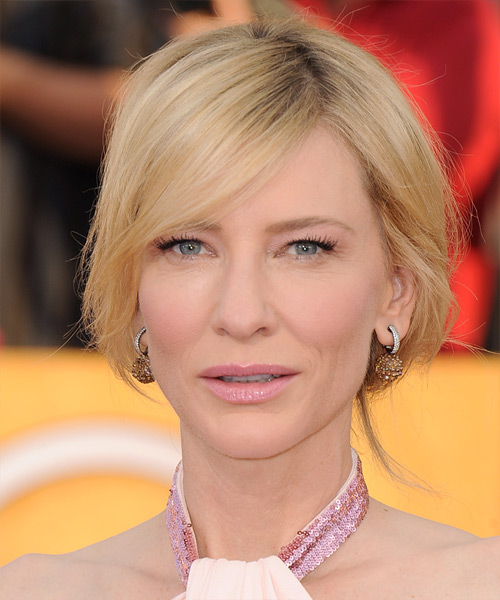 Oscar winner and fashion icon, Cate Blanchett pulls off the faux bob beautifully here. Her locks are much finer than Eve's but by using the right hair styling products and hair styling tools the faux bob style was achieved. Side swept bangs, softly pinned curled hair paired with a natural makeup palette create a very romantic but glamorous look.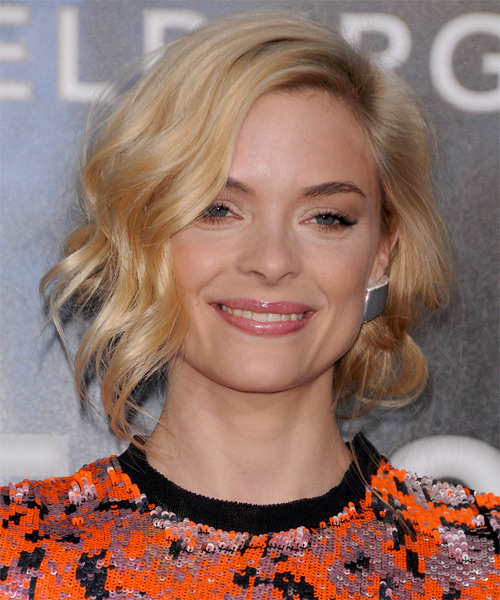 Jamie King, who has medium length hair, fakes her way to a trendy bob. Soft waves frame her face creating an elegant look. If your hair is longer than Jamie's, not to worry! Prep your hair with mousse or your favourite product to add texture, create a deep side part and begin curling your hair into corkscrews. Leave the shorter layers in the front and sides out. Finally, take your longer hair at the back, roll it under at the nape of the neck and pin into place. You get the best of both worlds - from the front it's funky and fun, but at the back it's a sophisticated updo.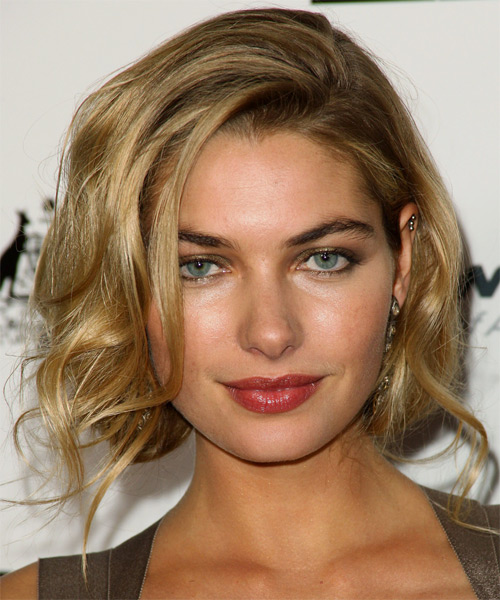 Australian model Jessica Hart shows us how to create the faux bob when you have very long hair. The finished result is effortless, fresh and fun. Jessica has slightly wavy hair, so she adds more curl with a curling iron. Once she has the desired amount of curl in her hair she rolls and pins it at the nape of the neck. Once again, messy, loose layers at the sides of the face are left out to frame the face.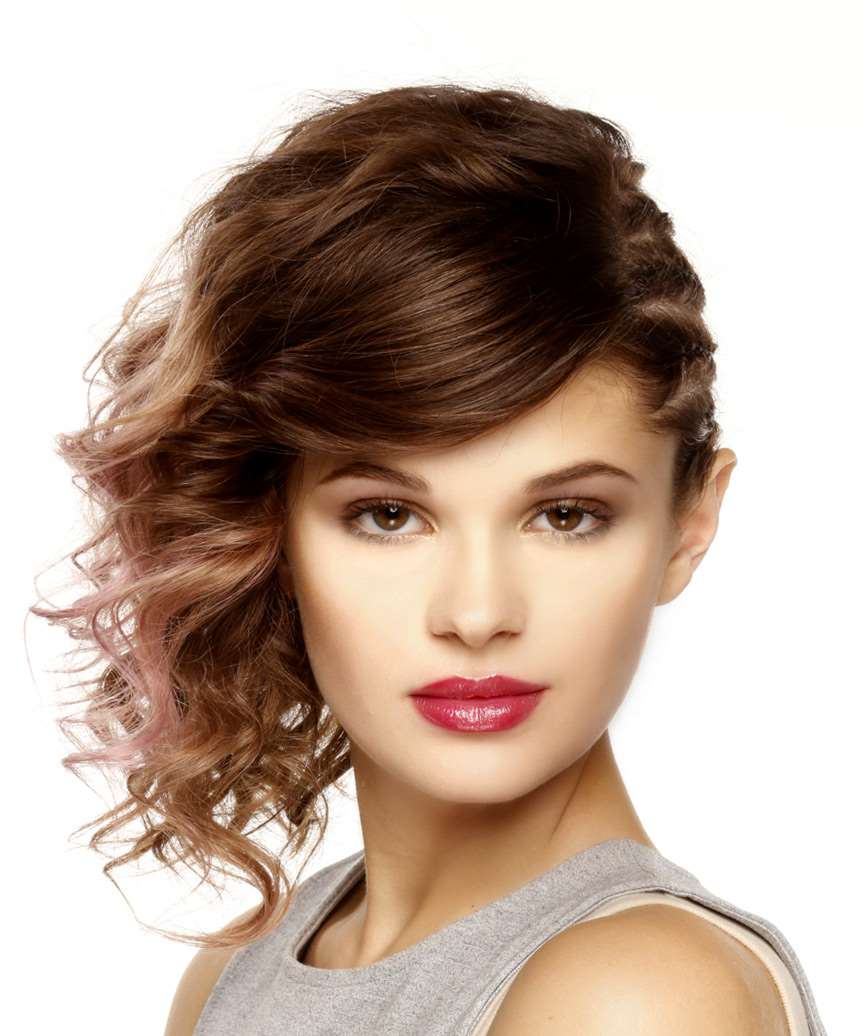 This is one of my favorite faux bob look. As you can see, this bob is more side-swept which is astonishing! It gives this look a life of its own and you are going to turn heads with this faux bob style. The braids on the one side are a nice touch as it gives this look something else to focus on which is fun and different. Her bangs are straight which frame her face so well and overall just looks like a million bucks!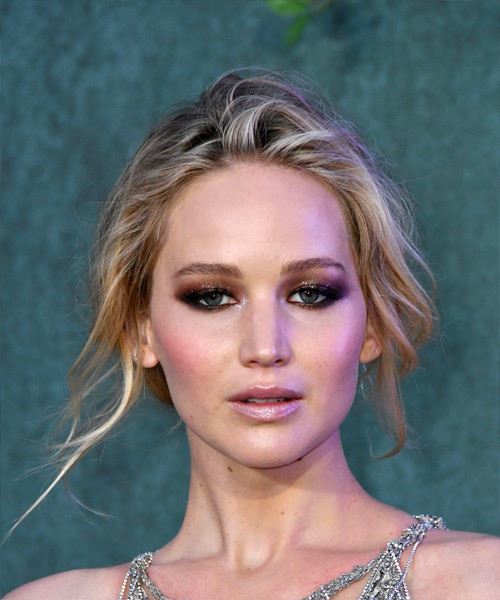 Jennifer Lawrence is showing us that you can have a faux bob hairstyle with straight hair texture. This is a straight bob with a few pieces that have been taken out of the style to fall around her face area. This hairstyle is gorgeous and really opens up her face. The nice thing about this style is that it is a much looser looking bob. It does not take as long to style as the tighter bobs and this hairstyle is best suited for those who have thicker hair as well as those who love the idea of the bob but do not want to spend a lot of time styling their hair.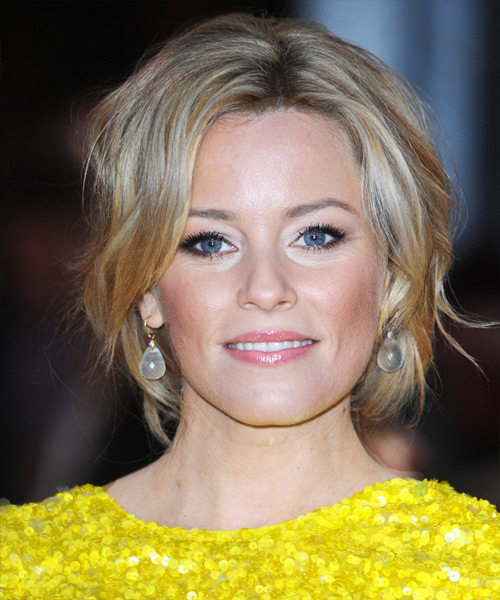 Elizabeth Banks is strutting her stuff with this faux bob hairstyle! Once again, the pieces of hair that have been deliberately pulled out of the look shapes her face nicely and gives the edges of her face a softer feel. This hairstyle is ideal for the boardroom as well as a night out on the town. Her hair color and highlights just bring this look together so nicely. This hairstyle also looks effortless and can be enjoyed by most face shapes. The only downside to this hairstyle is the fact that the bangs cut the eye area a little bit which might not suit all shapes and styles of glasses. You are going to have to check that before you style your hair like this.
How to maintain a Faux Bob
Remember that if your hair does not feel secure on your head, then the likeliness of it coming apart during the day is high. You want to add a few more bobby pins to the style to ensure that it stays in place.
Make sure that you are using good quality hairspray to lock in the look so that it does not drop throughout the day.
Curls do tend to drop throughout the day so if you are planning on having this look for the whole day, make your curls a bit tighter so that by the end of the day, your hairstyle still has curls.
Keep a few spare bobby pins in your purse just in case. You are going to want to keep a few of each size so that you can replace as and when you need. Turns out for these hairstyles, size does matter when it comes to keeping the look in place throughout the day.
If you are using hot rollers and want to keep the hairstyle for the whole day and night, you are going to want to sleep with the rollers in your hair to ensure that you get big curls that are going to hold throughout the day. You can place a scarf over your head and rollers and go to sleep. This method is the most comfortable one to sleep with.
As you can see, there are a variety of options out there for you. Sometimes you just feel like you want a change but you do not want something that is permanent. These faux bob hairstyles will give you the freedom to explore your options and play around with hairstyles that you normally would not consider.
A lot of people have tried the faux bob hairstyle and have realised that they love it so much that they want to cut their hair in that style permanently. You do not have to do this if you don't want to. By styling your faux bob hairstyles, you can now have the best of both worlds!
This is one hairstyle to try out if you haven't already! You can use our virtual hairstyler today with your own picture to see if any of the above hairstyles are going to suit you!