One of the great things about thick hair is that there are always a lot of hairstyles that are very well suited for thick locks. Another is that most styles will stay in your hair long after other hair types have faltered and fallen flat.
While this means that your hairstyling options can be pretty versatile, it can also make finding a style overwhelming. So to help you out, we've put together some great hairstyle ideas for thick hair.
Salon Straight Strands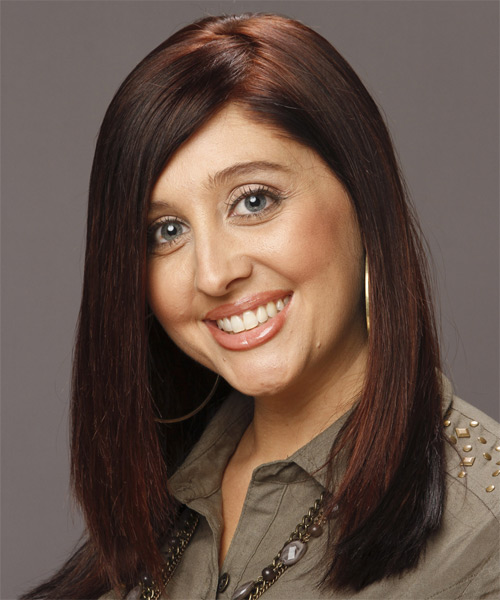 A style that looks great with any hair type or length is salon straight strands. While a thick hair texture may mean it takes more work to get your locks this polished and sleek looking, the result will be worth the effort. Use your hair straightener or blow-dryer to re-create these smooth strands. And don't forget that if done right, a blow-dry can last you days.
Big Curls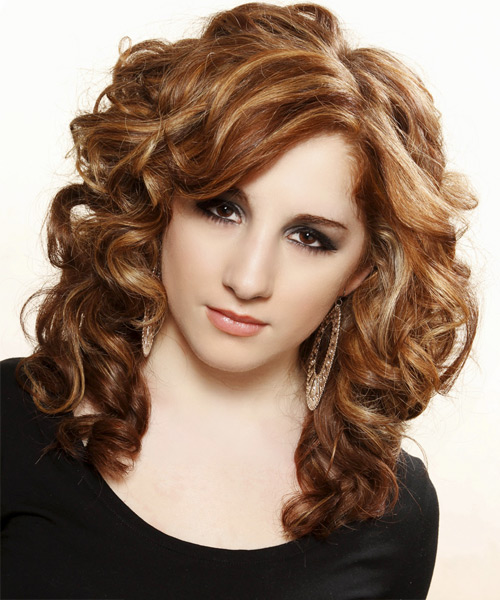 Thick hair was just made for big curls and is the perfect hair type to create and hold onto some really great big and beautiful curls. Use large hot hair rollers in thick sections of your hair or a large barrel curling iron to create your curls, and don't forget to use plenty of hairspray to keep your style in place.
Updo with Buns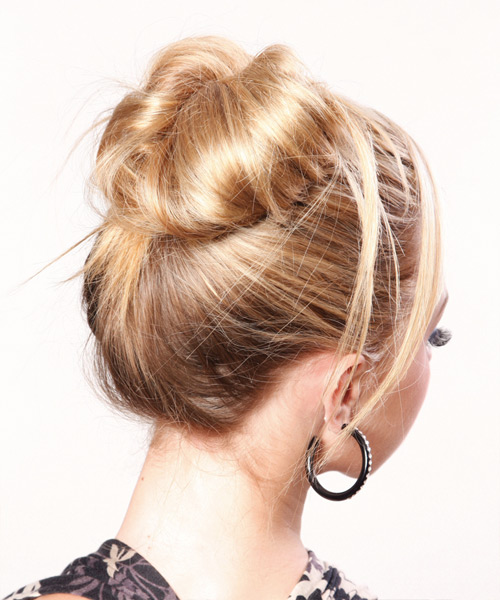 An updo that is really easy to style with thick hair and gives a great result is an updo that features buns. While thinner hair types might need backcombing or clip in hair extensions to thicken up and give shape to a bun, thick hair can pull off the look without any extra help. This hairstyle uses two buns. Click the image to see the front view and for more styling info.
Plaits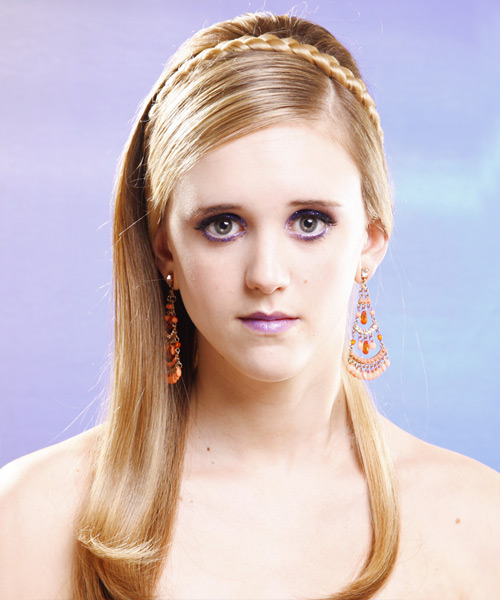 Plaits are still a big trend in the world of hair fashion and can be used in lots of versatile ways to add a great touch to your hairstyle. For thick hair, make the most of your strands and create a headband by plaiting a section of your hair and then wrapping it around your head. Another idea is to add a plait through your bangs, or to plait your length and style it to sit over your shoulders.
Half Up Half Down Hairstyle

This hairstyle idea for thick hair is to take those lovely thick strands and create a sensational half up half down hairstyle that is naturally packed with body, hair volume and fullness thanks to the thickness of your strands. Click on the image to see the front of this great style and re-create it using hair pins for this stylish end result.
Thick Hair Tricks
If you don't have thick hair but would like to try those volume filled hairdos, here are some tricks to fake your way to thicker looking hair!
Hair Product Power

While there's no magic potion or hairstyling product that'll permanently give you thick hair, there are hair products that will temporarily help you out.
A volumizing shampoo and conditioner are the perfect products to start with.
A root lifter will pump up your locks at the roots.
A volumizing spray will thicken up your strands.
As with any hair product, there is a little trial and error involved in finding the right products that'll work for you. Arm yourself with as much knowledge about your hair type as you can before you buy (see our article, The Best Hair Products for Your Hair for some tips) and try the best products that you can afford.
Hair Color Trickery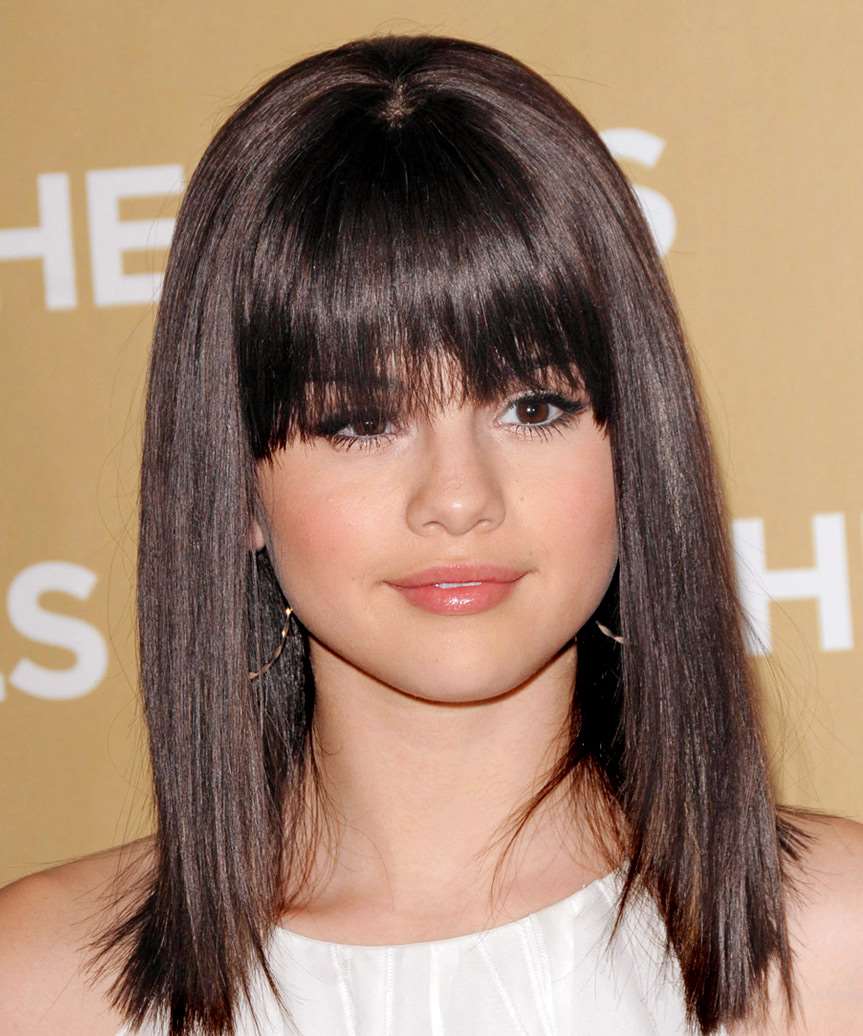 Hair color not only enhances your hair, it can also give the illusion of thickness.
Using a permanent hair color in a solid shade will make your hair look thicker.
If you'd like more variety then you can also give the appearance of depth and thickness with highlights and lowlights.
For some hair color inspirations, see our hair color articles Hair Coloring Fun for Short, Medium and Long Hair.
Savvy Styling Techniques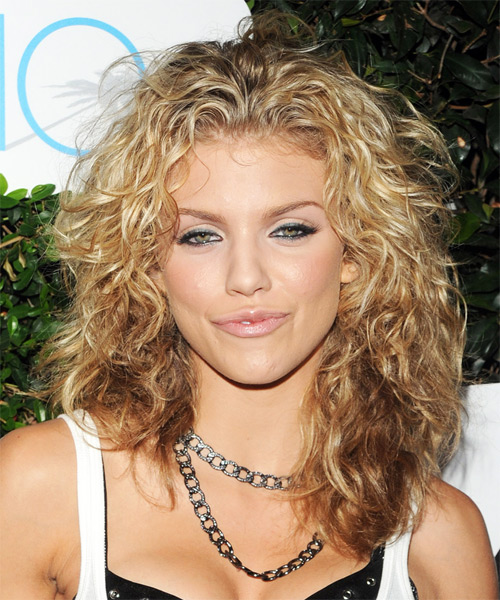 The final trick for achieving thick hair comes from styling.
Using a blow-dryer and a paddle or vent hair brush will add volume to your hair as you dry.
Hair rollers will inject thickness and volume right into your ends and roots.
For those who want to avoid using heated styling tools then some simple hair scrunching is a fuss-free way to create a thick, full look.
If you don't know much about hair rollers then our daily style trend, Hot Hair Rollers Tips, can help you out. And for step-by-step instructions about using the scrunching technique to achieve thick hair, see Hair Styling Tips: Scrunching.
So there you have our tricks for faking your way to thick hair. You might not have been born with full strands, but by using the right hair products, hair color and styling techniques, it can be yours!