An oblong face shape requires haircuts, styles and makeup that will help to flatter and minimize its long length and narrow features.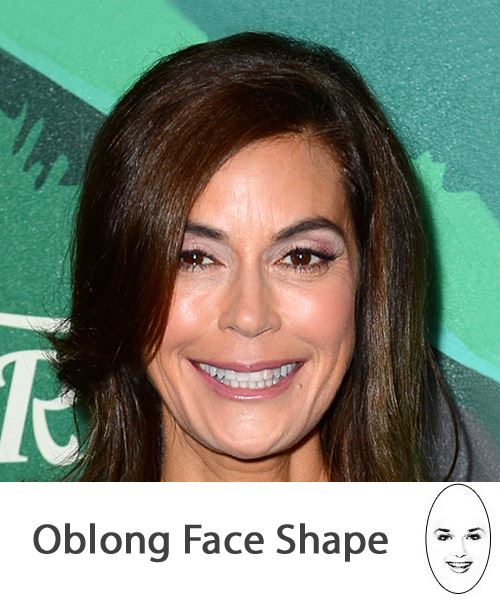 If you have an oblong face shape then you'll recognize the following characteristics:Â 
Your face is longer than it is wider and has a narrow width.
Your forehead and jawline are a similar width in appearance.
Your chin is pointed.
Your cheek line and the sides of your face are straight.
Your forehead is tall and wide and may be round at your hairline.
Your face is widest at your forehead.

All of these characteristics add up to face shape that can be flattered with the right hairstyle choices.
Hairstyles to Try
Styles that are short to medium in length with longer top layers without height are best suited such as wedge and graduated bob cuts.
Chin and shoulder length looks that turn under or kick out also work very well to add width.
Straight across bangs with side parts work best.
Layered styles in medium and long lengths that add body in with wavy and curly textures are great for softening the straight long lines of oblong face shapes.
Hairstyles to Avoid
Hairstyles that add height at the crown or on top will only lengthen your face.
The absence of bangs.
Wispy chin length styles that have no body or that don't add width through the sides should also be avoided.
---
Hairstyles
If you like any of the following hairstyles, click on each image for more info, how to style steps, and to try on each hairstyle. Or you can view TheHairStyler.com's entire range of hairstyles for oblong face shapes.
The Right Short Hairstyle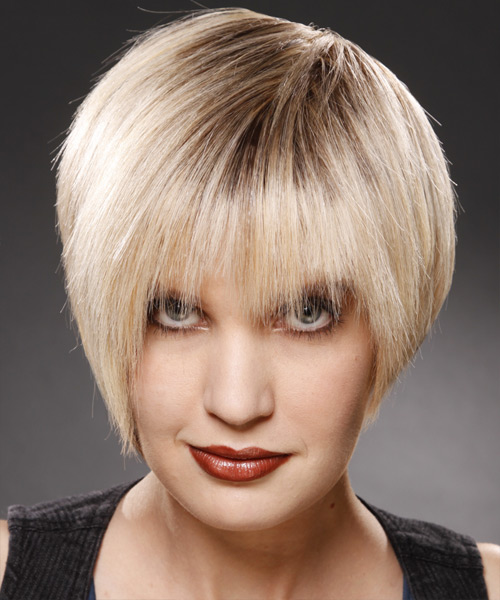 This hairstyle is a very good example of how people with long oblong face shapes should wear their hair short. The heavy top layers fall into a rounder shape while the bangs almost halve the vertical length making the face and chin appear shorter and more balanced. This same shape will work on any other hair texture.
The Wrong Short Hairstyle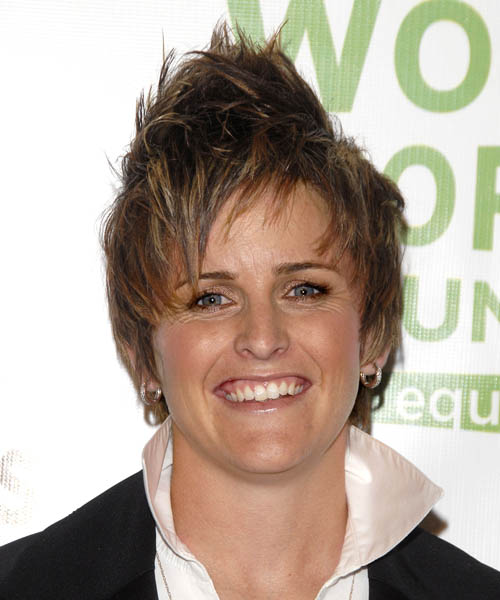 The worst thing that oblong face shapes can do is to make their faces appear even longer, as is the case with this hairstyle. Height on top is the obvious culprit and should be avoided at all costs. This is the wrong hairstyle for the wrong face shape!
The Right Medium Hairstyle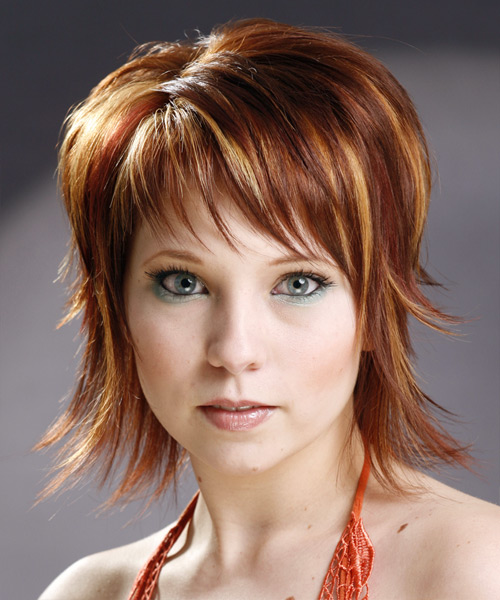 This is a very nice hairstyle shape to compliment long faces. The bangs in the front help to make the face appear shorter, while the layered sides and back that kick out create needed width. Waves or curls would work just as well, even slightly shorter if required.
The Wrong Medium Hairstyle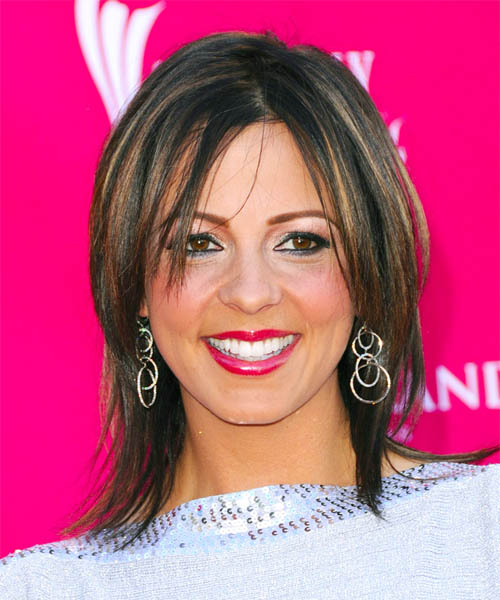 The wrong hairstyle is shown very well for long oblong face shapes. The middle part creates more vertical length while the flimsy sides do nothing to build width. This hairstyle lacks body and needs to be shortened in shape (not length).
The Right Long Hairstyle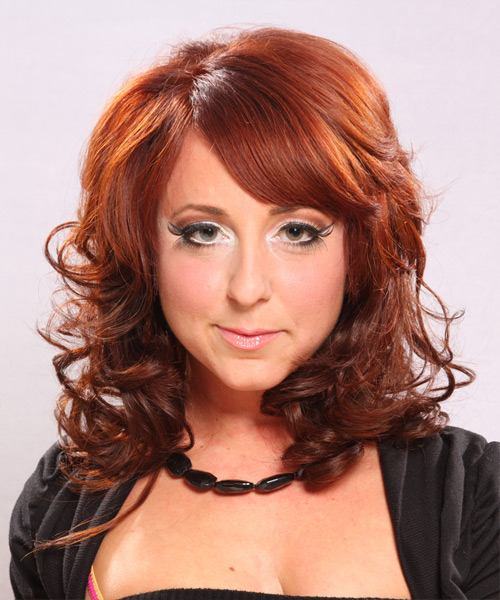 This is a soft wavy hairstyle with body that really suits our oblong face shape model. The bangs help to shorten the overall length of the face while the layers help add body and bounce creating needed width. This shape will work in straight or curly textures.
The Wrong Long Hairstyle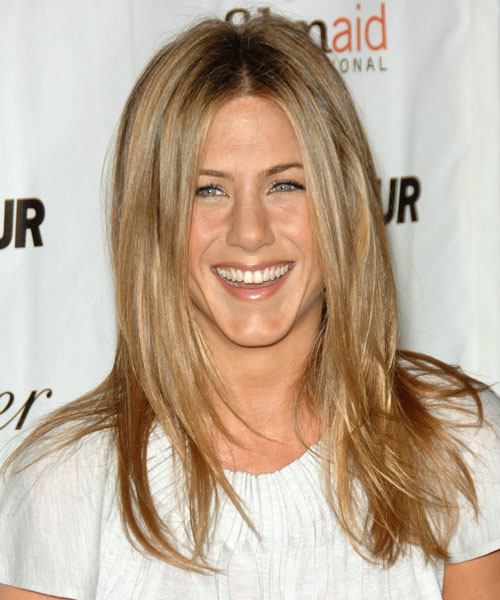 This is very good example of a poor choice of hairstyle selection. The hairstyle makes an oblong face look even longer than it actually is due to the middle part that divides the shape into two longer portions. The all straight one length sides and back also only add to vertical length.
The Right Bob Hairstyle
One of the most flattering and versatile hairstyles is the bob. It looks great in a short, medium or long hair length, can be worn curly, straight or wavy, and there is one to suit just about everyone - all you need to know is how to choose the right one for you!
The most suitable bob hairstyles for an oblong face shape should feature all or some of the following:
Chin length or shorter.
Graduated in style/cut.
Wavy or curly hair textures.
Bob with Curls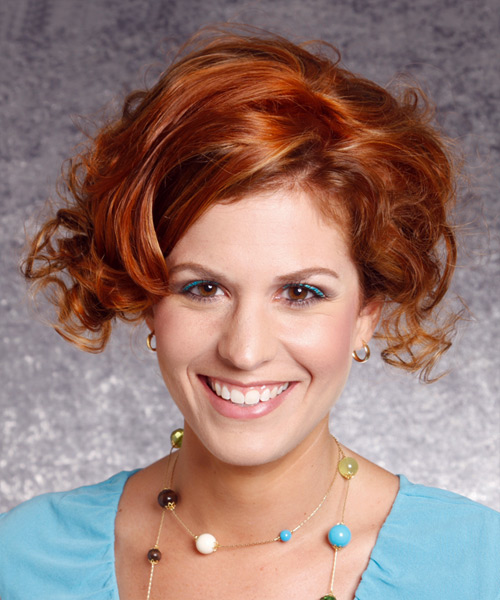 A bob that features a curly or wavy hair texture is perfect for softening the harsh lines of an oblong face shape.
Chin Length Bob with Side-Swept Bangs

A chin length bob will emphasize the face's horizontalness rather than length, and the side-swept bangs will also help to shorten the length of the face.
The Wrong Bob Hairstyle
To ensure your bob hairstyle is suitable for your face shape, select a bob that does not have any of the following hairstyle features:
Height at the crown.
No bangs.
Wispy chin length.
Middle part.
Wispy Chin Length Bob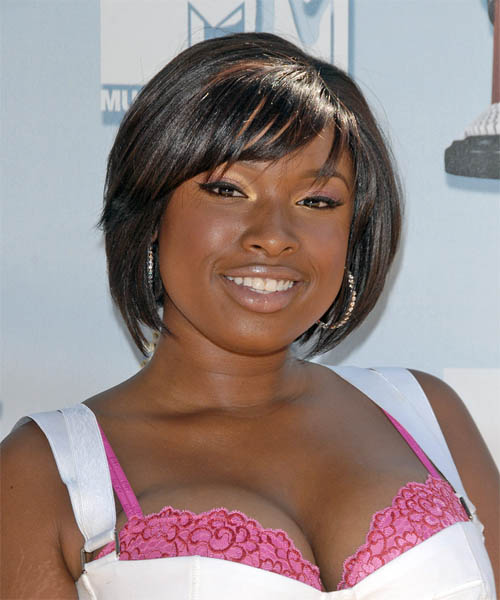 Although a chin length bob is ideal for an oblong face, wispy ends with no body that don't add width to the sides of your face will only make an already long oblong face shape look even longer.
Middle Part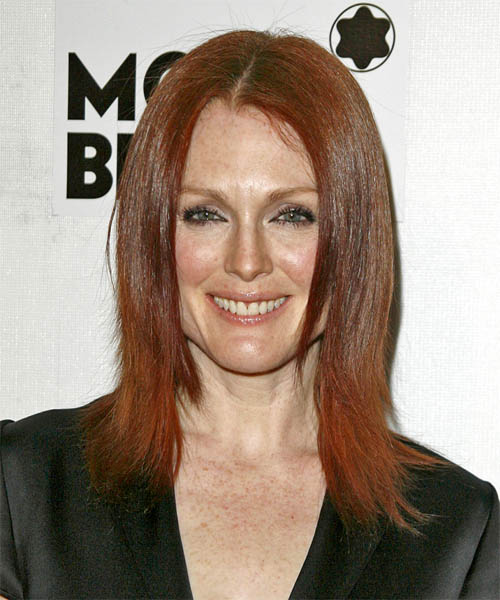 A middle part on any bob teamed with an oblong face shape will only add vertical length to a face shape that needs to avoid any added length.

Now that you know which bobs to try, and which ones to avoid, take a look at the great range of bob hairstyles that we have available in our hairstyle categories.
The Right Bangs
Adding bangs to your hairstyle is a great way to create a new look without sacrificing the length of your hair or using hair color. But as with a new haircut or hair color, if you choose the wrong type of bangs, you could end up with a new look that isn't exactly the right look for you.
To avoid getting bangs you'll regret, do your research first and choose the right bangs by looking at the ultimate deciding factor – your face shape.
To flatter the length of an oblong face shape you should choose bangs that will condense the length of your face and create a more suitable shape.
Straight Across Bangs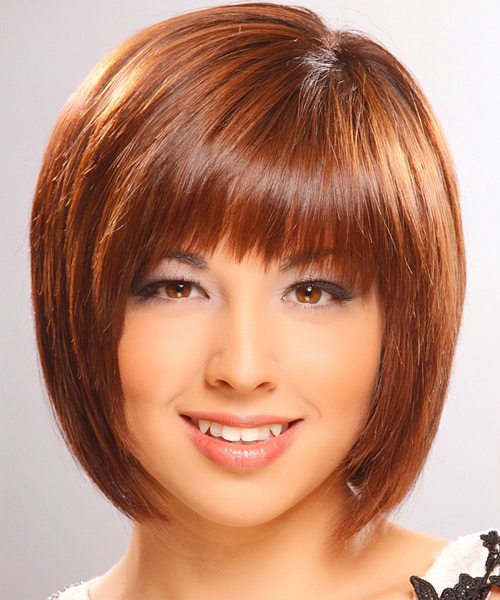 A straight across bang is a good choice for balancing width in longer faces, and when teamed with a side hair part, works even better!
Long, Side-Swept Bangs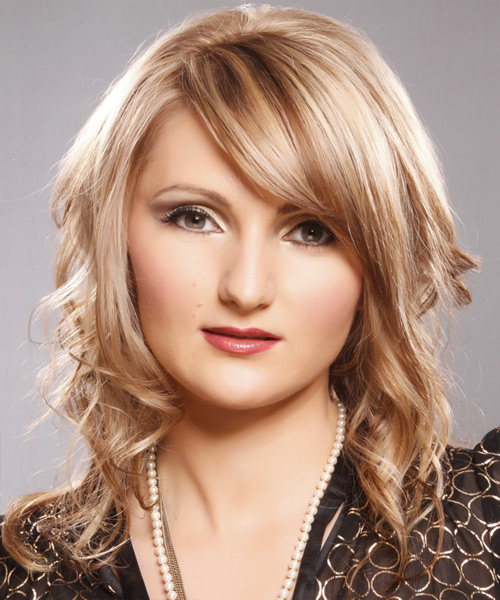 Long, side-swept bangs are great for eliminating vertical length and for making your face and chin appear shorter and more balanced with the rest of your face shape.
The Wrong Bangs
Because of the length of an oblong face shape, any bangs that have height, or are teamed with a high hairstyle, are going to immediately make the face look longer. The length of the face can also be highlighted by the absence of bangs.
No Bangs with a Middle Part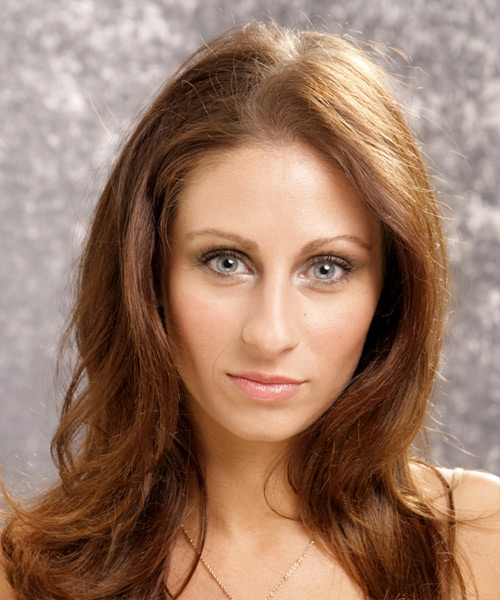 Because bangs cover up all or part of your forehead, they essentially cut the length of your face in half, which is ideal for oblong face shapes. Without bangs and with an eye drawing center part, the length of an oblong face is exaggerated.
Bangs and Height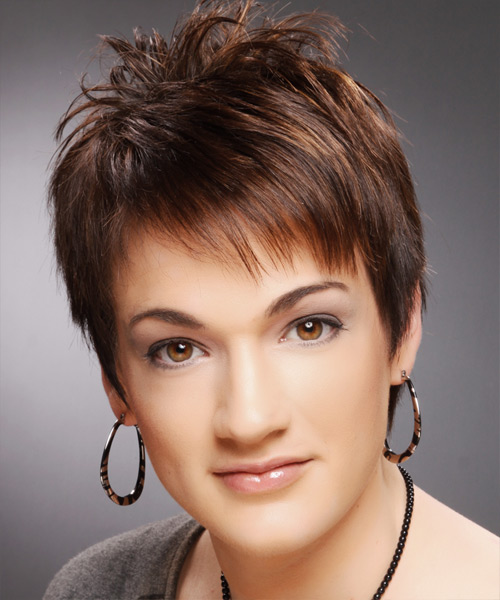 Bangs teamed with a hairstyle that has lots of height runs the risk of making an oblong face shape appear even longer than it is and should be avoided.
Due to its length, an oblong face shape is tailor-made for bangs and would really benefit from the varied looks that bangs can provide.
 
Now that you know your face shape and how to choose the right hairstyle, why not take a look through TheHairStyler.com's range of hairstyles for oblong face shapes?
We recommend taking a look at the following links:
We have 1,000s of different styles for you to choose from which can be viewed on your own photo or on one of our models. To find out exactly what will work for your triangular face shape, we recommend trying our Free Hairstyle Consultation: