Having straight hair means that you create virtually any hairstyle you like, with the right products and tools of course. While wearing your hair in its naturally straight state is the easiest way to go, you have the option of adding curls and waves to style up your hair in more creative ways too. Plus, you never have to worry about frizz--bonus!

Choosing the right 'do for your straight locks will depend on your face shape, hair length and your personal sense of style. Some straight hairstyles will take more work than others, so consider how much time you want to spend on your hair each day. You will also want to consider your hair's condition. If you like to color your hair often or bleach it out, you'll want to avoid a super long hairstyle that will increase breakage in your tresses.

You can try on hundreds of straight hairstyles now at thehairstyler.com, but to get you started we've compiled a list of the best straight hairstyles for all hair lengths.
The Pixie Cut
For ladies who love short straight hair that is fun and sassy, a pixie cut is the way to go. This hairstyle requires minimal styling time and works with the hair's naturally straight texture. With regular trims, pixie cuts look stylish, modern and chic.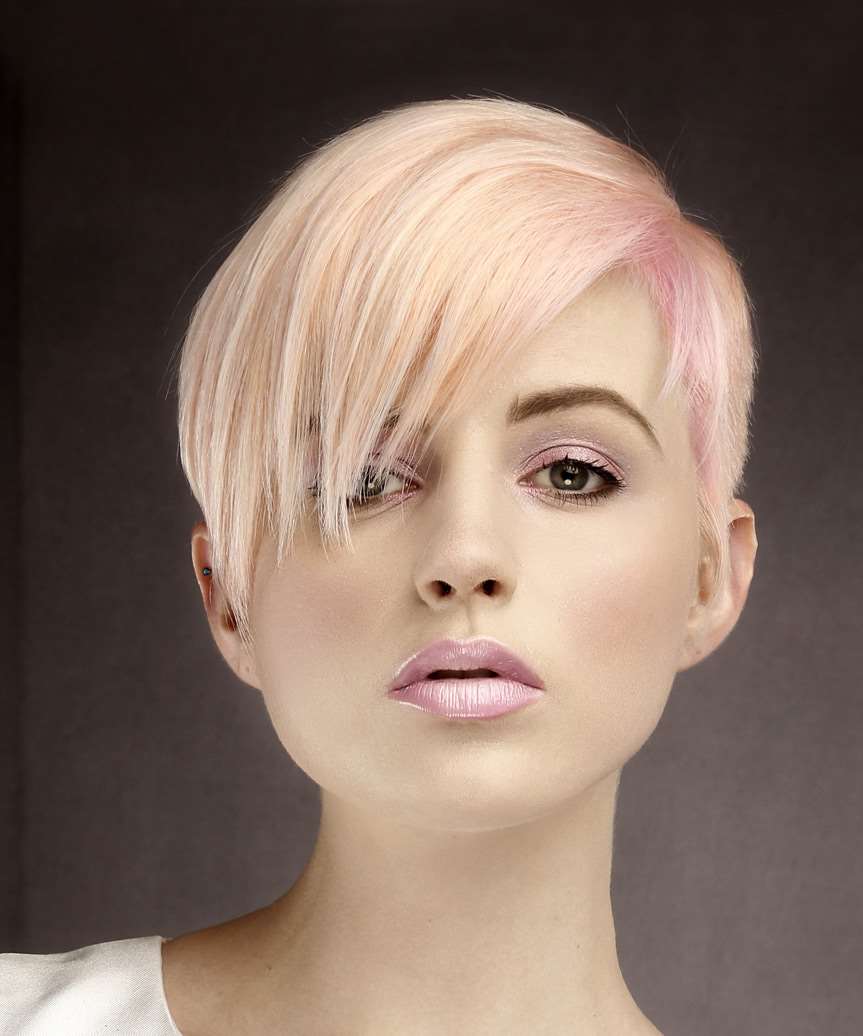 This pixie cut features long wispy layers on top and a jagged side-swept fringe. This style is ideal for ladies who like short hair but with some styling versatility, as the bangs can be worn off the face, swept to the side or pinned back.
Jamie Lee Curtis look chic in her short pixie cut with jagged layers on top. This hairstyle looks fabulous with glasses and works well for professional women who want a sophisticated look.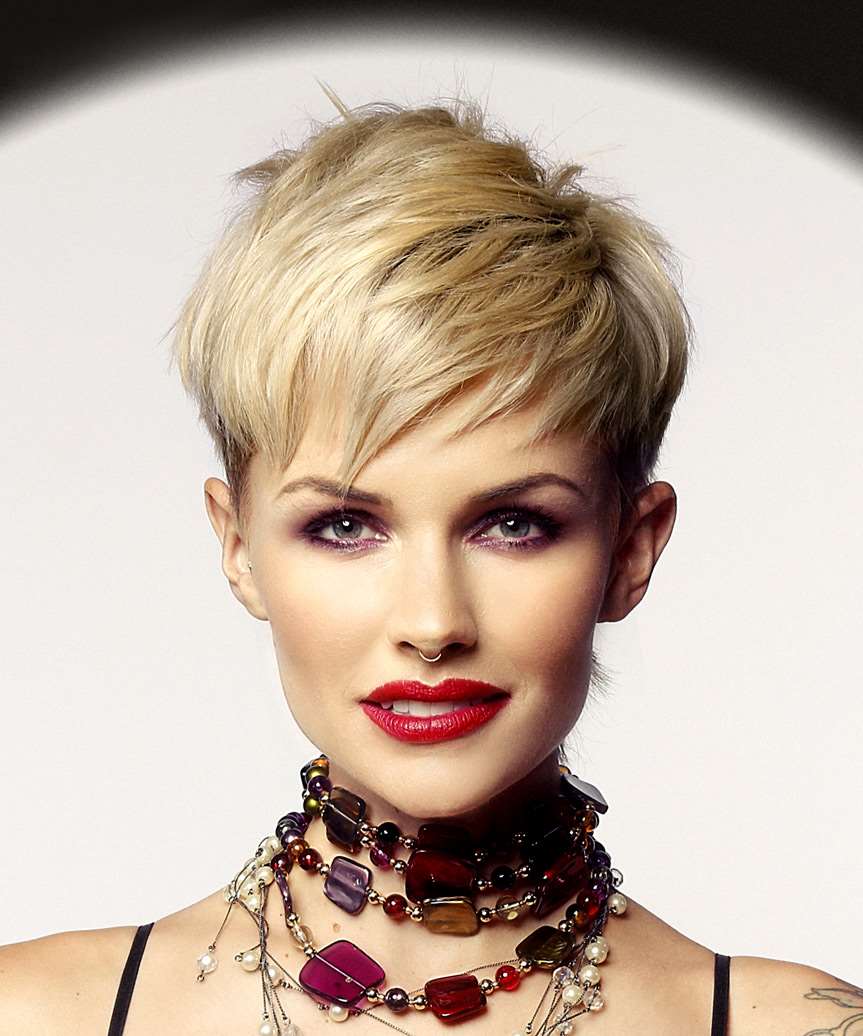 Ladies with short, straight hair sometimes have problems with limp, lank locks. A pixie cut like this one is the perfect solution with its oodles of volume, body and texture cut in throughout the tops and sides. The side-swept fringe is ideal for women with broad foreheads.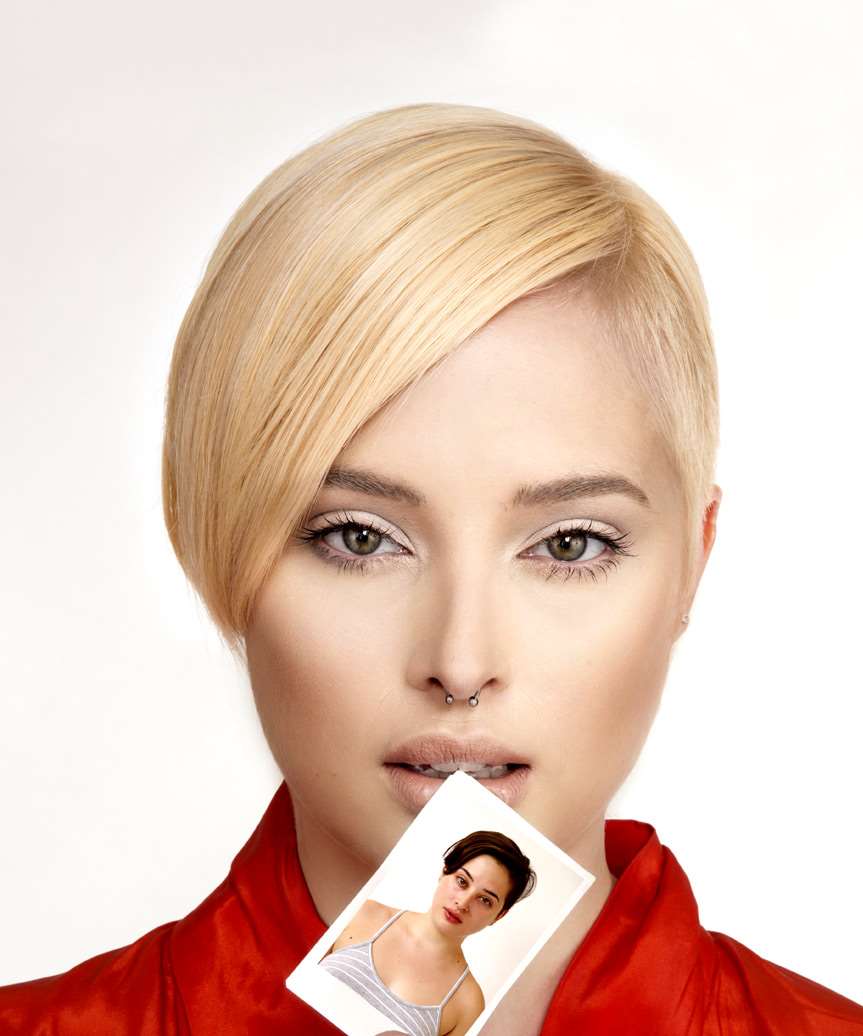 Go for a mod look with this asymmetrical pixie cut that features long layers on one side and shaved sides on the other. Our models' platinum blonde hair color perfects this hairstyle's modern, chic look.
Long and Layered
Straight, silky hair looks stunning when worn long and layered. These hairstyles do take a lot of extra care to keep them looking healthy, but it is well worth it. Ladies who have trouble growing their hair long can use extensions to fill out their tresses and add color too.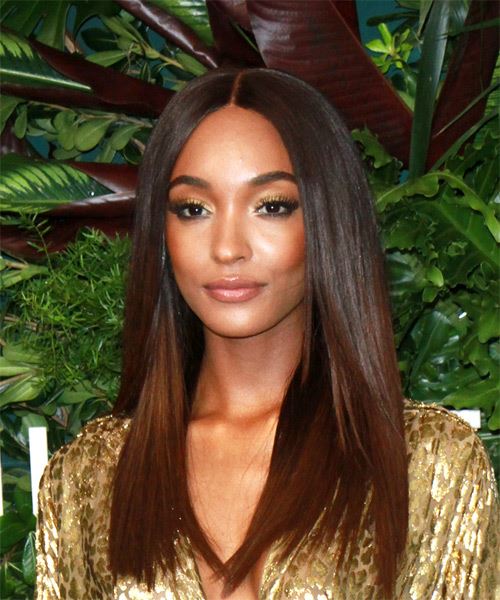 Jourdan Dunn looks flawless in a long center-parted straight hairstyle. Her ends have been layered to perfection leaving them looking healthy and thick. This is a great hairstyle to show off a beautiful color, like Jourdan's ombre locks.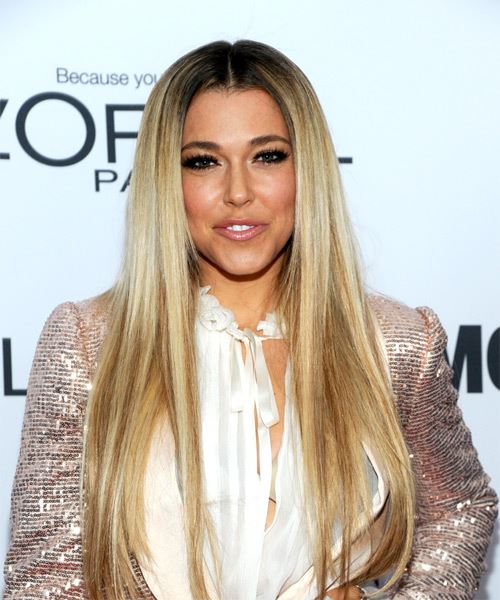 Alex Rose Wiesel looks glam with her long, straight tresses. She has added some extensions at the bottom in a darker color to add length and dimension. A simple center part and flat iron finish tops this hairstyle off.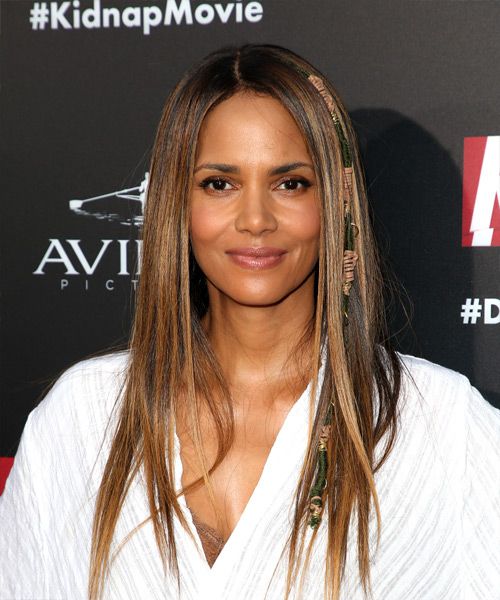 Halle Berry looks gorgeous with her long, straight locks here that have been layered through the ends for a wispy finish. Halle has added a hair wrap for an extra dose of style.
The Bob
Simple yet elegant, the bob is a great way to wear straight hair. This cut can be customized to suit your hair type and desired look by choosing blunt vs. layered ends, length, bangs/no bangs and style of bob. Will it be a graduated bob with lift at the back? Or one that is a uniform length all around and dusts the shoulders. The choice is yours!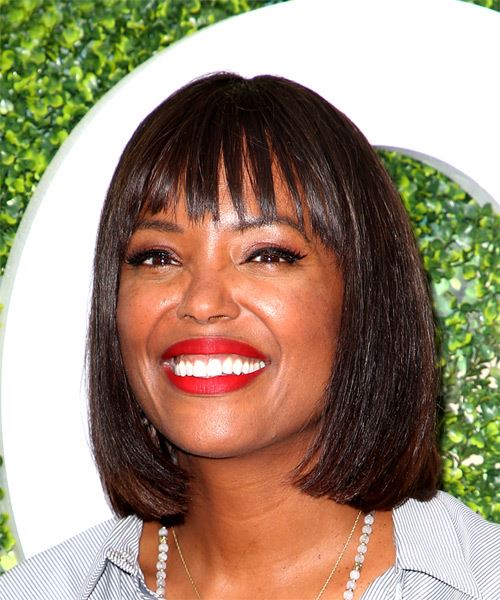 Aisha Tyler looks lovely here in a shoulder length bob with layered fringe that isn't too heavy-her forehead peeks through a bit for a lighter, modern look. Her ends are blunt cut to dust the shoulders and frame her face nicely.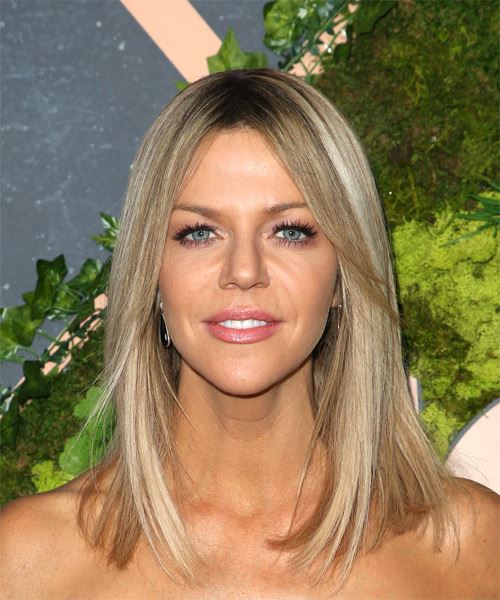 Kaitlin Olson's longer bob looks gorgeous here, with her center part creating a beautiful look and her ends dusting her decolletage. This straight bob shows off her beige and ash highlights to perfection and adds volume to her fine locks.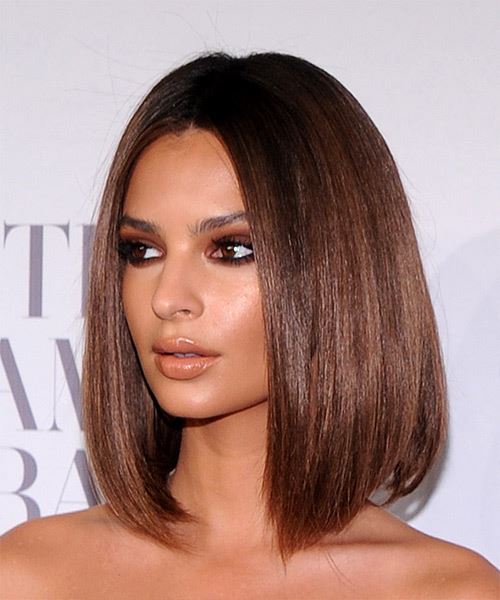 Emily Ratajkowski is a stunner in a graduated bob with some lift at the back. Her straight locks have been curled under slightly for a smooth and soft finish. Emily goes fringe-less here but this haircut also looks great with a forward or side-swept fringe.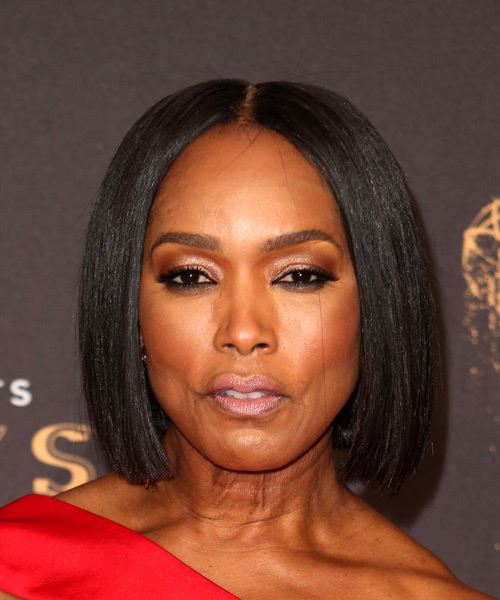 Angela Bassett wears a classic bob here that has a timeless elegance to it. Her straight hair has been blunt cut to chin length and parted in the middle for a sleek look. Her jet black locks look shiny and glossy thanks to the super straight finish of this 'do.
Straight Hairstyles with Bangs
If you need bangs to balance out your face, there are plenty of styles that will work with your straight hair. Here are just a few examples of hairstyles for all hair lengths that look great with bangs.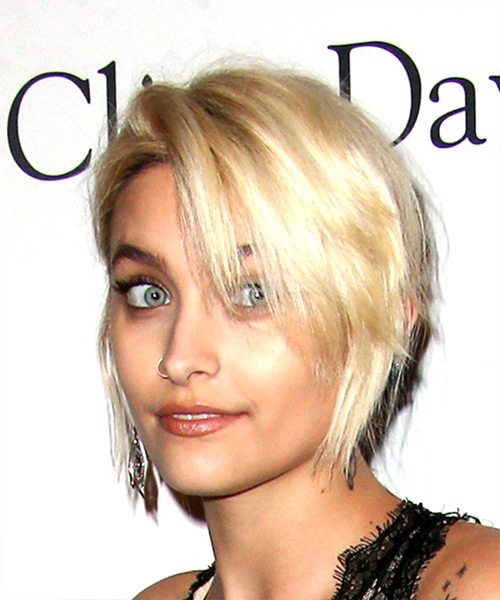 Paris Jackson flaunts an asymmetrical cut with choppy side-swept bangs and layers throughout. The tapered sides and back give this short, straight hairstyle some lift at the back while the longer layers in front create a gorgeous frame for the face.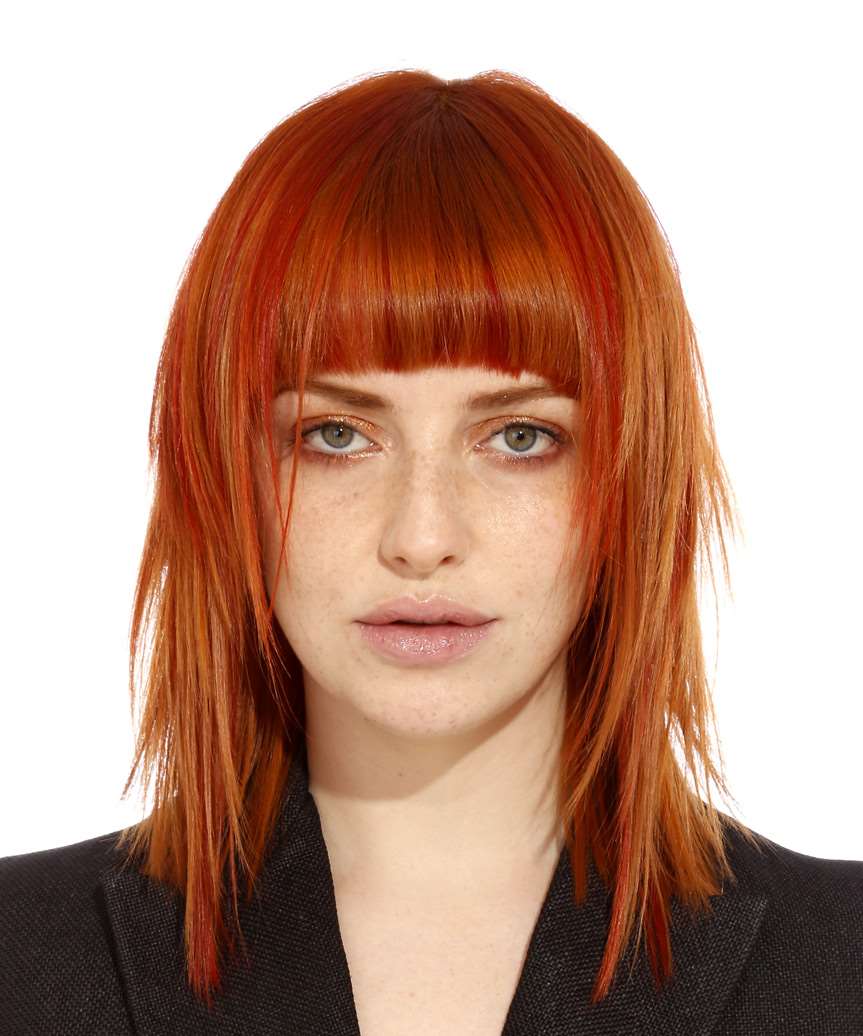 Heavy bangs with a layered shag hairstyle looks edgy and chic, and is an ideal option for naturally straight hair. This versatile 'do can be worn down or pulled up for a totally different look.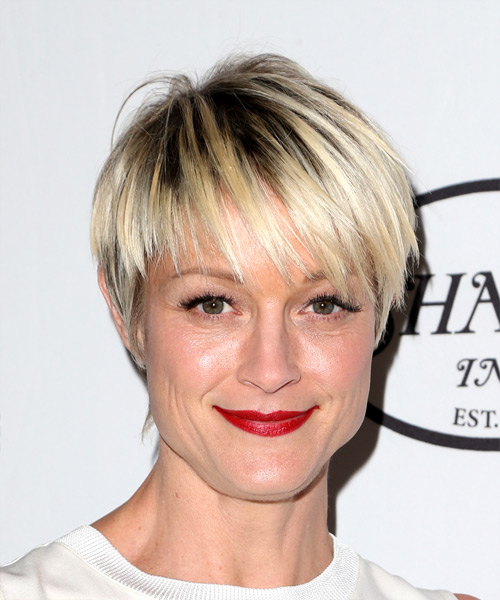 Terri Polo looks lovely in a layered long pixie cut where the main feature is the thick jagged cut bangs that sweep across her face. This sassy 'do take minimal styling time and is a great way to combine a pixie cut with a long fringe.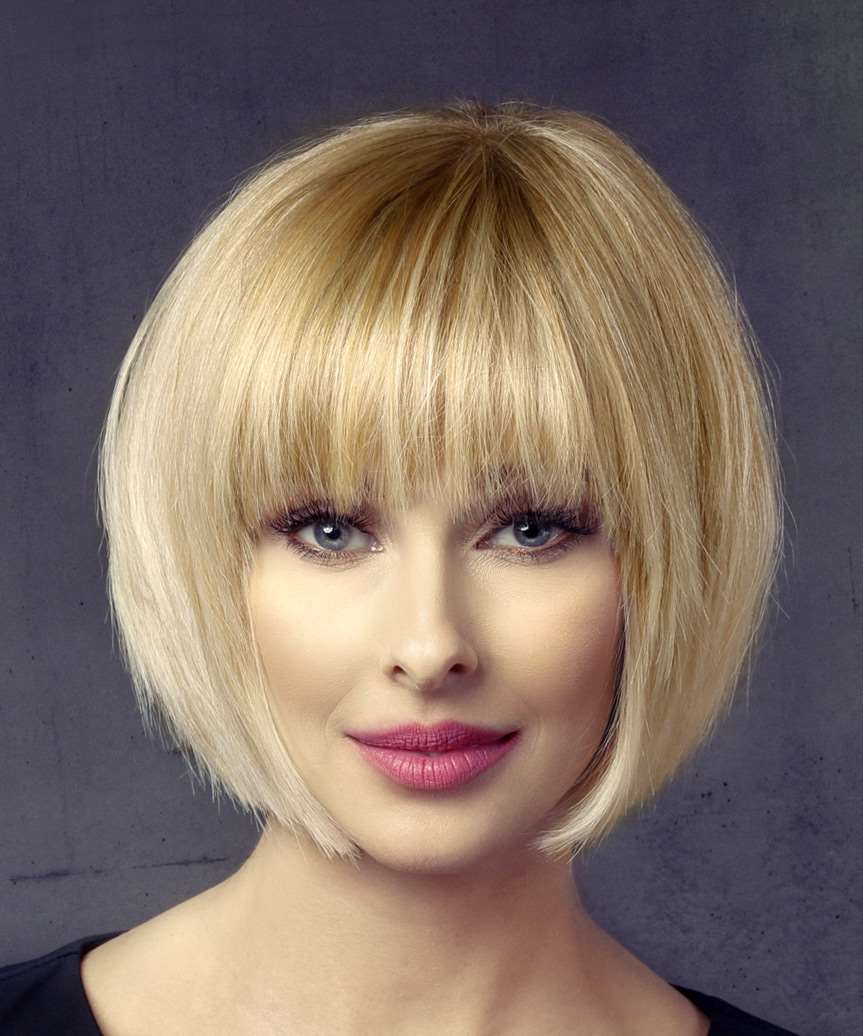 Another good option for bangs is a pageboy bob. The bangs are the main feature of this hairstyle, which has a timeless sense of style. This is a good option for women with straight hair who want a classic, low maintenance style.
More Hairstyles for Straight Hair
Check out these videos for more hairstyle ideas and inspiration for your straight hair: