One hairstyle trend that is sticking around for the long haul is the lob. The lob, (or long bob) has been seen on celebrities, fashion designers, models and musicians alike, making it one of the most-requested hairstyles around. Victoria Beckham, Olivia Palmero, Miranda Kerr, Jennifer Aniston and J-Lo have all rocked this hairstyle. So what exactly is a lob, and why is it so darn popular?!

The lob is a long bob that dusts the shoulders, and falls somewhere in between long and short hair. This haircut is ideal for all face shapes (with a few modifications) and requires relatively little styling time. Not only is this hairstyle a time saver, it can take years off the face and create a fresh, youthful glow. How's that for a winning 'do?

Another benefit of the lob is the comfort factor. Ladies with long hair may crave a shorter, more manageable hairstyle but don't want to lose the look and feel of longer hair. And, let's face it, cutting your hair short can be a nerve-wracking experience! Getting a lob removes the fear because the hair is still long enough to style into up-dos, ponytails and the like, while the styling time and care routine is greatly reduced. It's a win-win! On the other hand, ladies who are trying to grow their hair from short to long will love this chic and sassy way to style their hair while it's in that awkward growing out stage. Wearing a lob will make the growing out process much more stylish and enjoyable. It's easy to see why this is one of the must-have hairstyles for women.

But before you rush to get your lob, there are a few things you need to consider. Your face shape will be the most important factor in determining which variation is right for you. Then, you'll need to look at your hair texture. The best lob for straight hair may not work so well on wavy or curly hair. Other factors you'll want to consider are:
What goes best with your personal style? A blunt-cut asymmetrical lob will look fabulous on a fashion-forward girl, whereas a softer, deconstructed lob will suit someone with a casual approach to fashion.
How much styling time can you commit to? If your hair is straight, will you have time to add curls and texture to a beachy lob every day? Ladies who have curly hair may love the look of a super sleek lob, but may not love the 15 minute hair straightening job that is required to get it!
With those things in mind, let's look at the best long bob hairstyles for each face shape.
Long Bob Hairstyles For Oval Face Shapes
To show off your perfectly balanced face shape, try a center-parted lob that ends just past your shoulders in the front and lifts up slightly at the back. This haircut looks fabulous when worn sleek and straight like Kim Kardashian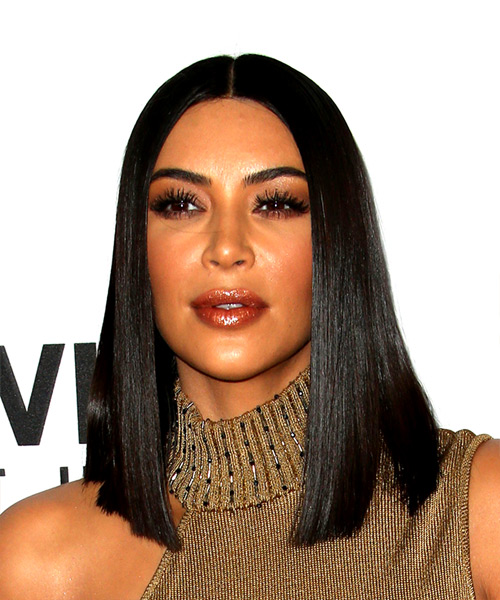 or with casual waves like Olivia Munn.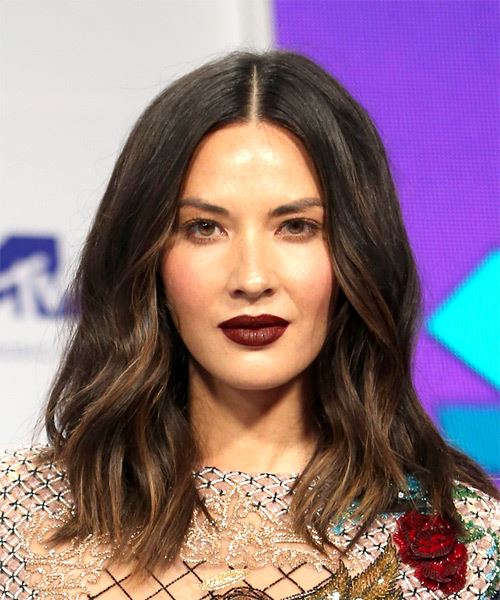 In both of these hairstyles, the hair has a sharp center part which looks great on an oval face shape. Don't let that put you off of wearing bangs though- oval faces look great in lobs with bangs, especially eye-skimming ones, as seen here on Garcelle Beauvais.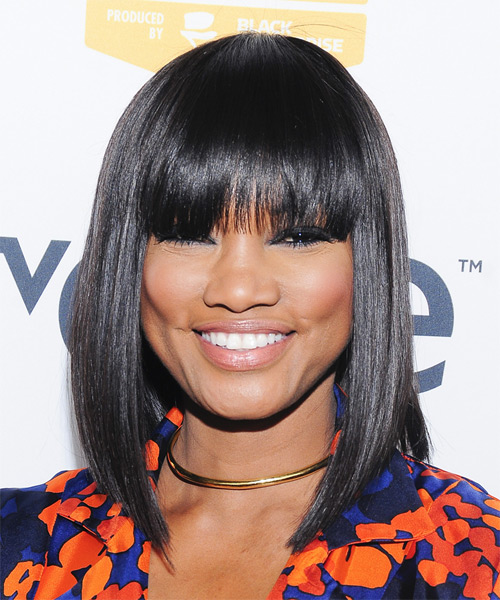 Long Bob Hairstyles For Round Face Shapes
Women with round faces look best in lobs that fall past the collarbone in the front, and have a side-swept fringe. This elongates the face while showing off those fabulous cheekbones! Chrissy Teigen pulls the lob off effortlessly here and compliments her round face with beachy waves, a long sideswept fringe and layers that gradually get longer at the front of the face. Tousled waves are a great way to flatter round faces, and they add extra sex appeal.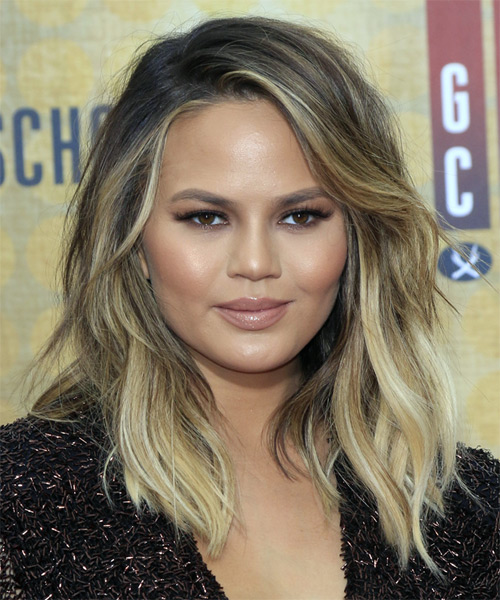 Malin Akerman styles her straight hair into loose waves adding texture and volume throughout. Her bangs sit to the side and compliment the overall look. Go for a wavy, layered lob if you want to make your round face appear more oval and look gorgeous at the same time.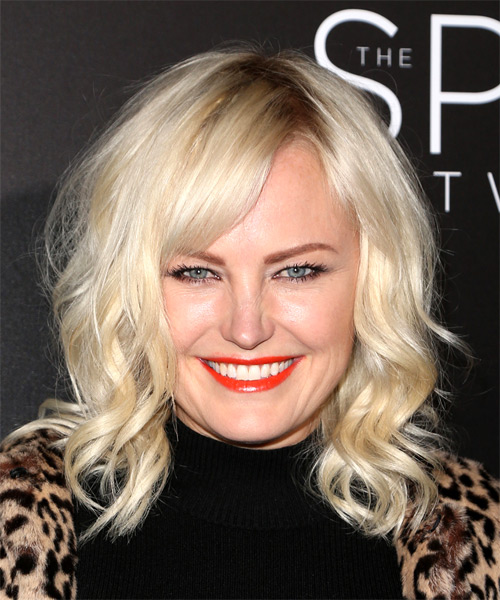 Long Bob Hairstyles For Square Face Shapes
Square face shapes can pull off smooth and sleek lobs as well as ones with more texture. The key is to always keep a very deep side part in the hair. This will get rid of any heaviness or boxy looks that can occur on square face shapes. Square faces look best in lobs that have a longer front that falls past the collarbone, and curl under slightly. Betsy Brandt shows us how to do it here with a deep side part and a smooth, sculpted finish.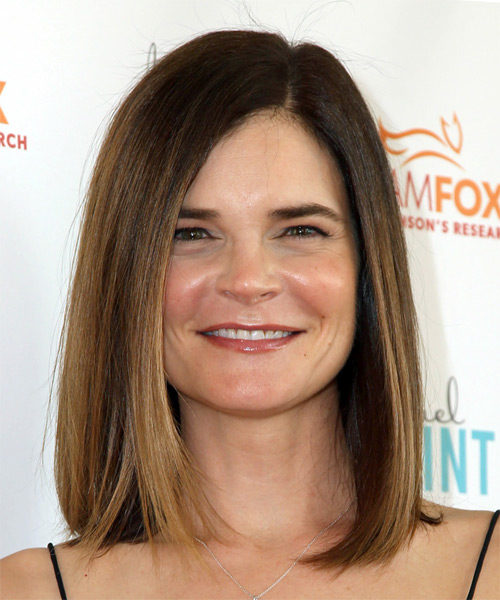 Soft waves also look lovely on a square face. Tuck the hair behind the ear like Charlize Theron here for a flattering finish.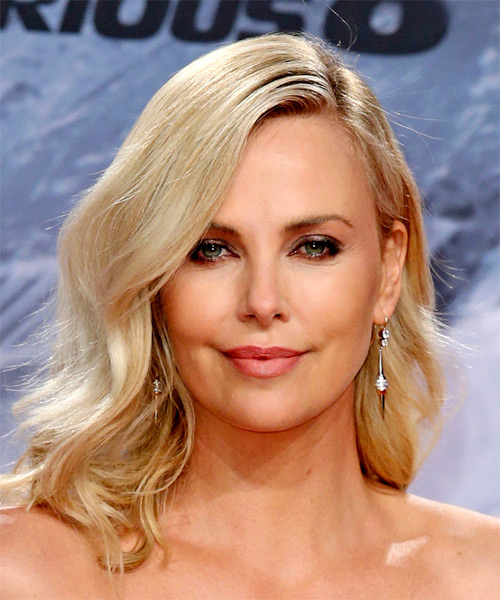 Want to dress your lob up for an evening? Add vintage waves and a side-swept fringe like Emma Stone for a flattering look.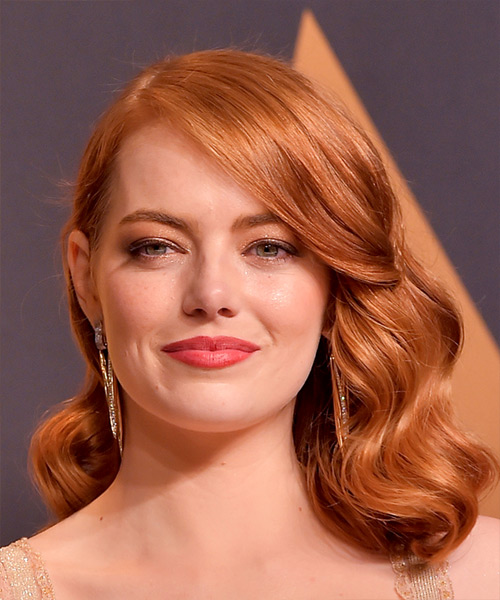 Long Bob Hairstyles For Oblong Face Shapes
This face shape looks best in blunt cut lobs that have extra volume throughout. Long fringes are ideal as they cover high foreheads typical of this face shape and make the face appear less vertical. Check out Bella Hadid's lob for a perfect example.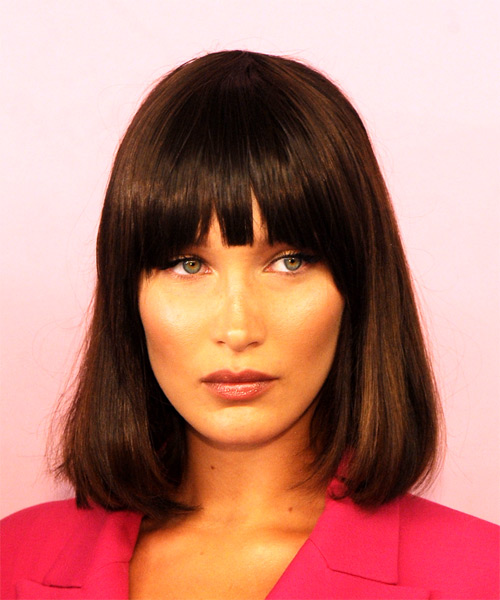 Lily Collins' take on the lob is more layered and textured than Bella's but looks just as good.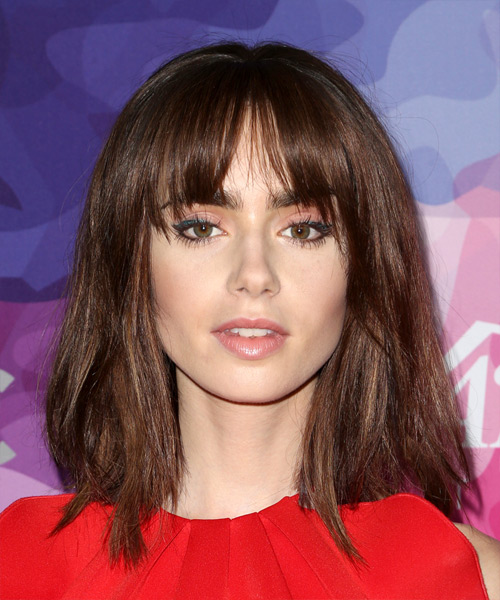 Another option for oblong faces is a layered lob with a side swept fringe- check it out on Diane Farr. This is a versatile hairdo that is full of movement.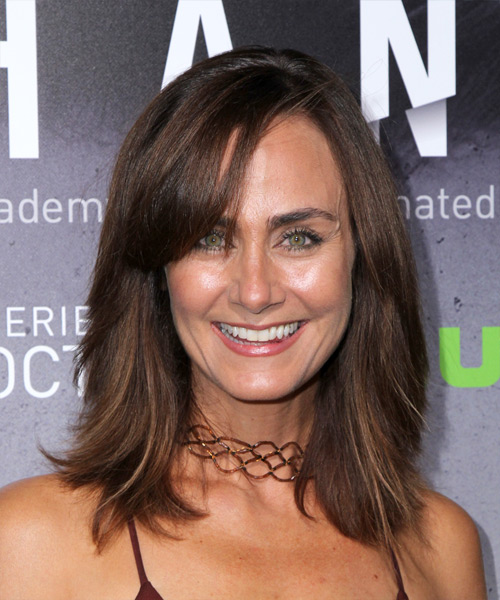 Long Bob Hairstyles For Triangular Face Shapes
Triangular face shapes look best in simple, shorter lobs that have less layering in the ends and more texture in the hair. Kendall Jenner is rocking a fabulous 'do for triangular faces with a blunt lob that dusts her shoulders and lets her natural waves do their thing. Flip the part over for extra volume at the front.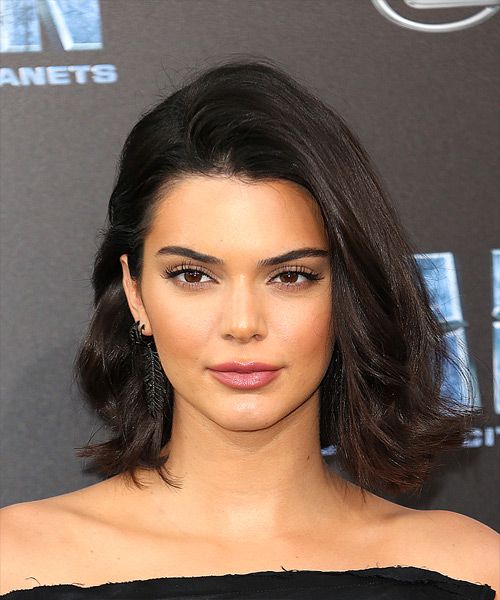 Cara Delevingne camouflages her broad forehead (a typical characteristic of triangular face shapes) by styling the front of her hair with an off-center peek-a-boo part. The rest of the hair has minimum layering and beachy waves throughout, adding volume and body all over.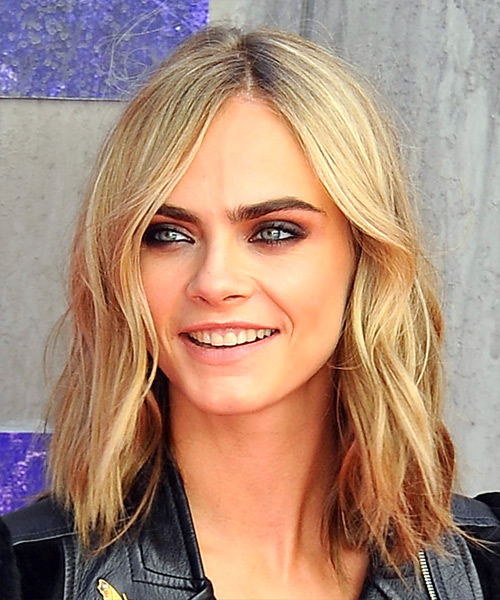 Long Bob Hairstyles For Diamond Face Shapes
Diamond faces look great in lobs because they show off those striking cheekbones that are typical of this face shape. For maximum head-turning effect, try a sleek, blunt cut lob like Jessica Szohr.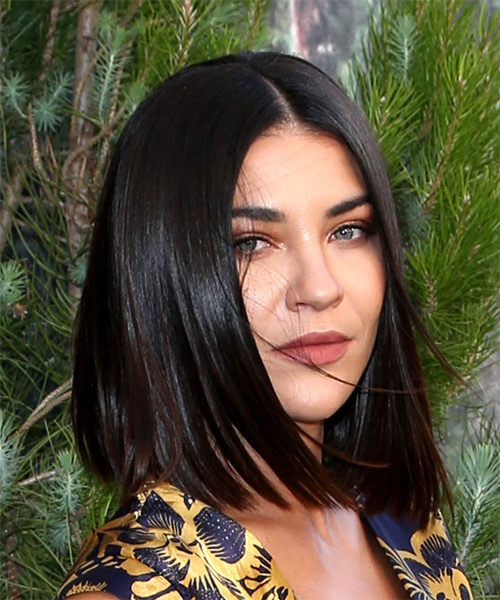 Or, add a sexy fringe to a straight and silky bob like Tamera Mowry.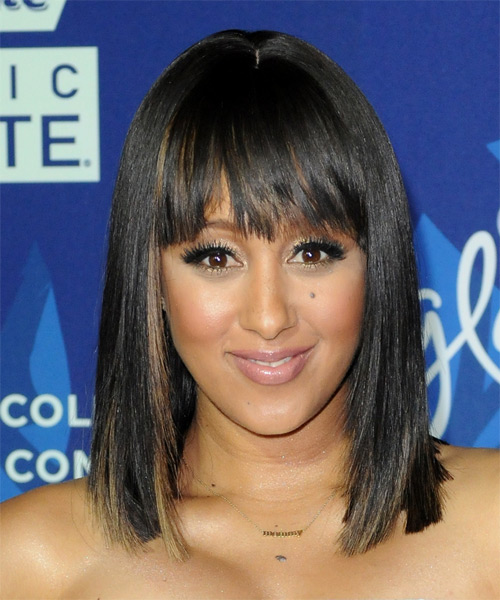 Diamond face shapes also look good in wavy lobs like Amy Landecker's. Her bangs have been swept and curled to the side to blend in with the rest of the hair. The texture of this 'do sets off her diamond face shape beautifully.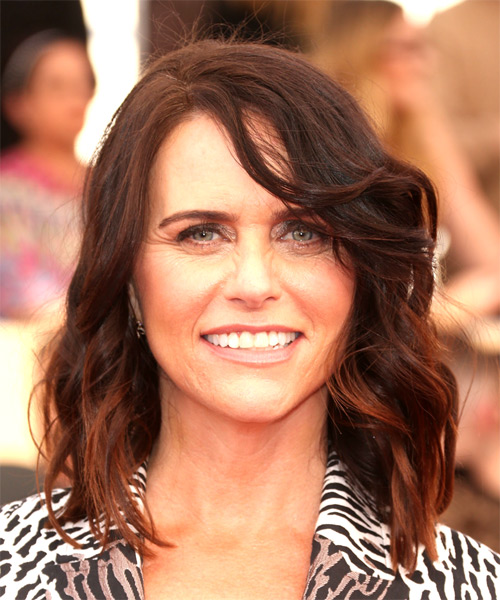 Long Bob Hairstyles For Heart Face Shapes
Heart shaped faces have wide cheekbones dainty chins that look great when paired with a lob. The key for this face shape is to choose a style with lots of volume in the lengths and ends.

Sarah Hyland goes for a center part and long sweeping bangs here that blend in with her voluminous waves.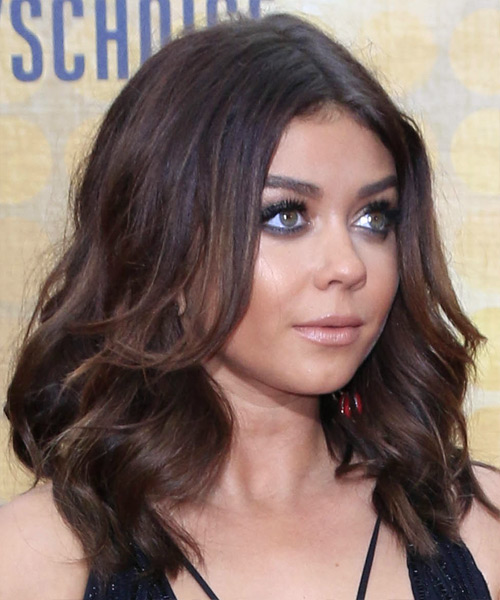 Ciara goes for maximum body in her lob here with big bouncy curls at the ends and a volumizing blow-dry to pump up the volume. This is a gorgeous look that compliments a heart shaped face beautifully.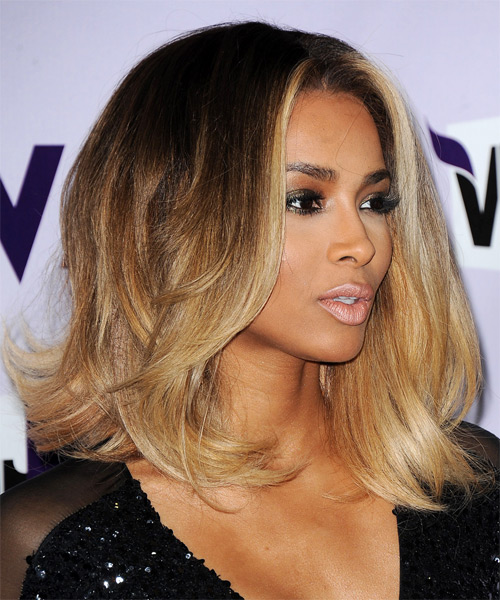 Styling Ideas
Once you've found your ideal cut, you may want to figure out how much time and effort it will take to get the look you're going for.
Want a beachy, wavy look? Check out this tutorial.
Going from curly to straight? This video may help!
If you're sold on a lob, browse for more inspiration and ideas at TheHairstyler.com - you can even try on your favourite styles!