A diamond face shape requires haircuts, styles and makeup that will bring out the best in the narrow and full features that combine to create its unique shape.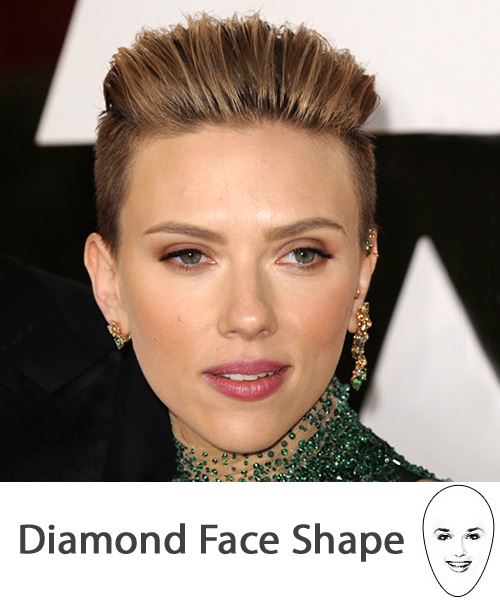 If you have a diamond face shape then you'll recognize the following characteristics:
Your face is longer than it is wider.
Your forehead and jawline are a similar width in appearance.
Your chin is noticeably pointed.
Your jawline is long, narrow and tapers into a point.
Your cheeks are high and pointed.
Your forehead is narrow.
Your face is widest at your cheekbones.
All of these characteristics add up to stunning face shape that closely resembles the shape of the gem it is named after! A diamond face shape can be flattered and its great features highlighted with the right hairstyle and makeup choices.
Hairstyles to Try
Hairstyles that add width at the chin area such as chin length bob cuts or shoulder length wispy kicked out looks.
Styles that tuck in behind the ears also work well to show off a wonderful cheek bone structure.
Hairstyles with straight across bangs will also work to shorten long faces, as will side parts.
Hairstyles to Avoid
Try and avoid short hairstyles with height on top, particularly ones without bangs.
Avoid styles that leave no hair on the neck area or the chin area.
Middle parts will add length so they should also be avoided.
---
Hairstyles
If you like any of the following hairstyles, click on each image for more info, how to style steps, and to try on each hairstyle. Or you can view TheHairStyler.com's entire range of hairstyles for diamond face shapes.
The Right Short Hairstyle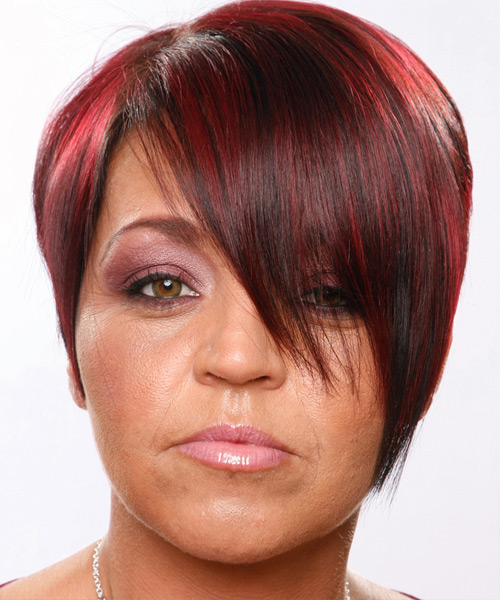 This shows a good example of what hairstyle suits diamond face shapes. The bangs help to shorten the length of our models face which is what is needed for diamond faces. The side part helps make the face appear wider by creating the illusion of one larger shape which the eye focuses on. The sides are soft and wispy and curve into a round shape. Variations of this hairstyle will work in any other texture.
The Wrong Short Hairstyle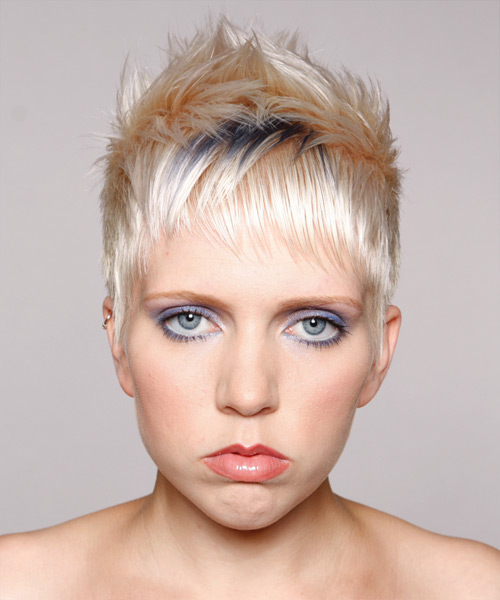 This short hairstyle is all wrong for diamond face shapes. The height created on top (particularly in a middle pointed way) only emphasizes a diamond shape. The short bangs also only add to the illusion of height. What is needed is width rather than height. This hairstyle shows what not to have!
The Right Medium Hairstyle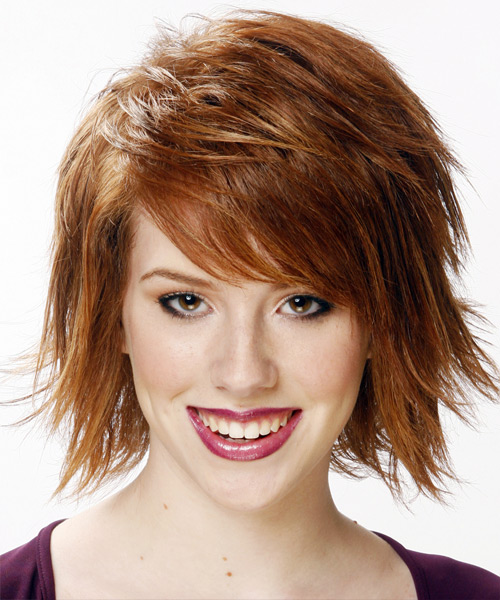 This is a very nice cut which adds hair in all the right places and compliments diamond face shapes. The bangs help make the face and chin area appear less long while the wispy hair to the shoulders creates a squarer shape, again creating width not length. This hairstyle will work on all textures and will look great with layers as they will make the appearance of the style even softer.
The Wrong Medium Hairstyle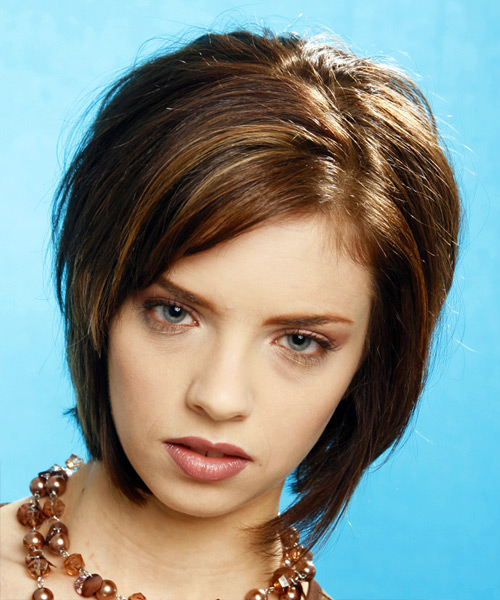 This look shows what hairstyle not to have when you have a diamond face shape. The wispy long lengths only make our models face look longer, while the absence of any bangs once again creates a longer shape that is not needed.
The Right Long Hairstyle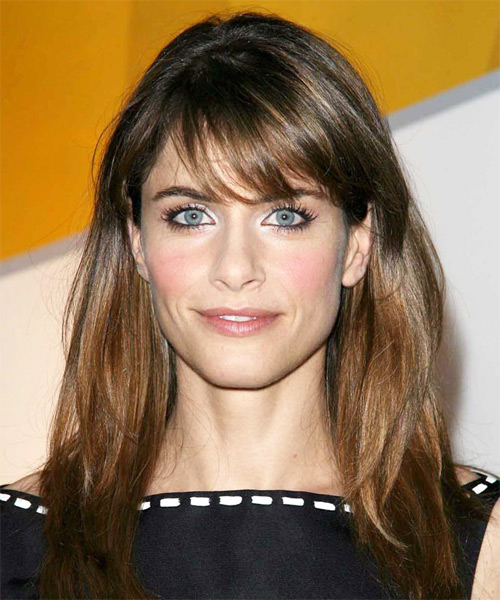 Now this is a nice look. The bangs immediately shorten the overall length of the face while the soft layered sides fall nicely to the shoulders drawing attention away from long lines. This shape will work equally well on wavy and curly textures and is a very good example of what to wear!
The Wrong Long Hairstyle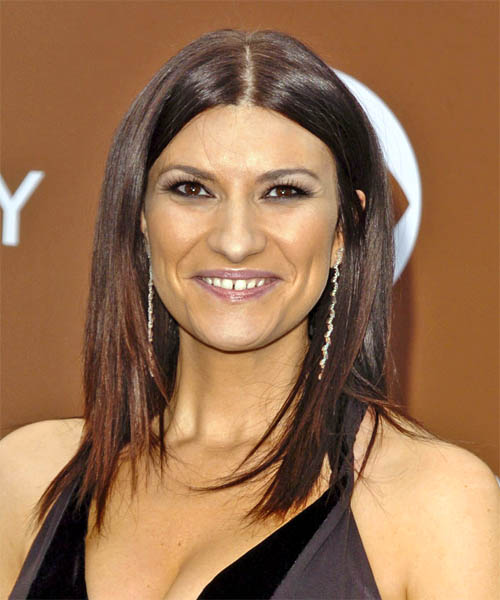 This hairstyle shows how important face shape selection is when it comes to choosing any hairstyle. The middle part actually makes the face appear longer while the wispy layers seem to fall nowhere in particular and appear lifeless. The absence of bangs makes the face appear longer than it really is.
The Right Bangs
While the right bangs make a great addition to any hairstyle and can turn an average look into a head turner, the wrong bangs can change your face shape and add unnecessary styling time to your mornings as you struggle to make unsuitable bangs look good.
To avoid such extremes and getting bangs you'll regret, do your research first and choose the right bangs by looking at the ultimate deciding factor - your face shape.
To make the most of a diamond face shape your bangs should help to shorten the length of your face to achieve a much more flattering shape.
Choppy, Side-Swept Bangs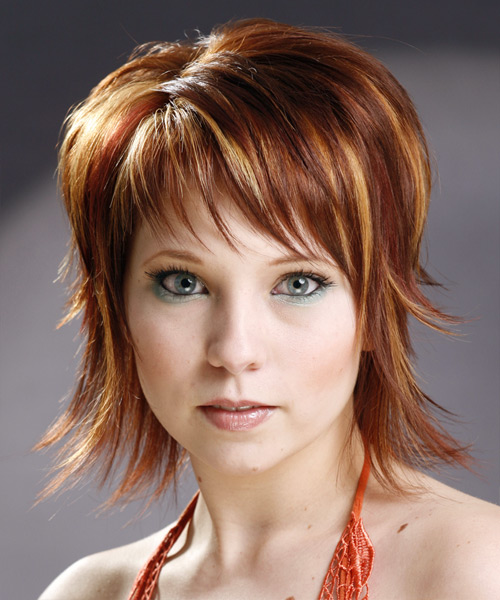 The length of these choppy bangs will immediately shorten the length of a diamond face shape and the side-swept styling of the bangs creates a soft and flattering look.
Straight Across, Eyebrow Length Bangs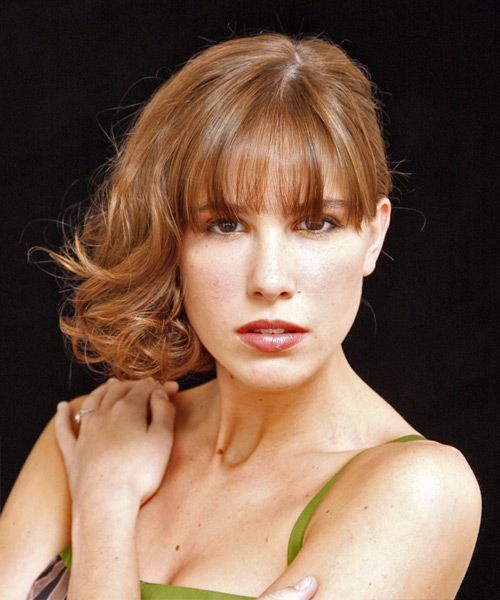 Straight across bangs that reach your eyebrows will cover up the top half of your face, reducing length and width.
The Wrong Bangs
The length of a diamond face shape can very easily be exaggerated by the wrong bangs so anything that is going to add unwanted height to your long face should be avoided.
Short Bangs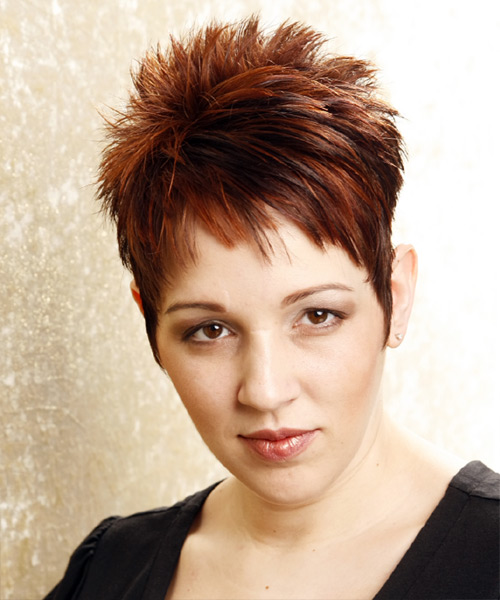 Short bangs that stop above your eyebrows will instantly lengthen your face.
Mini Bangs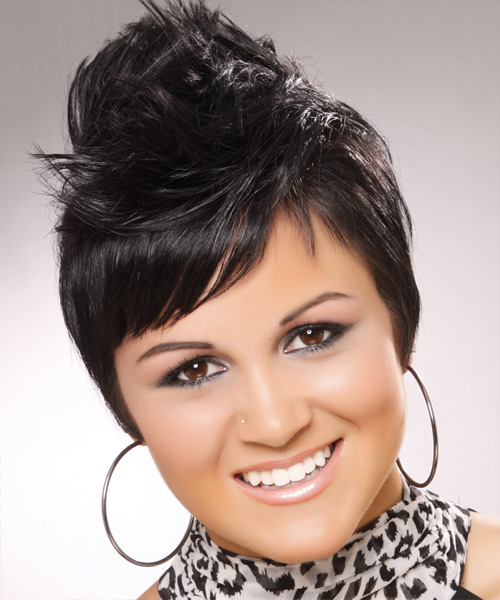 Super short bangs like these mini bangs will give the illusion of height, adding length.
Bangs are really suited to long face shapes so including them as part of your hairstyle can really create a great look for you.
To see if these bangs will suit you, click on the images for a link to try the virtual hairstyle on your own photo or our model. If you're after more options then visit our hairstyle categories for plenty of great bangs hairstyle ideas.
---
Makeup
To counteract the characteristics of a diamond face shape, blusher, highlighter and horizontal lines should be used to round out the contours of the face and create width. For further advice, try these tips:
Face
Warm colored blusher applied above your eyebrows, blended up to your hairline and on and under the pointiest part of your chin will reduce the length of your face.
Eyes
Using pale, silvery eye shadow over your whole eyelid will give the illusion of width. The shadow should also be blended to the outer corner of your eye to the brow. Finish with some eyeliner softly smudged along the line that runs across your eye socket.
Blend highlighter underneath the full length of your brow and a pale eye liner under your eye from the inner corner to the middle. Combine this with a softly smudged pencil line under your lower eyelashes and then take it out to a lightly extended line for width.
Cheekbones
Apply some highlighter on and under your cheekbones to create width.
Add some blusher just below your cheeks and then blend it across the width of your cheeks. This will add emphasize to the width across the center of your face.
Lips
A pale lipstick is great for creating width. Apply it from the center of your lips right out to the corners of your mouth and then add a little highlighter along your top lip to bring out the natural horizontal line of your lip. For more tips on shaping your lips, see our beauty article, Makeup Tricks: Shaping Your Lips.
To see the difference lipstick can make to your face shape visit the extras section in our Virtual Hairstyler and try out our selection of lipsticks.
When it comes to makeup, the number one rule is that you should always be comfortable. Use these tips and makeup color suggestions as a guide for creating your own look and remember that all face proportions are different and the aim is to balance your own individual features within your face shape.
Now that you know your face shape and how to choose the right hairstyle, why not take a look through TheHairStyler.com's range of hairstyles for diamond face shapes? We also recommend taking a look at the following links:
We have 1,000s of different styles for you to choose from which can be viewed on your own photo or on one of our models. To find out exactly what will work for your diamond face shape, we recommend trying our Free Hairstyle Consultation: