Bangs make for a great hairstyle makeover if you don't want anything drastic but you're bored with your current hair. They're no longer limited to school girls, and these bangs hairstyles can be as carefree or as adult as you like.

When it comes to deciding if bangs are right for you, there are two major things to consider. One, your face shape, and two, your hair type.
Choosing your bangs based on your face shape will bring balance to the look of your face and help you to flatter, enhance or minimize your facial features.
Choosing bangs that also suit your hair type will make it much easier to style your hair and will provide you with bangs that give a great finished result.
If you're unsure which face shape is yours and exactly what your hair type is then these articles, The Right Hairstyle for Your Face Shape and Free Consultation: Know Your Hair Texture and Elasticity will help. After that, give the following face shape and hair type tips for bangs a try.
The Right Bangs for Your Face Shape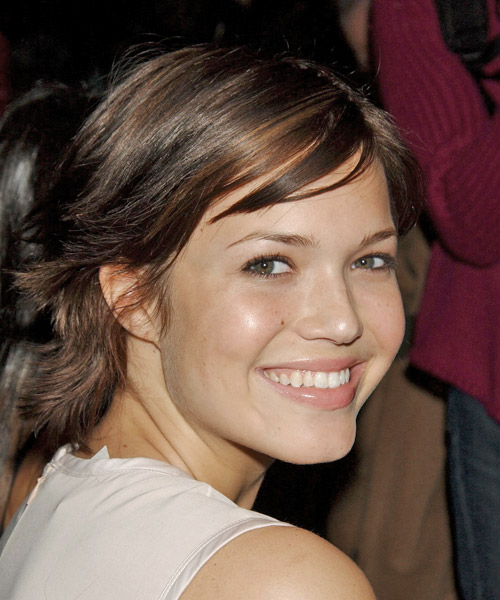 Oval face shapes can generally get away with any type of bang. Try soft, wispy bangs or side-swept bangs for a flattering look. Avoid bangs that totally take over and overwhelm your face and cover up your features.
Round faces should try wispy bangs or side-swept fringes for balance and to avoid adding a wider appearance to their face.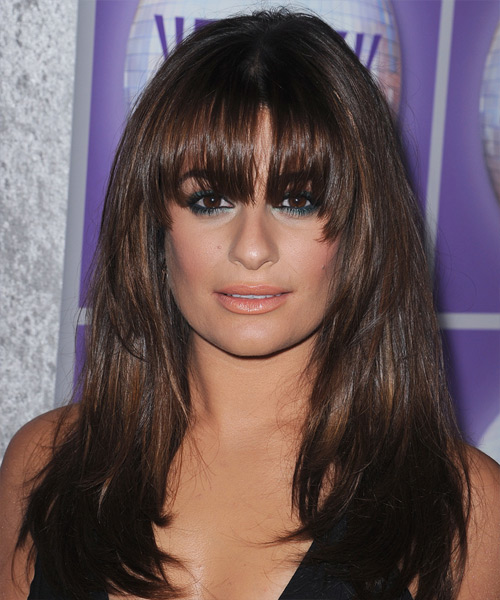 For square face shapes, arched bangs that blend in with your hair will help to soften the strong lines of your face.
For longer or oblong faces, and those with high foreheads, bangs that are blunt, heavy or long will flatter your face shape and help to cut down on length.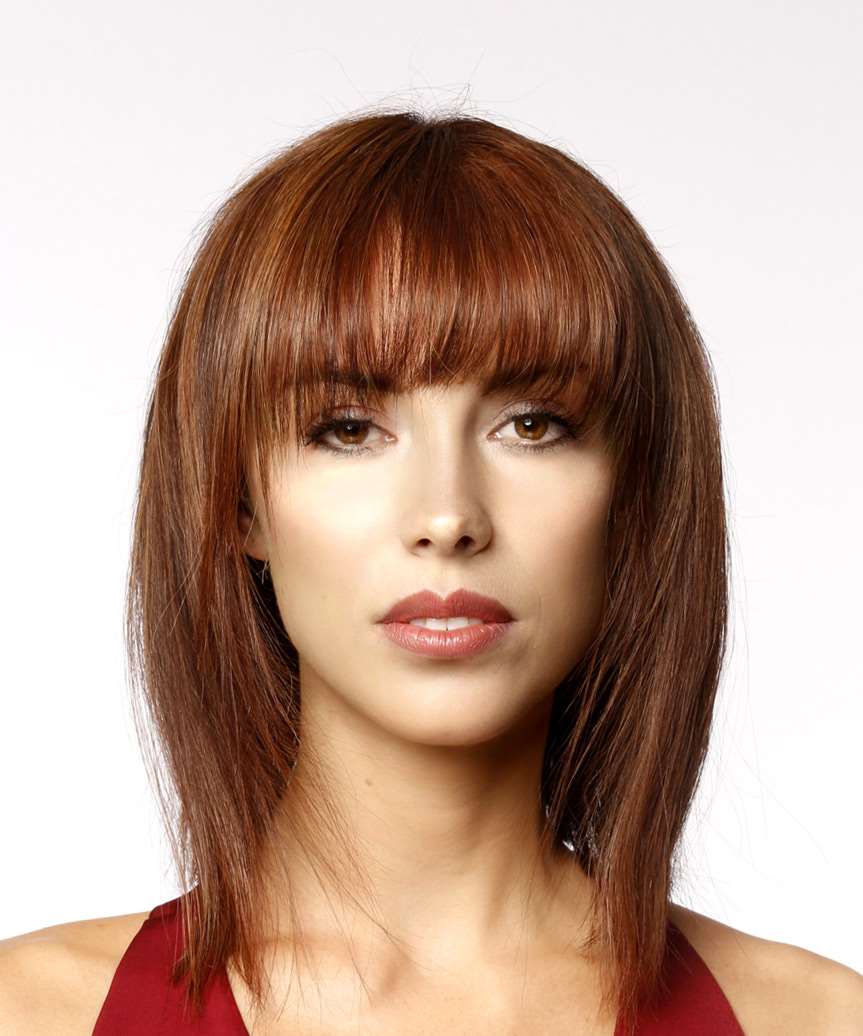 For a bang that will flatter most faces and is ideal for strong or square jaw lines, try something feathered.
The Right Bangs for Your Hair Type
As for choosing bangs that will suit your hair type, the key is selecting one that will work with your hair type, not against it. This will cut down on day-to-day styling time and ensure your bangs look great after having them cut and when styling at home.
If you have coarse hair that is thin or really thick then try to avoid long, heavy blunt cut bangs.
It goes without saying that straight hair in a medium density is the best type of hair for a fringe as this hair combination requires far less work and will mostly fall naturally into place.
If you have naturally wavy or curly hair then enhance your locks with soft and wispy bangs.
Arched or mini bangs are great for straight hair.
Feathered fringes will soften a haircut, will grow out well, and don't require a lot of styling, but they generally won't work with curly hair.
To see how you'd look with any of the beautiful bangs pictured in this article, click on each image to try the virtual hairstyle with your own photo!
5 easy ways to style your bangs and 5 different looks
1. Inject Life into Your Bangs
Straight-across eye-level bangs look cool, but you'd be forgiven if you sometimes got bored of them. If you're sick of the way they simply fall on your forehead and you think they're a bit lifeless and flat, then try this quick technique for a little more volume:
When your hair's damp (not wet), apply some extra hold styling product. With a small radial brush, blow-dry- from your roots to ends- upwards and forwards until dry. This simple technique will inject more life into your bangs and create a nice curved appearance from the side. (Also, these bangs will draw attention away from your nose- if it's a bit larger than usual.)

2. Side-Swept Bangs will Blow Them Away!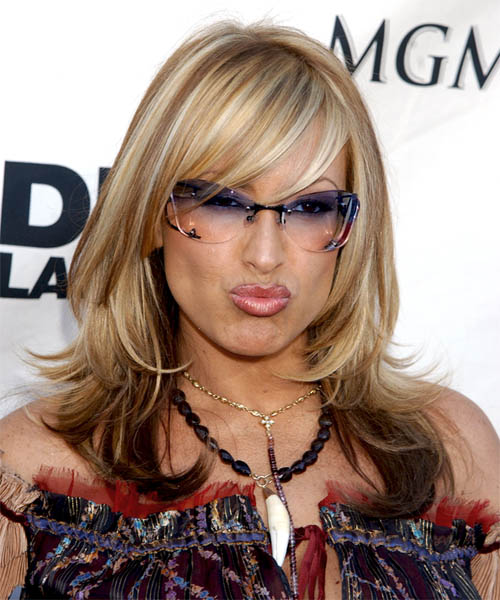 If you want to change your bangs without hacking into them with scissors, try simply styling them to one side like Anastacia. For an angled line that's shorter from the parted side (that is also a great way to add length to small and round face shapes), here's what you've got to do:
Starting on damp hair, work some styling product into the damp bangs and then using a blow-dryer and a paddle brush, dry your bangs across to one side. It's that easy!

3. Flattering Flicked-Out Bangs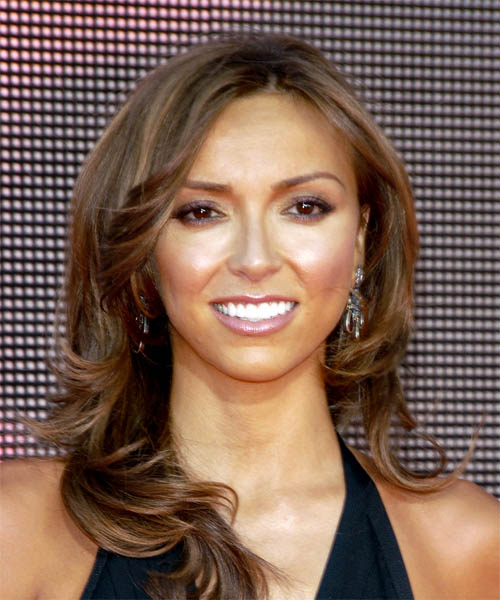 If your bangs are a little longer and you want to create a flicked-out effect that draws attention away from longer face shapes and to the sides of your hairstyle, then here's a tip for you:
Apply some styling product to damp bangs. Using a blow-dryer and a paddle brush, place the brush on top of your head directly behind your bangs and slowly dry them from roots to ends in a backwards flicked-out motion. For extra hold, use a hot iron the same way (on dry hair only)

4. Bangs for When it's Heating up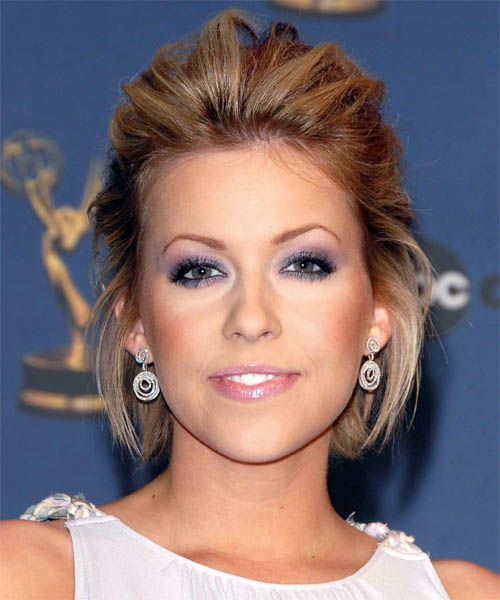 If your bangs are longer than eye level and if it's hotting up out there and you feel like something a little different, then this tip will help you get some height and keep your bangs off your face. This style's great for round face shapes too:
Apply some strong hold styling product, like gel spray, to your damp hair. Using a blow-dryer and medium sized radial brush, place the brush behind your bangs (on top) and dry your hair smooth in an upwards direction. When it's dry use some more styling product to keep your bangs in place and off your face.

5. Prom Hair with a Bang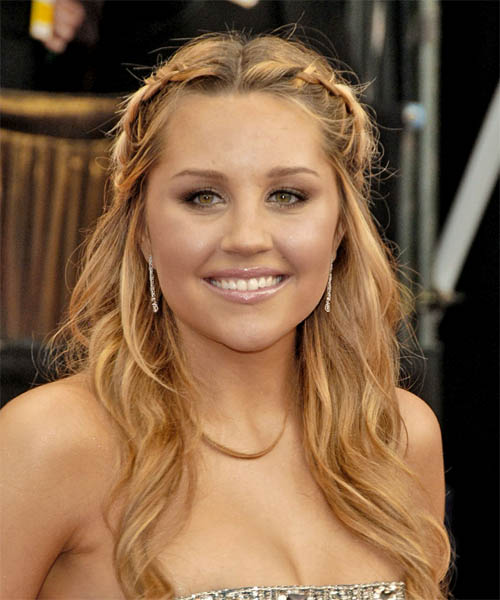 Here's another style to try if your bangs are longer than eye level, and if you're going to a formal occasion like a prom and you're looking for something a bit different. But, you may need some help from a stylist or someone handy with braiding:
Starting from one side, take a small section of hair and separate it into 3 even pieces. Then braid/plait the top front area and pin in place. Your bangs can also be plaited in a backwards direction and pinned down on top. This style of bangs will also lengthen small round face shapes.
Each of these 5 ways of styling your bangs are great ideas.
How to Style Your Bangs When They Are Growing Out
So, you've reached the point where you are sick of maintaining your fringe and you are ready for a new look. Maybe you have decided to let all of your hair grow, or maybe you just want your fringe to grow out longer to match the rest of your hair. In any case, you should get prepared for the annoying, awkward and frustrating stages of growing your bangs out. Namely, the "my bangs are constantly in my eyes" stage, the "my fringe is too long to stay out of my face but too short to pull back" stage and the "This is taking way too long to grow out" stage. Throughout the whole process, you'll need some good styling ideas to make your hair more manageable and stylish while you grow them into a whole new 'do. Here are some of the best ways to style your bangs as they are growing out.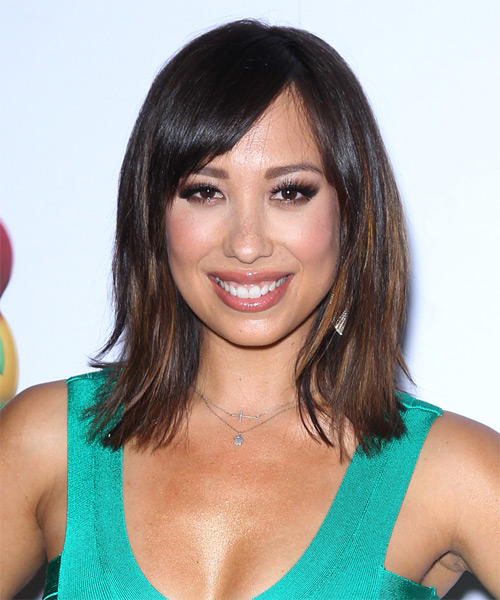 Cheryl Burke flawlessly blends her bangs into this layered cut - the perfect transition style to grow out your fringe. If you previously had a blunt fringe, grow them until they skim your eyes and then have your stylist create an angled fringe that is layered throughout the ends. This will allow them to sit flat and to the side. The other side of the bangs (with less hair) can be blended into rest of the hairstyle by layering the ends. As your bangs grow out, only minor touch ups are needed to keep blending it into the haircut.
Here, Dawn Olivieri demonstrates a sophisticated way to tie back your bangs when they are in that oh-so-annoying, "falling in your face" stage. Simply part your hair and loosely twist the bangs on either side towards the side of the head and pin them into place. This is a great styling tip to use when your bangs aren't yet long enough to tuck behind you ears.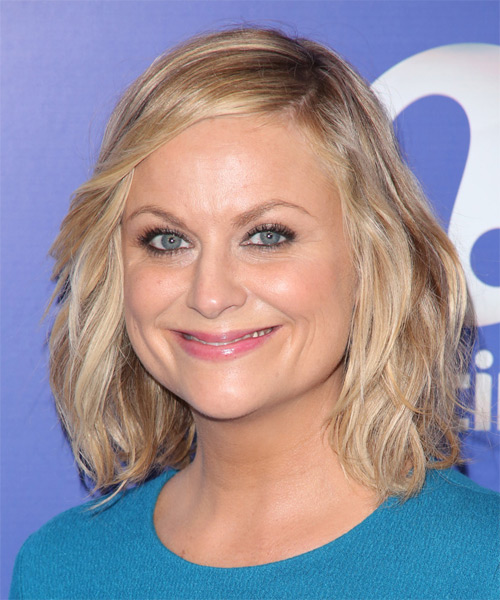 Amy Poehler shows us how ladies with wavy or curly hair can simply blend their bangs right in as they grow out. This technique will also work for ladies with straight hair, but more styling time will be required. To get your bangs off your face using this method, simply use a curling iron or wand to curl or wave the front section of your hair, wrapping it away from your face. If you have naturally curly or wavy hair, it should blend in flawlessly with the rest of your locks. For ladies with straight hair, you'll need to add wave or curl to your entire head in order for it to blend in. Make sure to spray the bangs in place!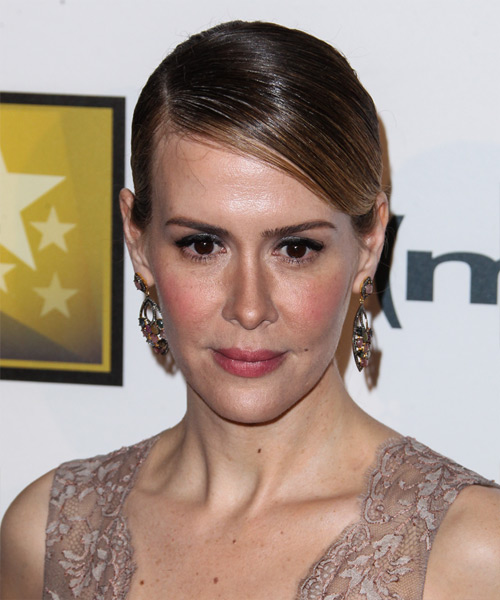 For an evening look, use a strong hold gel to create an elegant hairstyle. Start by creating a deep side part in your hair, then comb through some gel as you sweep your bangs to the side. Continue sweeping the rest of the hair back towards the nape of the neck and then twist into a low bun. Or, secure it with an embellished ponytail holder to create the perfect low ponytail for the evening.
Bangs and their Benefits
Bangs are a great styling tool and the right bangs can accentuate certain of your facial features- and hide or flatter others. For example bangs can complement your eyes very effectively. If you want to accentuate large eyes, go for fine wispy bangs which sit straight down or to the side. Small eyes should try soft, short bangs cut on the diagonal, and chiseled cheekbones can look great with full eyebrow-length bangs.
Forehead
Bangs can help you make the most of your forehead too. If you're looking to hide a high forehead, any style of bangs will help cover and break down the height. So, try wispy, full or side-swept bangs. If you've got a small forehead, you'll benefit from long sweeping bangs. Big ears can be flattered with bangs about as long as the middle of your nose that are styled into a side or middle part.
Face Shape
If you're considering getting bangs, or any hairstyle for that matter, you need to think about whether the change will suit your face shape. When it comes to bangs, round or square faces will suit higher or angled bangs, and oval, diamond or longer faces will look amazing with blunt-cut bangs. For more information check out our free consultation about face shape, "Find Your Perfect Hairstyle."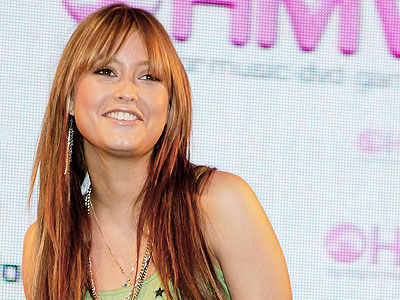 Hair Texture
Last but not least, if you're thinking of getting some bangs you need to think about your hair's texture. Your hair texture is basically your hair's thickness, and it will generally be fine, medium or thick. (If you're not sure of you hair's texture have a look at "Free Consultation: Know Your Hair Texture and Elasticity.") Fine hair is more suited to solid heavy bangs, swept bangs, and thick hair will be able to pull off almost anything.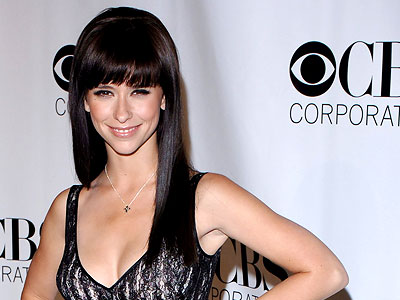 Once you've thought about how bangs will suit your facial features, it's handy to remember that since they'll be the focal point of any hairdo, and since they can become dirtier than the rest of your hair, they should be shampooed everyday. Using less conditioner on your bangs will also prevent them from becoming heavy and making your face oily, and remember to trim them regularly too.
Bangs are a great way to transform your look without sacrificing your hair's length, so make an appointment with your hairdresser today, and don't forget to ask for tips on how to style and look after your bangs yourself at home.