Regardless of whether the wave in your locks is part of your natural hair texture, or created with the help of heated styling tools, there are some handy little hair tips that you can use that will ensure your waves look great and stay in shape. Keep reading to find out more.


If you've got natural waves and want to achieve a lovely tousled effect, spray some volumizing lotion into your strands and then scrunch your hair with your fingers to promote and enhance your wavy texture. You'll end up with a great looking finish which looks loose and natural instead of something that is unnatural and over-styled.

If you find that humid conditions instantly add hair frizz to your wavy hairdos, keep them protected by styling with serum based products. Apply the serum when your hair is wet, so it's easier to distribute amongst your strands, and then style your waves into place.

If you've got a natural wave, plait your hair at night before going to bed to bring out your waves the next day. If you don't have a natural wave, try curling your hair and then sleeping on your curls so that you end up with a more relaxed wave the next day.

Create and keep waves bouncy by adding hair volume to your roots.

When using a curling iron to style your look, create a tousled, wavy hairstyle instead of defined curls by winding your hair around the whole length of the curling iron barrel.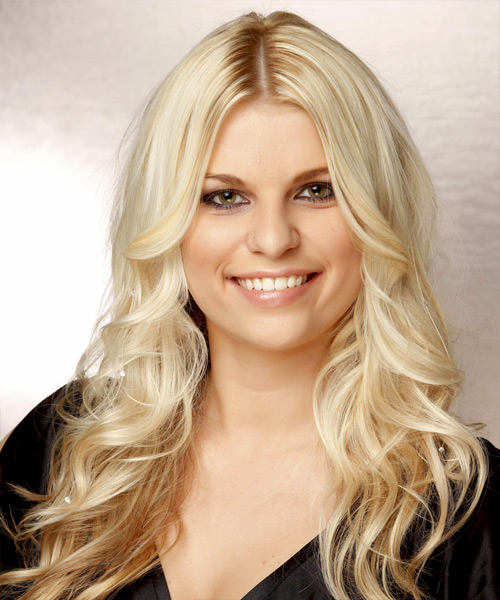 If you're using plaits to create a wavy hairstyle, keep your plait in place by smoothing some mousse or wax through your hair before you start plaiting to add grip and staying power.

If your hair is fine or prone to breakage, use Velcro rollers to create your waves as they don't have to be clipped into your hair and will cause less damage to already vulnerable strands.

An easy way to ensure thick hair gets a nice, natural looking wave is to French plait damp hair and then leave it in for several hours or overnight. When you set your hair free you should be left with some nice waves that just need to be styled into place with your fingers.

When styling a wavy hairstyle, use a hair brush that has wide-spaced and staggered rows of bristles. It will slip through your hair more easily and help to avoid tangles and knots.

A really great way to show off wavy locks is to style them into a half up half down hairstyle, a side-styled look, or to pin one side of your hair up with a decorated hair accessory. All of these styling options allow you to draw the attention and focus to your waves, and are easy to achieve.
While you might have dreams of soft, fairytale-esq waves rippling through your hair, your locks may have other ideas. Frizz, kinks and waves that refuse to style into place are just some of the downsides to naturally wavy hair.
The Best Length for Wavy Hair
Rather than forcing your hair to be something it's not, however, why not try working with your hair characteristics to find a hair length that will suit you and give you a great look every time you style!
Wavy hair looks its best in long locks, and there's a reason why! Long hair injects just the right amount of weight to keep your waves from becoming puffy. If you're worried about bulk with a long wavy look then add some soft hair layers.
Long Hair Length Ideas
Whether your waves are draped down your back or styled front and center, they'll look their best when teamed with a long length that runs just below or longer than your shoulders. This will guarantee that you have enough weight in your hair to keep your waves tame and as puff-free as possible. The advantage of a long length and waves also means lots of styling possibilities, so try half up half down hairstyles, updos and side styled hairdos to ensure your wavy hair is anything but boring!


If you'd like to see more long hairstyles that will suit wavy hair, try our Find Your Perfect Hairstyle Consultation. It will allow you to choose your wavy hair (as well as other personal attributes) and then recommend hairstyles from our range that will suit you. You can then try the hairstyles on in our virtual hairstyler with your own photo!
Wavy Hairstyles: Hit and Miss
Short Wavy Hairstyles


Short hair can get a real styling boost from adding waves, as this great 'do from Keyshia Cole shows. The textured touch to her feminine crop really gives her hairstyle a great finish. Rihanna's short wavy look, on the other hand, lacks definition in the waves and comes off looking like a puffy mess.
Medium Length Wavy Hairstyles


When it comes to dressing up medium length hair, waves that are bouncy and added to hair that is full of shine, like this hairstyle from Carla Gugino, creates a spectacular look. Matt looking waves and a flat looking top section, a la this look from Jennifer Lopez, just isn't on the same level.
Long Wavy Hairstyles


Waves were made for long hair, as this beautiful hairstyle from Jamie King proves! Her carefully defined waves bring her blonde locks to life and gives new meaning to healthy looking hair. As for the waves in America Ferrera's lengthy locks, there's just a little too much frizz to do her big waves justice.
Wavy Updo Hairstyles


Wavy updos are perfect for adding softness to your face and can really make or break your outfit. Just ensure that your waves are styled softly, defined nicely, and free of hair frizz to avoid an updo disaster like Chantelle Houghton, and enjoy a stunning style along the lines of this elegant updo from Anne Hathaway.
Wavy Half Up Half Down Hairstyles


Adding a touch of style to your wavy hair with the help of a half up half down hairstyle can be a really great look, as Paris Hilton demonstrates. Teaming a half up half down hairstyle with stringy waves and hair color re-growth, in the style of Hilary Duff, is not.
Retro Wavy Hairstyles


Turning your waves into a retro hairstyle that looks fabulous is a cinch if you follow Scarlett Johansson's lead. And while we applaud Ellen Pompeo for trying the look, her retro wavy hairstyle just doesn't have the same glamorous appeal.
Natural Wavy Hairstyles


In you're lucky enough to have natural waves, scrunching your hair could give you wavy locks as nice as Jessica Biel's look. Natural waves can tend to get a little out of control, however, and frizz and dehydrated strands can leave you with a wavy hairstyle reminiscent of this messy 'do from Rene Russo.
Created Wavy Hairstyles


If the only way for you to get waves is with the help of your curling iron or hot hair rollers then try to aim for soft, subtle waves like this great hairstyle from Sarah Roemer. Jessica Simpson does try a similar look, but her dry, damaged hair ruins the finish.
Did you agree with our hits and misses for these wavy hairstyles? Let us know your thoughts by leaving a comment below!
To find a wavy hairstyle to suit you, take a look at our range of virtual hairstyles today!