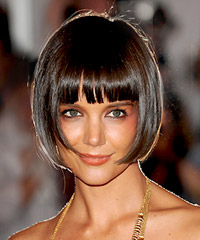 The bob is a truly classic hairstyle that dates back as far as the 1920s. The reason it's a classic is because it's a style of many different "faces" (there's the one length bob, the concave bob, the bob with blunt bangs or side-swept bangs... the list goes on), and it's a style that suits many faces- pretty much any face shape really.

 
A popular style of bob at the moment is the sleek and sharp bob. It's typically short or medium length, shiny and smooth in texture, with block blunt bangs. Katie Holmes (above) and Anna Wintour (left) are both pretty good examples of the sleek and sharp bob.

 
If you'd like to try a hairstyle like this yourself then have a chat with your hairstylist and bear these simple styling tips in mind too:
You really need straight, medium to thick texture hair to achieve the sleek and sharp look.
Achieve the smooth look by working with the top layers of dry hair. Work in four inch sections, mist with heat protector and use your straightening iron from roots to ends- curving under slightly.
Mist with shine spray, and in summer apply a product to protect hair from humidity and frizziness.
Remember too that a bob like the ones pictured here are quite high maintenance- meaning you'll need to keep your bangs trimmed about every four weeks.