When you're stuck in a hair cut rut, you're sick of the same hairstyle, or want to give you locks a boost, the best way to get out of it is to give your locks a makeover. And no one knows better about the kind of hair makeover that works than a celebrity with a team of professional hairstylists at their beck and call! So, if you're looking for a new way to revive your locks then take your cue from these celebrities and consider copying some of these great celebrity hairstyle makeovers...
A Statement Hair Color


While pop star Rihanna was certainly well known for her music, her star status rose to another level when she changed her brunette locks to an attention grabbing red hair color. While you don't have to resort to such a fiery hue, choosing a statement hair color that will put your strands front and centre is definitely one way to put some interest back into your locks.
Bangs
If you're looking for more than just a new hairstyle or something less drastic than a hair cut or hair color that changes your hair completely then bangs might be the answer.
If you don't know much about bangs then our hairstyle article, Hair Ideas: Bangs Hairstyles and their Benefits, is a good place to start. For those who do know about bangs but just aren't sure if they are for them then take a look at these two hairstyles from Carrie Underwood.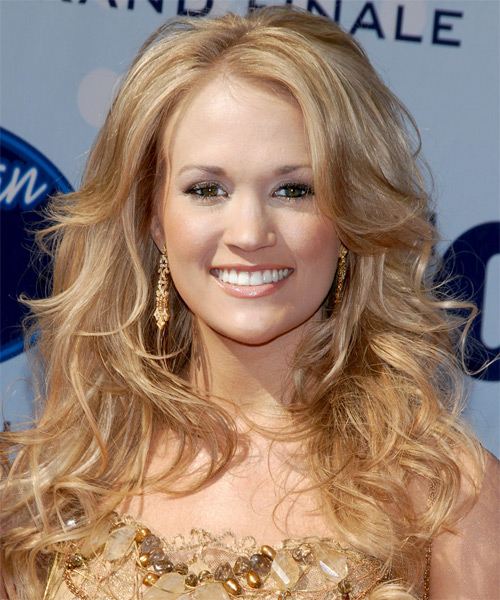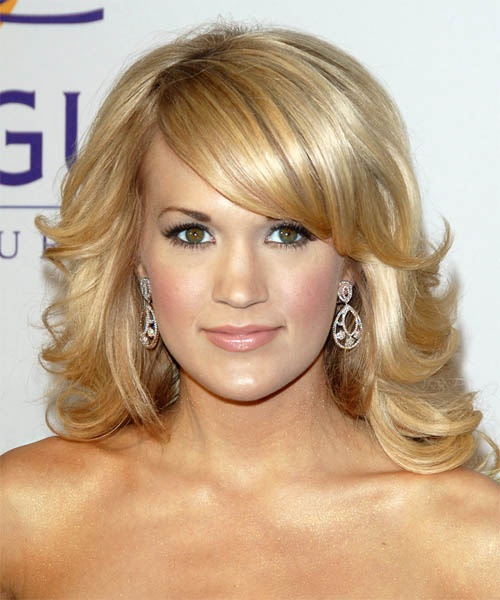 For both of these hairstyles, all Carrie has done is added loose waves to her long blonde locks - and while both hairdos look great - there's no denying that the hairstyle that also features bangs has that extra oomph.
This is because the bangs have not only added a new feel to Carrie's classic wavy hairstyle, they have also shortened the length of her oblong face shape as well as added balance by flattering the width across her forehead. She's then further enhanced her face shape by side-sweeping her bangs to draw attention up and away from her pointed chin and focus it on her beautiful eyes. That is the beauty and impact of bangs. They create a new look, help minimize facial flaws and can enhance great features such as your eyes and cheekbones!



Those wanting a small hair change that still has an impact can get great results by coping Kim Kardashian and adding bangs. Bangs can instantly update your look and give you lots of hair styling versatility. If you're a first time bang wearer then we recommend trying side-swept bangs as they are the most flattering style of fringe, and can easily be clipped out of the way if you decide bangs are not the look for you.
A Change In Hair Length


Whether it's a drastic change in length, such as taking your long hair and going short, or just a small change in length, like long to mid-length (à la Jennifer Aniston), just giving your hair length a nudge in a different direction could be just what you need to give your look a different feel from the usual, and you a great new confidence boost!
A Trademark Haircut


When you've found a style that works for you, such as Halle Berry and her trademark short locks, we say stick with it! Finding a hairstyle that looks great on you no matter the occasion or how it's styled isn't as hard as you might think. All you need to do is get a cut that suits your hair characteristics and face shape and you're good to go.
Jennifer Aniston - Hair Length Makeover


One of the best ways to really give your hair a dramatic makeover is to change your hair length, à la Jennifer Aniston who recently went from long, hair layered locks to a sassy mid-length bob hairstyle. This can knock years off your look (or add them depending on the cut) and give your hair more bounce, life and styling variety.
Katy Perry - Hair Texture Makeover


Even if you're happy with your hair length or hair color you can still get the benefits of a hair makeover by making simple changes to your hair texture and hair part. Here, Katy Perry creates two great looks. The first features straight locks and a sassy side hair part, and the second is a soft and flattering hairdo which uses wavy locks and a middle hair part to help open up her face shape.
Rachel McAdams - Hair Color Makeover


If you love to play up your look then consider a makeover that involves changing your hair color. While you don't have to go for an extreme hair color change (such as Rachel McAdams going from a brunette shade to a light blonde hair color), just a splash of hair color with randomly placed highlights or a two-tone hair color is enough of a change to make an impact.
Rihanna - Age Appropriate Makeover


This celebrity hairstyle makeover inspiration comes straight from the ever-changing hairstyle fashionista herself, Rihanna! While Rihanna is committed to her attention grabbing red hair color, she's a big fan of changing her hair texture and length, which makes for some great makeovers. One makeover we just couldn't get on board with, however, was her mid-length wavy hairdo from the 2011 Billboard Awards. The cut and style added about 10 years to her look and was very plain and boring looking. Thankfully it was quickly replaced with a more age appropriate length (thanks to some hair extensions) and playful curls. The hair lesson learned? If you're going to makeover your hair then ensure the cut, length and style reflect your age and attitude!
Charlize Theron


Going from a long length hairdo to a medium length haircut has paid off for Charlize. Although she has one of those faces that can pull off any hair length, her new mid-length hairstyle instantly gives her hair some oomph, and the difference in length also gives her face a much more youthful look.
Hilary Swank


After finally growing out her short hairstyle shocker, Hilary has settled with a great mid-length look for her hair and we love it! The length is perfect for showing off her caramel brown hair color and creates a much nicer frame for her pretty face.
Christina Aguilera


Christina looks great here with this chic straight mid-length bob. The damaged hair strands of her long hair have been given the boot (and she's thankfully grown out the mini bangs) to reveal sleeker, healthier hair that brings focus to her face and lets her platinum blonde hair color shine!
Mid-length hair is universally flattering, offers lots of versatility when it comes to wearing different hairstyles, and is well suited for most hair textures. So if you're thinking of giving a medium length hairstyle a try, consider these cool celebrity hairstyle examples and the other medium length hairstyles available at TheHairStyler.com.
To see if these hairstyles will suit you, click on the images for a link to try the virtual hairstyle on your own photo or our model. You can also find how to style steps and handy hair information, such as if the look is suitable for your hair texture and face shape.
Those were our picks for some cool celebrity hair makeovers. For more great looks that can totally makeover your hair, check out our range of hairstyles today.