If there's one thing I've learnt the importance of since working at THS, it's going to the hairdresser's regularly, so I usually go every 6 weeks and get my hair colored and the ends trimmed. This regular appointment usually keeps my hair looking decent enough and I'm always happy with it. Every couple of years though, I get the urge to make a bigger change.
Now, a change when it comes to what I like and what my hair is like just comes down to two choices:
Long or mid-length.
My whole life my hair has basically been either long (down below my shoulders), which is a length that takes years for me to get to, or a hair length that hangs down past my ears but doesn't quite get to my shoulders -real daring I know.
Now, some people might think that this means I'm in a bit of a style rut and that only going between two hair lengths is pretty uninspiring, especially when I do get to see all the latest and greatest haircuts week in and week out. And you know what, I tend to agree, but every time it comes to making a decision about a big hairstyle change, I can't help but go back to the haircuts I'm comfortable with.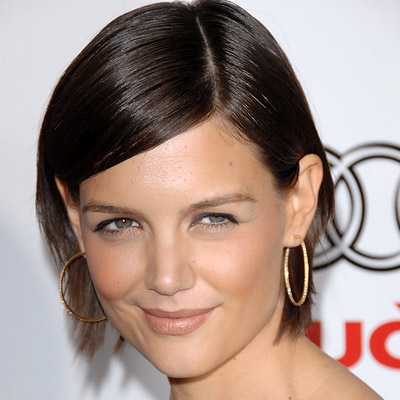 About a year ago I got my hair cut so the length was just down past my ears and was partly inspired by Katie Holmes' first bob- the one she got before she went even shorter and added 20 years to her look- and even though my hair didn't look nearly as stunning as Katie's when it was then up to me to maintain (somehow I don't think me vs. a team of professional hairdressers is a fair fight anyway), I was pretty happy with it.
That was of course until I started missing my longer hair.
And so my decision to have longer hair again was made and my hair is now slowly but surely growing its way back down to my shoulders and beyond, and even though I'm certain I will be visiting a mid-length look again in a few years, I'm going to enjoy wearing all the hairstyles that worked better with my longer locks in the meantime.
It may be a rut, uninspiring and pretty predictable for me to just stick to these two hair lengths, but it is also comforting and an all round confidence boost because sticking to these two lengths means I know exactly how to style and deal with my hair- which ever change I choose!
Is your current hairstyle keeping you in a rut or giving you styling comfort? Let us know by leaving a comment below.