There are plenty of options for everyone when it comes to having some hair color fun and updating your look (perhaps you're one of those people who like to change their shade every couple of months, or someone who has found the perfect hair color and is happy to stick with it). Check out my 6 simple hair coloring tips and see what you think!
1. Be Seasonal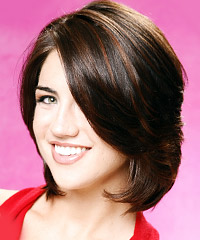 Going for a lighter hair color shade in the warmer months and a darker shade in the colder months is a great idea for 2 reasons. It'll give you a different look throughout the year, and also allow you to adapt your hair color so it'll complement your darker skin tone during summer and your lighter skin tone during winter.
Keep your shade darker during winter to complement your lighter skin tone.
2. Be Fashionable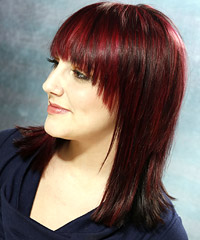 Joining the latest color trends is one of my favorite hair coloring tips because the temporary nature of a trend means that you won't get bored with your look! So, if you're not afraid to take risks and can live with some "what was I thinking?" photos, then give the latest fashionable hair color a try. Or if you're not quite ready to take such a risk, then speak to your hair stylist about how you can adapt the color trend to suit your skin tone, lifestyle and look.
Give the latest hair color trend a try!
3. Use Color Depositing Products
If you're happy with your current shade and only want to enhance it, or brighten it up for a special event, then another one of my hair coloring tips is to try color depositing products- such as shampoos and conditioners. They work by adding tiny amounts of temporary color to your hair as you shampoo, and can be really handy next time you're caught out in-between salon appointments and you need your hair color to look good.
Brighten up your shade with color depositing products.
4. Take Care of Your Hair When Styling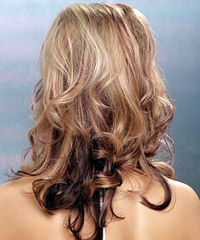 The fastest way to lose your hair color and dull your shade is by not properly looking after your hair when styling it. Aother harmful way to zap the color out of your locks is by regularly blasting your hair with hot air from your blow-dryer and pulling your strands through the heated plates of your hair straightener. So an essential hair coloring tip for minimizing hair color loss (and hair damage) is to remember to use heat protection products before straightening, and try to style on the lowest heat setting possible. That way your shade won't fade too quickly and the color you do retain will look good.
Avoid color fade and hair damage by looking after your hair.
5. Mix it Up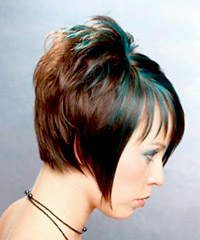 There are many hair coloring tips but I think one of the most important is to create an interesting contrast and an eye-catching look by adding lighter or darker variations of your base color throughout your hair. You can also try other color variations by getting different colored highlights or creating a two-tone look with two different hair colors.
Colored highlights are a great way to breathe fresh life into your hair color and style.
6. Match Your Shade to Your Skin Tone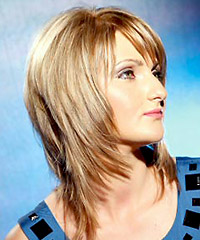 To really enhance your shade and make your hair color pop you must pick a color that complements your skin tone. This will instantly give you a natural look that'll suit your features and complement your complexion. For more information about your skin tone and hair color, be sure to take a look at Choosing Your Skin Tone and Enhancing Your Hair Color.
Choose a hair shade that really goes well with your skin tone for a look that pops!
  
To help you update and enhance your hair shade try these 6 simple hair coloring tips. And for some great hair color suggestions, use TheHairStyler.com's range of colors to find the right shade for you! We have 53 hair colors in various shades for you to try with the large range of hairstyles in our library.