With the all the sassiness of a short hairdo and the versatility of a long hair length, mid-length hair can give you the chance to try lots of different looks. All it takes is some styling know-how and a few inspirational hairstyle makeover ideas.
While mid-length hair is often low maintenance and offers plenty of styling versatility, the ease of this flattering length makes it very tempting to just brush your hair and leave it to hang out or throw it into a simple ponytail. There are easy ways to style your mid-length hair with a little flair, however, as these hair makeover ideas show...
A Bob Haircut


If your mid-length locks are lacking then consider giving them a new lease on life with a bob. Bob haircuts are extremely versatile and can be designed to suit any face shape and hair texture. They also look really fantastic when cut into mid-length hair as you get the full effect of the style.
Soft, Retro Waves


Soft, retro waves are a great option for mid-length locks and are very easy to achieve with the help of some hot hair rollers or a curling iron. Once your locks are curled, brush out the curl with a natural soft bristle hair brush to get this great soft, loose retro waves finish.
A Sassy Side-Styled Updo


Instead of just pulling your mid-length strands into a ponytail or top knot when you want a different look, just simply pin half of your hair to the side to create a side-styled updo. It's fuss-free and easy to achieve, and looks great no matter what texture your hair is in.
Subtle Highlights


If you're happy with the way you style your mid-length hair but still want a change then consider giving highlights a try. Subtle, thin highlights added throughout your locks will add a touch of color that looks great, especially when the hair color is a fantastic shade such as this red hair tone.
Hair Color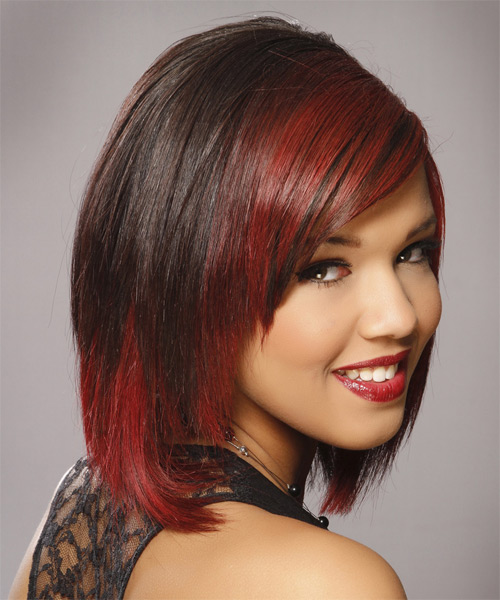 Short of a dramatic change in hair length, nothing brings about the impact of a new look like hair color. Changing your entire hair color or adding subtle color with highlights can really perk up a tired look, but we love the look of this two-tone hair color which playfully adds interest to the bangs and underneath sections of this simple mid-length bob hairstyle.
Backcombing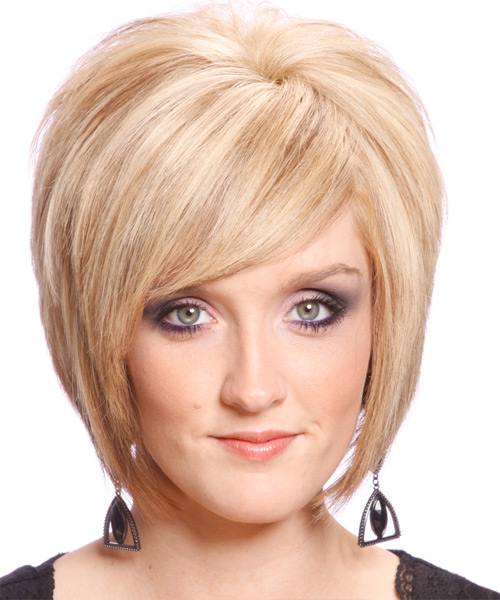 Backcombing your hair, whether it's styled up or down, is an easy way to add a professional, polished and glamorous finish to most looks. It can also really help out those with fine hair in need of some volume. This great mid-length 'do uses backcombing through the roots to lift the whole style. It's a simple touch that adds a big difference.
Hair Texture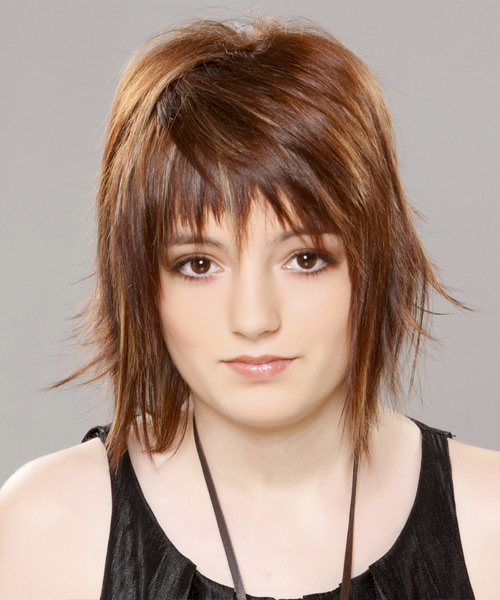 A sure-fire way to spice up a mid-length look is to play around with your hair texture. Give yourself curls or waves or pull out your hair straightener and try smooth, straight locks. For a bit of funk and edge you can even try using hair styling products to rough up your hair strands and create some messy flicks, as pictured.
Easy Updos
For those days when you don't have time to spend hours styling your hair, pulling your mid-length locks up into an easy updo is a great choice. Try a simple ponytail or using hair pins to create a casual yet chic look (pictured left).
Hair Parts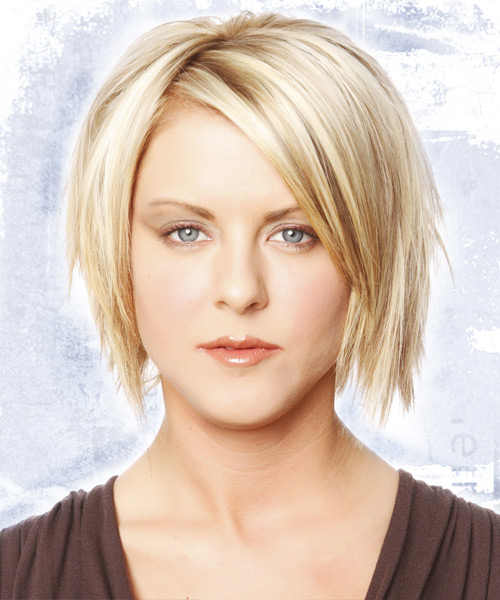 Our final idea is one for those who want a change that is easy and low on dramatics. Just by simply changing your hair part, either to the left, to the right, to the middle or by adding in a funky zigzag part (as pictured), you can give your medium hair length a fab new look in an instant.

Let us know which mid-length makeover idea is your favorite, or add an idea of your own by leaving a comment below!