Jaw Clip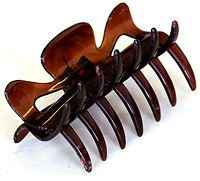 A jaw clip is pretty much used as an alternative to a hair tie for keeping longer hair up and out of the way.
Variations
Jaw clips come in a range of sizes, colors and styles- including really small "mini jaw clips." There's even diamante encrusted ones, and jaw clips with swirls and other patterns.
How to Use and Tips
How to Style: Brush hair back into a ponytail and grasp with hand, twist hair and lift upwards and secure with jaw clip along the length of the twist.
Tips: The jaw clip is a great way to get your hair out of the way if you want to wash your face or shower without getting your hair wet.
Suitable Hairstyles
Jaw clips come in a range of sizes, so you're likely to find one suitable for your hair's length. Closer spaced teeth mean they're more suitable for finer hair types. "Mini jaw clips" are a great way of separating pieces of hair and going for a more casual "beachey" look.
Occasions
Jaw clips work best for casual occasions- when you've got your jeans on and you're heading down to the mall or something. If you're hair's in an updo or something more formal, jaw clips can be good for the office or even a nice dinner.
In Our Opinion...
Using a jaw clip to secure a ponytail and turn it into an upstyle is an easy and effective way to look quite elegant and sexy, but leave the "mini jaw clips" and the piecey look to the young kids.
Combs/French Combs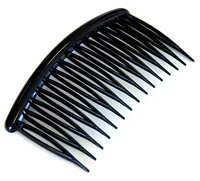 These are the little plastic combs that you insert into your hair to lock it into place.
Variations
Variations are mainly in size- a bigger comb obviously being a better choice for longer, thicker hair. Hand sawn combs are more hair-friendly but tend to be expensive.
How to Use and Tips
How to Style: These combs are simple to use, but only when you know how. The thing is that you put them in backwards and upside down, and this is so that when you flip them over they lock your hair tight in place. After you flip the comb and wedge it into your hair, the teeth need to be facing toward the front of your head.
Tips: It's easy to get a softer look by pushing the comb forward a bit and creating more fluffiness around the face.
Suitable Hairstyles
Combs are great for styling medium and long hair. They're a good way of creating an updo, or getting rid of your bangs if you're growing them out. Combs are good for creating French twists and they're great for securing ponytails and making them look a bit different (eg. securing the end of your ponytail and creating a fan effect, or what's sometimes called a "topsy tail").
Occasions
If you want an updo or you feel like wearing a ponytail to a more formal occasion, these are definitely the best option.
In Our Opinion...
We love these combs and when coupled with an updo look very sexy in a homely kind of way- like dark chocolate and red wine on a rainy Sunday night.
Scarves and Head Wraps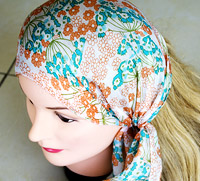 Generally these accessories include any kind of material that's wrapped or tied around the head.
Variations
The main difference between these accessories is fabric, width, length (and how many times it's wrapped around the head), and whether or not the fabric is fitted to sit on the head- like a hat that's tied at the back.
How to Use and Tips
How to Style: Scarves and head wraps are as easy as "place, wrap and tie."
Tips: Scarves are worn as a style in their own right, but they're also good for preserving your hairstyle while you travel to your event- just remember not to tie them too tight.
Suitable Hairstyles
Scarves and head wraps work with any length hair, and they're good for disguising long hairstyles too (by tucking the length underneath).
Occasions
Fabric accessories that you wrap around your head, whether they're knitted, silk, brightly colored, thin, thick or extra long, always create a hippy and boho look. Sure, wear them at home to do a bit of housework, but if you wanna wear them outside, stick to casual events like shopping at your local flea market or sipping a latte in your nearest artists' village.
In Our Opinion...
It's hard to wear a head scarf or a wrap and really make that boho look work, so be warned...
Pins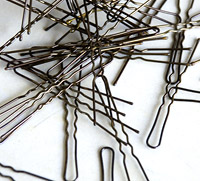 Pins are thin metal, curved at one end and open at the other.
Variations
Hair pins come in a bunch of different sizes and colors, and they also range from plain to jewellery encrusted.
How to Use and Tips
How to Style: Pins are great for securing buns and more formal styles like chignons.
Tips: Pins that match your hair color are a great way to create invisible hold, but if you want some sparkle, try pins with a little ornamentation. Also, if you're using pins a bit of hairspray for some extra hold won't go astray.
Suitable Hairstyles
If you're going to pin your hair into a bun, you really need medium to long hair (but if you have short hair and you'd like something like a chignon, you can always try a hair piece).
Occasions
Hairstyles like buns and chignons, created by pinning the hair, are lovely for special occasions because like other updos they effectively show off your neck, shoulders and cheekbones. A "classic chignon" and Chanel are supposedly synonymous, and with this style the bun's worn a little lower on the neck. You can also make a bun look more casual simply by selecting some pieces of hair and pulling them out for a messy effect.
In Our Opinion...
We like Chanel, we like classy looks, we like chignons... so we think pins are an essential accessory for every woman.
Stretch Combs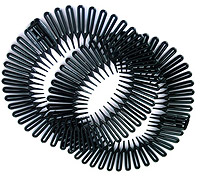 Stretch combs are kind of like a cross between combs and hair bands- in other words they are a giant hairband comb that stretches around your head.
Variations
Stretch combs really only come in different colors.
How to Use and Tips
How to Style: Scrape the hair back, place the comb around the head and secure it at the back. Stretch combs are an easy and cheap accessory.
Tips: Don't pay too much for one!
Suitable Hairstyles
Stretch combs are good with any hairstyle for keeping the hair off the face.
Occasions
Unless you're a hot Brazilian soccer player (male or female), leave the strecth combs at home with the toilet cleaning accessories.
In Our Opinion...
Fun and cheap, but hardly fashionable and attractive.
Barrette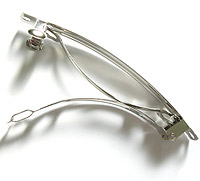 A barrette is used for gathering, fastening or clipping the hair; for example to hold the hair in a half up style, a ponytail, or to clip the bangs out of the eyes.
Variations
Barrettes come in a range of sizes, and some are more decorative than the others. We particularly like bow barrettes at the moment.
How to Use and Tips
How to Use: It's as simple as "grab and clip" with a barrette, and it'll even fit in your pocket.
Tips: Make sure the size of the barrette suits the weight of your hair.
Suitable Hairstyles
Barrettes are suitable for all hair lengths. Clip back bangs in shorter hair, or longer pieces in medium and long styles.
Occasions
When placed above the eyebrow a barrette can draw attention to short hair, and a decorative barrette can be quite dressy. Pulling a little hair from the clip is also a way to create a more sassy look.
In Our Opinion...
Barrettes can be subtle and invisible, and that's when we think they look best.
Clip/Snap Clip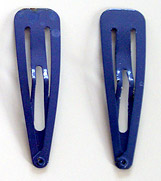 These are those little metal clips that come in a range of colors, and make a "snapping" sound when they close. They're mostly worn by kids, but they can have more adult uses too.
Variations
Snap clips come in a range of sizes, from tiny to small, and a range of colors too.
How to Use and Tips
How to Use: Put them in your hair, and snap shut- it's that easy and you can even do it with one hand.
Tips: Snap clips are used pretty much for the same things as "mini jaw clips," but the advantage is they sit nice and flat and a little tighter, so they have a more secure hold. If you don't want to look too much like your tween daughter, avoid the bright colors.
Suitable Hairstyles
Snap clips are good for securing pieces of hair that are any type and texture.
Occasions
Snap clips are really for casual looks, because they're basically about securing layers or pieces of hair that would otherwise fall out of a ponytail or half up/updo. Sport and housework are their best applications.
In Our Opinion...
If you're an adult playing some kind of sport, and you're the type who likes color-coding, go for it. Otherwise, forget snap clips and use something else instead.
Elastics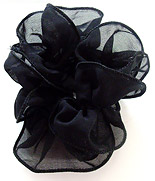 These are the quickest, simplest and cheapest way to get your hair out of your eyes, but they can make your hair look great too... Sometimes the simplest things are the best!
Variations
"Hair elastic" is a broad term that includes scrunchies and ponytailers. A ponytailer is basically a hair elastic with something decorative (marbles or butterflies) attached.
How to Use and Tips
How to Use: Using an elastic is pretty much just a case of gathering your hair together and stretching an elastic over it, but if you want to do it right check out how to get the perfect ponytail.
Tips: Rubber bands aren't hair elastics! If you don't want to break your hair and inflict pain on yourself, make sure you use rubber bands coated with fabric, or "hair elastics" made specially by a hairstyling company.
Suitable Hairstyles
If your hair's long enough for a ponytail, then a hair elastic's for you.
Occasions
It's a total fallacy to think that ponytails are just for casual occasions! No way! Making sure your hair's smooth (using a paddle brush and runnng the irons over the top section of your hair) will add a classiness to your ponytail. Disguising the elastic by wrapping your hair around the base of your pony will have the same effect. Scrunchies are also great for hiding your elastic, and for adding a bit of color too.
In Our Opinion...
You know what? Ponytails that are all smoothed out and sleek are the best. They look sophisticated and oh so sexy. They can be a classy way for a woman to show off her lovely neck. (We didn't even mind Beck's half up pony either!)
Tiaras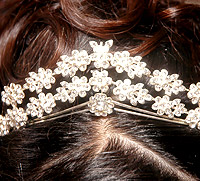 Tiaras are cown-like hair accessories that come in a variety of styles and levels of detail.
Variations
Tiaras can be silver and gold, and the adornment comes in a range of sizes- from a little ornate decoration to a full Queen Elizabeth style crown.
How to Use and Tips
How to Style: Style your hair first and either glide the tiara into your hair, or place it on top.
Tips: Get some advice from a professional and make sure your tiara suits your hairstyle.
Suitable Hairstyles
Generally, tiaras work best with medium hairstyles to long hairstyles. In terms of which styles look best, we recommend a hair consultation.
Occasions
Definitely formal occasions only, like proms and weddings.
In Our Opinion...
If you want to wear a tiara to a formal occasion, avoid looking too showy by coupling it with a subtle dress.
Head Pieces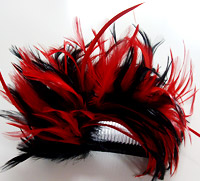 Head pieces are decorative items (like feathers, flowers, netting and stuff) attached to clips and sometimes headbands.
Variations
The obvious difference between head pieces is with the ornamentation, its size and color, its attachment (clip or pins), and the cost.
How to Use and Tips
How to style: Head pieces are usually as simple as clip and go.
Tips: Typically you buy this sort of thing online, and our biggest piece of advice is to make sure you see the head piece on a model so that you can guage exactly how big it is (and avoid opening the package from the mail and being shocked that it's teeny).
Suitable Hairstyles
Head pieces are suitable for all hairstyles, and especially short hairstyles if you want something really noticeable.
Occasions
Unless you're Agyness Deyn and you're all about being "spotted" on the street, if you like the head piece stick with formal occasions like dinner parties, the races- stuff like that where you wear a frock.
In Our Opinion...
Head pieces can look very 1920s and art-deco, and that's a hip look if done subtly, so we love them. For something a bit different, try one if you're going to a wedding.
Headbands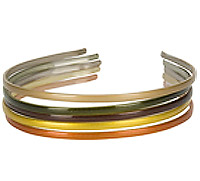 Headbands are accessories that sit around the head, but unlike scarves you don't wrap them around your head.
Variations
Headbands are always in fashion, and that's because there's a huge range to choose from. These include: ultra skinny, plait-like (for the boho look), thick (plastic or silver), combed, twist and snap or with ornamentation.
How to Use and Tips
Make sure you get the right size headband for your noggin because it'll hurt if it's too small.
Suitable Hairstyles
Headbands work with anything: long hairstyles, short hairstyles, big wavy or curly hairstyles, and straight hairstyles. If you want to scrape your hair back and get it out of your eyes, or separate the hair and create cool volume sections, the headband's a great option.
Occasions
I'm not sure if headbands would work at formal occasions- they're more casual and definitely good if you feel like being a fashionista. Keep your eyes on the trends, cos headbands often make some kind of appearance and they're an easy and cheap way to look cool. A look that seems to come in and out of fashion regularly is a thin headband- maybe even a thin fabric headband, worn over the top of long hair making it sit flat- kind of in a hippy or military style.
In Our Opinion...
Headbands are good for kids, and mums shopping with kids. But the best thing is they can be very fashionable too.
Sticks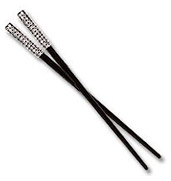 Use sticks instead of combs, pins and clips to secure upstyles that involve gathering, twisting or rolling the hair. They can also be worn purely for adornment.
Variations
Hair sticks often come in pairs, and are sometimes plain (like chopsticks) or quite ornate and made from quality materials like silver, and with decorative ends and dangling ornamentation. They come in different lengths and sizes.
How to Use and Tips
How to Style: If you're using the stick to secure a bun, it's important to spear the bun, collect a section of hair, lever and rotate the stick and then insert it again.
Tips: If there's adornment, lever the stick from somewhere else because you risk breaking it off.
Suitable Hairstyles
Sticks work to secure buns and chignons in medium hairstyles to long hairstyles. They're also a nice addition to plaits and French twists.
Occasions
Decorative sticks used in updos can look great at special occasions and formal events. They can also be worn as a funky and casual alternative to clips and combs.
In Our Opinion...
They come in and out of fashion, and we think they're a cool alternative to some other similar accessories.
Clips/Banana Clips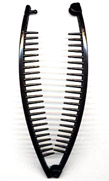 A banana clip is the curved hair accessory that opens and is fastened at one end. It's typically used to secure updos.
Variations
Banana clips, like jaw clips, come in a range of sizes, styles and prices. There's the basic tortoiseshell type, and more fancy patterned banana clips with rhinestones and diamantes.
How to Use and Tips
How to Use: Banana clips can easily be used for securing the hair in a ponytail. They're also good for French twists; all you need to do is twist and tuck the hair and insert the clip on both ends.
Tips: The longer and thicker your hair, the stronger and heavier the banana clip you need.
Suitable Hairstyles
Banana clips work best on medium hairstyles to long hairstyles of all textures.
Occasions
You can use a banana clip for a simple ponytail- and we all know that a ponytail coupled with the right dress and accessories can look great at formal occasions. Banana clips also work well for a special occasion when used to create a French twist. Banana clips are good, effective devices for just getting your hair out of the way and doing some housework too.
In Our Opinion...
We remember banana clips mostly from the 80s, with thick curly hair and the bangs left out. The brat packers were cool, and so was The Breakfast Club, so go for it.