The 60's
Back in the 1960s, when womens' hairstyles were a bit conservative and simple, Vidal Sassoon did something really exciting. With some great foresight and a few well-placed snips of his scissors, he made the bob a massive hit. It was out with rollers, out with hood dryers, and "Hello!" to a great new sleek and sexy hairdo. The bob's impact has continued ever since due to its stylish simplicity and its amazing adaptability.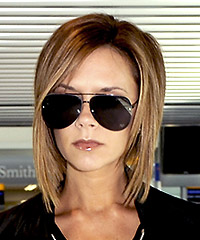 In the 21st century the bob's still one of the most popular hairstyles that can suit many different face shapes. Its adaptability is mainly because it can be cut in different lengths and at different angles; also, thinking about "bangs vs. no bangs" can visually make a big difference too. If you've got a longer face, try a shoulder length bob with shaggy layers and blunt bangs; or if you've got a rounder face, try a jagged-cut bob, parted down the middle, with no bangs. It's this adaptability that makes the bob so perfect for many different people.
The bob's also had a good run as the "in" style for the world's hottest celebrities. In the movies Elizabeth Taylor made history with it back in 1963 as Cleopatra. Then, in 2003, Posh spiced it up a little bit more. In 2007 Rihanna's asymmetrical bob made quite clear that this style is well and truly sexy; and most recently Katie Holmes' simple bob (with bangs added to frame the top of her face) has given a whole new meaning to drop-dead gorgeous. All of these women knew the best way to cut and wear their bob to suit their personal attributes.
But unfortunately it's not that easy for all celebrities, and some have simply adapted the bob in the wrong way. You'd think that with the importance celebrities place on their images they wouldn't make hairstyling mistakes- but that's just not the case.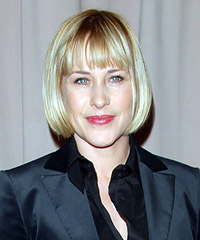 Patricia Arquette, for example, doesn't do the bob justice. Having it sit above her jaw line looks wrong (somebody give her Vidal's number!), and I think it's because it draws attention to her already quite broad jaw.
And then there's Anjelica Huston. In a nutshell, her heavy bangs need to go. Her length really looks great sitting at her shoulders, but she really needs something that will soften her face more, and the bangs just don't do it. It makes you think (well I do anyway): does she like her heavy bangs because they hide the wrinkles on her forehead? Sorry Anjelica!
The bob is a truly great hairstyle. It's fascinating because it pops up from time to time, yet never looks the same because it seems to be constantly evolving. What I mean is that today's bob is definitely the same bob from the 60s, but it's got a lovely flavor of the 21st century in it too. It's also an adaptable style- which is why it's had such a big impact on fashion. To make it work for you, all you have to do is take advantage of this adaptability and get a style of bob that suits your personal attributes.
The 70's

Two words sum up 1970s hairstyles: Farrah Fawcett. Sure, the 1970s was also about Abba, the Vietnam war and wild "flower power" hairstyles, but everybody knows Farrah Fawcett's long layered hair from Charlie's Angels. The massive impact of Fawcett's long layered look has made it "classic hair" that has continued to make waves in hair fashion ever since the 70s.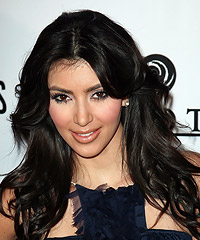 Long layered hair has become one of the most popular hairstyles today, worn by heaps of different celebrities in heaps of different ways. Just check out any picture of Kim Kardashian. There's no doubt her hair's got that 70s long layered feel to it. Another great example of Farrah's continuing influence is Miley Cyrus' latest hairstyle. And don't forget Beyonce's full and flaired-out look too. She proves how a long layered look is the right hairstyle for her hair type and texture (naturally thick hair).
A Classic Hairstyle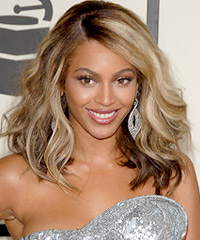 So why hasn't this hairstyle fizzled out after nearly 40 years? Like the bob, it's classic and versatile at the same time:
Depending on how you wear it and where you part it, the long layered look can be versatile and suit any face shape, yet still look highly original.
Wear it with maximum volume from root to tip, or keep the fullness from the mid-lengths to the ends.
It's a style that can work with all hair types.
It can easily be re-created with a good blow-wave or hot rollers.
It looks great straight, wavy or curly.
It's perfect as a casual and formal hairstyle.
Hot vs. Not
Like any style, it's still possible to get the long layered look wrong. With classic hairstyles it's harder to get them wrong... but it's still possible. Take a look at these two examples:

HOT: Miley Cyrus
Her length is long and sassy, with perfectly dressed waves and curls to balance out body and fullness.

NOT: Cindy Crawford
She got the haircut right, but needs to define the waves and balance out the body and bounce. A bit more styling advice would have helped here.
How to Make Long Layered Hair Work for You
This is a great hairstyle, a classic, but here are my biggest tips. The secret to making long layers work for you is how you dress your hair:
Anyone can have a blow-wave with layers flicking out full of body of bounce- and that looks great- but if you want to be a knock-out, try defining the flicks with hair styling products suitable for your hair type and texture.
It's always good to part your hair and add volume according to your face shape.
Bear these points in mind and you'll easily look like you've just stepped out of a salon, or even better, like you share the same hairstylist as Farrah Fawcett, Beyonce and Miley Cyrus.