Elegant means effective yet simple; something that is elegant is refined and has the quality of effortless beauty. A ballet dancer is elegant, a belly dancer is not; a simple white gold Rolex is elegant, a diamond encrusted one is not; Michelle Pfeiffer in The Witches of Eastwick is elegant, Julia Roberts in Pretty Woman is not. Elegance is attractive because it's striking despite its simplicity and restraint.
Elegant updo hairstyles don't look complicated. Forget intricate combinations of French braids and buns, complicated padding and elaborate pinning. Elegant updos can be sleek with buns and a simple braid, or pinned up with loose twists, escaping tendrils and plenty of texture. In all cases elegant updos are defined by their uncluttered and effective simplicity.
Take a look at our examples of elegant updos:

Anne Hathaway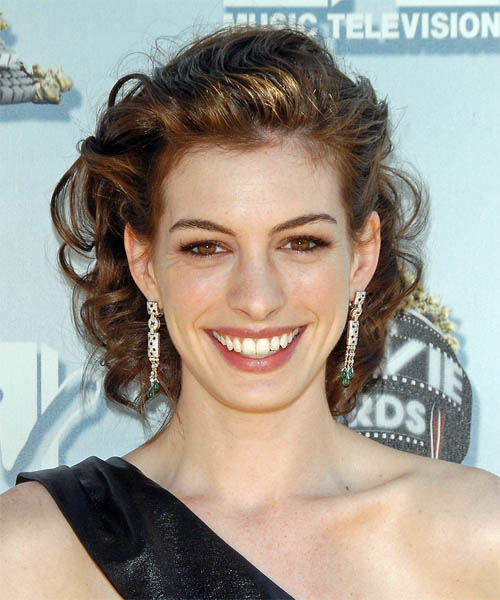 Anne's updo hairstyle is exquisitely elegant. Waves were pinned up through the back, and loose strands were left to hang out to create a simple, low-fuss feel. Some product was scrunched through the hair and hot rollers or a curling iron were applied.

Christina Aguilera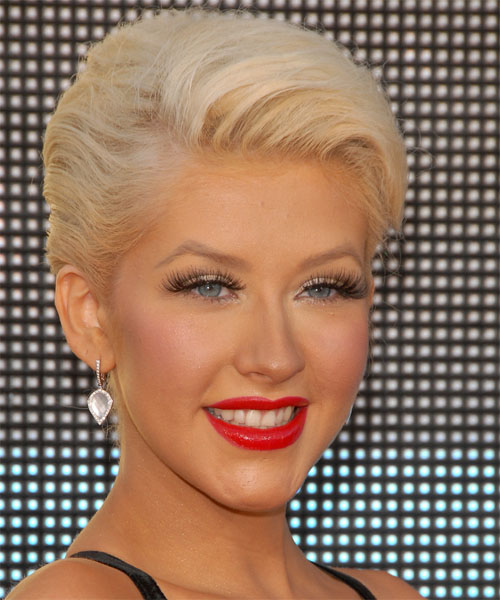 The secret to Christina's elegant updo is its height and body on top, coupled with it's smooth, sleek and pinned-up sides and back. This is a long lasting updo but you need to allow plenty of time for hot roller setting, teasing and spraying.

Jennifer Lopez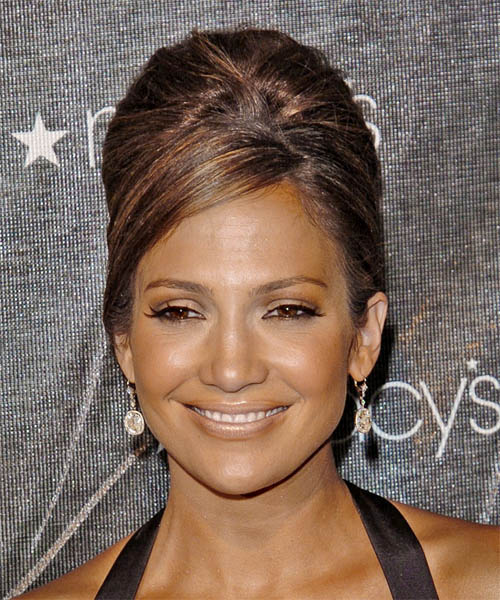 Buns make for elegant updos, which Jennifer demonstrates perfectly. Her hair has been gathered into a soft bun, secured with pins and she's side-swept her front section. This hairstyle will hold well in all weather conditions.

Kristen Bell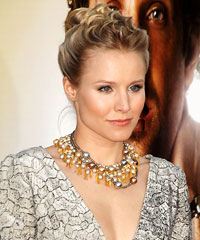 Kristen's updo is soft, graceful and uncluttered. Her hair's been set in rollers, gathered into a ponytail and twisted into a bun. Pulling back the top loosely allows for soft waves, and keeping the sides quite loose creates less dramatic lines. This hairstyle effectively draws attention to Kristen's necklace and gown.
Keira Knightley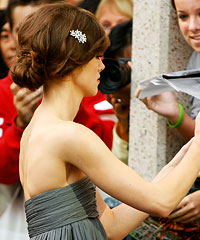 Keira's hairstyle is a great example of relaxed, elegant glamour. It's been set in rollers, brushed out and then teased to create body. There's a knot in the back secured with pins and her bangs have been side-swept and pinned behind the ears. It's a well executed style (but Keira's petite shoulders would probably benefit more from a longer shoulder length style).
Penelope Cruz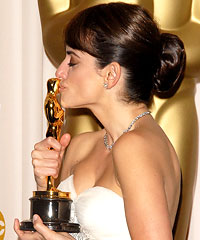 Penelope's updo, with its smoothed down bangs, draws attention to her eyes. It was created by pulling her hair back into a ponytail and then teasing, pinning and placing around the center in smooth swirls. Some say this hairstyle doesn't quite work with Penelope's strong features. What do you think?

Elegant updo hairstyles will help you feel sophisticated, glamorous and attractive without seeming high maintenance and fussy. Updos are fantastic hairstyles for special occasions, and classics in their own right. Try a few on using our Virtual Hairstyler and speak to your hairstylist about having an elegant updo hairstyle for your next special occasion.