Word has it that forty is the new thirty, so it's no wonder that longer hair is becoming the norm for women forty and up. And why not? As long as it is kept in good condition and properly styled, long hair works on women of any age.

While the young up-and-coming starlets in Hollywood usually get most of the media attention, the leading ladies of the past can definitely hold their own when it comes to hair and beauty! Celebrity women over 40 are really causing a stir with their eternal beauty and elegance. Women young and old can learn from their simple yet elegant looks that are never overpowering or over the top.
Women who are forty and over usually tend to go for more subdued looks, but that doesn't mean they can't copy Taylor Swift's new 'do or take inspiration from another young starlet's hairstyle. However, it is nice to see women from the same age group with great hairstyles to get a bit of style inspiration.
More and more women over forty are wearing their hair long these days as they realize that being a certain age does not dictate how you should look. And to that we say, "Right on!!"
Unless your hair is very damaged, there is no reason to chop it off if you like to wear it long. The main thing to remember is that you need to give it extra TLC as you age, as your hair will lose its natural thickness and shine over time.
Some good ways to keep your hair strong and healthy are:
Cut out the junk food - sugary, salty and fatty snacks do not provide your hair with any nutrients and will leave it looking lacklustre.
Switch to organic products - chemical-laden hair products strip your hair of its natural oils and can give you a dry scalp. Organic products are much gentler and more effective.
Do weekly treatments at home. You can buy a deep conditioning mask at the shop, or use organic olive oil for an effective DIY mask.
 
Now that you know how to take care of your long hair after 40, and whether you are in your twenties, thirties, forties or more, check out these latest styles for some inspiration.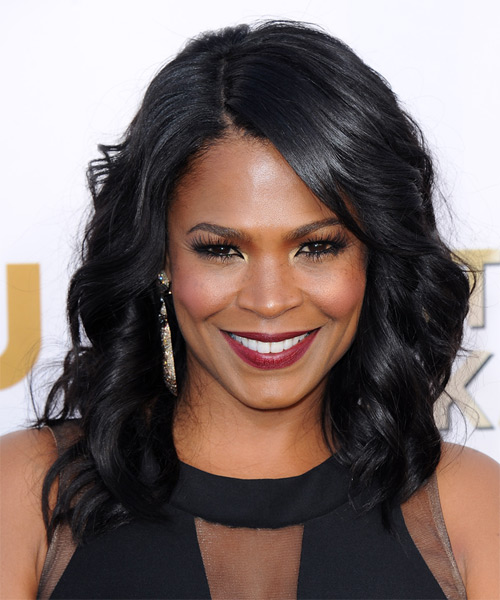 Nia Long is looking fabulous at 43 here thanks to her gorgeous hair and makeup (and her amazing genetics of course!) Nia's glossy hair is layered throughout which creates a nice frame for her face. This style would look great worn straight, but Nia's waves add extra bounce and body to her 'do while adding a soft, feminine touch to her hairstyle. This look can be achieved by first blow-drying the hair straight and then creating curls that aim away from the face. Finish it off with a light pomade or shine spray, which looks especially fantastic on dark hair!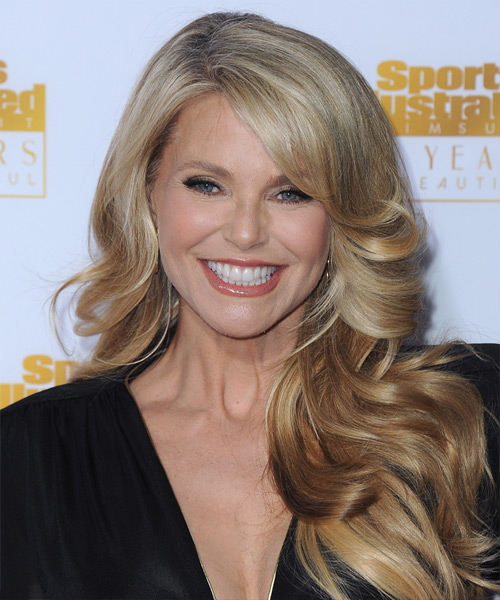 Christie Brinkley looks amazing from head to toe. Aside from the fact that she simply doesn't age, Christie knows how to rock her long sexy hair. She keeps the color natural looking with dark and light blonde highlights throughout, and has kept her cut simple with a few layers framing the face and throughout the lengths and ends. To copy her style, use large hot rollers to set your hair in curls. Roll the hair away from the face to get Christie's cute 'flick' at the sides. To pump up the volume, backcomb the roots at the crown, as seen here.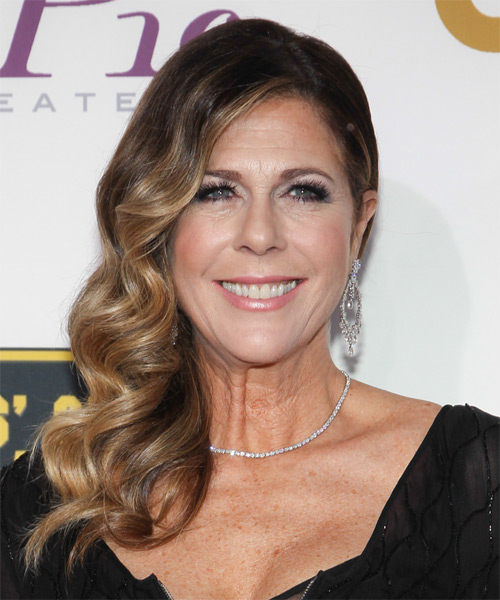 Rita Wilson is looking oh-so-glam in her side-swept goddess waves in this photo. This is a fabulous hairstyle for an evening event or special occasion and is a great way to show off a special pair of earrings, or your neckline! To get this look, first create a deep side part in your hair, then blow-dry it sleek and straight. Use a curling wand to create waves throughout your hair using one-inch sections. Once you are done, sweep the side of the part with less hair around the back of your head and pin it at the nape of the neck. Top it off with a shine spray and you are ready to roll!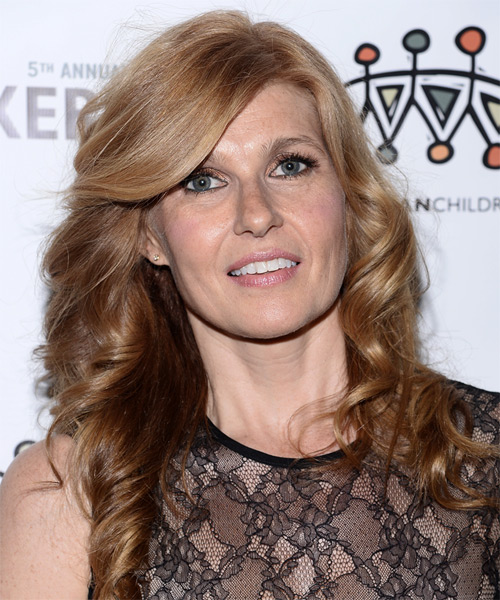 Connie Britton is looking fabulous here in a long, dark blonde 'do. This simple style has subtle long layers throughout to give the hair some bounce and movement. The side-swept fringe is a great hairstyle choice for women over forty as it hides fine lines that may be present on the forehead and makes the eyes take centre stage. To get this look, simply blow-dry the hair smooth and then set it in hot rollers. Soften up the curls with some pomade or shine serum and then use a hairspray to keep it in place. Color-wise, this is a gorgeous multi-dimensional color that has a dark honey blonde base and sun-kissed highlights throughout. This color will work nicely on women who have a warm undertone to their skin and especially suits those with ruddy or freckled complexions.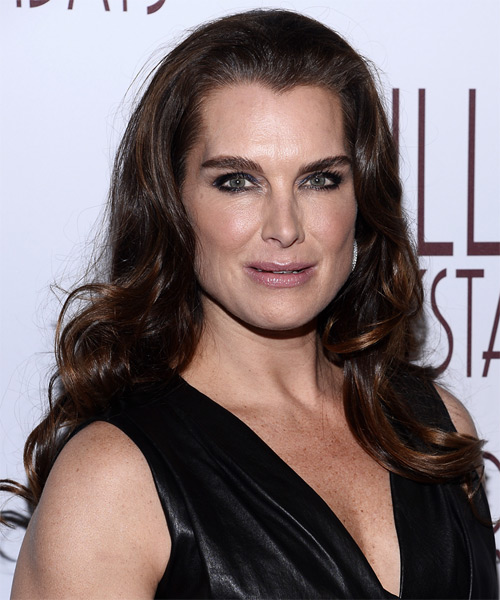 Brooke Shields always looks flawless, thanks in part to her gorgeous long espresso brown hair. Here, she is flaunting a classic long hairstyle with loose waves that can be achieved with rollers or a curling wand. Brooke has decided to forgo a part here and has swept her hair back off the face, which is an elegant twist on this long hairstyle. This is a great technique for women who have small foreheads that want to open up their faces, but women with large foreheads may want to skip this option and go for a side swept look.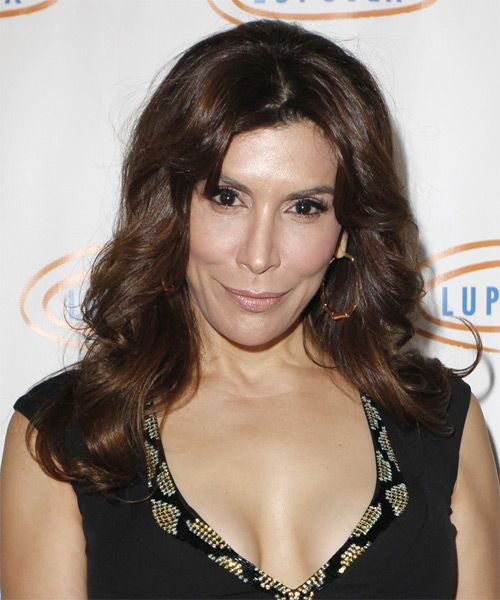 Jo Champa shows us how to wear longer hair in a way that sweeps away from the face. Her hair has shorter layers throughout, especially around the face. Her bangs have been styled to the side and the rest of the hair is softly curled away from the face. This can be achieved with rollers and is a good technique for women who have thin faces. Wearing your long hair in large outward waves will add more balance to your face and add some width to reduce slim or gaunt looking faces.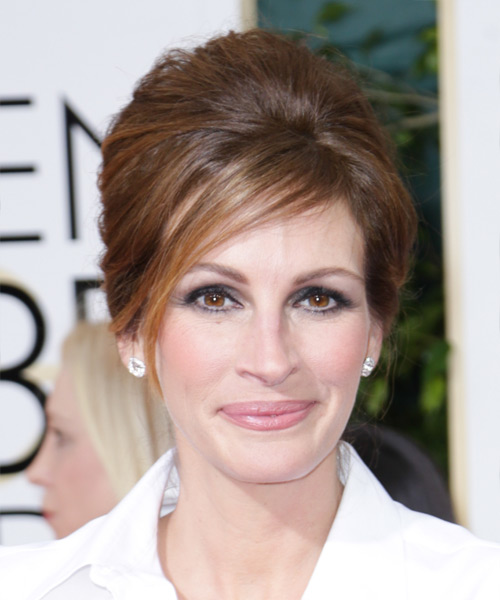 Julia Roberts proves here that she is still America's Sweetheart. Her signature auburn locks have been swept up into a beehive hairstyle with a French twist at the back. To add some coverage on the face, she has left her long side-swept fringe down, which softens up the look and highlights her famous eyes and cheekbones. This high volume hairstyle looks fab on ladies with round, oval, heart and triangular face shapes. It will suit all hair textures from straight to curly, but will require extra styling time for some to get a smooth, silky blowout. Makeup-wise, Julia keeps it simple with a subtle smoky eye and soft pink blush and lipstick. Her fair skin looks flawless as usual and harmonizes with her reddish brown hair perfectly. Overall, Julia looks just gorgeous!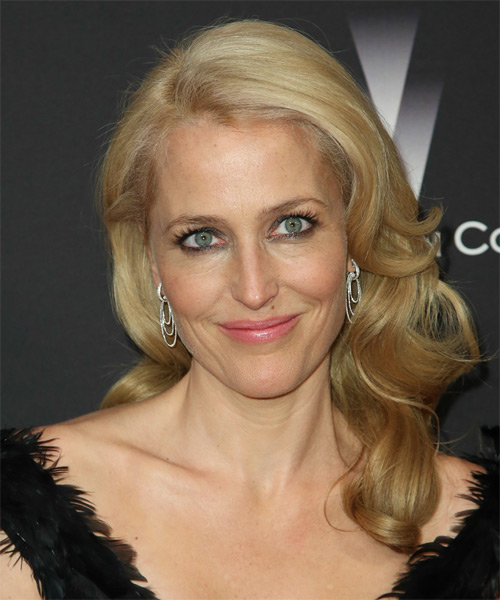 Gillian Anderson is a very accomplished actress, but let's face- she'll always be the smart and sexy Agent Scully in our hearts! Gillian's ditched Scully's trademark red locks but looks just as gorgeous in buttery blonde hair. This shade warms up her complexion and is a great choice to bring out her blue eyes. As for her hairstyle, Gillian has chosen a deep side part and classic cascading waves for an ultra glamorous hairdo. This hairstyle will suit oval, oblong, square and diamond face shapes and can be achieved all on hair textures by blow-drying it straight first, then adding large curls with rollers. Just like Julia, Gillian hasn't aged at all and looks radiant on the red carpet!
Finally, we have Sandra Bullock who always looks young and trendy on the red carpet. With her dark features and glossy brunette hair, Sandra has a great canvas to work with and never disappoints. The great thing about Sandra is that she isn't afraid to go for edgier looks and always manages to keep them looking classic at the same time. Here, Sandra is wearing soft rock chick waves and a centre part for a cool red carpet look. This is an easy breezy understated hairstyle that can go from day to night without a hitch. It suits round, oval, heart and triangular face shapes the best. Sandra adds some more edge to her look with a dark smoky eye and nude lip. This is a sexy look that Sandra can pull off effortlessly!
As you can see, long hair is pretty simple to do, plus it's a classic way to wear your hair. Over forties can rock long hair in just as many different styles as twenty-somethings and still look fabulous. Just remember to amp up your hair care routine to keep your tresses looking youthful and shiny.