Side-sweeping is one of the most popular ways to style bangs and is a great choice to make if you are trying bangs for the first time.
Side-swept bangs are soft, flattering and versatile enough to suit any hairstyle or be styled out of the way with hair clips or a headband when you want to alternate with a bang-free look.
The side-swept fringe is a great style choice for most women - it works on all face shapes and can really add some much-needed structure to a hairstyle. It can also be worked in to any length or hair - from long to short, this style of fringe is extremely versatile. If you are considering a side-swept fringe then you are in luck! We've rounded up some great hairstyles that work with a side-swept fringe. Keep reading to find out which one is perfect for you.
Why choose side-swept bangs
Side-swept bangs are making a chic come back
The modern side-swept bangs are thinned out. This means that it is lighter on your forehead and you will not sweat underneath your fringe as much. Your bangs will not get as dirty as quickly
It is a great style for you to have if you want to try out bangs for the first time
They are easy to style and maintain
Gives your hairstyle some much needed life
Easy to grow out if you do not wish to keep your side-swept bangs anymore
What face shape suits side-swept bangs?
The great thing about side-swept bangs is that they can be cut and styled to suit any face shape! The important thing is that you style your bangs so that it suits your face shape. That way it will show off your facial features and be a great new addition to your hairstyle.
Side-swept bangs are a type of bang that you are going to want to try at least once in your life!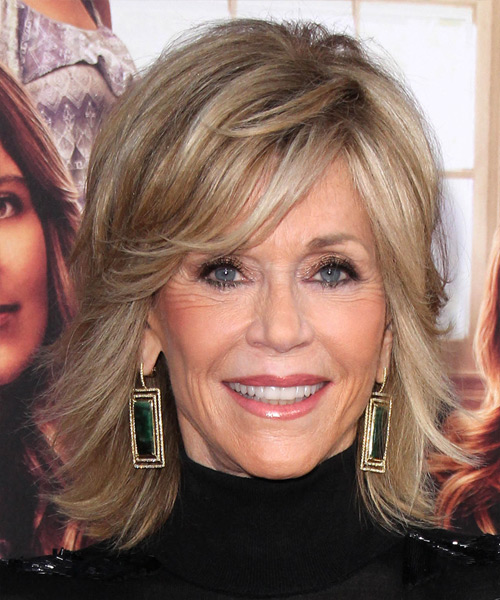 Jane Fonda looks stunning in her layered shoulder-length 'do and matching fringe. These bangs are swept to the side and flicked out slightly to match the rest of her hairstyle and provide some sculpting to the face. This is a great trick to add width to slimmer faces, so take note if you need to balance your proportions out. Jane's fringe gives her some forehead coverage too, which is another bonus of this hairstyle.
Marla Sokoloff shows us another way to wear a side-swept fringe here for a more casual look. Her deep side part gives way to a smooth bang that sits to the side and blends in with the rest of her 'do. This is a simple look that is perfect for women who like low-maintenance hairstyles and have a naturally straight hair texture. Marla's bangs would look cute if her hair was swept back into a ponytail as well.
Charlotte Ross shows us another variation of the side-swept bang that works well with very long hair. Charlotte's long blonde hair is layered throughout the lengths and ends and around the face. Her medium thick bangs are blunt cut and sit nicely to one side. This side-swept fringe adds some forehead coverage while breaking up the heaviness of her thick long locks. This is a great fringe style for women who have ultra long hair that prefer some hair around the face, especially when they wear it up.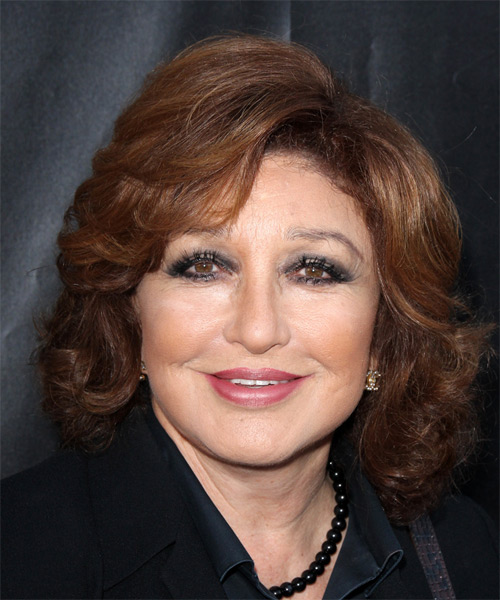 Here Angelica Maria flaunts a more classic version of the side-swept bang that would suit a structured, shorter hairstyle. If you love to curl up your layers then this fringe is definitely for you. Angelica's eye-skimming fringe has been curled and swept to the side, with a voluminous 'wave' effect at the part. This matches her high-volume layered hairstyle and will suit women who have similar 'dos.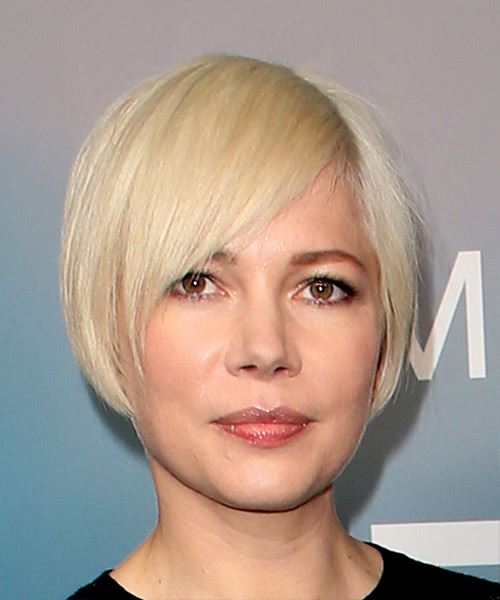 Michelle Williams is rocking this pixie cut with side-swept bangs. She is showing us that you can have a pixie cut, square face shape and pull this type of look off. Overall, this hairstyle is easy to maintain and does not take you a long time to style in the morning. Most of her forehead is covered by this hairstyle which is great for someone who has harsh edges due to their face shape or even someone who might be suffering with acne on their forehead. The only downside with this style is that glasses will not suit this look. Other than that, this hairstyle is a sure win!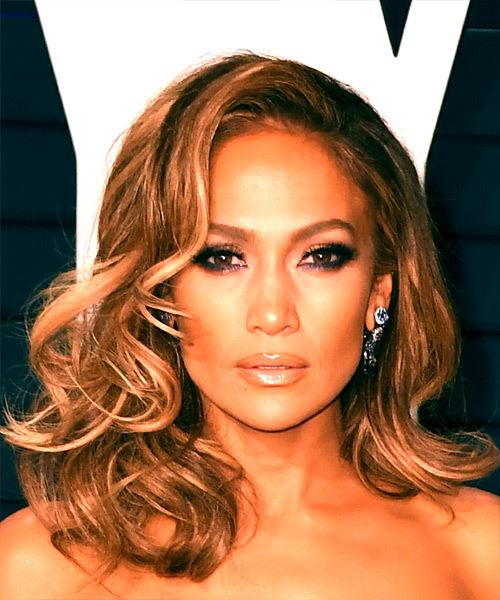 Whenever I think of side-swept bangs, I think of the legend herself J-Lo. Jennifer Lopez does not only make our musical dreams come true but she also shows us all the wonderful things that you can do with side-swept bangs! Her bangs are styled to give the top of her head some volume which is nice and then they are styled to the side which opens up her face. The highlights in her hair take this look to the next level. The curls frame her face well and give this look some bounce and much needed life. This is a great hairstyle for you to choose if you have long hair and want to get side-swept bangs. I strongly recommend that you get the highlights as well as they just tie the look together beautifully. J-Lo's hairstyle is a great one for you to choose if you are trying out bangs for the first time. They are not too short and not too long... pure perfection!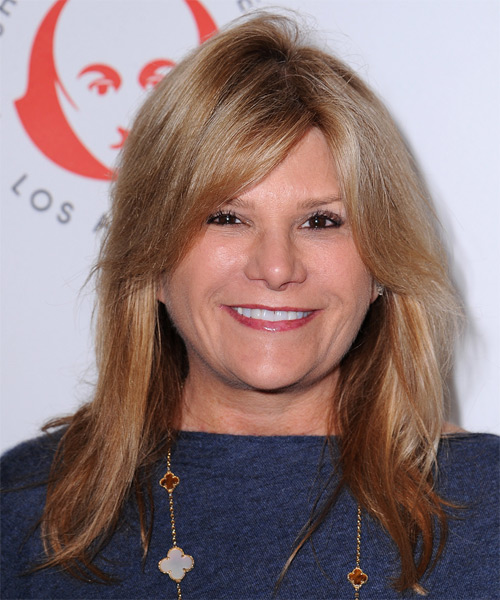 Finally, we have Lisa Paulsen with her thick and messy side-swept fringe. This fringe is perfect for shag hairstyles and for women with thick and/or coarse hair. This fringe is longer than most side-swept hairstyles and provides more forehead coverage as well. Lisa's bangs give off an edgy rock-chick look so if you are a fan of trendier hairdos then this one may be for you. The part on this fringe is just off centre giving Lisa a peek-a-boo effect too, which is a cool way to finish off her hairstyle. This side-swept fringe is ideal for women who like messier, bedhead hairstyles so give it a try if this sounds like you!
How to Style Side-Swept Bangs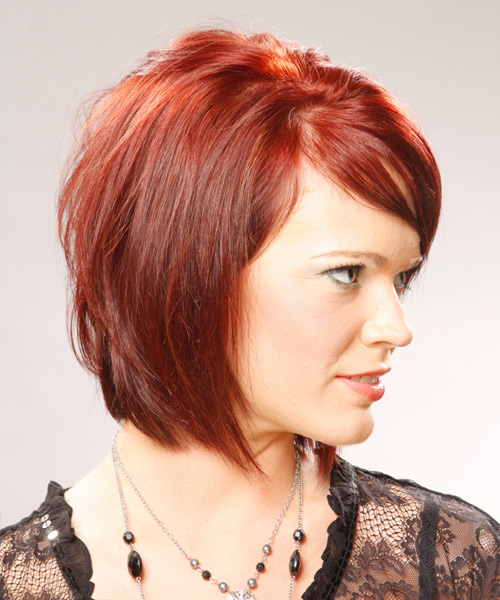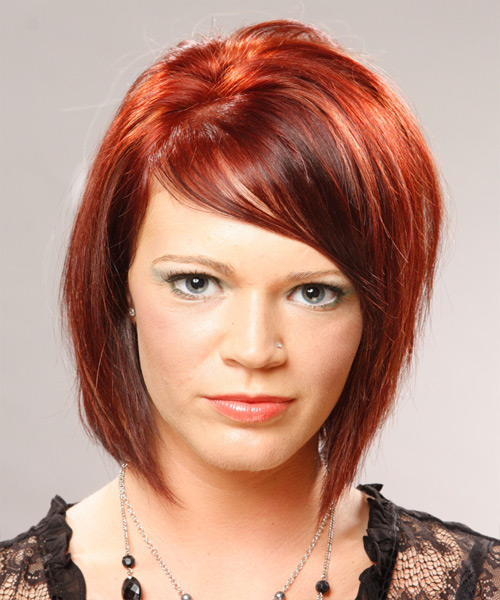 Apply Hair Styling Products
The secret to achieving and maintaining side-swept bangs are hair styling products. You want to make sure that you use salon approved or professional products. This is going to help you achieve your best results. To get the style of your bangs off to a great start, use a hair product such as a straightening balm and apply it by squeezing a small amount into your palms and then distributing it evenly through your bangs.
 
Use a Radial Brush
Next, you'll need to make sure you have a radial brush on hand. A radial brush is perfect for styling bangs because it allows you to pull your hair straight and also curl your ends under to achieve the right look. Radial brushes come in all different sizes and the size you will require will depend on the thickness of your hair. The thicker your hair is, the thicker the brush is going to need to be.
 
Blow-Dry Your Bangs into Shape
This step is going to depend on the overall style that you are going to choose when it comes to your bangs. Blow-dry our bangs according to the style that you have chosen. Take your time because you want to make sure that your bangs are the shape that you want them.
To blow-dry your bangs to the side
Clip the back and side sections of your hair up and away and just leave your bangs out.
Place your brush beneath your bangs and hold your hair to the side, remembering to hold some tension between your hair and the hair brush.
With your blow-dryer on a low setting, apply heat to your roots and then move your blow-dryer along the length of your bangs while stretching your hair out to the ends with your brush. Repeat until your bangs are dry and finish with a shot of cool air to seal your style into place.
Apply Hairspray
To finish your side-swept look, hold a can of hairspray at arm's length and apply a minimal amount of hairspray to your bangs. The key to a good hairspray is to make sure that it is medium strength. This means that the hairspray is strong enough to keep your bangs in place throughout the day and at the same time, your hair will not feel sticky and gross like some of the other sprays might make it feel.
And there you have it! Simple yet effective 'how to' steps for achieving side-swept bangs.
Things to remember when having side-swept bangs
Do not play with your bangs all day long. The more you touch your hair, the greaser it will look.
If you start playing with your bangs often, then it means it is time for a trim. You are going to need to trim your bangs once every 4 weeks or so to ensure that they stay in shape and do not bug you throughout the day.
Depending on the length of your bangs, you might need to wash your bangs on a daily basis or every second day. This is going to help keep your bangs looking fresh and clean daily. Bangs sit around an area of your face that produces oil, so it is normal for your bangs to get oily before the rest of your hair does.
Do not let your bangs air dry once you are out of the shower or just washed them. You need to blow-dry them so that they can dry in place and do not get a mind of their own.
Use professional only products to ensure that your hair looks and stays healthy. You also only need to use a little bit of product at a time to get your desired results. This means that you will save money on hair products.
If you do not want to wash your bangs daily, you can always use dry shampoo and wash your bangs properly when you wash your hair twice a week. This is going to save you time in the morning when styling your hair.
If you are going to color your bangs or hair, you need to touch up your color once every 6 weeks or so to ensure that your color stays bright and vibrant.
As you can see, side-swept bangs have been around for a very long time! They are coming back into fashion this year which is a great trend to be following at the moment. They are low maintenance and easy to style. You might battle once or twice in the beginning but once you get the hang of it, you will look like a stylist styles your hair every single day!
If you do not like any of the styles that we have shown you today, do not worry! There are hundreds more for you to choose from on our website. As an added bonus, we have a feature on our website that allows you to make use of your very own virtual hairstyler! All you need to do is upload a picture of yourself and choose from one of our side-swept bang hairstyles. This is going to give you an indication of which styles are going to suit your personality as well as your face shape. Keep in mind these are just to give you ideas. You can sit down with your stylist and choose the best side-swept bangs to suit you!
Now you can walk around looking like the gorgeous J-Lo every single day! Side-swept bangs will bring a new sense of power, confidence and elegance to your look as well as your overall self-esteem. Getting side-swept bangs is going to be one of the best decisions that you are going to make for yourself!