If you are bored with the same old hairstyles for long hair, check out this girlie and glam style worn by Danielle Doty. This is a fabulous hairdo for ladies with long hair that is straight, wavy or curly and it will suit all face shapes. To make it even better, it only takes a few minutes to style!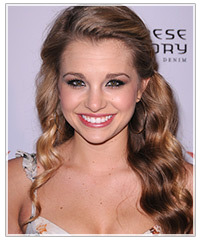 First, you need to wash and finish your hair. If you have poker- straight hair, you have the option of keeping it straight or adding waves with hair rollers, but obviously adding curls will take more time. Curly and wavy haired ladies can let it dry on its own or perfect their curls further with styling- the choice is yours.
Next, create a deep side hair part and section off the fringe area. Loosely twist towards the back of the head and downward, so that the end of the twist finishes just behind the ear. Use hair pins to secure in place and voila—you have instantly glammed up your long hair!
For an extra-fancy touch, add an embellished clip to match your outfit. Top it all off with the appropriate makeup—leave it fresh and natural for daytime, and go smoky and seductive for night.
To see how you'd look with any of the great hairstyle pictured in this blog, click on the above image to try the virtual hairstyle with your own photo!