Pulling off a fabulous style doesn't just start and end with your hair. There are a lot of other factors to consider, such as your clothes, accessories, make-up and, believe it or not, your glasses. You want everything to look like they were made for each other. Everything has to complement each other and at the same time, you want to make sure that everything works together.
There is no point in you having this amazing hairstyle that you have to keep messing up every time you want to put your glasses on or switch between sun glasses and normal glasses.
If you're a glasses wearer you'll know that it's not always so easy to pull off a fabulous hairdo, especially if you are constantly taking your glasses on and off (which messes up your strands) or trying to keep your hair away from your frames. There are, however, a few hair tips and tricks that you can learn to make pulling together a style with glasses easy.
Keep in mind that the rules we are going to give you in this article is a rule of thumb. The rules do not always apply to everyone. You might have a mix of 2 different face shapes and you might have different natural hair color than the ones we are going to mention. These tips are just guidelines for you to use to help you get a better idea of how you can match your hairstyle to your glasses. These guidelines will help you get a better flow on your face and will make sure that you do not feel like there are no options out there for you because you wear glasses.
The Haircut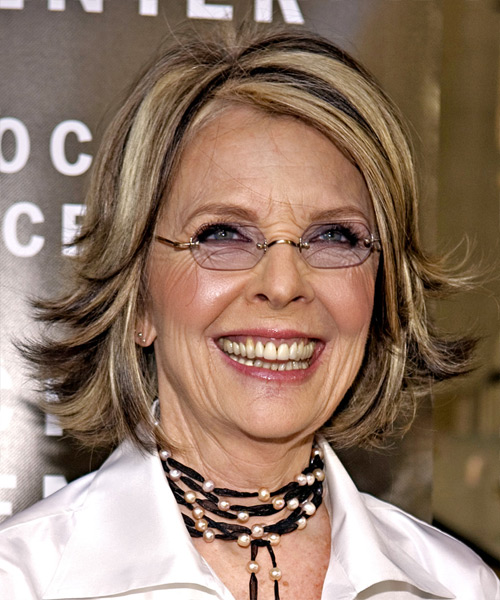 If you don't wear your glasses all the time, but do wear them during the day for work, don't forget to take them when you visit your hairstylist. That way you can ensure that your haircut is going to complement your glasses.
For a soft frame - try a bold look
For a bold frame - try a soft look
Got a fringe? Keep it well maintained. Fringes teamed with frames can make for a fabulous style; just make sure to keep the length above your glasses for a well kept look. Bangs go best with light frames so avoid glasses that are too large or frames that are very heavy looking or dark.
In other words, you want to make sure that the hairstyle that you choose will not be in the way of your glasses. You want to go for a style that allows your face to be more open. If you have side-swept bangs that cover one eye, it is not ideal as they are going to cover your glasses as well.
You also want to make sure that you do not have bangs that are too small for your face. It will look you tried to cut your bangs yourself and it did not work out the way that you planned.
If you do not have bangs, you want to try go for a cut that takes your hair away from your face but still frames your face. Choose a cut that will allow you to style your hair with waves or curls that will frame your face from you cheeks down but do not cover your eye and forehead area.
The Hair Color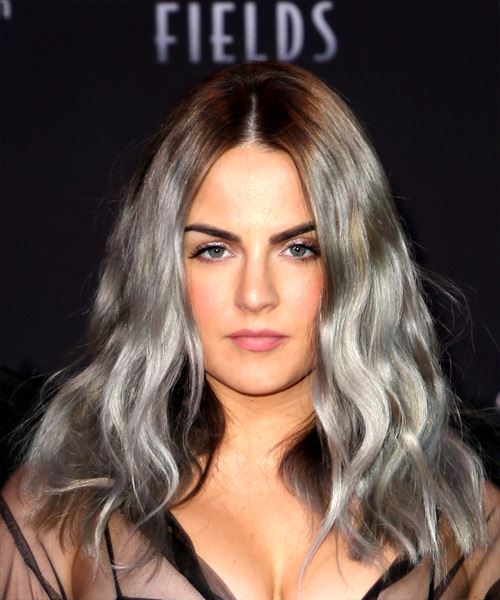 If you like to keep your hair color the same basic tone, try selecting a frame that will match with any hues or which will complement and play off your base color.
For brown hair try metal or dark frames.
For blonde hair try transparent or very light frames.
Redheads can get away with virtually any color except for white or yellow.
Some of us like to use our hair as a statement. We like big bold colors that brighten up our days even when the world seems like a really dark place. If you are like me, and you enjoy using funky colors in your hair, you can do so with pleasure and still wear glasses.
You want to make sure though that you either go big or you go subtle. You can match your glasses to your hair color by adding some blue, pink, purple or whatever color makes your soul happy. Or, you can go the more subtle route and have your funky colors in your hair and tone down with your glasses frame choice.
The choice is up to you but always remember, you want to make sure that everything flows. So, your colors must be blended in nicely with your hair and it is advised that you make sure that your glasses blend in as well.
The Hairstyle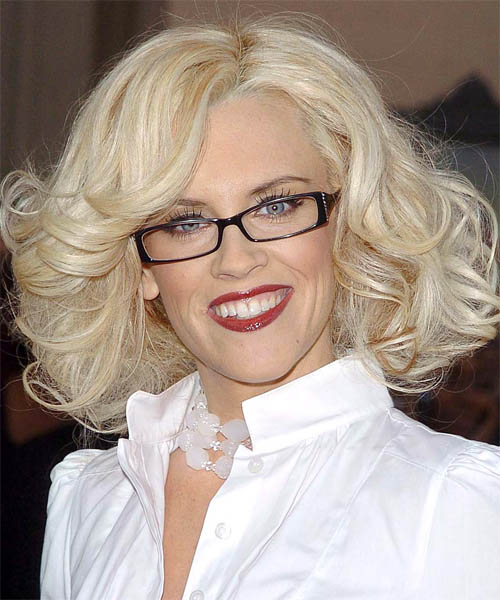 When it comes to styling your hair for glasses, make sure that you keep any hairdos in balance with your frames. Any styles that require volume or pull your hair away from your face, such as a bun or a ponytail, will need to be kept aligned with the extra focus that wearing glasses can draw to your face. You can also use your glasses to divert attention from your hairstyle or draw attention to it. Teaming large and brightly colored glasses with a sleek bob hairstyle will give a completely different feel to your look than pairing the same hairstyle with smaller glasses that will blend in.
Glasses should compliment your hairstyle and the frame should be matched to the strongest element of your style.
Short hairstyles are the best kind of styles to use to show off your frames.
Almost any hairstyle that pulls the hair off your face will go well with any set of frames.
Blow-drying and styling your hair to the side will keep your hair out of the way and away from your frames.
A side hair parting is great for complimenting square shaped glasses.
If you want a simple go to hairstyle that will always look nice for work, a simple up-do is always a great way to go. This ensures that your hair is out of your way and you are not playing with your hair and glasses all day. You can wrap your hair in a neat bun for a more formal work day or you can do a loose bun for a casual day.
Pull your hair back and allow some pieces of hair to fall out of your pony. The pieces will frame your face but stay out of the way and it will look like you styled your hair and did not just take the easy way out and tie your hair up in a simple pony.
Match Your Frames To Your Face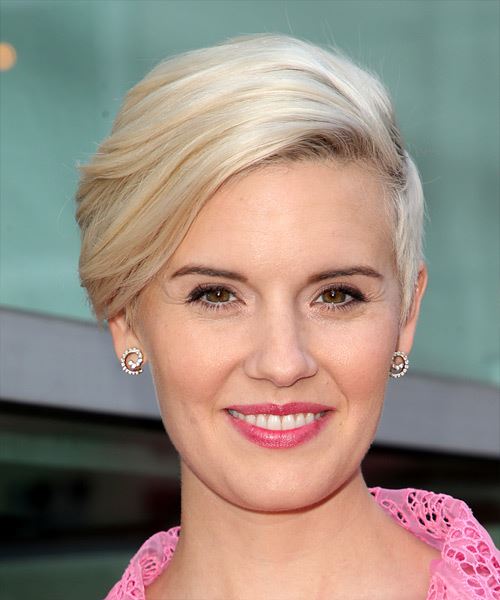 Glasses should contrast with your face shape and the frame should be in the centre with your eyes and at the right scale for your face. In other words, you do not want to have big bulky glasses if you have a small face and visa vera.
Match Your Frames To Your Hairstyle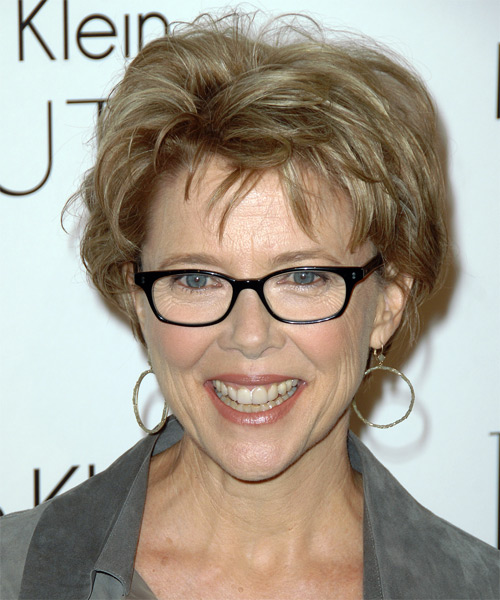 Wide Frames Avoid: Hairstyles with a lot of hair volume on the sides. Try: Hairstyles with height on top. Chunky, textured bangs. Long length ends with no volume. Short hairstyles with strong vertical lines.
Large Frames Avoid: Long hairstyles that have low volume. Straight hairstyles. Short, impish hairstyles. Try: Proportion hairstyles. Long layered hairstyles with extra volume on the sides.
Small Frames Avoid: Hairstyles that box in the facial features. Try: Short cropped wavy hairstyles that highlight the face or long blunt cuts.
Things to remember when styling your hair with glasses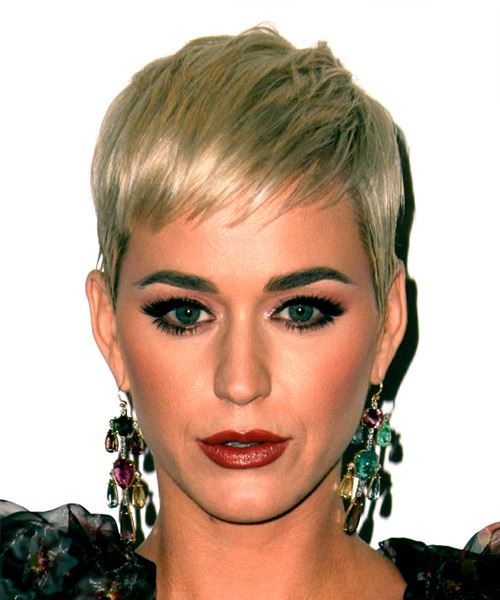 Style your hair with your glasses in mind. This is going to help you place your hair where it needs to be so that it is comfortable for you to wear your glasses and ensures that your hair will not get in the way. Put your glasses on and off every once in a while during the styling process to help.
Please be careful when using hot styling tools and glasses! Frames burn easily so rather keep your glasses off for this part of the styling process.
Place bobby pins carefully! Keep in mind that if you style your hair and put your glasses on after, you want to make sure that your bobby pins do not get in the way of the frames of your glasses. This can become uncomfortable and your glasses will not sit correctly on your face.
Do not spray your hair with hairspray while your glasses are on your face. Hairspray is not fun to take off the lenses.
Allow your products to set in your hair before you put your glasses on. You do not want to have a frame indentation in your hair because you did not let the hairspray or gel set before putting your glasses back on.
It is always nice to have contact lenses as an option for your more formal hairstyles. This will allow you to wear whatever hairstyle you want and you will not have to worry about matching your glasses to the hairstyle.
Shiny things can become reflective and irritate your eyes when you wear glasses. Try and avoid wearing shiny hair pins or accessories when wearing your glasses.
Make sure that your hair is secure. This is going to prevent you from touching your hair all night and having to move your glasses around all the time.
Once the day is over and you take your glasses off, do not forget to clean your frames. Your hair products can stick to the frames and this can become unhygienic if you leave it on your glasses' frames for too long.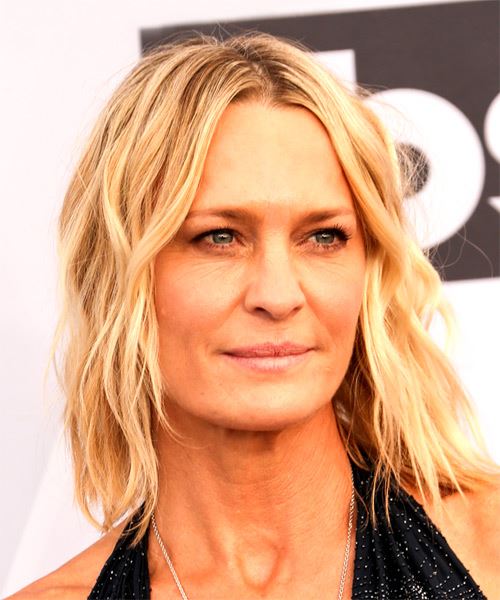 Some people are ashamed of their glasses. They think it makes them look nerdy and that there are no hairstyles out there for them that will suit their face as well as their glasses. This is not true! Glasses complement your face if you choose them correctly. Make sure that you take your time when you choose your glasses. You want them to show off your facial features and not hide them.
Same goes for your hairstyle! Take your time, there is no rush. Choose a style that is easy for you to manage and will flow nicely with your glasses that you have chosen. Keep in mind that if you do not like the style, you can always try a different style. Just make sure that it suits your face shape, your personality and your glasses as well. End of the day, the goal is to make it look like you were born with glasses on and your hair just naturally fell into the perfect hairstyle for you.
To help you make this decision, we have an amazing tool on our site for you to use! All you need to do is upload a picture of yourself onto our virtual hairstyler tool and you can choose from hundreds of different hairstyles! You can see what you will look like with that specific hairstyle. If you like one of the images in this article, click the image and it will take you to the hairstyle. If you do not, don't worry! There are a lot more options for you to choose from. Play around with the cut, the color as well as the hairstyle. You will get a better idea of what you will want and what will suit you.
Take the idea to your hairstylist, make a few changes to make the style more personal for you and you are good to go! You are going to love wearing your glasses with your new hairstyle!