Most of us have that gorgeous summer glow in summer, Our skin gets more bronzed and our hair, no matter what color it is naturally, gets those beautiful sun-kissed highlights. Check out these summer hairstyle ideas for some inspiration and get a great look this summer!
Blonde Summer Hairstyles
The ultimate summer hairstyle however is of course - anything blonde! This tends to be a favorite shade year round, but more so in the summer when everything around is light and bright. Plus, blonde hair looks great with a tan! Check out some of the best blonde hairstyles and get your blonde on!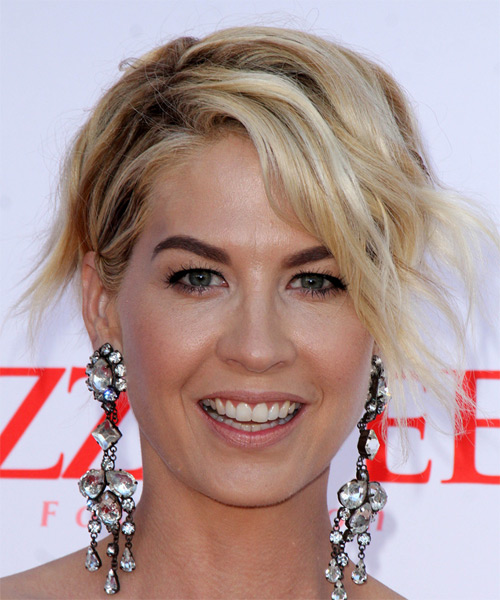 Jenna Elfman is known for her blonde hairstyles that are always on trend. Here, she is wearing a fun and flirty short hairstyle that looks amazing with her bleach blonde highlights. Jenna's base is a brown shade that is broken up with a few shades of ultra light blonde for the ultimate summer hairstyle. This 'do would look just as good on the beach as it would for a night on the town. The haircut consists of short and tapered sides with longer layers on top that Jenna has added playful waves to. Her deep side part looks fantastic and creates a peek-a-boo effect in the front. This is one blonde summer hairstyle that takes the style cake!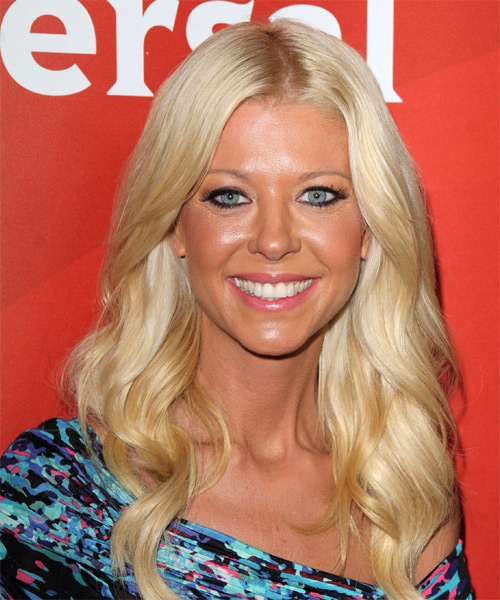 Tara Reid is the classic California girl here with tanned skin, blue eyes and wheat blonde hair. This is the perfect summer hairstyle not only because of the gorgeous blonde color but also because of the long loose waves and easy centre part. This hairstyle looks great down but for those hot summer days and nights, it can be tied up in a chic ponytail or messy bun for a tres cool look. This blonde is monochromatic so it doesn't have the most natural look, but it does have the head-turning factor. If you decide to copy Tara's hairstyle, just make a note that this color will take regular visits to your hairstylist for root touch ups and possible toner applications to minimize brassy tones.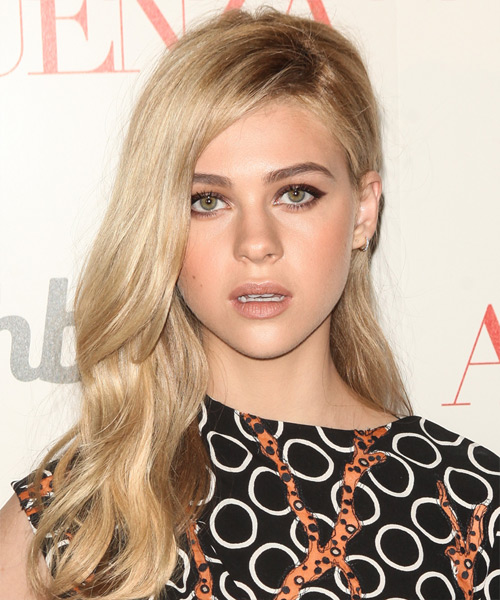 Nicola Peltz is looking every inch the blonde goddess here in her stylish summer hairstyle. This elegant 'do is perfect for evening or other special events where something with that extra special touch is in order. Nicola has long layered hair that is a soft light blonde shade. To style, she has simply added long Hollywood-style waves to her hair and then pinned the side of the part with less hair to the back. The hair is left loose to create a half-bouffant effect and give some lift at the crown.
Kirsten Storms looks oh-so-summery here in a light blonde bob with jagged cut ends. This is a fabulous blonde summer hairstyle for women who like shorter, edgier cuts and enjoy wearing their hair down more in the summer. This hairstyle could be pulled back into a low ponytail but it looks best left in its natural state. To get this look, ask your stylist for a graduated bob with jagged layers at the ends, and simply style with a deep side part and a bit of product to hold it all in place. The color is a light golden blonde base with bleach highlights throughout for some dimension.
Summer Hairstyles With Light, Bright Ends
If you are a fan of the ever so popular ombre look, then you're going to love this trend. It's all about brightening up your ends in anything but a subtle manner; in fact, the bolder they are, the better! Similar to the ombre technique, this look consists of darker roots that graduate lighter at the ends. However, unlike the ombre effect, this look uses more of a dramatic two-tone look instead of a soft fade.
This hairstyle trend has been around for a while, so check out these celebrities for some inspiration and brighten up your ends this summer for a cool two-tone effect!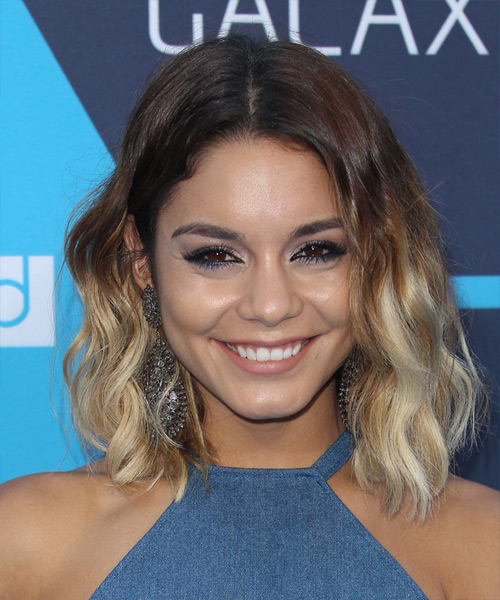 Vanessa Hudgens has transformed her look with this hair colour technique with fabulous results. Her wavy bob looks chic and edgy with this multi-tone effect that is anything but subtle! Vanessa's naturally dark brown hair colour is seen at the roots, before going into a brassy copper brown and then finally into a white blonde at the tips. Vanessa can pull all three of these shades off so there really is no problem here, but if you want to mimic this look then just make sure your complexion will match whatever colours you choose. Vanessa's hairstyle looks best worn down but would also look cute pulled back, as long as she doesn't mind visible chunks of colour showing.
Kelly Price has also gone for the light, bright ends look here in this retro, Seventies-inspired hairstyle. Kelly's hair looks fabulous with a short, flicked out bob that goes from black to blonde in a bold and dramatic fashion. Rather than have the colour fade out like Vanessa's hair (seen above), Kelly's naturally black hair has been dip-dyed blonde for a head-turning look. In this case, the more extreme colour choices you can make, the better. Kelly has chosen two ends of the spectrum with black and light blonde, but other combinations would look fabulous also. Try blonde and pink, black and blue, or any other crazy colour combination you can think of.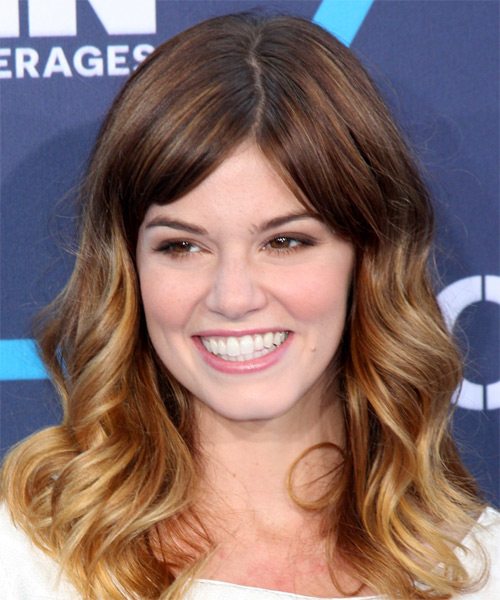 For all of the brunettes out there, check out Rachel Melvin's cool 'do here for some hairstyle inspiration. Rachel's medium length wavy hair looks amazing with the top half being brown and the bottom half a warm golden blonde. Rather than go for the dip-dye look however, Rachel's colourist has used an abundance of highlights to get the same dramatic lightening effect but without a harsh line of colour between the two shades. This is a great colour combination for women who have a warm undertone to their skin and generally like hair colours with a golden tone to them.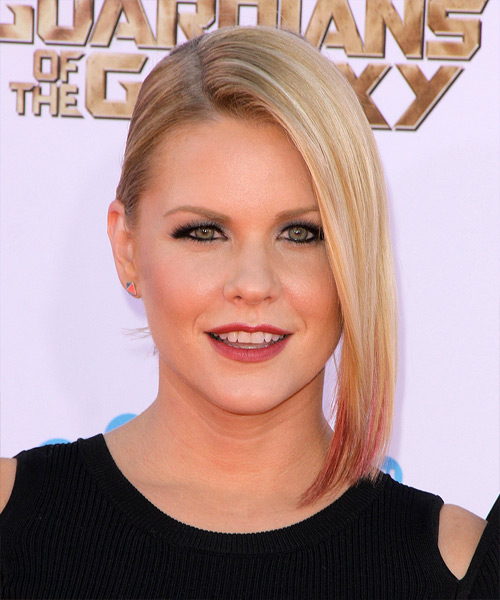 Carrie Keagan shows us how to do a subtle version of this trend with just the tips of her blonde hair being dip-dyed cherry pink. This is a reverse of the dark-to-light colours that we have seen above but for blondes, this is a fun and easy way to get involved with this trend. And, this can be done for one night only if you don't want to make the commitment to this hair colour permanently. Simply use a spray or paint-on temporary dye that can be found at any drugstore or chemist.
Summer Hairstyles With Bangs
Sometimes we just want something new without changing our entire look. If this applies to you and you have bangs, consider changing the way you wear them - it can modify your whole image for the better!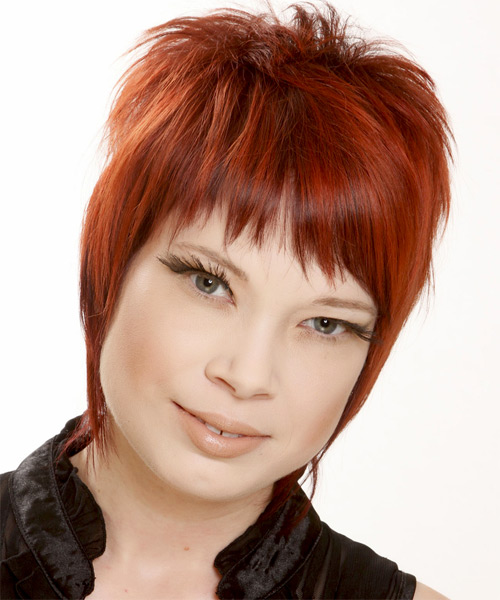 Our model shows us how to wear a side-swept bang - a great idea for summer. On hot days when you can't bear a full fringe, use some styling wax to hold them in place. You will need to have longer bangs to pull off this look - eye-skimming length is ideal.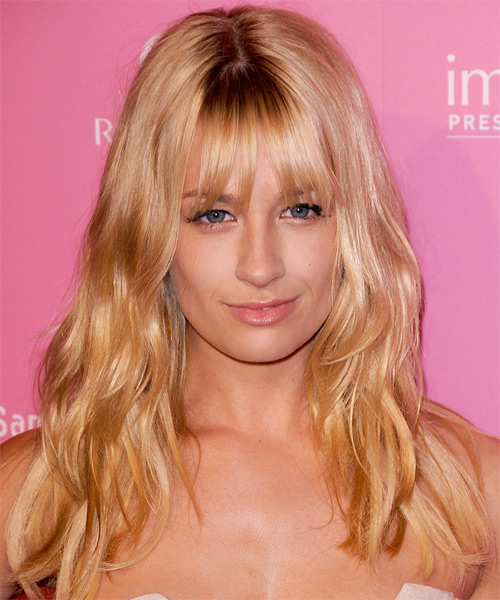 Beth Behrs sports a light, layered fringe that will look great and feel comfortable in the summer. These airy bangs provide just enough coverage to the forehead without being sparse.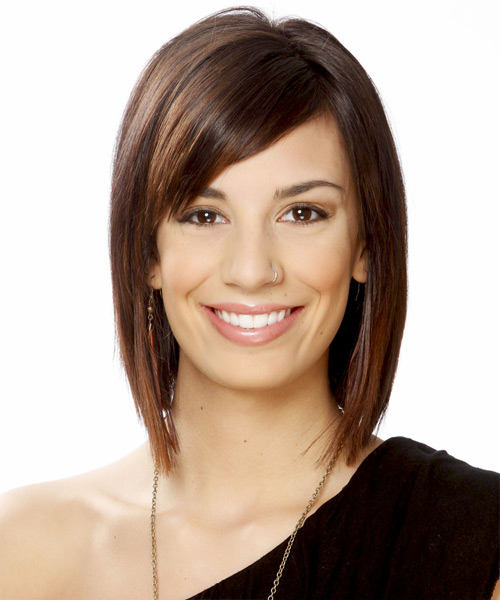 If short bangs are essential for you, adding some razored edges can help break up the heaviness and provide a gorgeous frame for your eyes.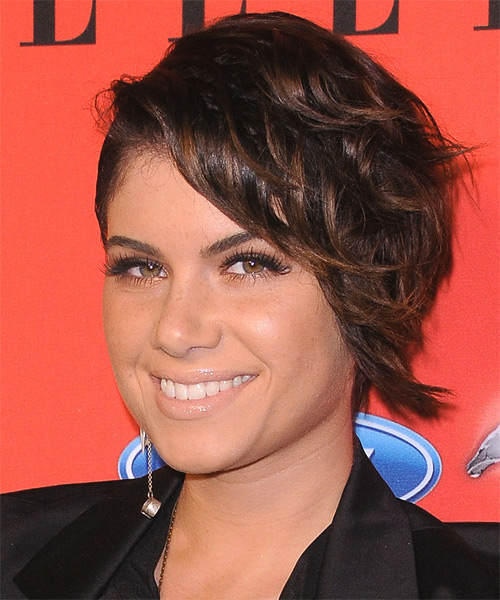 Or if you are growing them out, copy Leah Labelle's look and add some side-swept curls to the mix. This is the perfect way to wear bangs with an updo, bun or ponytail.
For hot days on the beach, you may not want any bangs at all! In that case, scrape them back off your face into a tight ponytail, Katy Perry style (neon hairpiece optional).
Summer Hairstyles for Asian Hair
It's been a while since we rounded up the latest hairstyles for Asian women, and what better time to do so then in summer? The following styles will work with Asian hair, which typically has very thick strands and a poker straight texture. This can make it difficult to wear certain styles but fear not, all of the hairstyles in our list have been tried and tested by some of the most glamorous Asian celebrities in Hollywood. Not only will you look fabulous if you wear one of these styles, you won't have to spend a load of money or time to get these looks either. Make the most of your beautiful Asian hair type with these Summer hairstyle ideas!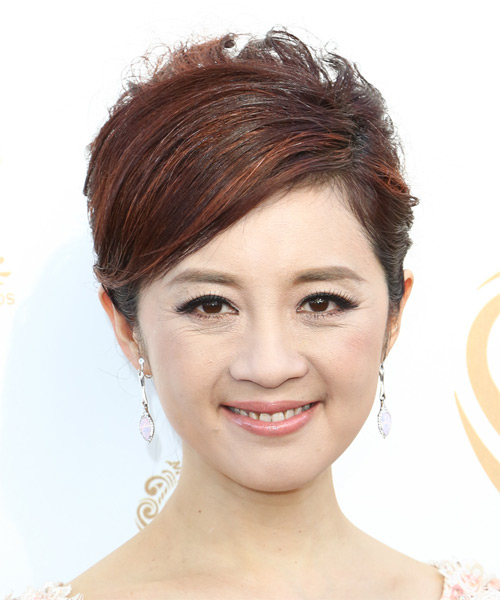 Starting with a classy hairstyle for those summer nights, here is Olivia Gehui Xu wearing a simply elegant short 'do. This hairstyle will suit round, oval, heart, and triangular shaped faces the best and is a great way for Asian ladies to wear short hair. This hairstyle has a tapered nape that graduates into jagged layers near the top of the head. The front layers are much longer and sit nicely swept to the side, with a deep part creating a nice angle to this hairstyle. Another cool feature to this hairstyle is Olivia's color. Her naturally black base color has been highlighted with various shades of auburn red, which looks great with her complexion. This hair color will suit Asian ladies with fair skin and pink undertones the best.
As always, Lucy Liu is looking fabulous in her signature long 'do here. This is a versatile and flattering hairstyle for Asian women as it works with the naturally straight texture that most are blessed with, and it's easy to maintain. Not to mention that you have many styling options in the summer - from ponytails to buns to braids - long hair does it all. Here, Lucy has used large rollers to set her hair and create lots of volume and bounce. Style tip: Using rollers then brushing the hair through also does wonders for adding shine and sheen to the hair and works a treat for dark Asian hair!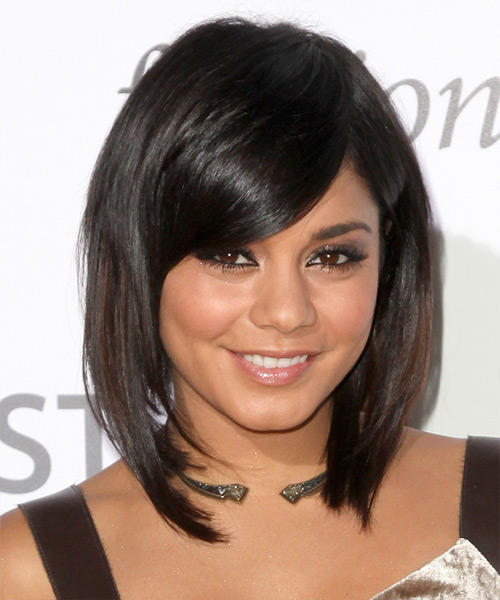 Fun fact: Many people don't know that Vanessa Hudgens is part Filipino, part Chinese. Here, she is rocking a gorgeous hairstyle that was made for Asian hair and is a great idea for summer. This graduated bob falls just past the shoulders in the front and sits at the nape of the neck in the back. It would look just as good with a grown out fringe but Vanessa's side swept fringe adds a sexy peek-a-boo look. This hairstyle only takes a few minutes of styling time and would suit round, oval and heart-shaped faces the best.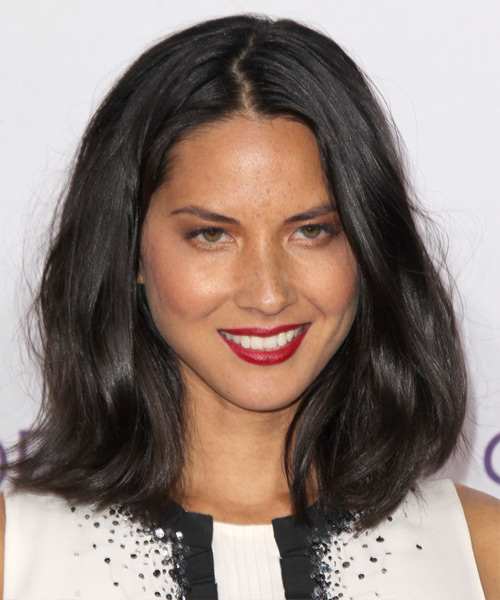 Here we have Olivia Munn with a simple and elegant summer hairstyle idea for all of the Asian ladies out there. This blunt bob has a messy centre part and loose waves throughout for an effortlessly cool look. This is a great option for Asian women with round, oval, heart, and triangular shaped faces. To achieve this look, simply twist your semi-dried hair into a bun and let it finish drying. Then unravel when dry to create barely-there messy waves. Or for a more polished look, use a curling wand to add some bounce to your 'do.
Summer Hairstyles for African-Americans
We're back with the latest dose of hot summer hairstyles for African-American women, as modelled by the creme de la creme of Hollywood. These are gorgeous hairstyles for you to rock on those hot summer days and nights, so keep reading to find out which one is perfect for you!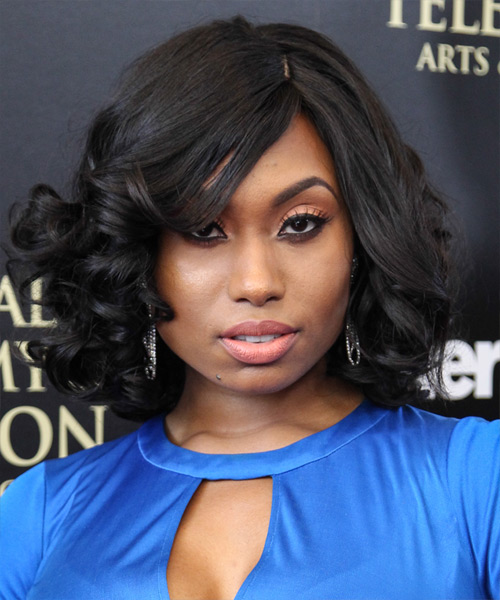 Starting off this month's list of hot hairstyles for black women is Angell Conwell's bouncy medium 'do. Angell looks stunning in this sexy curled hairstyle with a peek-a-boo fringe that would suit both casual and formal occasions. To get this glamorous hairstyle, simply section off the hair and use a curling iron on each section, wrapping the hair away from the face. This technique gives that cool Seventies look where the hair is curled off the face. Once your curls have been set, spray them into place as is and don't be tempted to use any backcombing or brushing - this hairstyle is all about crisp curls! This hairstyle will suit oval, oblong, square, and diamond shaped faces the best.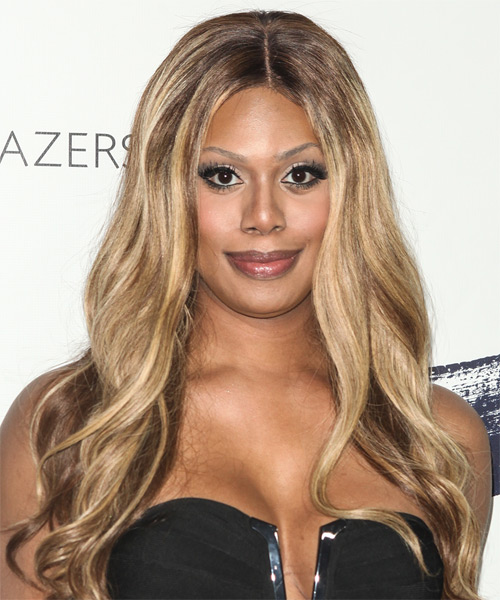 Laverne Cox is flaunting a super sexy summertime hairstyle here that many women out there will want to copy. Her highlighted mane looks great with her skin tone and really lightens up her look for summer. Laverne's base is a dark beige blonde complimented with light blonde highlights. The hairstyle itself is quite simple - long layers and a center part are the only things needed here for an exquisite look. Another thing this hairstyle has is versatility. While it looks stunning left down with some loose waves added in, Laverne has the option of wearing buns, chignons, ponytails, braids and whatever else she fancies too! This hairstyle will suit women with round, oval, heart, and triangular shaped faces nicely.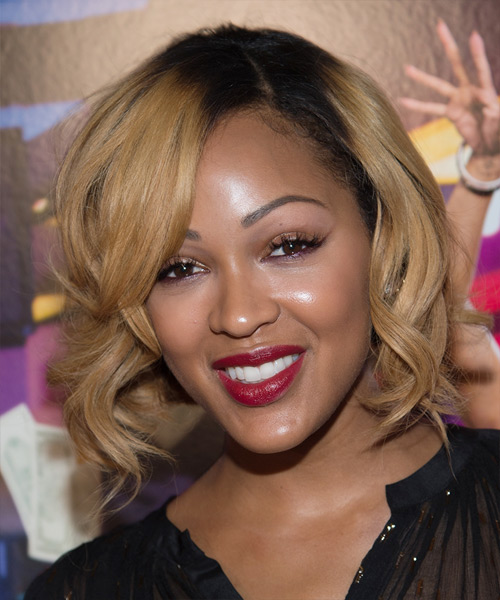 Finally, Meagan Good shows us a short and curly option that is fabulous for the summer. This chin-length bob looks fantastic with simple waves added in for extra bounce, and her warm blonde hair with obvious roots looks seriously cool! This is a trendy 'do that can easily be achieved by using a curling wand to add loose waves all over. This hairstyle would look fabulous on monotone shades of hair, but we love the daring roots that add that extra bit of edginess. This hairstyle will work best for women with oval, oblong, square, and diamond shaped faces.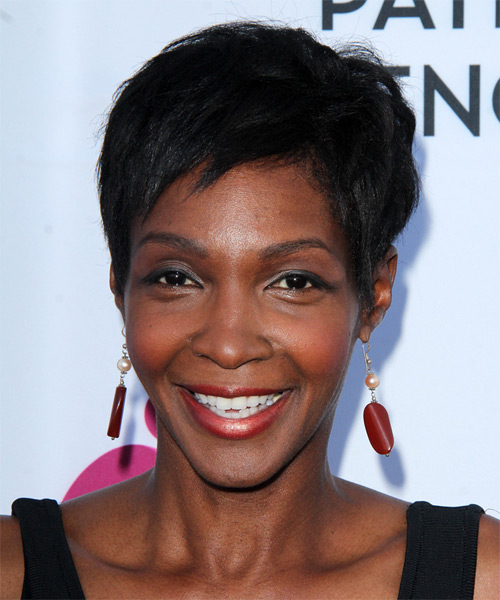 And finally, for all the ladies who love short hair, check out Roshumba Williams' sassy pixie cut. This short 'do has jagged layers cut in throughout for maximum styling power and volume. Roshumba's hair has ample volume in the crown that adds height to her face while the layers in the front create a nice frame around her eyes and cheekbones. In addition to looking fabulous, this haircut only takes minutes to style as well! Ladies with oval, oblong, square, and diamond shaped faces will flaunt this hairstyle the best.
As you can see, summer hairstyles have never looked better. Have any of these styles inspired you to change up your look?