While a new colour and cut is the obvious way to update your look, there is another way that is much simpler and doesn't involve a lot of time, commitment or money, and that's changing your part!

You may be wondering if parts really can go in and out of fashion, and according to the fashion runways, yes, they can. Obviously, if your face shape doesn't suit a center part then just use what works for you. However, the following face shapes should definitely try out a center part for a new look this season:

- Oval
- Diamond
- Heart-shaped (only if you have longer hair)
- Oblong

When you want your facial features to be the centre of attention, or if you want to flatter your face shape with a halo of hair, then a centre hair part is the only way to go. Now, it's time to check out the best center-parted hair – find your length and check it out!
Long Hair
Although center parts usually get a rep for being more bohemian looking, this isn't always the case. Maria Menonous shows us here how sophisticated a center part can look with some high volume waves added to the rest of the hair. This hairstyle has been created by first setting the hair in large rollers to get those gorgeous bouncy waves, then backcombing the roots all over to add volume throughout. For the finishing touch, create a sharp center part from the front to the middle of the head, and then backcomb the roots a bit more and flip the rest of the hair back for a Sixties-inspired bouffant effect.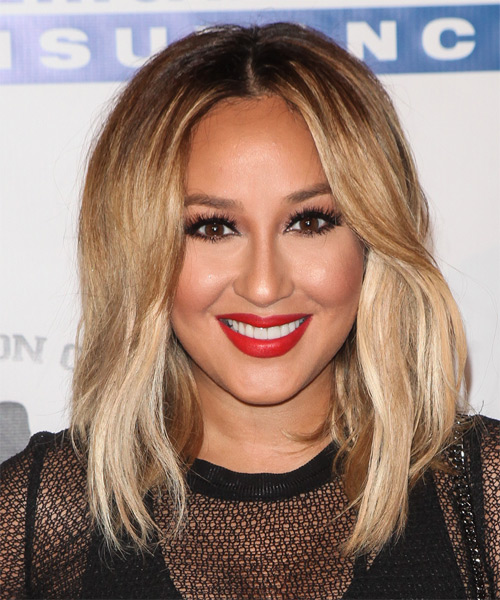 Medium Hair
This season, subtly waved bobs are all the rage and a center part is the perfect way to style it up. Adrienne Bailon looks chic in a center part here—it works well with her oval face shape and blunt haircut. Although her loose waves are bang on trend, this hairstyle would looks just as fabulous worn sleek and straight with a sharp center part too. For a more casual look, Adrienne could leave her part intact and pull the rest of her hair into a low ponytail or bun for a trendy variation.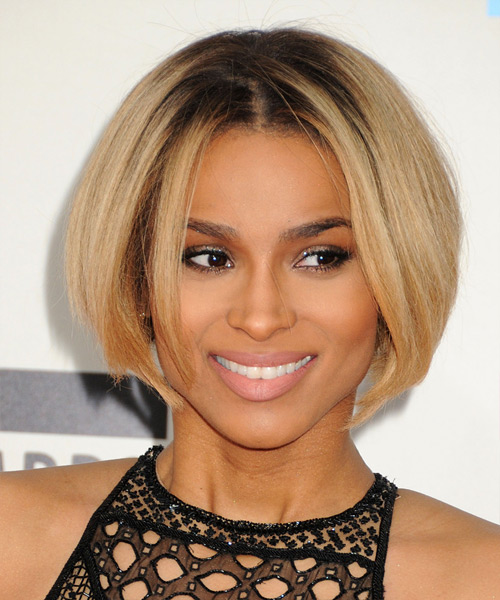 Short Hair
Ciara has the center part look perfected here on her short bob. Her chin-length bob looks fantastic with her center part and really shows off the angles of the cut. Ciara looks fabulous and is rocking her center part with ease, however ladies who don't like obvious roots may want to go for a jagged center part instead of a straight one to help camouflage root re-growth.
More Center Part Hairstyles
Still looking for more ideas? Check these gorgeous center parted hairstyles out: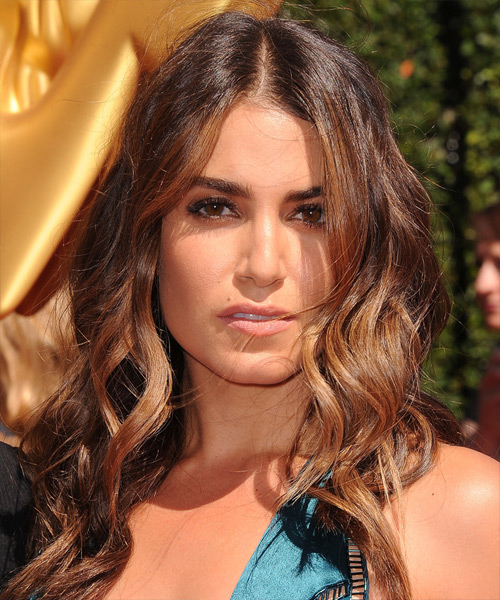 Nikki Reed looks flawless here in long curly brunette locks that have been parted in the center. This flatters her diamond shaped face and shows off her sun kissed highlights too!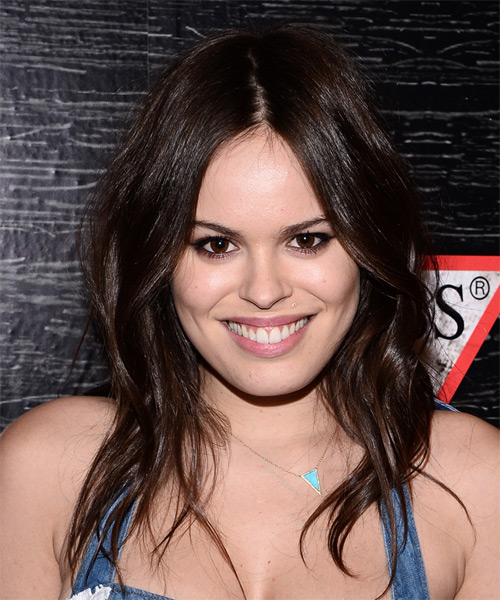 Atlanta De Cadenet Taylor goes for beachy waves and a center part here for a cool and trendy look. Her oblong face suits a center part nicely and the piecey waves give her a fashion forward look.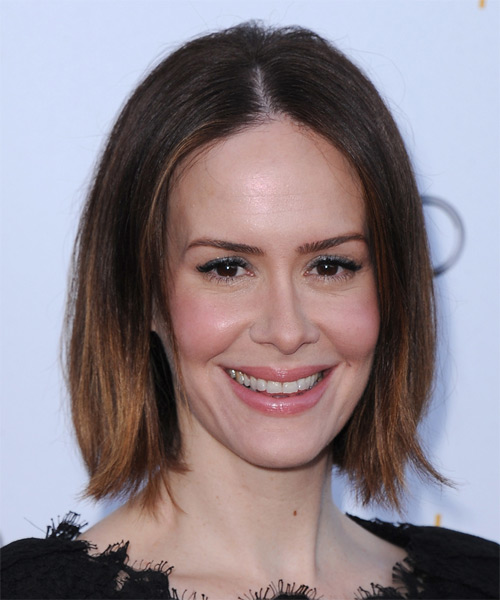 Finally, Sarah Paulson shows us that simple is where it's at with this chin length bob and center part. This hairstyle keeps all of the focus on her face and shows off her ombre haircolor.
A Centre Hair Part Teamed with Bangs


A lovely set of full, blunt cut bangs just aren't complete without a centre part to style your hair into a great position, as shown above right on Chyler Leigh. It helps your bangs to sit flat and allows the rest of your hair to flatter your features and fall around your bangs. Another great way to wear bangs with a centre part it to add that centre part to your bangs, à la Bryce Dallas Howard.
A Centre Hair Part Teamed with Updos


If you're looking for a way to add a change or some interest to your updo, then why not try parting your hair down the centre and then styling your updo? It looks great when teamed with a half up half down hairstyle (as shown above on Ivanka Trump), and equally just as stunning on a pulled back updo, such as the one seen here on Alexa Vega.
A Centre Hair Part Teamed with Hair Texture


Different hair textures and a centre hair part is the classic way to wear this great look, and nothing is more stunning then a centre hair part and some great shiny, straight hair. Katie Holmes shows how it's done with her salon straight strands and centre hair part. If texture with more hair volume and fun is what you want, however, then Rebecca Mader and her fantastic looking curls is a celebrity hairstyle worth copying.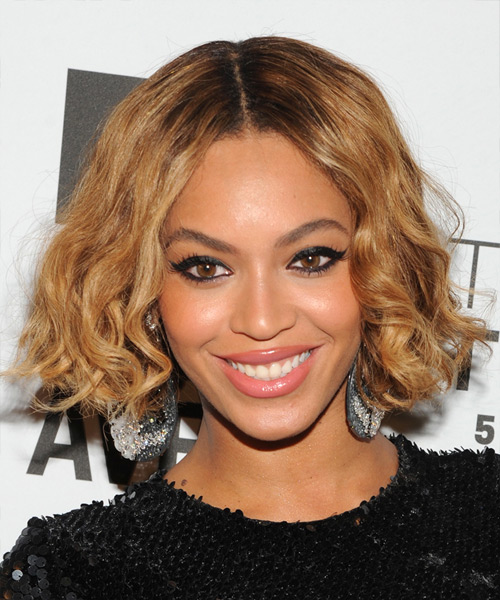 Beyonce looks fabulous in a center part here. Her curly bob frames her face nicely here thanks to her straight center part and it also works with her oval face shape. Center parts are not usually an optimal choice for women with high foreheads like Beyonce, but her curls fall around her face perfectly so that its appearance is minimized. Give this one a try if you have a wavy or curly bob like Bey and want to add some structure to your 'do.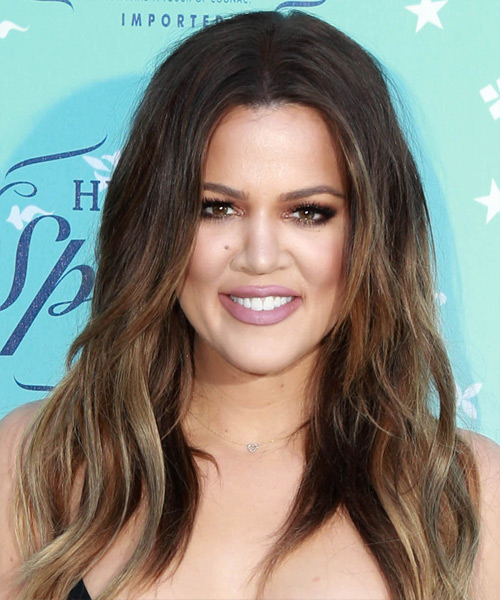 Khloe Kardashian also likes to rock a center part, which is a good choice for her fuller face shape. Ladies with full or round faces will benefit from a center part, which can give a more angular effect. Khloe has paired her center part with a long wavy hairstyle that looks soft and feminine. The center part also works well with Khloe's cool ombre colour, and intensifies the look of her brown to blonde tresses.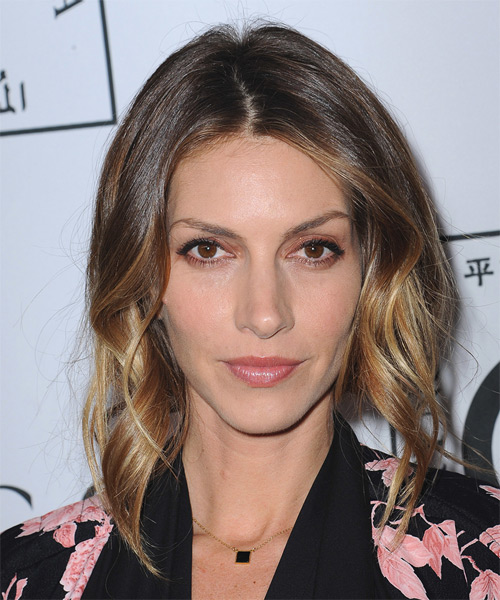 Here, Dawn Olivieri is working a center part with a messier, cooler feel to it. Instead of going for a polished, straight look, Dawn's loosely waved bob is subtly parted just off center. This is perfect for ladies who love that effortlessly cool, just rolled out of bed look.
Arden Myrin is going for the same effect as Dawn (seen above), with a soft center part. This looks great with her wavy bob and long fringe. Overall, it maintains the soft look of her 'do and keeps the attention on her gorgeous curls and eye skimming fringe. Plus, it makes her roots less noticeable, so use this technique if you want to minimize the look of your root re-growth.
Finally, for a more model-esque severe look, check out Genesis Rodriguez's ultra straight hair and center part. This is the perfect part for ladies with fabulous cheekbones like Genesis, as it brings all the focus front and center. This minimalist look will suit women who like to show off their hair in a simple, classic style without any waves or curls. This striking look works best on women with healthy, glossy hair, so keep this in mind if you want to give this one a try. Visit your stylist to clean up the ends first for best results.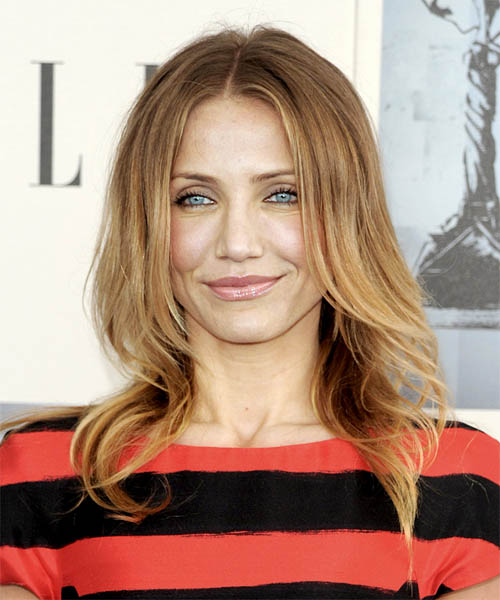 Here are some tips if you're thinking of trying a centre part yourself:
Center parts divide the face into two equal portions and typically create the illusion of length. For that reason hairstyles with center parts are a good choice for face shapes that could do with a little length- like round and square faces.

If you have long straight hair and you'd like to wear it out with a center part but you don't want to look like Neil from The Young Ones (i.e. the "curtain hair effect") then get some layers in your lengths.
Center parts draw attention to the face so make the most out of the spotlight and emphasize your eyes with eyeshadow.

If you're not sporting your natural hair color and you're keen for a ruler-straight center part then you're going to need regular touch-ups on your roots.

Try playing with a mix of different textures for effect; for example a neat parting mixed with tousled lengths can look great.

Speaking for myself, I think I've finally let go of my hang-ups about center parts and their similarity to bottoms (thanks to my sister ingraining that idea into my head), and although I will always call them "bum parts," I'm ready to strap myself in and try a center part again
These are just a few hairstyle ideas for women with center parts, but check back often as we are always updating the site with new 'dos for you to browse!