It's that time of the year again and it's time to bust out the short hot hairstyles or the long, luscious 'dos! Whether you're at the beach, out on the town or - even better - enjoying an awesome holiday abroad somewhere, you'll need a lot of hairstyle ideas to get you through the summer. So work with your hair's versatility and try a few of these styles out.
The temperature is rising and as our clothing gets lighter and our makeup more au naturel, the temptation to get a fresh new shorter hairstyle can be hard to resist! If the dog days of summer inspire you to take a few inches off this year, you'll need some inspiration to get you moving in the right direction. Whether you already have short hair and need an update or you are looking to go for the big chop, these hairstyles are sure to inspire you. Short hair can be worn on all hair types and textures so it really is just about finding the right one for you. And not to worry - if you don't find the right style here, there are hundreds more to look at on TheHairstyler.com. But for now, let's check out some hot short 'dos.
Check out these short hairstyles below and see which one will match your face shape, fashion sense and personal style the best. Then, just print it off and head on down to see your stylist!
Windblown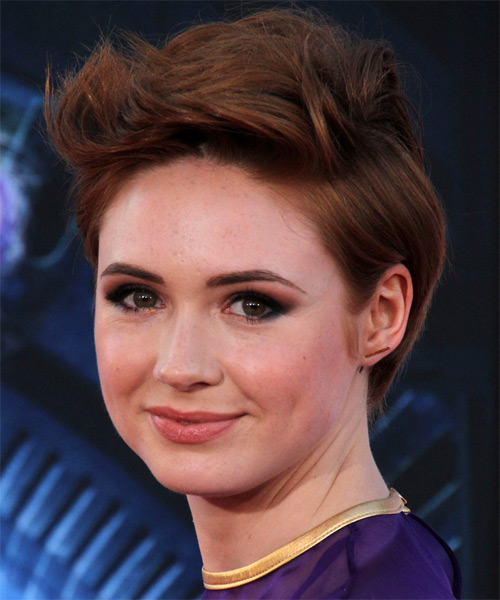 Here, Karen Gillan is looking stunning in a short hairstyle with a cool windblown effect. This 'do will suit round, oval, heart, and triangular faces the best, and ladies with straight hair will have the best luck with this look. This hairstyle tapers in around the ears and at the nape of the neck for a tidy finish, but the long jagged cut layers on top can be styled up with maximum volume. For those days when you crave a simpler look, this short hairstyle can be worn down for a smooth and sleek look.
Pixie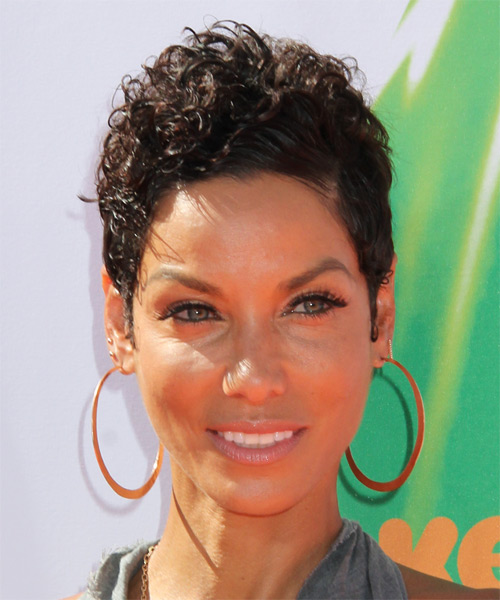 Nicole Mitchell is rocking a cool pixie 'do this summer with fabulous results. Rather than go for an all-over cropped look, her hairstyle has longer layers on the top which gives her nice volume in the crown area and really shows off those curls! This hairstyle is a great option for wavy or curly hair and an extra bonus is that you can style it up in minutes. This cut is best suited for round, oval, heart, and triangular face shapes and is the perfect choice for women who like wash and go hairstyles.
Side Swept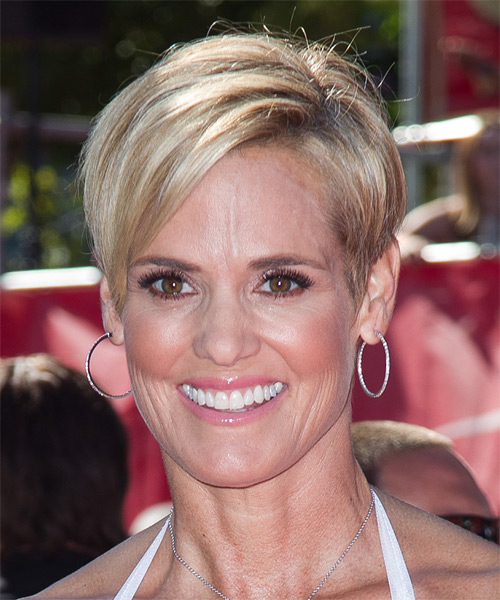 Here we have Dara Torres in a simple but chic side-swept 'do that is just perfect for the summer months. The top layers in this hairdo are left long and graduate up at the back while the front layers skim the cheekbones. Not much styling is needed for this 'do; only a quick blow dry with a round brush is rewired to get this sleek look. Women with oblong, oval, square and diamond face shapes will be flattered the most by this hairstyle, and it will suit women who flaunt a simple yet sophisticated look for both day and night.
Chic 'Do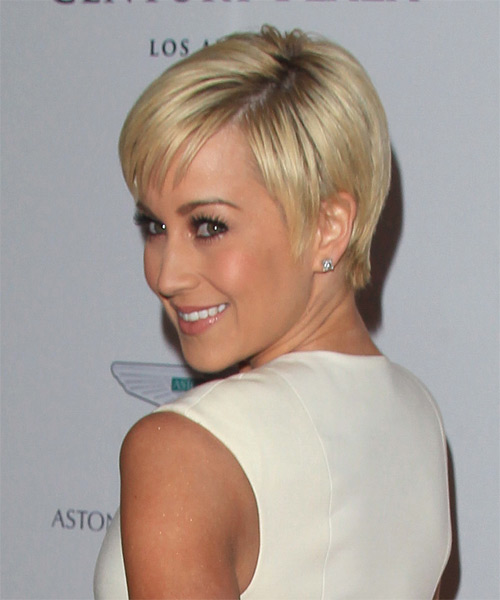 Kellie Pickler looks oh-so-chic in this layered 'do. This haircut is perfect for those long, hot days and nights of summer when the last thing you want to deal with is long, heavy hair. This cut has longer layers on the top that contour to the sides of the head to create volume in the crown and a chic, sleek look on the sides. The side-swept fringe is a cute touch that helps to slim the face down (if needed) and bring out the eyes. This hairstyle is perfect for women with fine to medium thick hair that like a cut with minimal styling time. It suits all face shapes nicely, except for squares or rectangles who would benefit from a longer version of this 'do.
Asymmetrical Layered 'Do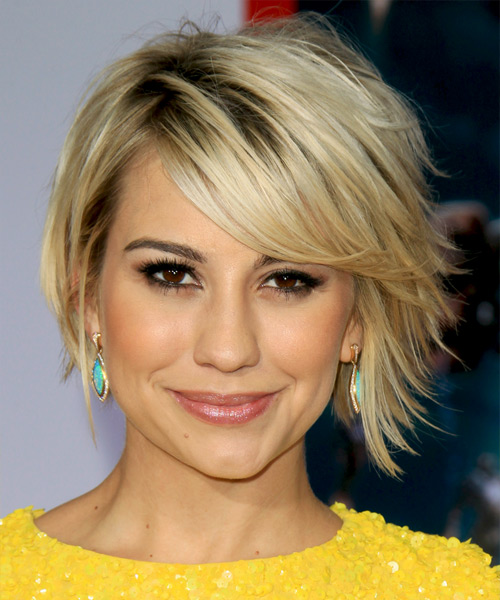 Chelsea Kane looks fabulous in this asymmetrical layered 'do that is perfect for the summer. Her heavy side-swept fringe blends into the longer side of the hairstyle nicely and can easily be pinned back on those extra humid days. The back is graduated upwards so that maximum volume can be achieved in the crown and the ends can be easily volumized and styled with a bit of hair styling product. This choppy hairdo works well on fine to thick hair and flatters all face shapes. Wear it slicked back behind the ears on those unbearably hot days or mess it up like Chelsea if you want a fuller, funkier look.
Cute Crop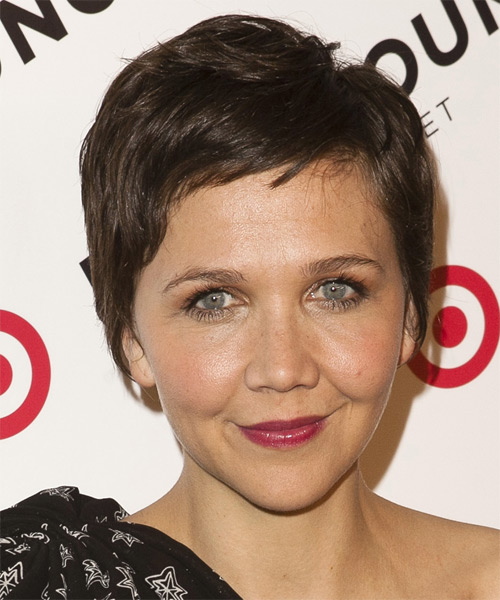 If you want something that is ultra-carefree for your summertime style, try Maggie Gyllenhaal's cute crop. This haircut is the ultimate no-fuss style that looks fabulous in minutes - a definite plus for women on the go. This haircut was made for ladies with round faces, so if this is your shape, you may want to give this cut a try on your next visit to the salon. The volume in the crown is a great way to add height to the face and balance out wide jawlines. The layers are roughly the same length all over to add volume and body throughout the style, and a slight fringe has been cut in at the forehead line to provide a delicate frame for the face. It can be worn sleek or messy, depending on the look you want to go for - extra points for versatility!
Spiky 'Do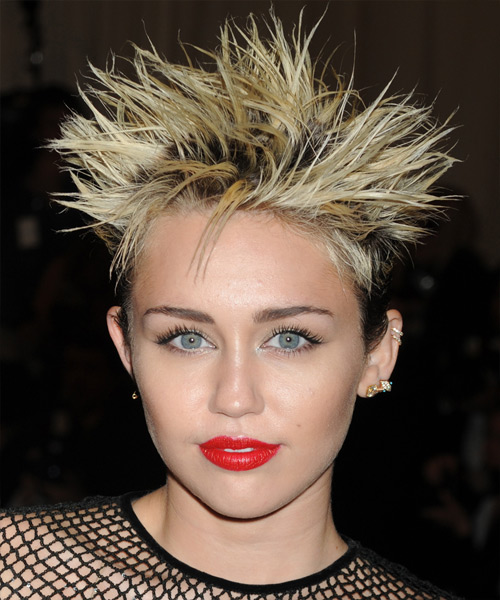 If you feel like going a little punky this summer, there is always Miley Cyrus' extreme 'do. Her ear-length layers have been spiked straight up for maximum head-turning effect while the sides have been gelled back. Warning: This look is more costume that pret-a-porter, so choose this one with caution!
Mohawk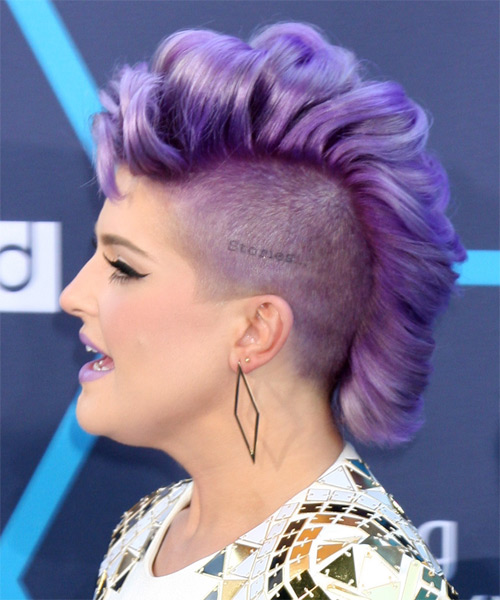 Finally, here is something a little avante garde for all of the bold ladies out there. This Mohawk hairstyle will definitely grab everyone's attention - with or without the violet colour! This hairstyle is shaved on the sides with a long section that starts from the forehead and ends at the nape of the neck. Kelly has further enhanced her flamboyant hairstyle but adding large curls throughout which gives this hairstyle ample volume and body. This hairstyle is best suited to women with round, oval, heart and triangular shaped faces best. And of course, those with an edgy sense of style!
With each one, wearing it down or up is an option so you have plenty of looks to choose from. For day or night, long hair is so versatile in the summer - up, down, braids, buns, chignons, ponytails - you name it, long hair can do it. If you have long hair, then check out the latest styles below direct from the red carpet for your fix of hair inspiration. If you have short hair or are trying to grow yours out and want to try one of these looks, clip in extensions may be an easy, temporary solution to wearing a long 'do this summer - give it a try!
Ultra Long Locks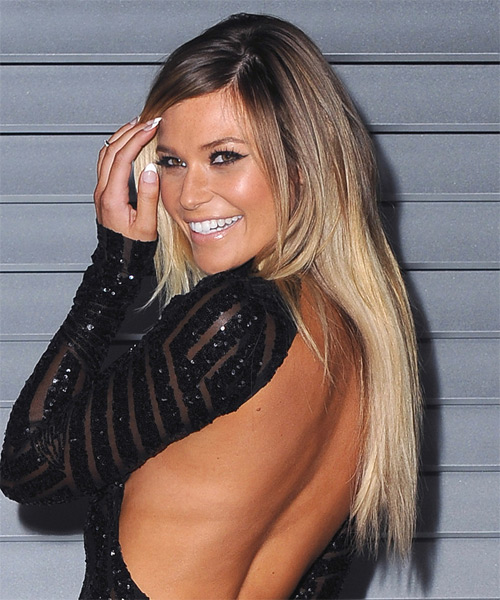 Samantha Hoopes is looking every inch the bronzed beach beauty with her ultra long locks. Sam's hair has quite a dramatic ombre' effect to it, which can totally be pulled off in the summer for that surfer girl look. If you like this look, you will need to lighten your mid lengths and ends to a light bleach blonde, leaving a good few inches of roots showing for that surfer girl effect. To style, Samantha hasn't done anything special here but blow dry it straight. One word of warning: if you bleach your ends out, they will look dry just like Sam's. Use a flat iron to smooth the hair out and then apply a shine serum throughout the hair for a sleek and shiny finish.
Long Glossy Tresses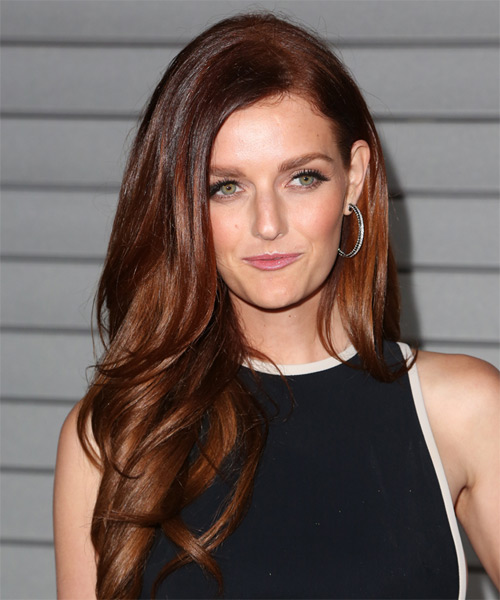 Lydia Hearst is looking ravishing here in deep auburn locks that cascade down on one side. This look is all about amping up the glamour with glossy, bouncy tresses. To get this look, first blow-dry your hair with a round brush, adding extra volume at the roots. Blow-drying the roots in the opposite direction, or flipping the head upside down to dry can achieve this. Then, add in large bouncy waves with your round brush, or set your hair in extra large Velcro rollers. Finish it off by adding volume all over at the roots by backcombing, and then finish it off with a shine spray.
Long Blonde Waves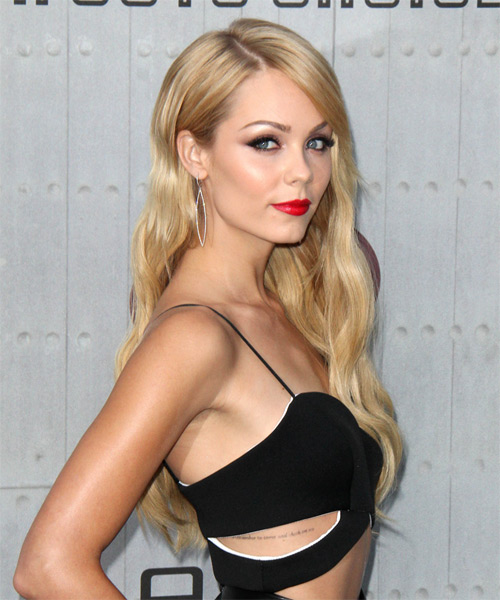 Here, Laura Vandervoort looks ready for summer with her buttery blonde waves. This hairstyle is fancy enough for the evening but casual enough for the daytime too. To get these cool, casual waves, you can braid your hair when it is slightly damp and let it set overnight. Or, you can create them by using a large curling wand on a low heat setting. Use random thicknesses of sections for best results - you don't want this hairstyle to look too overdone but rather go for effortless waves.
Long Wavy Hairstyle
Lucy Hale is looking ready for summer in her long wavy hairstyle. This is a great option for women with natural texture in their hair - just let it hang loose and do its own thing. Lucy has created a soft side part in her hair, letting her fringe sweep softly to the side while the rest of her hair looks voluminous and bouncy. Some styling spray is all that is really needed to perfect this easy, breezy summer hairstyle.
Updo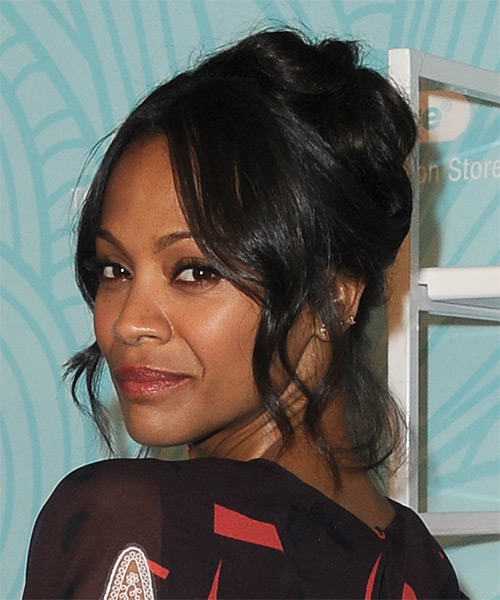 On to this gorgeous updo hairstyle as seen on Zoe Saldana. This feminine 'do screams 'hot summer nights' and would look fabulous worn for a night on the town, summer wedding or other special event. Women with round, oval, heart, and triangular shaped faces will be able to pull this style off the best, but all hair textures are a go for this hairstyle. Ladies with curly hair will simply need to leave some face-framing layers down while pinning the rest of the hair up at the crown of the head. Women with wavy hair can follow the same procedure while women with straight hair will first need to add in waves with a curling wand or iron. Style note: To get the best updo, use medium sections of hair and gently twist them around and around until they curl up flat on the head. Then pin into place.
Casual Summer 'Do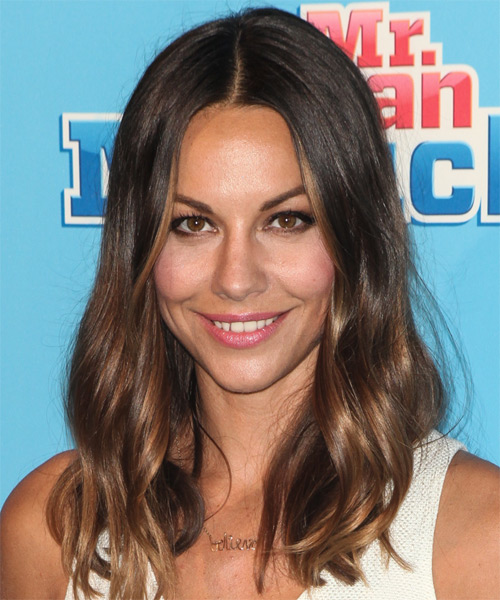 If you are looking for something a little more casual and carefree, check out Sunnie Brook Jones' sexy summer 'do. While this is technically a medium length hairstyle, it will work just as well for long hair too. This hairstyle will work best on round, oval, heart, and triangular shaped faces with a straight or wavy texture. To achieve this look, simply center part your hair and add in loose beachy waves by curling random sections around a curling wand, or letting the hair dry naturally while wrapped in a low bun. The color is another summery style must-have, too. Sunnie's natural-looking sun-kissed ends look fabulous in contrast with her darker roots. To get this look, ask your colorist to give you a subtle ombre effect.
Long Hair With Bangs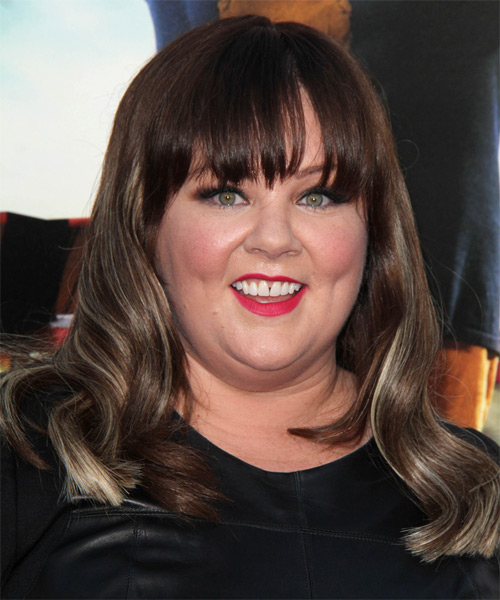 With the exception of the leather dress, Melissa McCarthy is looking super summery here with blonde highlights and a sunset pink makeup palette. This is a great technique for brunettes to lighten up their look in the summer - simply add in some blonde highlights to the length of the hair as seen here, and go for some tropical makeup shades. In Melissa's case, her long hair with bangs looks fabulous when paired up with her sun-kissed highlights and bright coral pink makeup. This hairstyle looks gorgeous worn down with soft waves, but looks just as cute when pulled up into a chic bun or chignon.
As you can see, there are many glamorous hairstyles for ladies with short or long hair to flaunt this summer. Whichever look you go for, don't forget to finish off it off with a cool pair of sunglasses and some fantastic accessories!
These are just some of the best summer hairstyles - check back soon for more ideas!