If you are a fan of the ever so popular ombre look, then you're going to love this new trend that has popped up this summer. It's all about brightening up your ends in anything but a subtle manner; in fact, the bolder they are, the better! Similar to the ombre technique, this look consists of darker roots that graduate lighter at the ends. However, unlike the ombre effect, this look uses more of a dramatic two-tone look instead of a soft fade.
This hairstyle trend has been seen all over the red carpet lately, so check out these celebrities for some inspiration!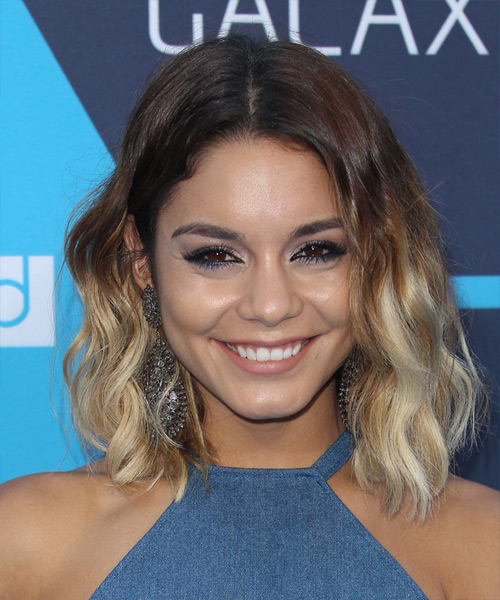 Vanessa Hudgens has transformed her look with this hair colour technique with fabulous results. Her wavy bob looks chic and edgy with this multi-tone effect that is anything but subtle! Vanessa's naturally dark brown hair colour is seen at the roots, before going into a brassy copper brown and then finally into a white blonde at the tips. Vanessa can pull all three of these shades off so there really is no problem here, but if you want to mimic this look then just make sure your complexion will match whatever colours you choose. Vanessa's hairstyle looks best worn down but would also look cute pulled back, as long as she doesn't mind visible chunks of colour showing.
Kelly Price has also gone for the light, bright ends look here in this retro, Seventies-inspired hairstyle. Kelly's hair looks fabulous with a short, flicked out bob that goes from black to blonde in a bold and dramatic fashion. Rather than have the colour fade out like Vanessa's hair (seen above), Kelly's naturally black hair has been dip-dyed blonde for a head-turning look. In this case, the more extreme colour choices you can make, the better. Kelly has chosen two ends of the spectrum with black and light blonde, but other combinations would look fabulous also. Try blonde and pink, black and blue, or any other crazy colour combination you can think of.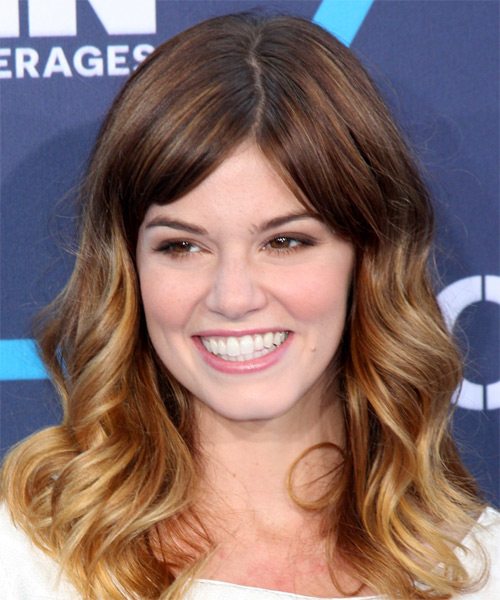 For all of the brunettes out there, check out Rachel Melvin's cool 'do here for some hairstyle inspiration. Rachel's medium length wavy hair looks amazing with the top half being brown and the bottom half a warm golden blonde. Rather than go for the dip-dye look however, Rachel's colourist has used an abundance of highlights to get the same dramatic lightening effect but without a harsh line of colour between the two shades. This is a great colour combination for women who have a warm undertone to their skin and generally like hair colours with a golden tone to them.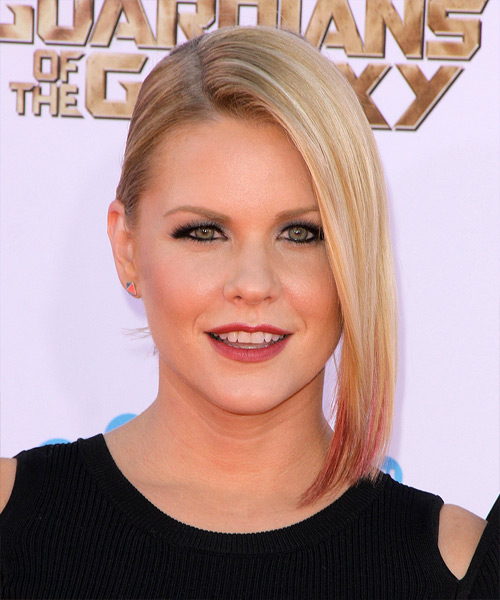 Finally, Carrie Keagan shows us how to do a subtle version of this trend with just the tips of her blonde hair being dip-dyed cherry pink. This is a reverse of the dark-to-light colours that we have seen above but for blondes, this is a fun and easy way to get involved with this trend. And, this can be done for one night only if you don't want to make the commitment to this hair colour permanently. Simply use a spray or paint-on temporary dye that can be found at any drugstore or chemist.