To balance out your features, your hairstyle should have lots of height, angles and softness added to it. If you want to update your style, check out these new hairdos for round faces for some inspiration.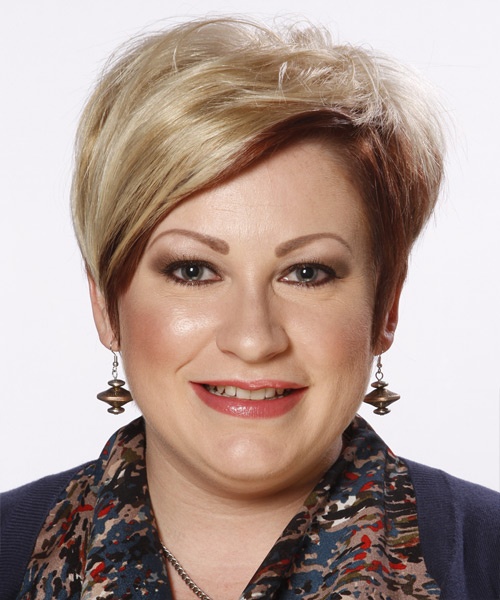 This hairstyle works well for round faces because it creates added height with all of the layering on top. The deep side-angled hair part creates a line that makes you look slimmer, not to mention chic and modern. Our model has chosen a light blonde hair shade on top with a deep copper hair color underneath for a trendy take on short hair.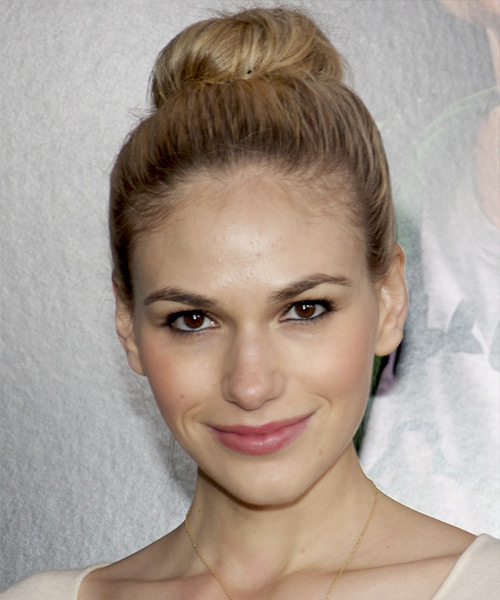 If you have long hair and a round face, this cute top knot is the ideal way to tie your hair up. Simply pull your hair into a high ponytail, twist, and pin into place.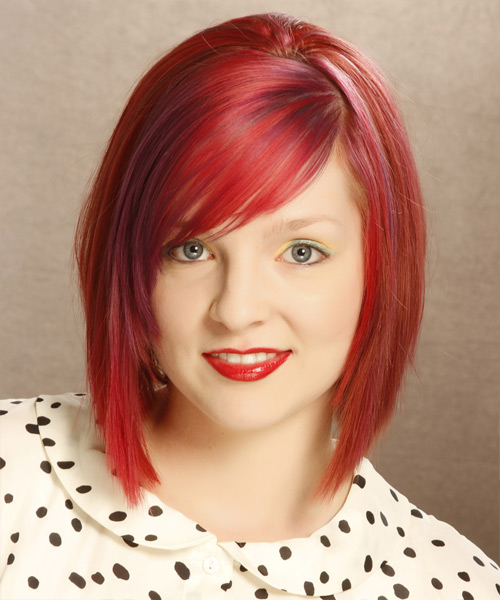 I
f you have a round face you don't need to rock a funky color but this haircut may be a great option for you. The side-swept bangs and graduated ends create a beautiful silhouette and will make your face shape appear more oval.
Kelly Clarkson is known for her powerful voice and her ever-changing hair color. Usually blonde or brunette, Kelly likes to experiment with highlighting and different cuts - some that suit her round-shaped face better than others. If you have a round face shape, you will have a round chin and proportions that are equal in height and length just like Ms. Clarkson. Here are some of Kelly's most popular looks--let's see how they would fare on the average circle-shaped face.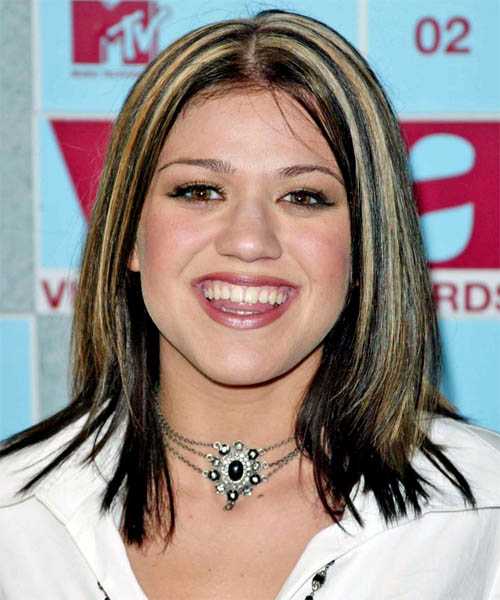 Kelly went a bit crazy with the highlighting here, but the skunk stripes aside, the length and cut is a good choice for circle-shaped faces. The layering in the ends create more definition in the face without dragging it down. Centre hair parts are not recommended for circles, so switch it to the side in any style you wear.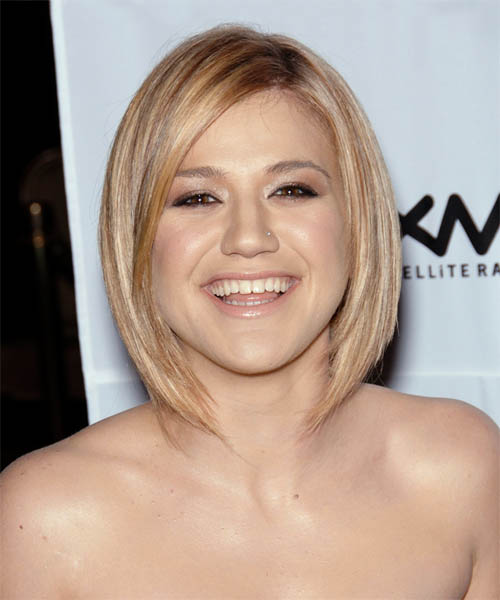 This is a fabulous cut for round faces because the angled ends and heavy layering creates a nice sculpted oval shape. Kelly has her parting spot on in this look, which slims her face down immensely.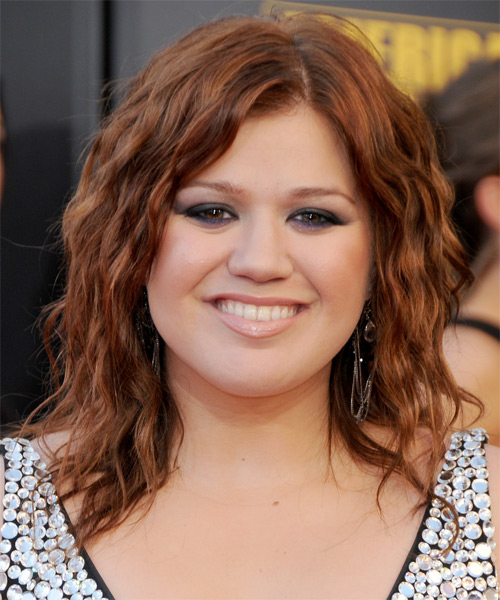 Kelly's gone copper in this sexy look, and her loose waves look great as well. Circle faces can pull off this wavy, medium-length style as long as there is lots of layering and thinning in the ends to avoid adding extra heaviness at the chin.
See more Kelly Clarkson hair looks and try the hairstyles on!
Glenda Hatchett looks radiant in her latest hairstyle - a cropped pixie haircut that brings all of the attention to her big brown eyes and bright smile. This haircut looks fabulous on all ages and skin tones. Younger women with an edgy sense of fashion will look chic and modern, while mature women like Glenda will exude confidence and glamour with this style.
This is an easy look to pull off for day or night. This haircut is low maintenance, which means getting ready in the morning is a breeze - all you need to do is wash, add a little product and go! To jazz it up for the evening, wear a show-stopping outfit and a piece of statement jewellery like Glenda's chunky necklace.
Get this look by asking your hairstylist for a layered hairstyle with an angled short fringe and tapered sides and back. Make sure that he/she adds lots of volume in the crown area. The haircut is best showed off with a shiny, one-tone hair color, like Glenda's black locks.
Although this haircut will suit all face shapes, it is especially gorgeous on round faces. The voluminous crown area adds height to the face while the jagged fringe adds a nice slimming effect.
She exudes confidence, warmth and a great sense of humor, so it's fitting that her hair should be just as flamboyant. If you are also a mature lady with a lust for life (and a round face), take some style notes from none other than southern queen, Paula Deen.
Paula embraces her silver hair which looks fabulous with her bright blue eyes and peachy skin. It also shows off her shoulder-length layered haircut. Paula has a round face so having lots of layers is essential. To make the most of this cut, she pumps up the volume by curling her hair and creating lots of height in the crown area. This is a great choice for mature women who enjoy having longer hair, but may take some work if the hair is naturally stick-straight.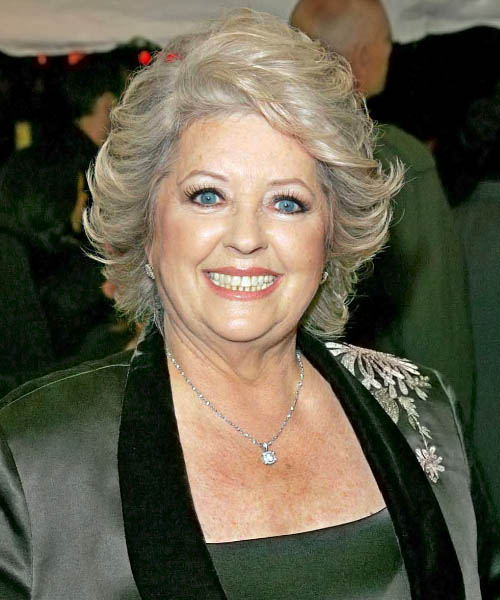 Here, Paula goes for a softer look in both color and cut. There is less length around the sides, however the layers on top are longer and swept off the face for a glamorous look. This hairstyle frames the face without adding extra width - something that mature ladies with round faces would suit perfectly. On a side note, thankfully Paula's also eased up on the fake tan!
See more Paula Deen looks and try the hairstyles on!
The options for round faces are endless; don't be afraid to experiment with your style!
To see how you'd look with this great hairstyles, click on the above images to try the virtual hairstyle with your own photo!