One of the most popular short hairstyles is of course the pixie haircut. Why? Because a pixie cut looks cute, feminine and flattering. Pixies cuts tend to give someone a sense of power. This hairstyle is adventurous and easy to maintain. The only thing that you might find difficult in the beginning is learning how to style your new hairstyle. Once you get the styling down to a fine art, you are going to look like a walking master piece!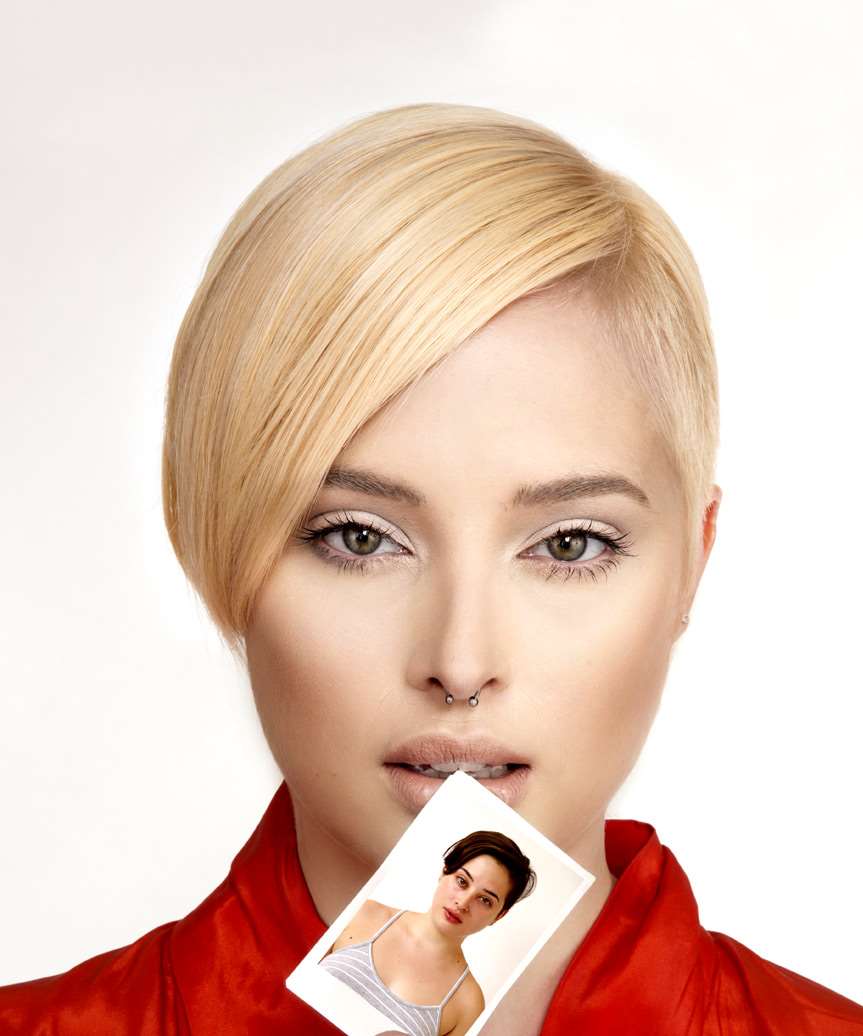 The pixie cut can work for almost anyone as long as your face shape and hair texture is taken into account. This look generally works best on oval face shapes and fine hair, but those with other face shapes and thick hair can still support a pixie as long as the look is adapted to them. Keep in mind that you also want to choose something that is going to suit your personality. To give you an idea of different types of pixie cuts and which one will suit your face shape, we have provided a few different styles for you to have a look at.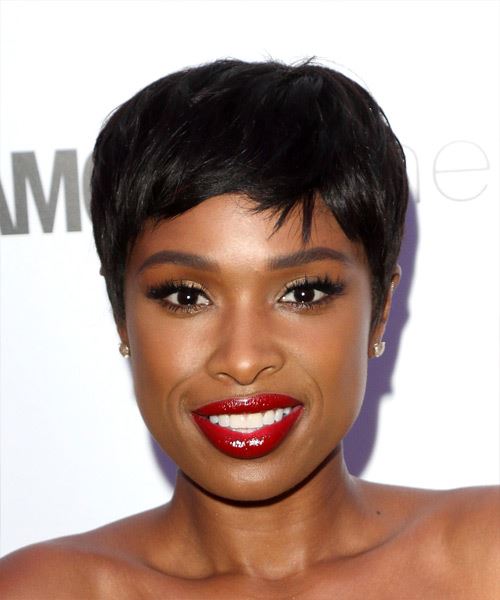 Things to consider before getting a pixie haircut
You need to be prepared that showering in the morning for the first few days is going to feel weird. It is going to become a weird concept for you that your hair can dry in about 10 minutes depending on how thick your hair is. This aspect is soon going to become your new best friend because getting ready in the morning or to go out is going to take you a lot shorter than you are used to.
If you want the pixie cut but you are scared that it is going to be too short, rather cut off a bit more every time you go to your hair dresser. This will help ease you into the full pixie cut and won't come as such a shock once it is done.
You are going to need to go and visit your hairdresser more often that you are used to. This is going to help prevent your look from becoming shaggy and out of control.
Growing out your pixie cut is going to take a long time! So be prepared to have this hairstyle for a while.
You are going to love your accessories even more! You do not have to worry about hair getting caught in your scarves or necklaces anymore. Your accessories around your neck as well as your earrings are going to become more visible and part of your overall look.
Your eye makeup is also going to become the star of the show. Due to the fact that you will not have hair in your face and eyes as much, people are going to notice your eye make up more.
You are going to need to give your hair time to settle. Cutting your hair as short as a pixie cut might come at a bit of a shock in the beginning. Give the new hairstyle about a week and it will grow on you.
If you are not sure how to style short hair and pixie cuts, make sure that you ask your hairdresser or stylist to show you how to style your hair properly before you leave. You do not want to get this amazing hairstyle, go home and hate it because it does not look the same as it did when it was styled properly.
Own your texture! If your hair is wavy, curly or straight, make sure that you choose a style that is going to showcase your hair texture.
When getting your hair cut, it is best to use scissors as your stylist can add some variations to your new look and this is also going to make the transition between hairstyles a lot easier in the long run.
If you wear glasses, you are going to want to make sure that you choose a pixie cut that is going to suit your glasses. Having bangs that are side-swept and falls over your eyes is not going to suit your glasses but if you have a more open face pixie cut then glasses are going to suit your new hairstyle.
When it comes to choosing the perfect pixie cut for you, the main thing that you need to consider is your face shape. Your face shape is going to help determine the best pixie cut hairstyle that is going to suit you. Please keep in mind that the pictures that we are going to show you below are just guidelines of the types of pixie cuts that suit certain face shapes. Overall, between yourself and your hairdresser, you will find a pixie cut that is going to suit your face shape as well as your personality.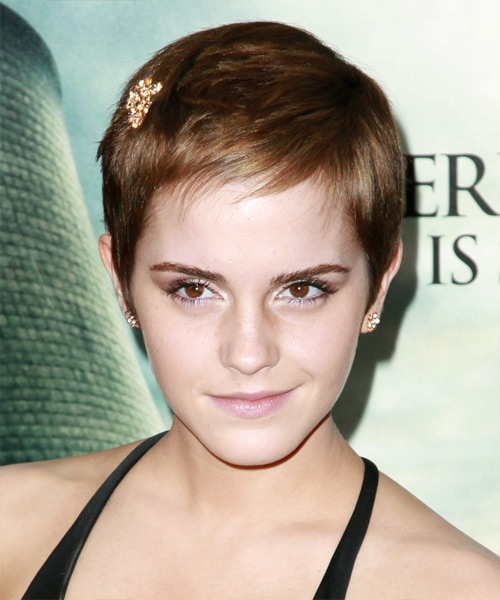 Only ultra short pixie haircuts will work on oval face shapes. If your face shape isn't oval then consider bangs or longer hair layers throughout your cut to make it work with your face shape. If it is oval, then give this super short 'do from Emma Watson a try. You are going to want to ensure that your makeup is on point with this hairstyle as your makeup will be on show more so now than ever!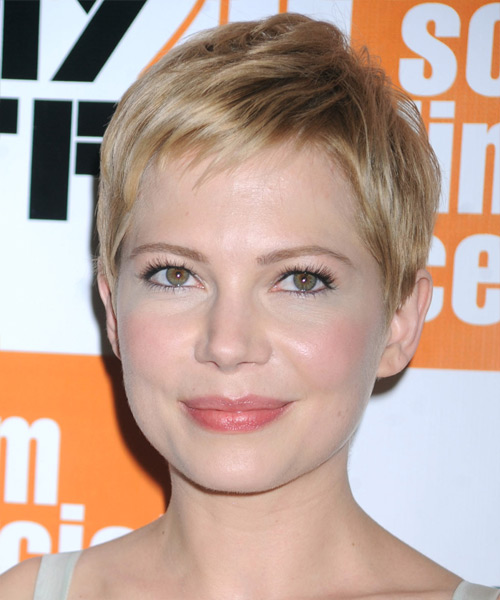 If your face shape is heart, avoid excessive hair volume in the crown area, but ensure your short pixie cut does have some height so that you don't make your short face look even shorter. A great choice is the more classic looking pixie hairstyle as seen here on Michelle Williams.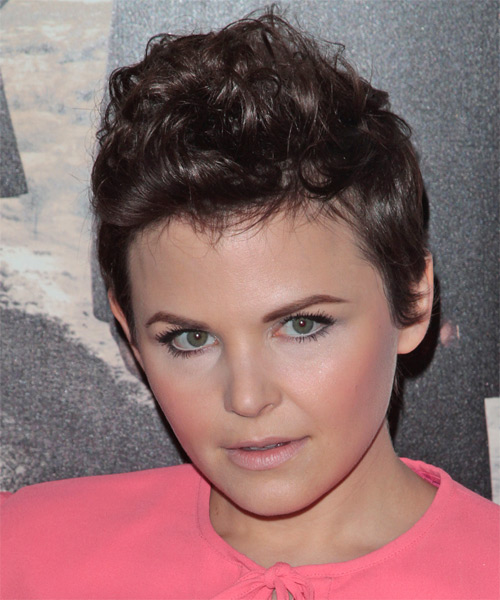 Round faces who want to try this look should opt for a pixie that does have some volume in the crown area so that you face will appear narrower. These pixie cuts are easy to style and there is a lot of room for you to play around. A versatile cut like the one seen here on Ginnifer Goodwin has a long layered top section that allows you to backcomb your hair up, or wear it down across your forehead to minimize the roundness of your face shape no matter how you style your hair.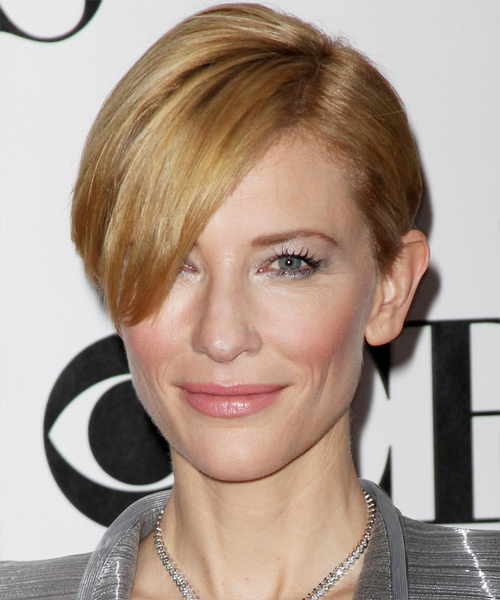 Square face shapes will get a great pixie result with wispy bangs, light layers or any cut that has soft edges so that your angular jaw line doesn't look so harsh. This pixie option from Cate Blanchett is a great example and puts height and light, carefree locks in all the right areas to balance a strong face shape perfectly. This type of pixie cut will not suit glasses so you are going to want to bring out those contact lenses.
Oblong and Diamond Face Shape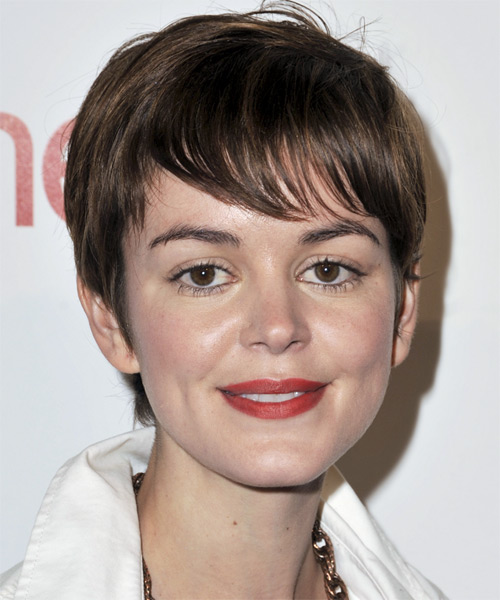 Those with an oblong or diamond face shape can cut down on some of the height their face shape is known for by choosing a pixie haircut that is flat on top but includes bangs. The bangs will halve the length of your face, and the flat top will ensure it doesn't look out of balance. This pixie cut from Nora Zehetner is well suited. Just ensure you've got some great eye makeup on as the bangs will put your peepers on show! Highlighting your cheek bones is also essential for this look as you want your face to shine in all the right places!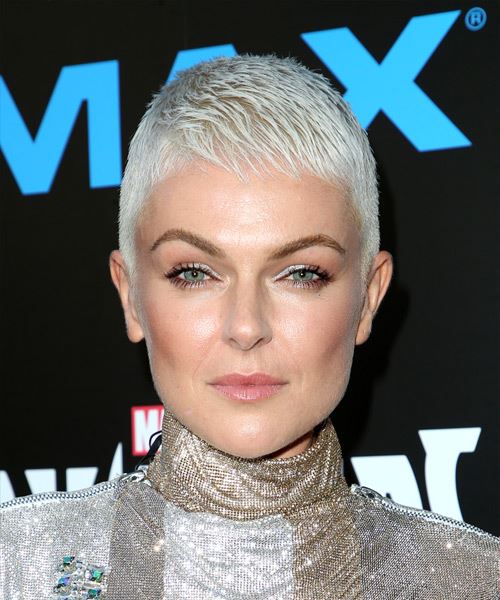 How to maintain a pixie haircut
Have your hair cut once every 3 weeks or so to ensure that the haircut stays in shape. Due to the fact that your haircut is a lot shorter, if you miss a haircut or postpone one for too long, it is going to be more noticeable than when you had longer hair.
You are going to need to wash your hair more often due to the length of it.
Make sure that you do a hair mask and scalp treatment at least every 6 weeks to ensure that your hair stays soft and healthy.
If you are going to color your hair or add highlights to bring another aspect to your new look, you are going to want to touch up the color once every 4 weeks or so to ensure that the color stays vibrant and bright all the time. The shortness of the pixie cut makes your roots more prominent so if you are the type of person who does not want to color your hair often, we do not suggest a full head of color. You can do a dip dye or a 2 tone. This way you can color your hair less often and the roots won't look bad at all.
Don't overuse products! Too much styling products in your hair is going to make your haircut look stiff or dated. Keep in mind, a little goes a long way.
Styling is key. You are going to want to keep your pixie cut styled as often as possible. Do not be afraid to try a new style or a new path direction with your cut.
You want to start with a good foundation which means that you want to make sure that your hair is in good condition before you style your hair. If your hair is starting to feel brittle or in bad condition, do a treatment on your hair before you carry on styling it.
Some people like to sleep with a scarf over the hair at night when they get a pixie cut. For some hair textures, the scarf helps to keep the style in place over night. Some also say that sleeping with a scarf for the first few nights is going to help train your hair that this is how your new hairstyle is going to stay in place.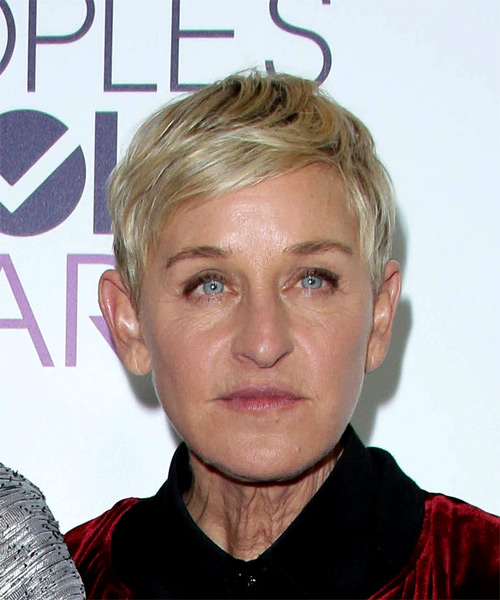 Growing out your pixie cut
Growing out your pixie cut is going to require a lot of patience! It is normal for someone to want to change their hairstyle after a while but you need to keep in mind that there is a lot of hair that needs to grow back before you can style it in another way.
A lot of people tend to cut their hair again because they just do not have the patience to wait for it to grow out properly. Please, if you want to grow it out, then be patient and it will happen. You are still going to need to trim your hair so that your hair still looks styled whilst you are growing it out. That is why it is important to use scissors when cutting your pixie cut and not clippers or a razor. This trick is going to help the transition between the two styles a lot smoother, and it will be more stylish overall.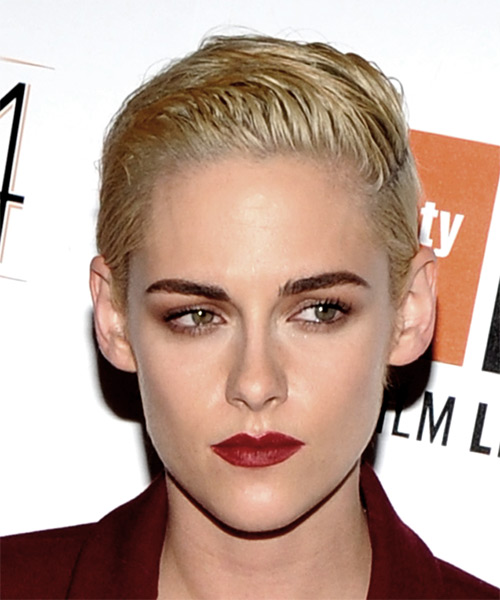 Overall, Pixie haircuts are easier to maintain in the long run. This style of hairstyle tends to dry a lot quicker and is lovely in summer because you do not have this hot hair on your neck all day every day. When it comes to winter, you can grow out your bangs so that your hair looks cute in a beanie and scarf. Once you make the decision to cut your hair in a pixie style, there is no going back so make sure that you are certain that this is something that you want to do. Your styling time will be less and you will spend less time getting ready and more time enjoying yourself on your day or evening out. Pixie cuts are in trend and will be trending for a very long time! They are a fun hairstyle that you can style for any occasion whether it be for work, a night out on the town or a hot date with your partner.
If you would like to see how you'd look with any of the great hairstyles pictured in this article, click on the above images to try the virtual hairstyles with your own photo!