An oval face shape has a rounded hairline, is slightly narrower at the jaw line compared to the temples and features a length that is around one and half times the size of the width - making it an ideal shape to balance hairstyles in any length or hair texture!
To really make the most of your oval face shape, it's a good idea to choose a hairstyle that will highlight a great facial feature, such as your eyes or cheekbones, or something that will show off your face.
For an idea on the types of styles to choose, take a look at these short, medium and long length hairstyles...
Short Hairstyles for Your Oval Face Shape
Our first short hairstyle is a great tapered cut that shapes nicely around the face to bring out the best in your versatile shape. The great deep side hair part, sweeping bangs and shiny straight length makes this the perfect understated hairstyle for any occasion, and the perfect low-key option to give your face all the attention.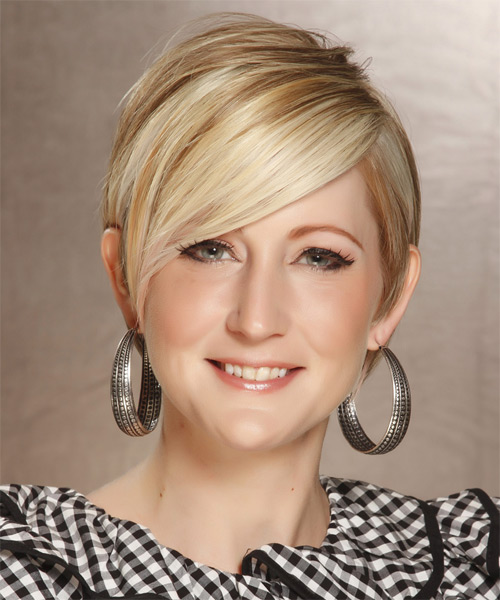 For a short style with sass, curls are always a winner and look really fantastic when framing a balanced oval face shape. Eyebrow length side-swept bangs and some great two-tone highlights complete this short look and give it a great finish.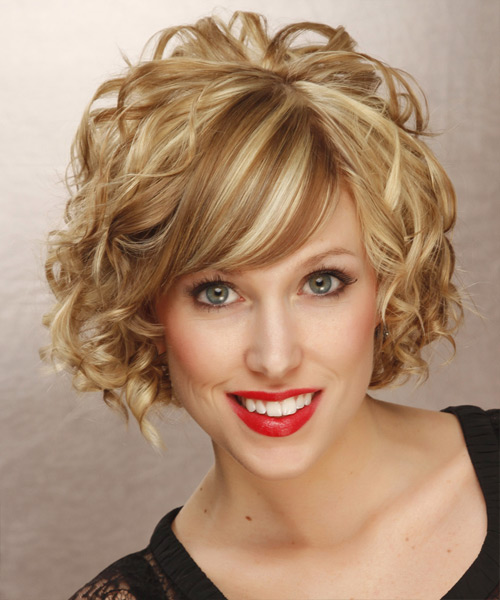 Mid-length Hairstyles for Your Oval Face Shape
If your hair is medium length then you can really play it up with a variety of options that will match and enhance your oval face shape. One such option is a layered bob hairstyle that will frame your face. The addition of heavy cut bangs will bring drama and attention to your eyes and have the added advantage of working well with your face shape because the width and length won't be overwhelmed by such show-stopping bangs.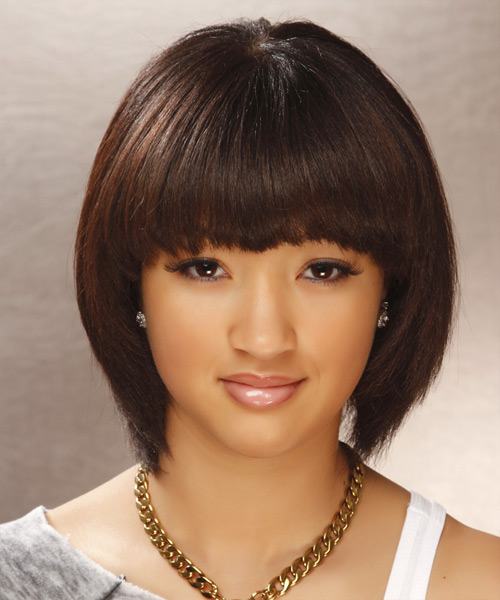 Our second mid-length hairstyle uses hot hair roller set waves to create a flattering and feminine hairstyle. By pinning the waves back into an elegant finish, this style features enough width in the right places to flatter your face and bring attention to your cheekbones.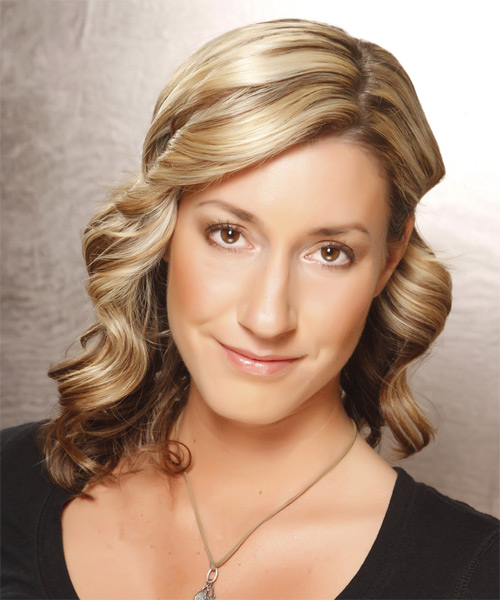 Long Hairstyles for Your Oval Face Shape
Long hair looks great on the petiteness of an oval face shape because it doesn't drag down the length of your face, which can happen with longer face shapes. This enables you to pull off long and luscious styles, such as our first option. This great layered hairstyle features hair layers styled to shape in below the jaw line to highlight the contours of the chin and lower face shape, bringing total focus to your face.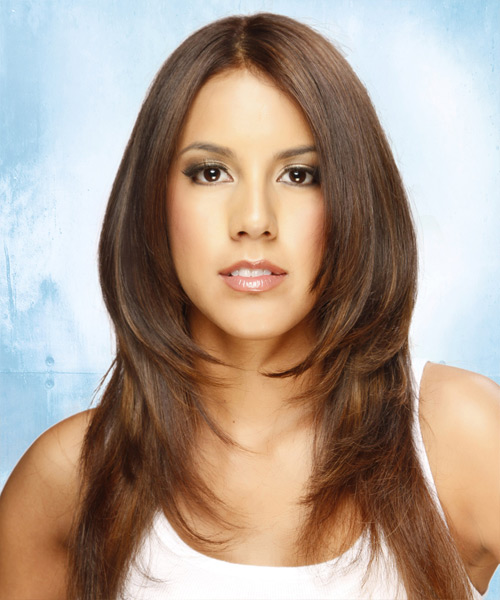 For a long hairstyle with panache, use your length and the fact that you can pull off any hairstyle to your advantage and go for a volume filled, backcombed updo. Paired with very full bangs and some lovely curly hair strands along the sides of the face, this hairstyle offers beautiful qualities that will look fantastic at any event.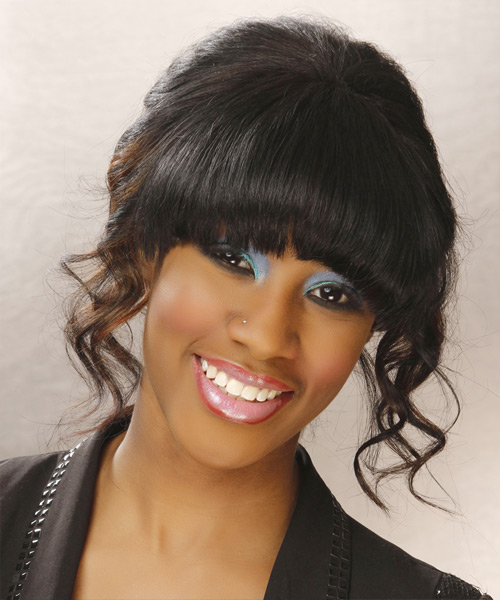 Asymmetrical Haircuts for Your Oval Face Shape
Not only do these hairstyles look oh-so-cool, they can be styled in minutes. Oval faces in particular look amazing in asymmetrical 'dos - see below for some style inspiration if this applies to you!
This cut has a short, tapered look on one side of the hair part, and long layers on the other. This creates a fabulous frame for the oval face and the bangs add a nice peek-a-boo effect.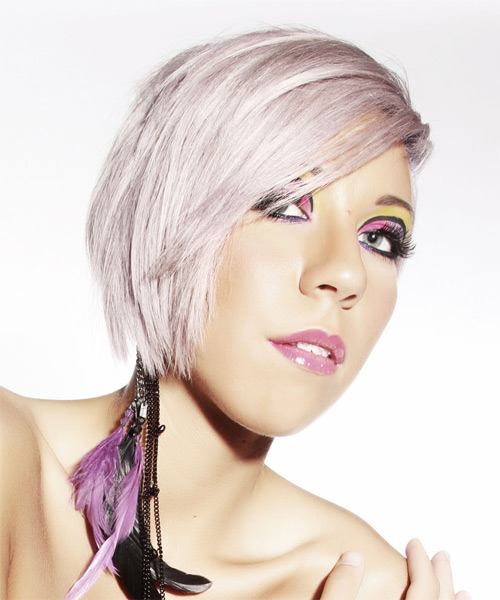 For ladies who like a full-on fringe, this asymmetrical 'do does the trick. A full eyebrow-skimming fringe frames an oval face nicely, while the longer layers on one side creates a modern look. Add a hint of bold hair color for an extra dash of style.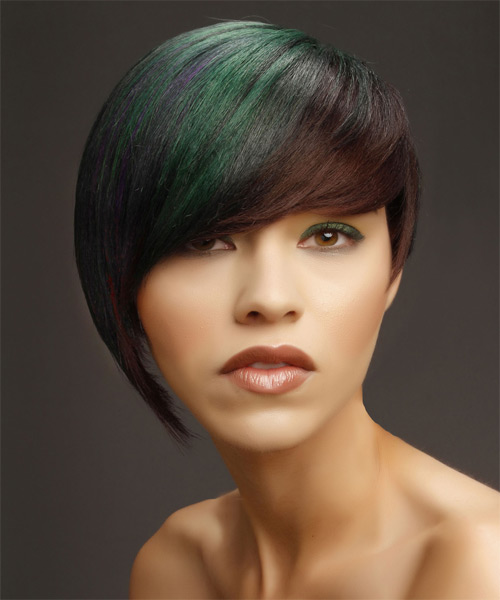 For oval faces that are fuller, add a bit of length and go for an asymmetrical bob. Long, layered bangs are a nice addition to this 'do, but avoid straight across bangs for maximum slimming effect.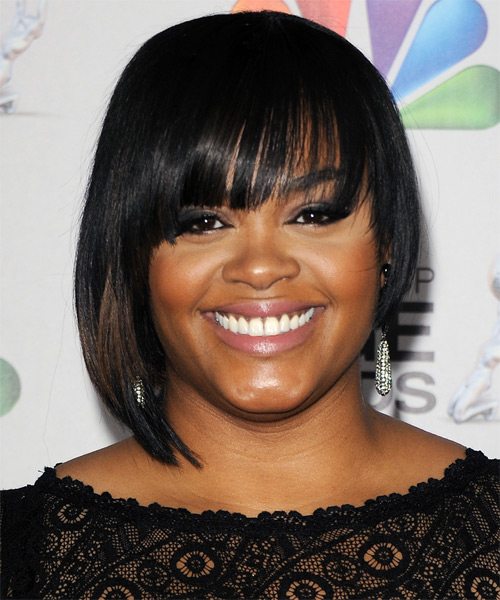 If you prefer something less dramatic, try adding an asymmetrical fringe to your current 'do. This layered bob looks chic with an angled fringe and suits an oval face shape nicely.
Bob Hairstyles for Your Oval Face Shape
Tamara Taylor stepped out looking hot in a super-sophisticated layered bob. This haircut works fabulously with her large eyes and wide smile, and of course, her oval face shape.
If you have an oval face shape, you are blessed with the ability to wear almost any style-but if you want something that is low maintenance, a bob is the best way to go. The only problem with bobs (especially ones with bangs) is that they can often look too boxy, or on the flipside, juvenile. Tamara Taylor demonstrates how to add some sophistication to a standard pageboy bob by adding loads of layers throughout her 'do.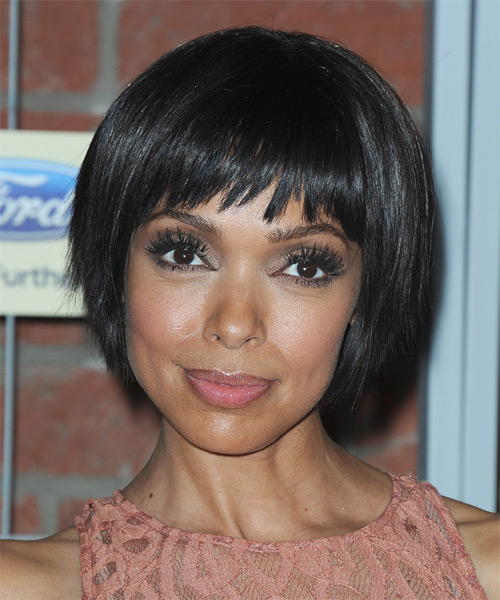 If you want to copy this look, ask your hairstylist for a jaw-length bob that tapers in at the ends for a rounded shape. Then, ask him/her to cut into your fringe to create jagged layers-this can be done with scissors or thinning shears depending on what look you want to achieve. Make sure that your bangs are skimming your eyebrows for best results.
Compare this older photo of Tamara: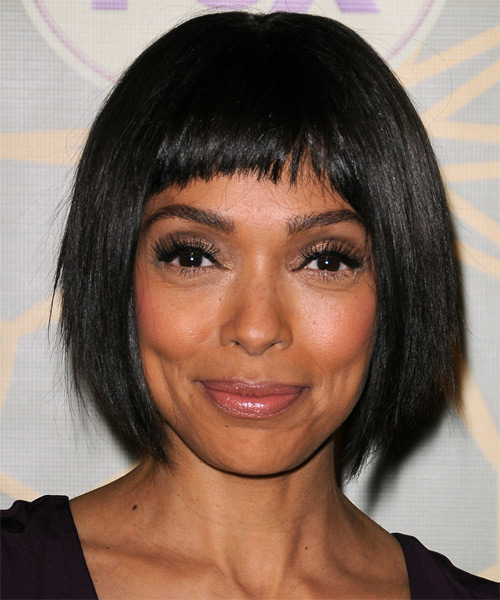 Her layered bob looks fantastic at this slightly longer length, but the super short bangs elongate her face, which as an oval, you don't want. Keep everything in proportion with an eyebrow-skimming straight fringe instead. You will find this easy-to-do hairstyle will always look chic and sophisticated, day or night.
To see how you'd look with any of the great hairstyles pictured in this blog, click on the above images to try the virtual hairstyles with your own photo!
For more great short, medium and long looks that will work with an oval face shape, check out our range of hairstyles today.