While long hair may take longer to style than short or medium length hair, the results that you can achieve are nothing short of stunning. When it comes to styling your hair so that it looks like a more feminine hairstyle, it does not matter how long your hair is. All you need to know is how to style your hair correctly and use some of the tricks below and you will have a gentler, softer and feminine looking hairstyle.
Keep in mind that the styles that we have provided below can be used for most occasions. You can style your hair for everyday life, an important board meeting or even a night out on the town with your friends. All you need to do is make sure that you have given yourself enough time to style your hair so that you can pull off these flawless feminine hairstyles!
Long Feminine Hairstyles
Long hair does take more time to style. You will have to use more product in your hair to ensure that the style stays in place and you are going to need to give yourself more time to get ready. For some people, this might seem like a bit of a mission but I promise you that the end result is worth it!
You can work with your current hair texture to knock off some styling time. If you have wavy or curly hair, then you are going to want to find a style that is going to highlight those features. If you have more time on your hands to get ready, then try something new and take your time to find a style that you have wanted to try for a while.
Flicks and Curls
A long length is perfect for adding flicks or big retro inspired curls to your hair.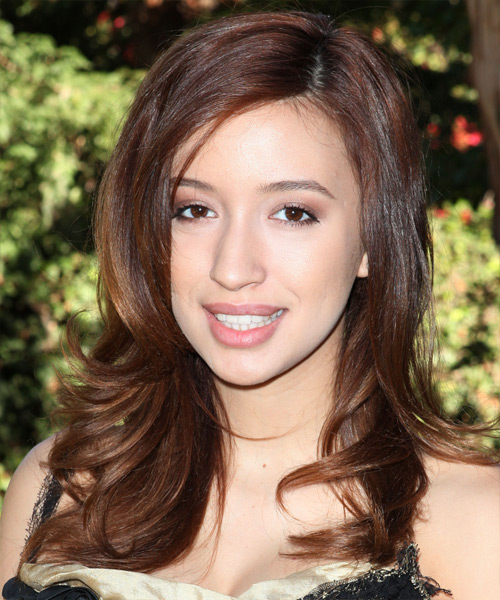 Give straight locks a body boost by flicking your ends as you blow-dry or use a hair iron when you are styling your hair. Keep in mind that you are going to need to apply product to your hair to protect it from the heat of the hair iron. As you can see, this look is simple yet elegant. It has body and a nice flow to it that has been created by the subtle curls and flicks that have been styled.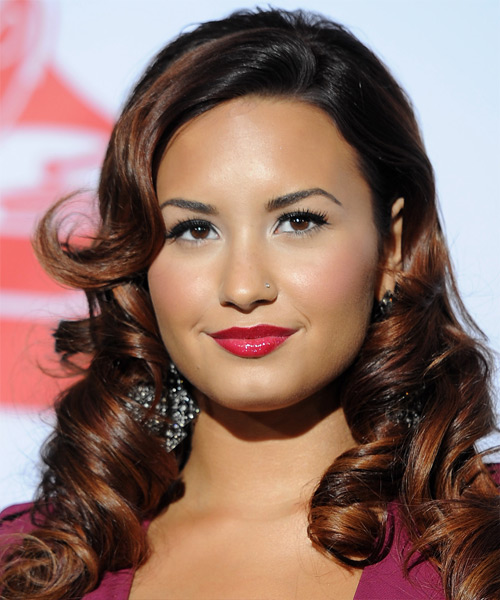 Demi Lovato has styled her hair using large, thick retro inspired curls. You can create these curls with the help of some heated hair rollers added through the mid-lengths and ends of your hair. The nice thing about using heated rollers is that you can place them in your hair at night and sleep with them in. This trick is going to help you save styling time in the morning as well as ensure that you have large curls that are going to last throughout the day.
Glamorous Bangs
One of the best accessories that you can have for your long hair is well styled and well placed bangs that are going to shape your face to perfection!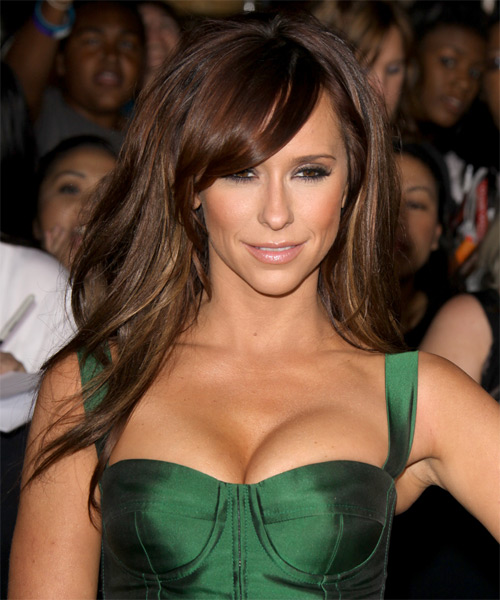 These deep side-swept bangs with a sex kitten-esque vibe have been in style for many years and will continue to be in style for many more years to come. They are sexy and create a bit of mystery to your look.
These bangs however are known as poker straight eye-skimming bangs. You need to make sure you have glossy locks for a great feminine finish.
Loose Waves
Loose waves can create more of a classic look. It is a style that everyone recognizes and is a great go to and the pictures below show you why! You are going to need to use a bit of hairspray to lock in the waves so that they hold throughout the day but the intensity of the waves is completely up to you.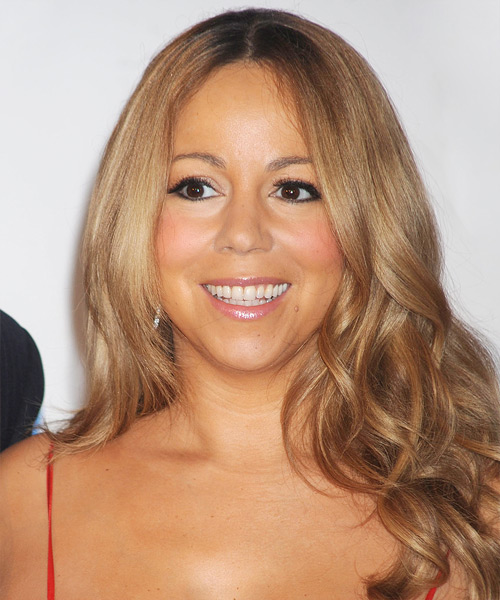 These waves are more gentle and subtle. They give off a more carefree kind of feel to the hairstyle which is nice to have when you are meeting friends for lunch or want to style your hair but do not have a lot of time in the morning to do so. Even though they are more subtle, they still pack a punch!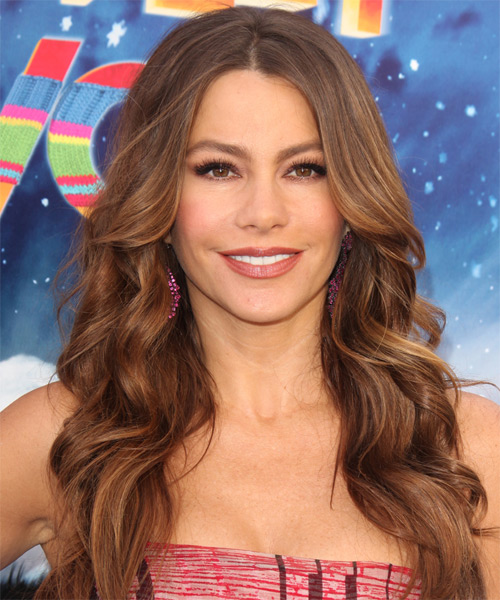 These waves are fuller and more defined. This hairstyle is great for a night out on the town for date night. This style has a lot of volume and life to it.
Side Ponytail
While traditional
ponytails
will hide your length at the back of your head, one of the great things about long locks is that you have the length to create a
side ponytail
instead! A side ponytail will give you the chance to show off your locks to their best advantage!
This side swept pony hairstyle has two aspects to it: the pretty braid that has been done tightly so that it does not move out of place throughout the day, as well as the fact that the braid has been styled to the side. This frames the face nicely as well as gives this hairstyle a more feminine touch.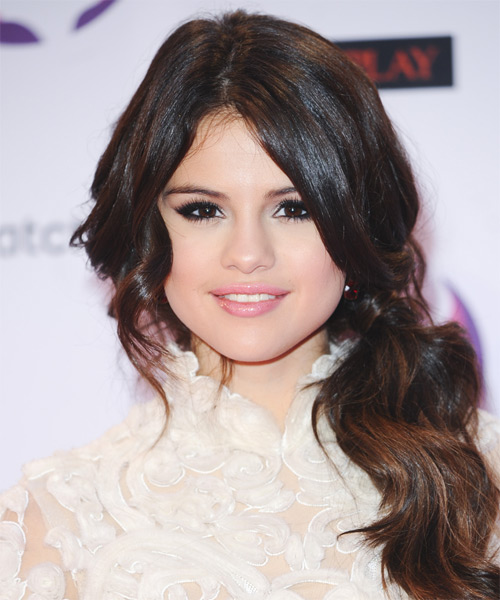 Selena Gomez has lots of tousled curls and face-framing hair strands. This hairstyle looks effortless and yet it has a body and shape to it. The nice thing about this hairstyle is that you do not have to worry about a few strands of hair that might be coming out of your pony as it just adds some character to your hairstyle.
Short Feminine Hairstyles
Feminine hairstyles aren't just for those with
long locks
. Short hair can also boast a gleefully girly look with the right kind of styling. As shown below...
Flicks and Curls
Just because you have short hair, does not mean that you cannot add some flair to your hairstyle. Flicks and curls can help make your hairstyle gentler around your face which is going to result in a more feminine looking hairstyle. You will need to use some hairspray to ensure that your flicks and curls stay in place throughout the day.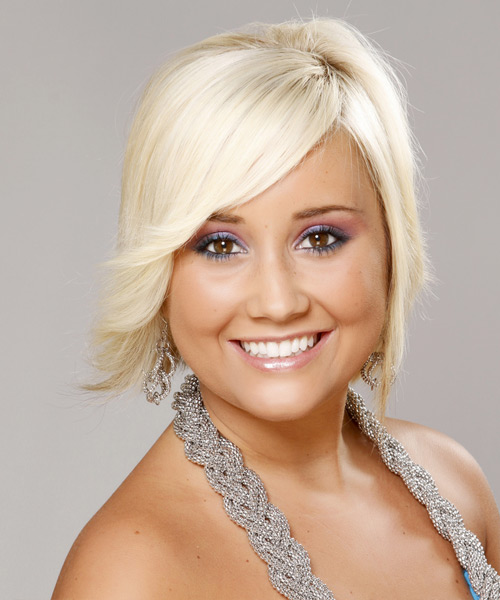 If your short hair has some length to it then glam it up girly-style by adding some flicks or curls through your mid-lengths or ends with the help of your hair iron and curling iron. Adding the flicks and curls around your face will provide an extra feminine touch by giving softness to your facial features.
Make sure when you add your flicks that you style it away from your face to help open up your face. If your flicks face inwards, then you are going to make your face look smaller and more hidden than it was to begin with.
Hair Accessories and Earrings
With shorter hair you are able to show off your accessories easier than people who have longer hair. Your earrings will pop more and you won't have to worry about your hair getting caught in your necklace chain or your scarf. Remember that you can go bold and big with your accessories as they will be shown off more! Do not be afraid to try something new and go a bit wild or crazy with your accessories. Allow them to tell your story about your personality.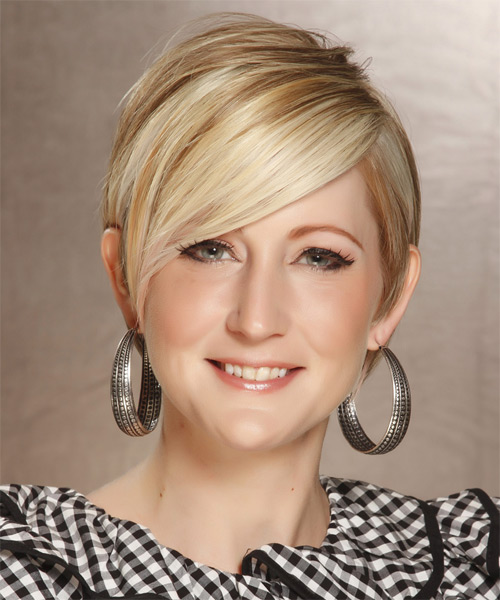 Any short hairstyle can be turned into a pretty style with the help of some hair accessories and earrings. For your hair accessories, think sparkly clips with lots of bling in the shape of flowers or butterflies. Earring wise, the bigger and danglier the better, and if your earrings have some shine to them then you're on the right track!
Length Around Your Face
Short hair can look gorgeous on most face shapes if it is styled correctly and kept in shape. Keep in mind that length around your face is going to help create a more feminine looking hairstyle. Having said that, you are going to need to have your hair trimmed once every 4 weeks or so depending on how quickly your hair grows. This is going to help ensure that your style stays in shape and that your ends stay healthy.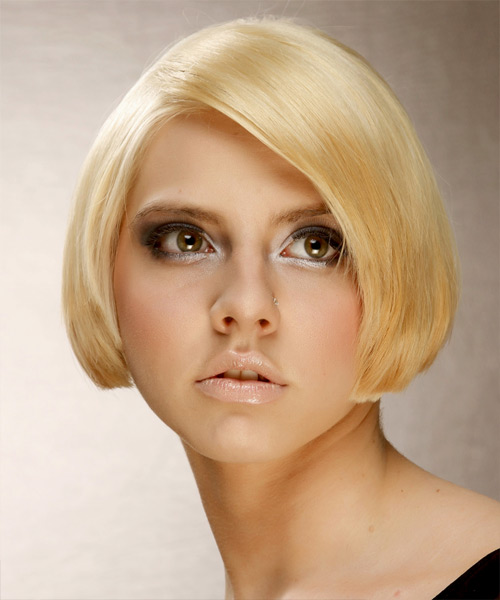 One way to ensure that your short hairdo looks feminine to begin with is with a little length. If you're short hair already has length, then show it off to its best advantage by styling your hair softly around your face. This will automatically create a feminine finish.
Side-Swept Bangs
Side-swept bangs are a great way to bring a feminine touch to your hairstyle. They help shape your face nicely and with some short hairstyles, they'll give your style that piece that you might have been feeling like you have been missing all this time. Just remember not to fiddle with your bangs throughout the day as they will start to look oily and dirty. If you find yourself fiddling a lot, then your bangs might be too long for you or badly placed. You want your bangs to be there but you do not want to have to play with them all day until they feel right.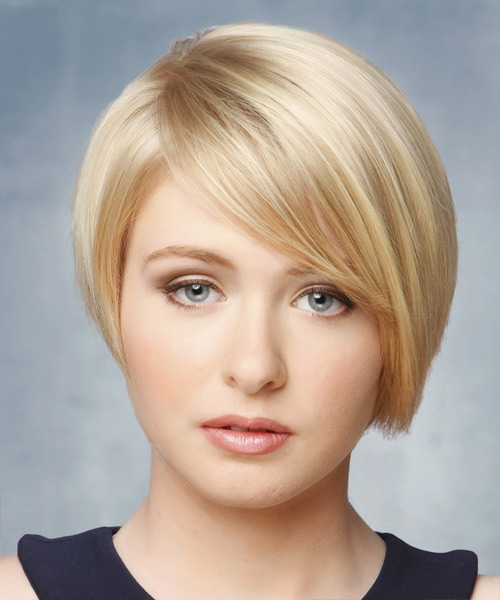 As with a little length, having side-swept bangs incorporated into your shorter 'do will help to establish a feminine look. Not only will side-swept bangs offer you lots of pretty softness, but they will also draw attention directly to your eye area which you can then play up with lashings of mascara, soft eye shadow and touch of eyeliner for the ultimate short feminine hairstyle result!
Feminine Makeup Tips
Just because you want something to look feminine, does not mean that you need to only turn to pink colors. Pink does not always suit every skin color, so do not be afraid to try something new and bold.
A red lip always does the trick! If you are going out or have an important meeting, red lips will make you feel powerful and like you are on top of the world.
You can never go wrong with bold lashes! Lashes help you tell your inner most thoughts so if you are going bold, you would want to use false lashes, but if you want something more subtle and gentle, then use two layers of mascara on your own lashes. It will help you create volume with your own lashes.
When it comes to contouring and highlighting your face and neck area, you want it to be subtle during the day and more intense at night so that it can show up in pictures that you might be taking.
Feminine makeup is all about finding the facial features you love the most and bringing them to life. You can play around with makeup looks.
Keep in mind that you want to keep your makeup looks gentle. Nothing too harsh. Make sure that whatever lines you might be placing around your eye area are blended nicely to enhance the gentle approach that you are taking.
BLEND, BLEND, BLEND! I cannot say this enough! Feminine makeup is all about making your makeup look like it was done with one stroke. No matter how many colors you might put around your eye area, you want to make sure that they are blended nicely. You do not want to see them as 3 colors but as 1 color that fades into 3 shades.
Your pink tone Blush during the day is great to use if you want to give your face some more color.
As you can see, there are so many different hairstyles that you can choose from when it comes to creating the perfect feminine hairstyle that is made for you! Hairstyles can look as feminine as you want as long as you stick to some of the tips that we have given you above in this article. Do not be afraid to try something new and play around until you find a look that works best for your face shape as well as your personality.
If you would like to see how you'd look with any of the great hairstyles pictured in this article, click on the above images to try the virtual hairstyles on with your own photo!