Need a makeover so you look great for all your end of year parties? Well look no further. Now that the holidays are coming and you know that you'll be going to parties and events with friends and family, it's time to find a great party hairstyle! Below are some of our favorite suggestions for perfect party hair. Take a look, read our styling tips and try one on using our Virtual Hairstyler. Looking great during the silly season is easy with a perfect party hair makeover!
Bob Hairstyle


A bob hairstyle is a great party option because it is so versatile and can work for just about any hair type and comes in lots of different hair lengths. For a party look, style it sleekly, add some braids, or add lots of textured curls.
Long Wavy Hairstyle


Nothing beats a long wavy hairstyle for a simple yet stunning look. Although the lengths and textures differ, the general idea is the same, long hair with waves through the mid-lengths and ends. The angles can range from extremely plunging, to gently sloping and soft, or even defined, elegant waves.
Ponytail Hairstyles


For an easy party look a classic ponytail is a great choice and can be styled as a regular ponytail at the back of your head, side-swept, or as a high, backcombed ponytail. Have fun and pull out the hair accessories to add lots of glamour.
Straight Hairstyles


If you have straight hair then a party is a great time to show it off. Keep it simple with a side hair part, clean, healthy locks and lots of hair shine! If you need help getting your locks straight, see our article, Hair Straightener Tips for Salon Straight Hair at Home.
Updo Hairstyles


Updos are hot, they're sexy, and they are something that everyone can try. A sleek updo, a backcombed updo with plenty of hair volume, or a curly updo with loose strands that frame your face will give you a look worthy of any party! Check out our range of updo hairstyles to find one for you!
Short Layered Hairstyle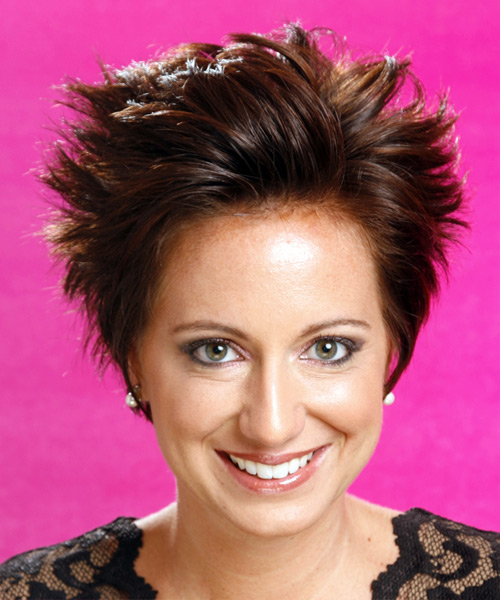 Try this hairstyle because:
It's a fun hairstyle with plenty of height and definition. Jagged-cut layers create softness and an overall funky appeal. It's relatively quick to style too.
Styling tips:
You only need a little bit of hair product to style this look. The trick is to use your fingers to create height; also, allow the product to dry naturally.
Medium Curly Hairstyle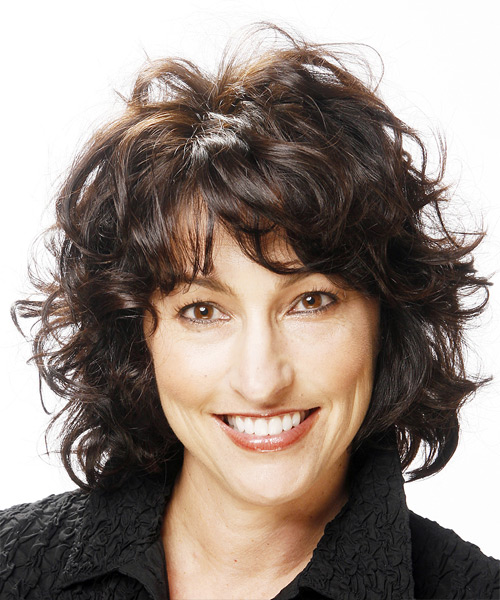 Try this hairstyle because:
It's a great hairstyle if you have fine hair or medium hair and you're looking for a little more volume. Full bangs soften the face and layered sides help draw attention to the top.
Styling tips:
You'll need your curling iron for this hairstyle- use it to add waves from the mid-lengths to the ends. For some great advice on how to use a curling iron check out 'Hair Straighteners and Other Hair Shaping Tools of the Hair Trade.'
Long Sleek Hairstyle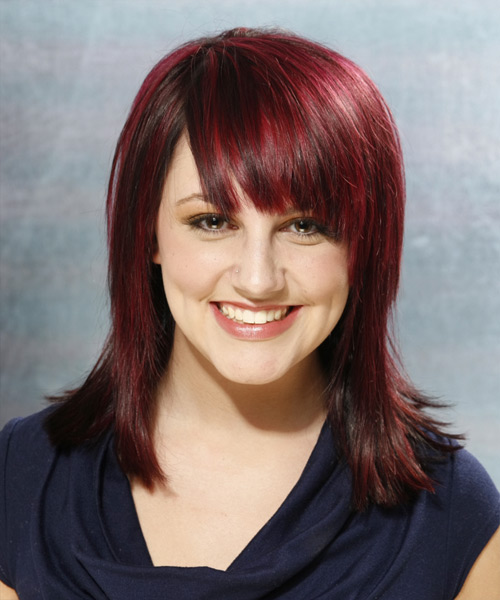 Try this hairstyle because:
It's a sleek and sophisticated look with a soft finish that will suit after dinner drinks perfectly.
Styling tips:
Get yourself a good blow-dryer and to create the smooth and sleek look make sure you point your blow-dryer downwards, guiding the heat down the hair shaft.
For more great party hairstyles have a look at articles like 'Evening Hair Tips for Parties and Outdoor Occasions' and Easy Party Updos.