Choosing what to add to your lips is part of the fun of using makeup and usually involves applying a lipstick or smothering on a lip gloss. If you're not sure which one is the right choice, or even what the difference between the two is, then read on!
Lipstick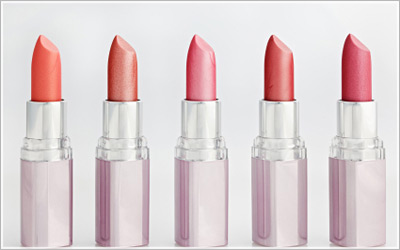 Lipstick comes in lots of different textures and is great at providing a dense, rich color that can last all day and night (depending on the kind you choose). The main lipstick varieties are:
Matt
Matt lipsticks provide a flat color and are great if you're after a long lasting look. They can make your lips a little dry, however. Matt lipsticks are a good choice for those with big lips who want to showcase and flatter their pout.
Creamy
Creamy lipsticks come in very true colors and are the best formulations for those prone to dry lips.
Frosted
Frosted lipsticks come packed with shimmer and are perfect for creating a fuller pout when teamed up with a dab of clear gloss in the centre of your lips.
Lip Gloss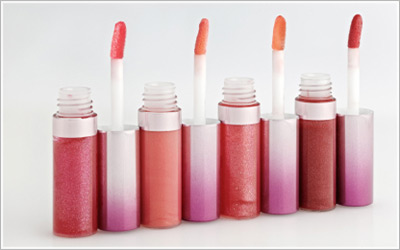 Lip gloss comes in all kinds of packages, such as tubes, pots and wands, which make them the perfect choice to carry around in your handbag. They do wear off much more quickly than lipstick, though, and need to be reapplied constantly. Lip glosses usually come in fruity flavors, however, so having to reapply isn't really such a chore.
High shine
High shine glosses do what the name says and are almost like wearing a wet color.
Creamy
Creamy lip gloss has the dense color of a lipstick but with the slicker, creamer feel that only a lip gloss can provide.
Sheer and Opaque
Sheer and opaque lip glosses provide just a hint of color and lots of shine.
Sparkling
Sparkling lip glosses come in glitter infused varieties and are the perfect choice for parties!
Both lipstick and lip gloss come in long lasting versions, and nowadays, you can even buy ones that use cinnamon and menthol to plump up your lips!
If you still can't decide what is best for you, then go by your outfit, occasion and hairstyle. A bold outfit might require a subtle lip color so a gloss would be a good choice, a fancy occasion may require a good strong red lipstick that is going to last the night, and a hairstyle where your hair strands are left to flow around your face will certainly go better with a smooth lipstick rather than a sticky lip gloss.
When it comes to color choices, the virtual hairstyler has some great lipstick and lip gloss shades that you can try on your own photo or our model! All you've got to do is upload your photo or select our model, use the photo editor to outline your lips and then select a color from the makeup options, and presto, instant color. While you're there you can even find a great hairstyle to go with your luscious lips!