If you are looking for a new and exciting hairstyle, then blunt cut bangs are your next hairstyle decision! They are fun and yet you can wear them for a casual look or for a formal event. They are easy to style and are very low maintenance. The only time bangs might get a bit annoying is when they are too long and in need of a trim.
Full, blunt cut bangs have always been a very popular way to wear bangs, and the look is not only fashionable, but can also give you a very striking and effective appeal when teamed with the right hairstyle.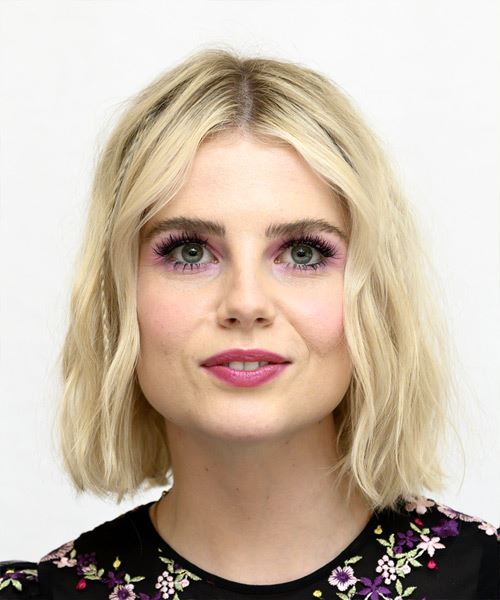 What are blunt cut bangs?
Blunt cut bangs is the styling technique that is used to cut your hair. All that it means is that there are no different lengths in the bangs. Blunt cuts show a sense of power and give people the idea that you are decisive and you commit to something that you want.
Blunt cut bangs are also a lot easier to grow out if you decide that you want to change your style after a while. Your hair is going to grow at the same pace which is going to make it easier for your stylist to convert your bangs into another awesome hairstyle that you might want at a later stage.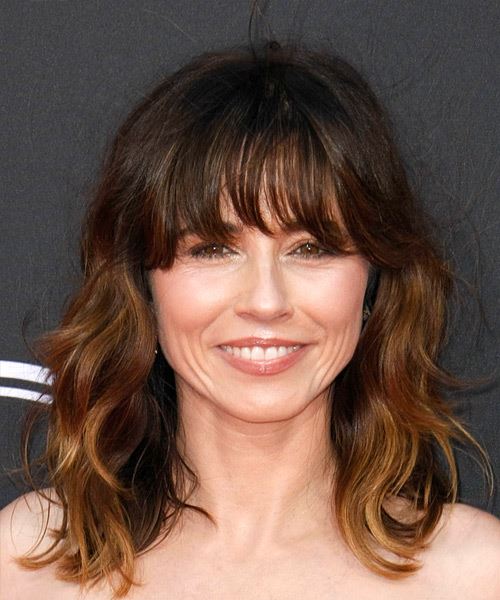 Why Bangs are awesome
Bangs are a great addition to add to your haircut for many reasons. First and foremost, bangs add volume to your hair. If you have a hairstyle that is flat and has no life, bangs are going to help take your look from flat to voluminous in a matter of minutes!
Bangs are easy to maintain. All you need to do is style your bangs in the morning and you are good to go for the rest of the day. You are going to need to cut your bangs every 4 weeks or so to ensure that they stay in shape, but it is not a long process.
The best part about blunt cut bangs is the fact that it gives your hairstyle a sense of certainty. Blunt cuts shows the world that you know what you want and you are not afraid to go for it!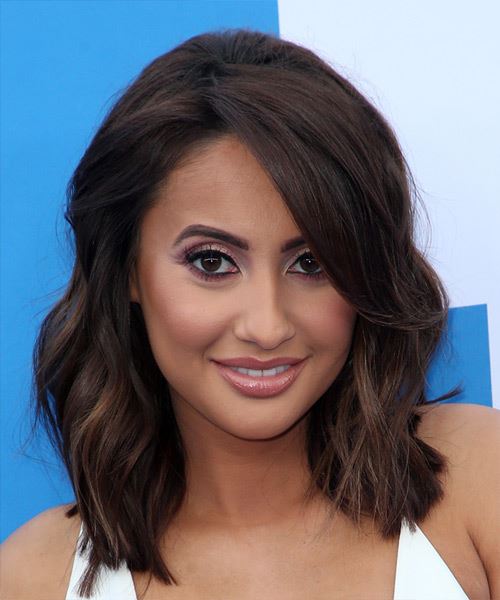 What face shape suits bangs?
It is important that you choose bangs that are going to suit your face shape. The suggestions we are going to give you below are rule of thumb. Please keep in mind that some people might have a mixed face shape. As long as you stick to the rule of thumb and go from there, your bangs are going to look amazing!
Heart face shape - wispy fringe bangs
Heart face shapes need bangs that are going to elongate from your forehead, down your face. This face shape as soft angles which is gorgeous! You want to keep that in mind when planning your bangs, you want to think about the length of the bangs over the width of them. Wispy bangs are thin enough to show off your face shape whilst still being playful enough to make a chic statement with your hairstyle.
Round face shape - thick, side-swept bangs
You might think that if you have a round face shape, bangs are going to make your face look even rounder. This is not true! If you have the right bangs, you are going to create an angular effect on your face. In other words, adding thick, side-swept bangs are going to make your face look longer. They give you a U-shape curvature of your chin area. They will also help to elongate your jaw line. This is great because it is going to give you definition in your cheek bone area.
Long face shape - ttraight across heavy bangs
If you have a long face shape, bangs are going to be amazing for your face shape! It is so easy to add bangs to a long face shape. You are going to rock your new bangs. Having your bangs fall below your eyebrows or even just above your eyebrows is going to get rid of some of the length of your face. This means that you can focus more on your lower part of your face and not always have to worry about how long your face looks. The only issue with these bangs is that wearing glasses can sometimes be a bit of a mission.
Oval face shape - pretty much anything
Oval face shapes are known as the ideal face shape. You can pull off almost any look that you wish to try. At the moment, the trend is baby bangs. They are cut short and because the cut is going to be blunt, it is going to create a rebellious appeal to your hairstyle. With that being said, baby bangs are still very feminine. They are a great addition to have to your hairstyle.
Square face shape - brow grazing fringe bangs
A square face shape thrives when you add length to the bangs. You want them to be full and optimize symmetry as well as balance. Your jaw line does tend to stick out more than your other facial features, so you'll want bangs to help soften the edges of your face and your jaw line. Adding brow grazing bangs will highlight your other facial features that are gorgeous as well. The nice thing about this bang style is that you can also part it down the middle and allow the bangs to be side-swept which will give your hairstyle some diversity.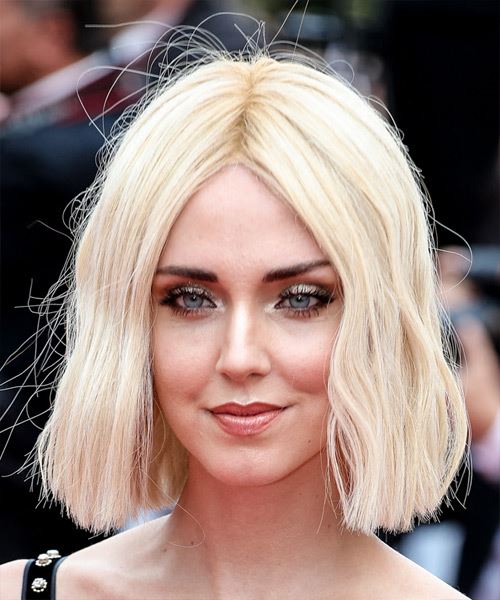 Step by step styling tips for blunt cut bangs
For a quick and easy way to achieve this great option, give these how to style steps a try. Once you follow these steps and get them down to a fine art, styling your blunt bangs are going to be so easy that you can do it in your sleep!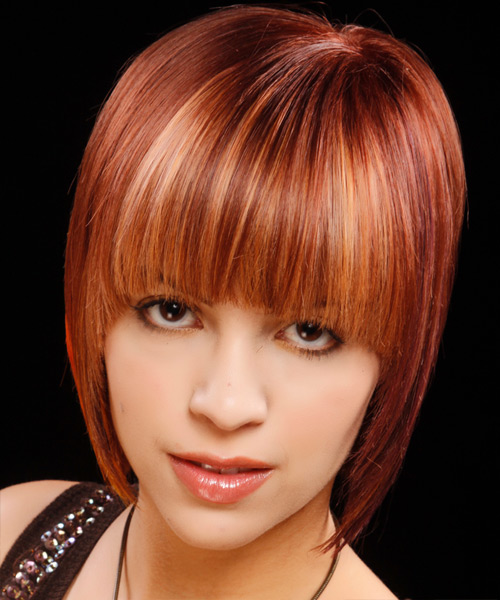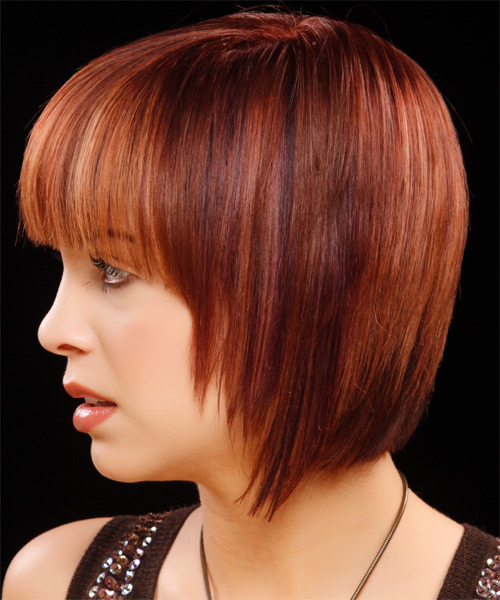 Apply Hair Styling Products
To ensure your blunt bangs always look great you'll need to use hair styling products. So apply something that'll keep your bangs styled, such a straightening balm, in a small amount to your palms and then distribute it evenly through your bangs. You want to make sure that you apply a product that is going to give you the best styling look that you want.
Use a Radial or Paddle Brush
Next, you'll need to make sure you have a radial or a paddle brush on hand. A radial brush is perfect for styling bangs because it allows you to pull your hair straight and also curl your ends under to achieve the right look. A paddle brush will help you to get your bangs super straight. Both brushes come in all different sizes and the size you need is going to depend on the thickness of your hair.
You are also going to want to keep a fine tooth comb around. It is going to help style those small flyaway pieces of hair a lot easier.
Blow-Dry Your Bangs into Shape
Depending the style that you want, will depend on how you are going to blow dry your bangs. If you want side-swept bangs, style them to the side and if you want bangs that are straight, style them straight and so on. The main thing is that you always aim your hair dryer at an angle. Meaning that you do not want to apply a direct flow of heat onto your hair otherwise your bangs will start to frizz.
Simply place the hair dryer above your bangs at an angle. It should be angled down and then you can blow your hair without having to worry about too much frizz happening. This trick is going to help keep your bangs looking like they are in shape and not like you have put your finger in the plug and got shocked.
To blow-dry your bangs forward:
Clip all of your hair back so that only your bangs are left out.
Position your bangs evenly in your brush and take your hair in a forward direction.
Blow-dry from your roots to your ends, keeping the tension consistent with your hair brush, and evenly distribute the heat from your blow-dryer over the whole section of your hair. Repeat until your bangs are dry.
If needed, you can also run a hair straightener through your bangs to make sure they are nice and flat.
Apply Hairspray
To finish your full bang look, hold a can of hairspray at arms length and apply a minimal amount of hairspray to your bangs.
And there you have it! Easy how to steps for achieving blunt cut bangs. Keep in mind, before you use any hot styling tools, you need to apply product to your hair to help ensure that the heat does not damage your hair. It is best that you use a professional heat resistant product to ensure that you get the best results.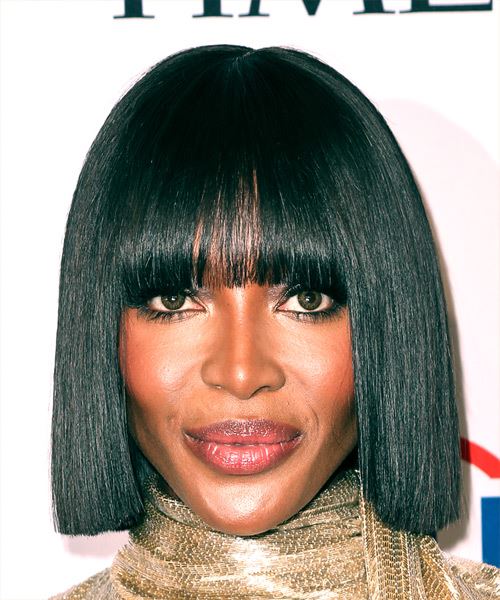 How to maintain your blunt cut bangs
Cut your bangs once every 4 weeks or so to ensure that the bangs stay blunt and in shape.
Remember that a little product goes a long way. You do not need to add a lot of product to your bangs to keep them in place. The more hair product you add, the greaser your hair will look and that is not something any of us want!
Using professional only products will help keep your hair healthy.
You can wash your bangs whenever you wash your face. This is going to help keep your bangs from looking greasy. Simply take a spray bottle of water and spray your bangs. Then wash with shampoo and blow dry.
Do not let your bangs air dry out of the shower! You want to blow dry once you out of the shower. This is going to help style them and help ensure that your bangs do not get a mind of their own.
If you do not want to wash your bangs daily, that's ok. You can keep dry shampoo handy and when your bangs start to look greasy, just use some dry shampoo to make them look fresh and clean again.
Stop making a habit of playing and touching your bangs. I know at first that it might be difficult to not play with them. The more you play with them, the greasier they will get. If your bangs are too long and you have to wait for your styling appointment, clip your bangs up so they are out of your face and away from your hands.
If your bangs seem to get out of control during the day, there is a simple fix for them. Carry around a fine tooth comb with you. When your bangs go on their own mission, simply comb them back into place and apply some hairspray.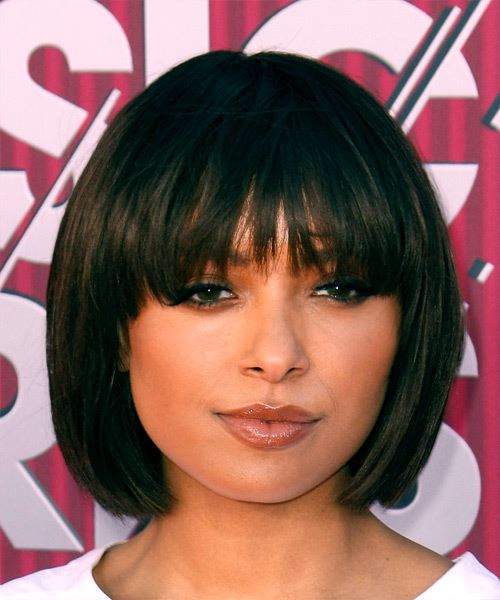 There are so many different bang hairstyles for you to choose from! I know that cutting part of your hair shorter than the rest might seem a bit nerve wracking. You might think that you are going to regret choosing bangs in the first place. The best thing for you to do is to go onto our website and use our virtual hairstyler. All you need to do is provide a photo of yourself and then you can pick and choose different blunt bangs to see what is going to suit you the best.
This is going to give you a better indication about which style to go for and what is going to suit your face shape as well as your personality the best. There are so many options for you to choose from on our site that you are going to be drowning in hairstyle choices!
For more bangs hairstyle inspiration, take a look at our hairstyle categories for a range of hairstyles that feature bangs and get some great tips with our articles, Hot Hairstyles with Bangs, Curtain Bangs and The Right Bangs For Your Hair Type And Face Shape.