In this article I'll explain 5 easy ways to style your bangs and 5 different looks. Check out our hair styling pictures too, and if you feel like a quick and easy makeover try some of these bangs hairstyles today.
1. Inject Life into Your Bangs
Salon Hairstyle: Straight Medium
Straight-across eye-level bangs look cool, but you'd be forgiven if you sometimes got bored of them. If you're sick of the way they simply fall on your forehead and you think they're a bit lifeless and flat, then try this quick technique for a little more volume:
When your hair's damp (not wet), apply some extra hold styling product. With a small radial brush, blow-dry- from your roots to ends- upwards and forwards until dry. This simple technique will inject more life into your bangs and create a nice curved appearance from the side. (Also, these bangs will draw attention away from your nose- if it's a bit larger than usual.)


2. Side-Swept Bangs will Blow Them Away!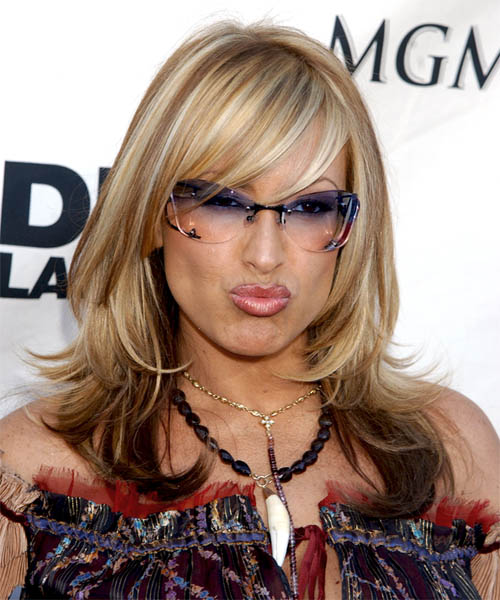 Anastacia: Straight Long Hairstyle
If you want to change your bangs without hacking into them with scissors, try simply styling them to one side like Anastacia. For an angled line that's shorter from the parted side (that is also a great way to add length to small and round face shapes), here's what you've got to do:
Starting on damp hair, work some styling product into the damp bangs and then using a blow-dryer and a paddle brush, dry your bangs across to one side. It's that easy!


3. Flattering Flicked-Out Bangs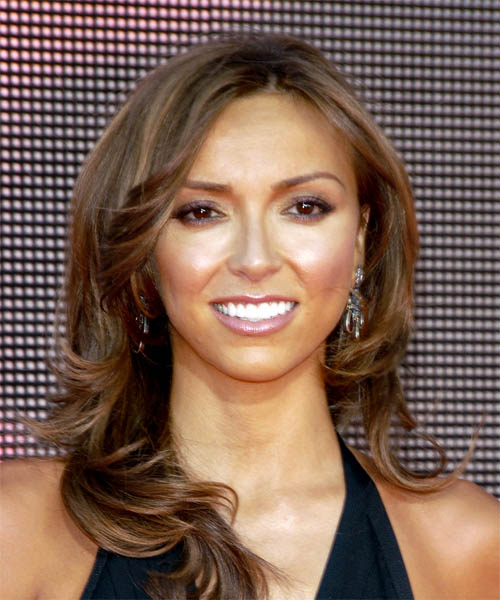 Giuliana DePandi: Straight Long Hairstyle
If your bangs are a little longer and you want to create a flicked-out effect that draws attention away from longer face shapes and to the sides of your hairstyle, then here's a tip for you:
Apply some styling product to damp bangs. Using a blow-dryer and a paddle brush, place the brush on top of your head directly behind your bangs and slowly dry them from roots to ends in a backwards flicked-out motion. For extra hold, use a hot iron the same way (on dry hair only)


4. Bangs for When it's Heating up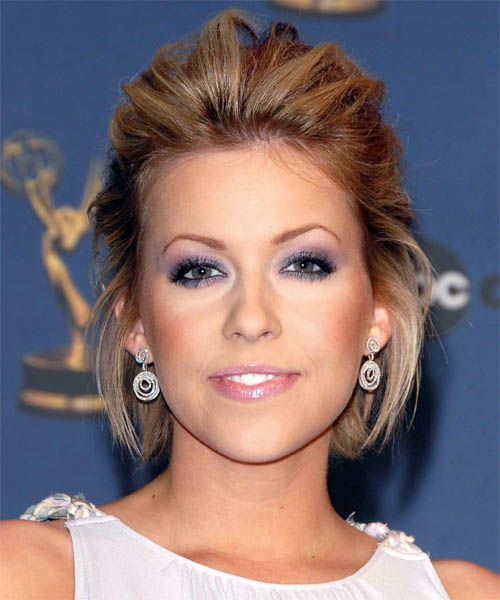 Farah Fath: Straight Medium Hairstyle
If your bangs are longer than eye level and if it's hotting up out there and you feel like something a little different, then this tip will help you get some height and keep your bangs off your face. This style's great for round face shapes too:
Apply some strong hold styling product, like gel spray, to your damp hair. Using a blow-dryer and medium sized radial brush, place the brush behind your bangs (on top) and dry your hair smooth in an upwards direction. When it's dry use some more styling product to keep your bangs in place and off your face.


5. Prom Hair with a Bang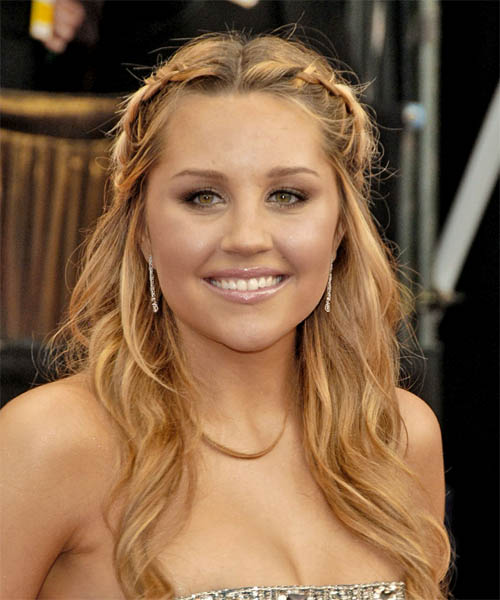 Amanda Bynes: Wavy Long Hairstyle
Here's another style to try if your bangs are longer than eye level, and if you're going to a formal occasion like a prom and you're looking for something a bit different. But, you may need some help from a stylist or someone handy with braiding:
Starting from one side, take a small section of hair and separate it into 3 even pieces. Then braid/plait the top front area and pin in place. Your bangs can also be plaited in a backwards direction and pinned down on top. This style of bangs will also lengthen small round face shapes.
Each of these 5 ways of styling your bangs are great ideas if you feel like a change but you don't want to do anything drastic, and once again they prove the many benefits of bangs hairstyles.