TheHairStyler.com's latest hairstyles are an essential way for you to stay up to date with the best new hairstyles the very minute we add them to our database. Right here you'll find the latest hairstyles styled by the best hair salons around the world.
Each week we'll present you with five of our favorite latest hairstyles. You'll see some really trendy hairstyles, some hairstyles causing a bit of a stir, some classic hairstyles, and of course some cute hairstyles that just look great.

 
Alternative Short Wavy Hairstyle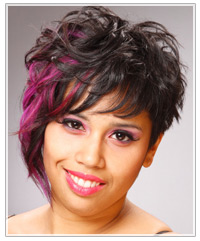 Flamboyant is what best describes this bold hairstyle. The back has been tapered into the neck for shape and style, while the sides have been cut unevenly for an asymmetrical look. The purple highlights work well with this style to add contrast and some hair color spice for a brilliant finish.

 
Casual Medium Straight Hairstyle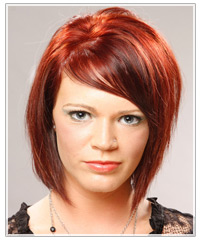 This medium straight hairstyle will brighten anyone's day. The back has been graduated to add shape and body, while the top and side layers have been sliced or jagged cut for a lovely finish. This hairstyle will suit round face shapes and get's such a glossy look from applying a little smoothing shine when styling.

 
Alternative Short Straight Hairstyle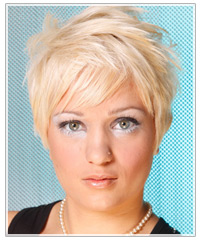 The back of this short straight hairstyle has been tapered into the neck to contour the head, while the top layers have been jagged cut for height and to provide a funky looking hair texture. This hairstyle is a great option for those with an oval face shape and for showing off your cheekbones and drawing attention to your eyes.

 
Alternative Short Wavy Hairstyle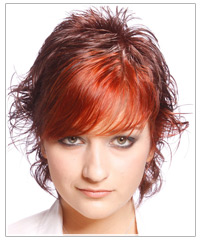 Fun and fancy is what this hairstyle is about! The back layers have been jagged cut and thinned for a wispy effect, while the top layers have been sliced and cut shorter at the crown to make this a great hairstyle for height. The magnificent use of red hair color against brown hair color makes this a 'do that will stand out in any crowd.

 
Formal Medium Wavy Hairstyle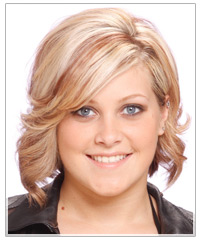 This brilliant look is perfect for any occasion. Large waves have been added from the mid-lengths to the ends with a thick barreled curling iron to create fullness and bounce. To give this hairstyle such a beautiful finish, a combination of honey and copper highlights have been added to the base blonde hair color.

 
Click on each image to try the virtual hair style on your photo or our model, for how to style steps, and for larger views.
Don't forget to check back next week for more of the latest hairstyles!