But you've got to bear in mind that just because there are hairstyles specifically for making you look taller, there's nothing wrong with not being tall in the first place. I mean, don't read this and be lulled into believing that these hairstyles are solving a problem—i.e. shortness. No way! Shortness isn't a problem— I'm short myself— and I like to correct people and say I'm petite, cute, compact, and svelte.
The advice is pretty simple really. Some people think that long hair on petite women can overwhelm them, making them appear a little lost in their own hair. Short hair, then, is thought to do the opposite of this. And more than that, experts say that short hair layered on top can create the illusion of height. Here are two examples: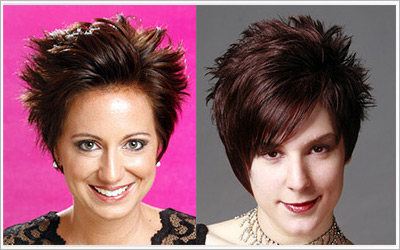 Both hairstyles have spikey layers on top for height and definition. Razor-cutting and chipping create the jagged textured effect in each, and to style them simple apply a little root lift to damp hair and finish off with hair products like wax or molding cream. It's pretty easy!
These are only a couple of short hairstyle options that can make you appear taller but I'm sure your stylist can recommend many more. These styles can make you feel a little taller when you need it, and they also prove once again the versatility of short hair.
For more short hair ideas check out our short hair article "Short Hair Special: Who Says Short Hair isn't Versatile?"