Before and After Makeover #1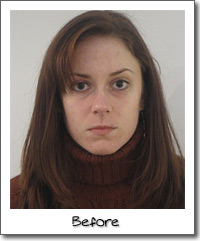 Face shape: oblong
Complexion: fair cool
Eye color: dark brown
Hair texture: fine/medium
Hair density: thin/medium
Hair elasticity: straight
For this makeover, our model wanted an interesting change for her hair, but she didn't want a drastic change in hair length. She also wanted an overall look that would be suitable for both work and for the weekend.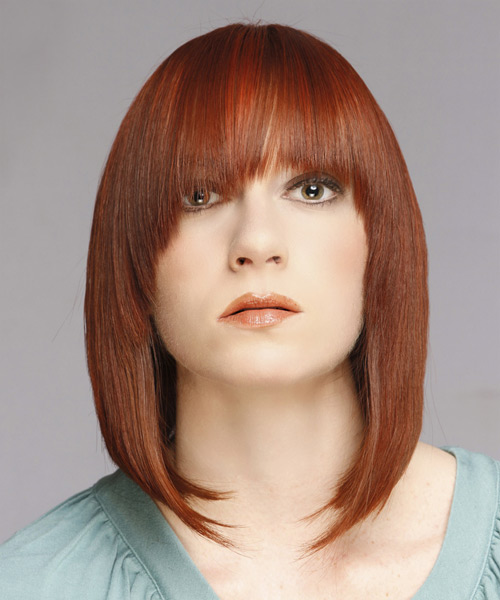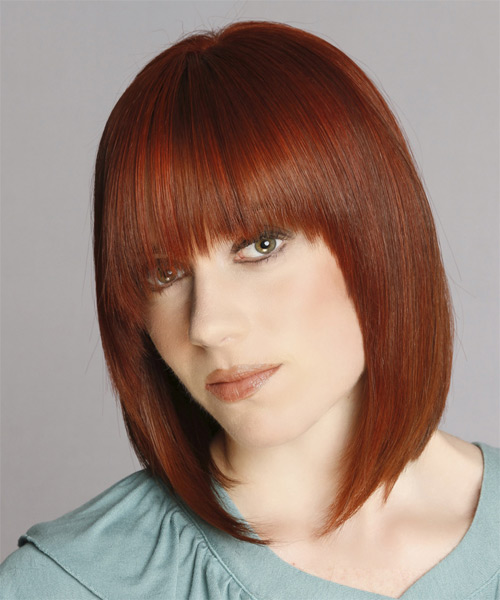 Her hair was blunt cut to a neater length just below her shoulders and a great red hair color was added to give her the dramatic hair change she wanted. To finish her hairstyle off, her existing angled bangs were then styled across her forehead to help even out and shorten her oblong face shape.
Her total makeover look was then completed with some dewy foundation, subtle grey smoky eyes, a hint of peach blush on her cheeks and an apricot lipstick to bring out the best in her complexion and hair color.
Before and After Makeover #2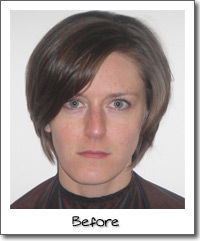 Face shape: diamond
Complexion: ruddy
Eye color: blue
Hair texture: fine/medium
Hair density: thin/medium
Hair elasticity: straight
Already a fan of short hair, our model wanted her makeover to take her hair length one step further and was willing to go for something more alternative. She was also interested in trying a light copper red hair color to give her look some oomph.
Her hair was taken to a shorter length and a mix of long and short hair layers were razor cut throughout her strands to create this funky shape and hair texture. A subtle copper hair color was then added to provide just a hint of red to her hair and was further enhanced with light pink blush and a deep pink lipstick.
Gun metal grey cream eye shadow was then applied to her upper eyelid and lightly added around her lower eyelid along with a coat of black mascara to finish off her new makeover perfectly.
Before and After Makeover #3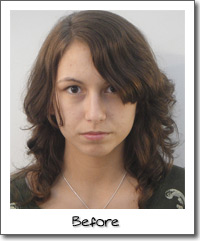 Face shape: square
Complexion: olive
Eye color: dark brown
Hair texture: fine/medium
Hair density: thin/medium
Hair elasticity: curly
Sick of the hair frizz and lack of definition in her naturally curly hair, our model wanted a haircut and style that would cater for her curly locks, and a makeover that would suit her laid-back lifestyle.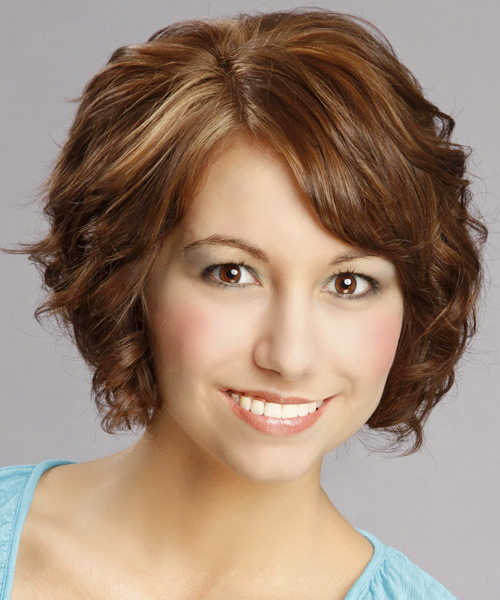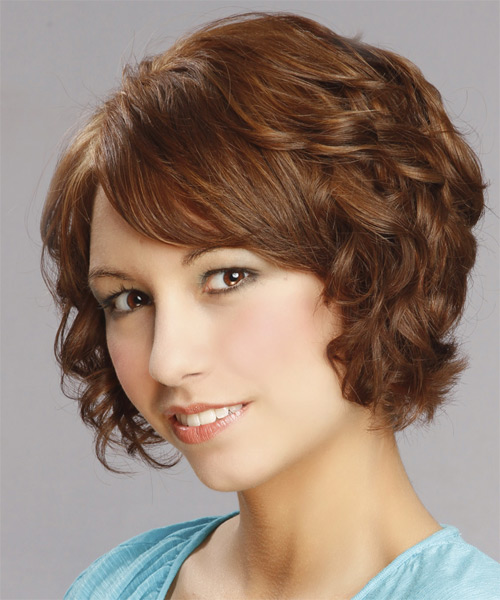 Her hair was cut shorter to allow her more control over her curls and to help make styling her locks easier, and then graduating layers were added through her top and side sections to give more bounce and movement to her curls.
To complete her look, her hair color was lightened to a warm brunette base color and enhanced further with some subtle golden highlights. Not one to fuss with too much makeup, our model was then given a great everyday look with a natural nude lip, light pink cheeks, a grey and taupe eye shadow mix on her upper and lower eyes, and a single coat of black mascara for eye definition.
Before and After Makeover #4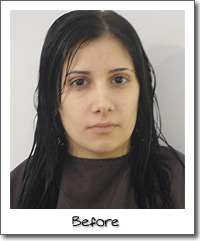 Face shape: oval
Complexion: fair warm
Eye color: black
Hair texture: fine/medium
Hair density: thin/medium
Hair elasticity: straight
For the final makeover our model wanted to make the most of her gorgeous black hair color and get a hairstyle and makeup look that match the fun and sexy personality of her dark 'do.
Her length was taken to a more manageable level and cut into a great bob hairstyle that would help to show off her strands but also work well with her naturally straight hair. Jagged cut bangs were then added to bring her hair color and hair shine front and centre and to draw attention to her eyes.
To finish, some heavily applied silver/grey cream eye shadow was added around her eyes, and her cheeks were left bare to allow her creamy complexion to show through and to give her red lipstick the chance to shine.
To see how you'd look with any of these great after salon hairstyles, click on each image to try the virtual hairstyles with your own photo. You can even re-create the makeup looks using our virtual makeup!