Choosing a hairstyle to wear can be a daunting task so we've put together 4 simple styles guaranteed to give you a different look everyday!
Sleek Half Up Half Down Hairstyle

This trendy look can be achieved in just a few minutes by following these easy steps:
Apply smoothing hair gel or serum to your hair.
Brush the top section of your hair backwards and then secure your hair into a half up half down hairstyle.
For the sleek finish, spray some straightening balm into the loose lengths of your hair and then use your hair iron to straighten your hair.
Hint: For extra volume at the crown, backcomb the roots before Step 2.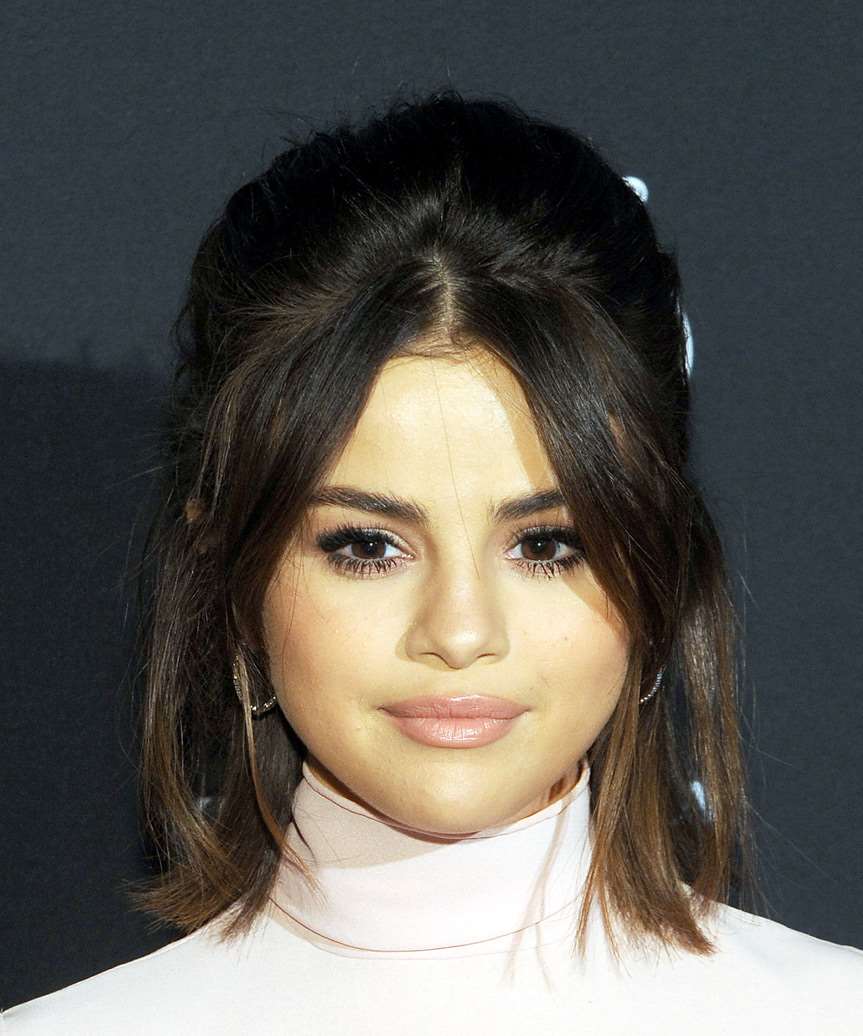 Selena Gomez adds a Sixties feel to her half updo here by backcombing the roots for extra lift before smoothing the top section of her locks back. This hairstyle works great with a fringe and is best for shoulder length hairstyles and longer.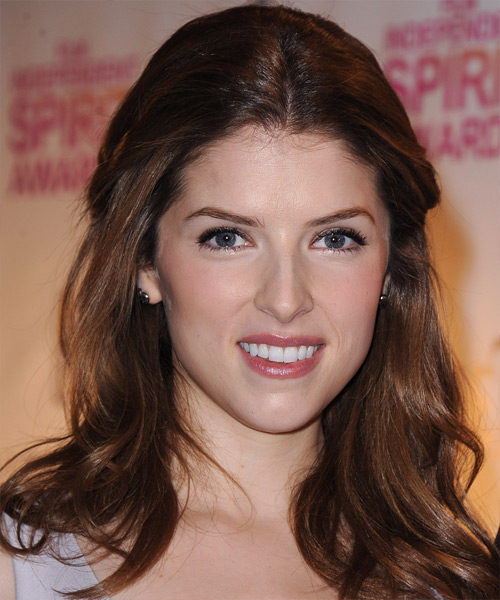 Anna Kendrick goes for a cool, casual look here by center parting her medium length locks and pulling the hair back loosely. This is a soft and feminine look that is great for any occasion.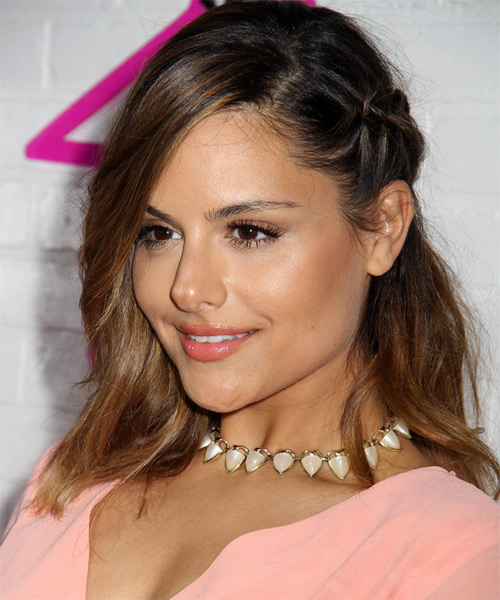 Half updos don't always have to use the top half of the hair. For something different, try an asymmetrical half updo by styling one side back, as seen here on Pia Toscano. Simply braid, pin or sweep the hair back on one side and pin it in place.
Loose Side Knot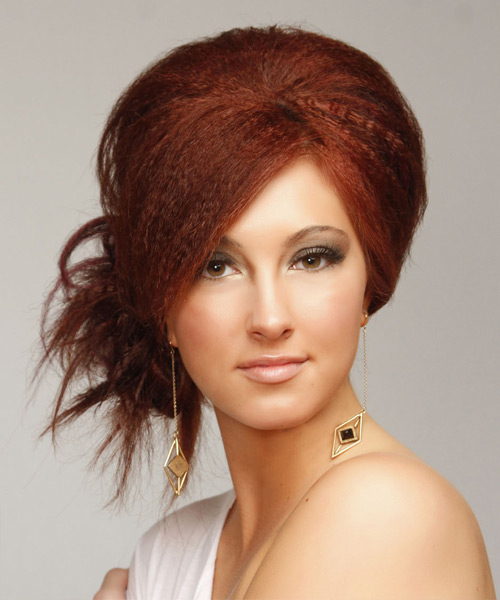 Another good style that's a cinch to create is the loose side knot.
Apply a glossing cream or straightener to hair that is already damp
Blow-dry your hair flat and smooth using a paddle brush.
Pull your hair into a ponytail at the nape of your neck, leaving it loose and slightly to the side.
Finally, twist it into a chignon that is flat and then secure with some hair pins and hairspray.



Use curls and twists for a fancier version of this look, as seen here on Nicole Kidman. The ends have been left out to add more interest to this look, then pinned in place to perfect the style.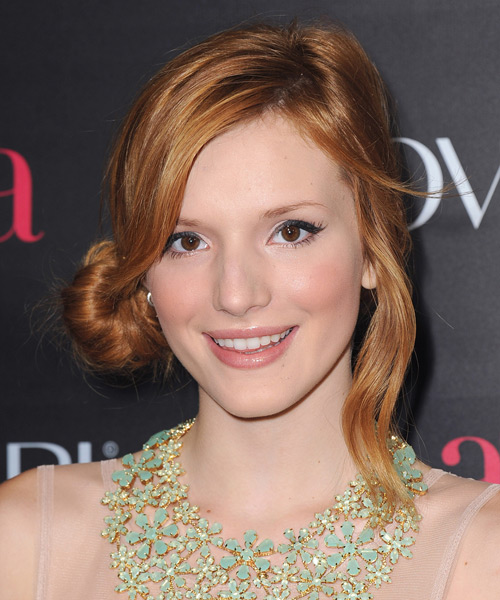 Bella Thorne looks lovely here in a loose side bun with a side swept fringe and long tendrils left out to frame her face. To get this look, create your bun near the ear for a more pronounced look, or toward the nape of the neck for a less obvious bun.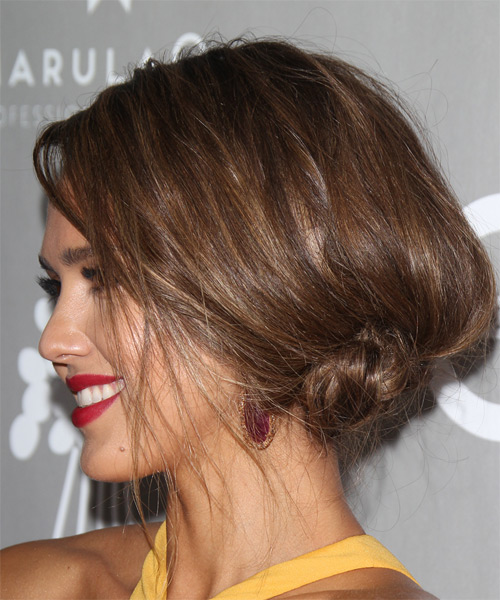 Combine a deep side part and lots of teasing to create Jessica Alba's bedhead loose side bun look. This hairstyle is great for ladies with grown out bangs, and for those with fine hair who benefit from backcombed hairstyles that add volume and body.
Backcombed Bun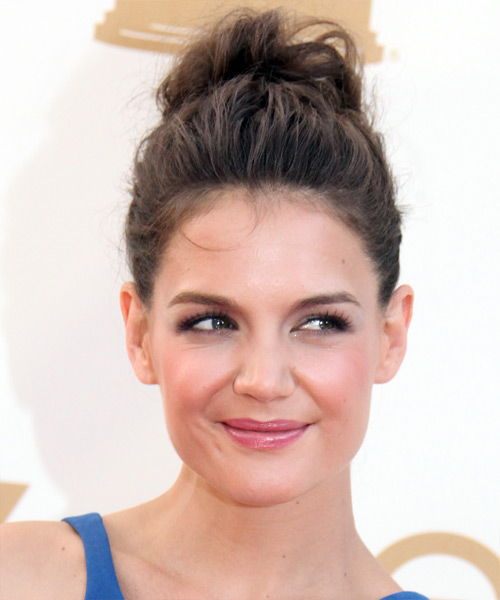 This is a very romantic look that's just perfect for a day out.
Start by spraying volumizing cream into your locks and then add dry shampoo in order to create a matte texture.
Backcomb the hair at the top of your head and gently style all of your hair back.
Secure your hair into a ponytail at the back of your head with an elastic band.
Take the lengths of your ponytail and wrap it around your elastic to form a bun and then pin your hair into place using bobby pins.
Finish with hairspray for hold.



Scarlett Johansson flaunts a backcombed bun here keeps all of the focus on her face. This hairstyle is ideal for ladies with grown out bangs, and works especially well on wavy or curly hair. If you don't fancy a bun, this hairstyle looks just as good with a ponytail too!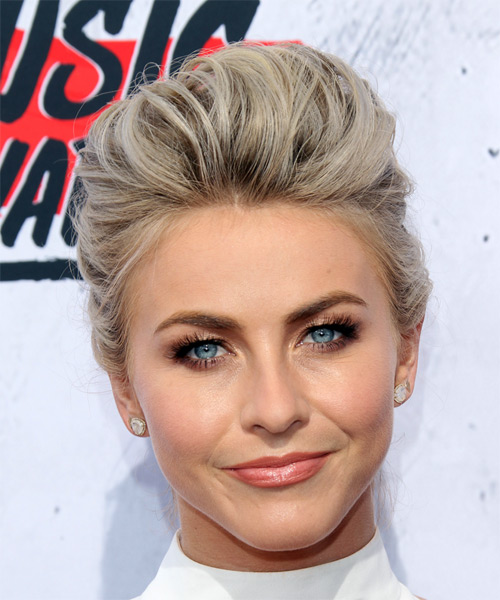 This gorgeous hairstyle, as seen on Julianne Hough, has a stunning formal feel but can easily be created in minutes to perfect your look. The looseness of this hairstyle gives it a soft and feminine feel and works for both formal and casual occasions.
Deep Side Hair Part 


One of the fastest and easiest ways to update the look of your hair is to change your hair part.
Take a pintail comb and create a deep part either on the left or the right side of your head, depending on your preference.
Apply hairspray to keep your hair and part in place.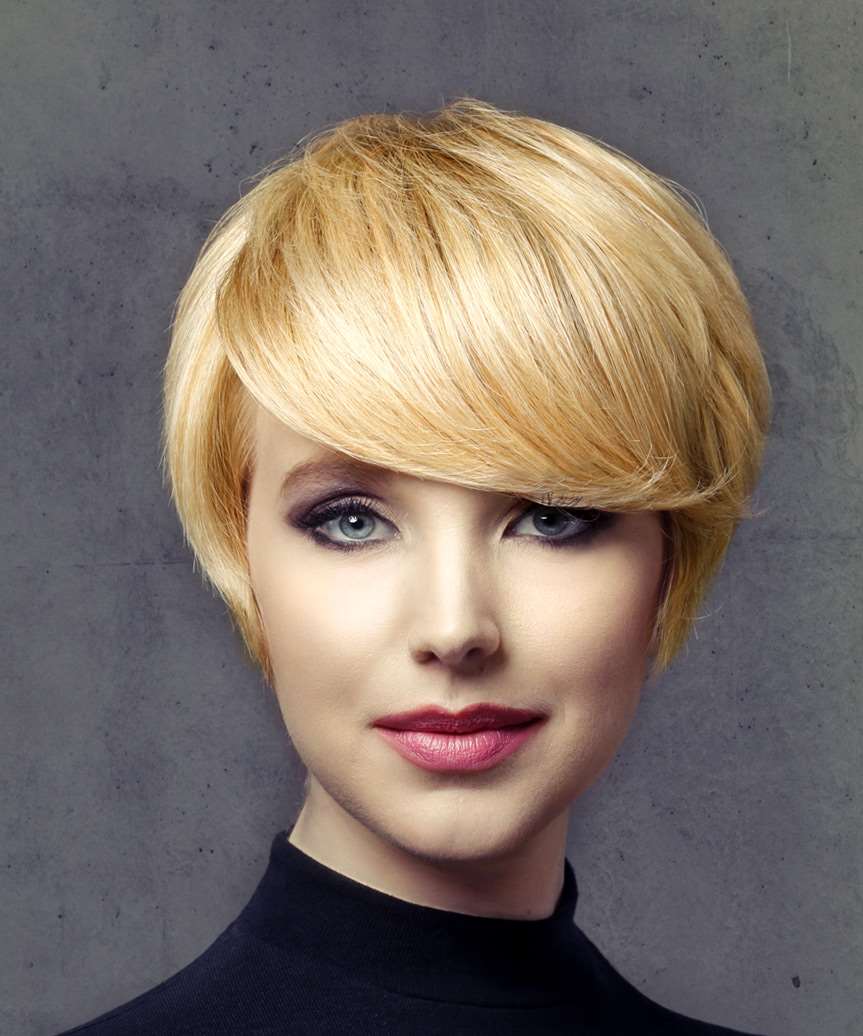 Our model shows us how a deep side part can transform a short, layered look and give it a Sixties vibe. This 'do looks great with a deep side part and heavy fringe to frame the eyes. For another option, try using gel to slick the hair down from the part to the ends for an ultra Mod look.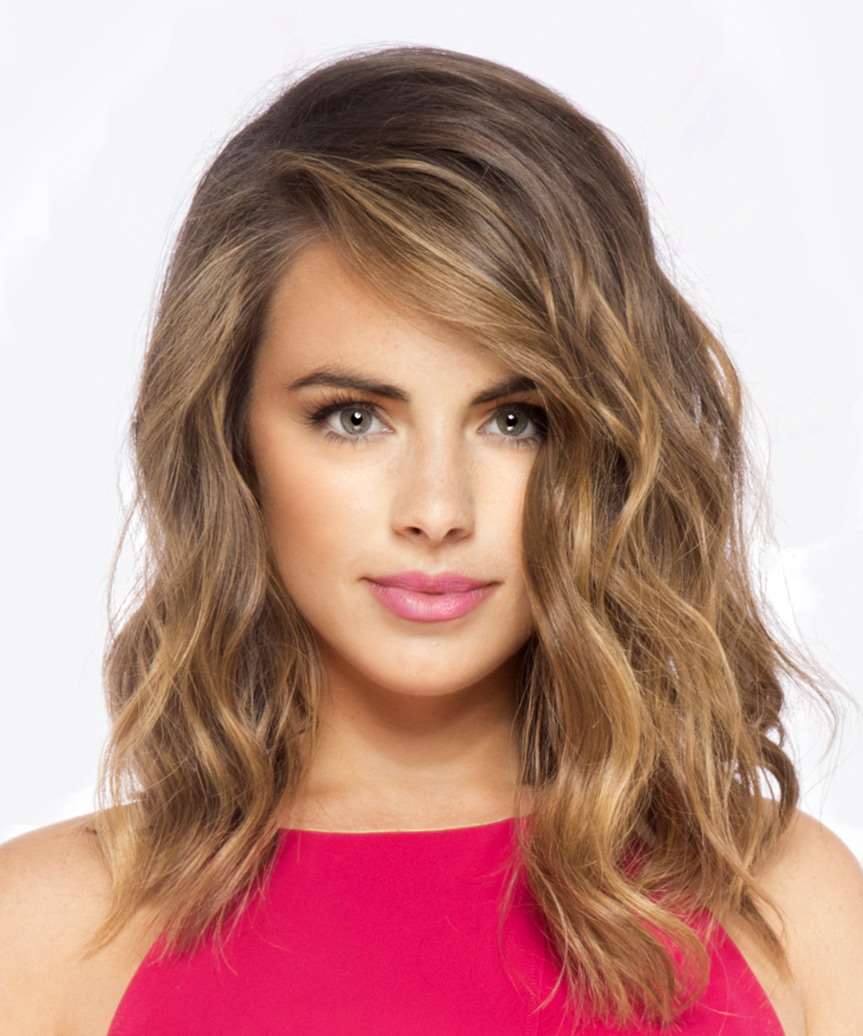 Textured hair with waves or curls looks fabulous with a deep side part, as seen here on our model. Her wavy bob gets a boost of style with a deep side part that frames her eyes and also adds volume to her locks. A deep side part looks amazing with a graduated bob, so give it a try if you have this 'do.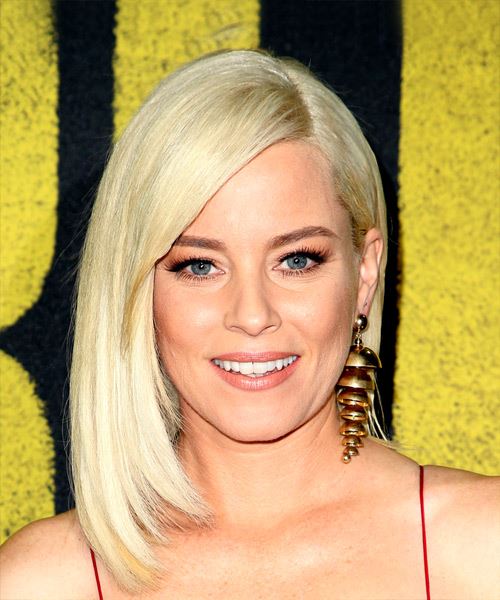 Elizabeth Banks's long bob is transformed with a deep side part that creates a stunning angle in the front and lets her layers cascade around her shoulders. A deep side part worn with a sleek and shiny hairstyle such as this one looks great for any occasion. Use a flat iron to create this extra sleek look.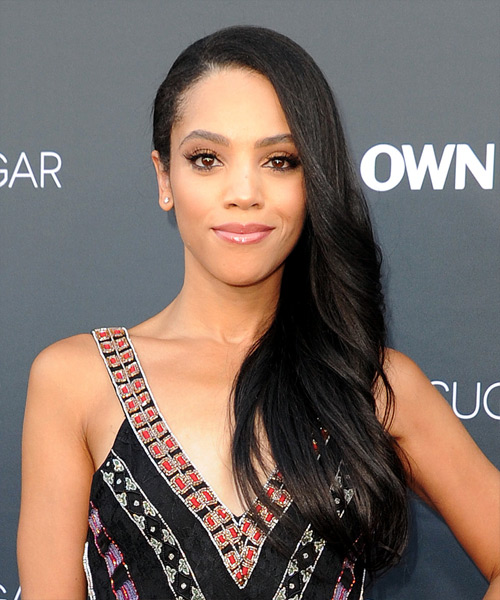 Ultra long locks like Bianca Lawson's jet black tresses look fabulous in a deep side part, and in this case, voluminous curls at the ends. The deep side part allows her curls to cascade around her face and fall past her shoulders beautifully. Keep the volume to a minimum at the crown like Bianca to create a smooth and sleek finish. 
These everyday hairstyles are fun, trendy, and they look great, so give them a try today!.
To see how you'd look with any of these celebrity hairstyles, click on the images for a link to try the virtual hairstyle on your own photo or our model.