When it comes to hair color, it doesn't matter if you're someone who is coloring your hair for the first time or someone who colors all the time, you can make any hair color job easier with these great hair stylist tips!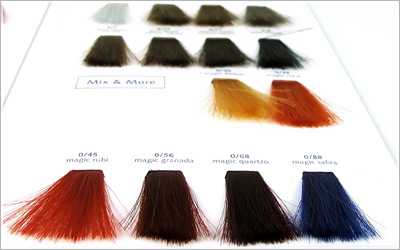 Choose a dark hair color. Brown hair colors and black hair colors are easier to maintain and kinder to hair than lighter shades which require harsher chemical dyes.
Hair color can camouflage damaged hair strands and give thin hair types the illusion of thick hair.
For a natural looking hair color change, don't forget to have your eyelashes and eyebrows tinted so that they compliment your new shade.
Cover your locks. Protect your hair color from outside elements such as chlorine, salt water, the sun and wind by always wearing a swimming cap when at the pool or beach and a hat or scarf when outdoors.
Bleached hair needs some extra TLC so wash with a mild shampoo and only as often as necessary to ensure your hair doesn't get too dried out.
When getting a salon hair color done, give freshly washed locks a miss. Roots are easier to see on unwashed hair and your locks will be easier to handle, which will make the job easier for your hair stylist.
Color depositing products such as shampoos and conditioners are a simple way to boost your natural hair color or help you to keep a colored shade in your hair for as long as possible.
When changing your hair color always stay within 3 or 4 shades of your natural color to achieve the best results. The right hair color can really boost your complexion and eye color, just as the wrong hair color can wash them out. For more info, see the following hair color article, Choosing Your Skin Tone and Enhancing Your Hair Color.
If you're a fan of coloring your hair at home then opt for fool proof solid hair colors which are less likely to create hair color mistakes that could be costly to fix. Making sure to always follow the instructions on the box will also make home hair coloring easier. For even better results you could even ask your hair stylist if they have any home hair color tips, too.
Do your research. Although not as potentially devastating as the wrong haircut, the wrong hair color can cause stress to you and your locks. Avoid mistakes by making sure any big color changes are going to be something that you'll be able to maintain, and something that'll look good.
By keeping these hair color tips in mind and using them to help you make the right color choices, you should end up with a result that you're happy with.
If you need further help with hair color, or if you can't decide if a color will look good on you, try uploading your photo to our Virtual Hairstyler today. It'll allow you to change the color of any of our hairstyles to one of 50 great shades to see exactly how it'll look on you. Who knows? You might even find a new haircut, too!