If you've ever wondered how your hair stylist can get your hair looking shiny, sleek and without a fly-away in sight when they blow-dry your hair at the salon, and you at home can't get it to look anything but a frizzy mess, then this article is for you!
The truth is that there's no big secret. Just lots of little tips, that if mastered, can give you a salon worthy blow-dry every time.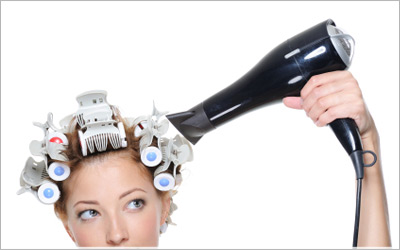 Take a lesson with a professional. Next time you're at the salon, watch closely and ask questions when you get a blow-dry so that you can re-create the same look at home.
Let your hair air dry as much as possible before pulling out the blow-dryer. It'll minimize any hair damage caused by the heat of your blow-dryer.
Blow-dry down your hair shaft. This will achieve smooth locks.
Always blow-dry in sections. It will make styling easier, quicker and give you better results.
Keep the blow-dryer at least 10 inches away from your hair when you're removing moisture and then move it to about 6 inches when styling to limit damage.
Don't concentrate the air on one section of your hair for too long and always keep the blow-dryer moving.
Use the right hair styling tools. For sleek hair, use a round radial brush, make sure your hair is damp (not soaking), add a good heat protection product to your locks and finish each section of hair with a blast of cool air.
Never blow-dry your hair upside down if you find that your hair tends to frizz. Avoid pointing the air flow of your blow-dryer upwards along your hair shaft and instead point it down and work from root to tip. For more tips on hair frizz, see our hairstyles trend, 5 Ways to Fight Frizz.
Add a volumizer to your roots if you have really long hair or limp hair that needs volume and bend at your waist and blow-dry your hair from an upside down position. For the best results, start drying your roots at the nape of your neck and then move through your hair until you reach the roots in your top front layer of hair.
Use your nozzle attachment to zone in on specific sections of your hair and prevent fly-aways.
The final tip for blow-drying is practice. Hair stylists blow-dry 1000s of hairstyles a year and get plenty of practice and experience. While we don't expect you to aim for the same number (think of your locks!), your blow-drying skills will improve each time you blow-dry, especially if you keep these tips in mind.
For even more tips about blow-drying, see our hairstyle trend, Blow-Dry Tips Your Hair Can't Live Without and hairstyle article, A Step-By-Step Guide to Blow-Drying Like a Professional.