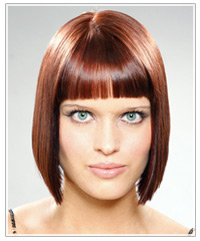 Adding bangs to your hair has the ability to transform your look either subtly, such as with soft, side-swept bangs, or dramatically with bangs that are full and blunt cut (pictured right). Bangs can also add some spice to your look and help minimize any facial features, such as a high forehead.
If you're interested in getting bangs, updating your bangs, or if you want some easy hair styling tips that you can use with your current bangs, then read on...
For the easiest way to wear and maintain bangs, aim for ones that work with your hair type so it's not a daily struggle to get your bangs looking good (this is a also good advice to keep in mind for hairstyles in general).
Feathery bangs are the most flattering and will be easier to maintain than more severe blunt bangs.
For first time bangs, try ones that are side-swept as it's a flattering, softer look and you can easily clip away the bangs with hair accessories if you decide that the look isn't for you.
Brush your bangs from side to side as you blow-dry to get your hair to sit flat. If it needs extra help, run a straightening iron through your bangs followed by a tail comb from root to tip.
Wispy bangs can make hair strands appear thinner so they may not be a good choice for fine hair types.
For super straight bangs, use a blow-dryer and a hair straightener (always with heat protection hair product first).
To add some depth and curves to your bangs, blow-dry using a small barrel brush.
Because there are so many varieties of bangs it might be hard to explain to your hair stylist exactly what you want so take a picture to the salon so there's no confusion.
If you can't make up your mind about what type of bangs to try, or you're concerned about having bangs cut and then not liking them, try uploading your photo to our Virtual Hairstyler. Seeing how different bangs look on your own face could make your decision a lot easier and it's risk free!
Blunt bangs are perfect for naturally straight hair types.
Layered and feathered bangs that sweep to the side are the right kind for wavy hair and curly hair types.
Thick hair needs bangs that have layering to break up the thickness.
Thin hair types will need bangs that create hair volume so go for bangs that are styled to the side. This will instantly pumps up your locks.
Remember that bangs can be a big commitment and may require you having to blow-dry, straighten or style everyday just to keep them looking good.
The final tip, and the most fool-proof way the get the right bangs for you, is to consult with your hair stylist about what they think will suit your face shape.
Do you have any bangs tips that we've missed? Share your favorite tricks, or let us know what you thought of these tips, by leaving a comment below!